Latest updates
---
'We Are All Greeks'
Posted on 03/04/2021 at 17:04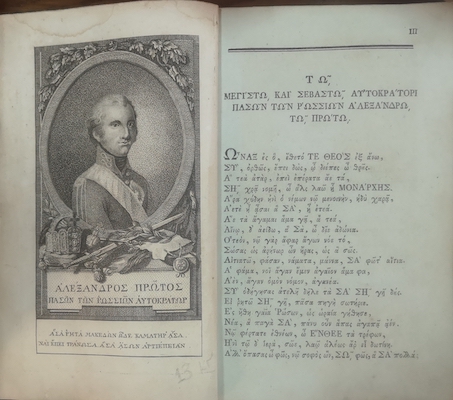 On 24 March 2021 Greece began the commemorations to mark the bicentenary of the country's war of independence. Although the armed struggle against the Ottoman Empire began in Moldova, the first successful uprising took place in the Peloponnese in March 1821. In that remote corner of Greece, there is a remarkable library that deserves to be better known. The Public Historical Library of Andritsaina houses the magnificent collection of Konstantinos Agathophron Nikolopoulos (1786-1841), who formed it while living in exile in Paris for most of his life.  The poiema Karkinikon of Ambrose Pamperis, illustrated above, is one of the many bibliographical rarities in the collection. The poem is entirely written in palindromic style, in which each of the 416 lines can be read backwards and forwards. It opens with a portrait of the dedicatee, Tsar Alexander I, and was published in 1802 by George Vendotis, who compiled the Greek dictionary that Lord Byron carried on his travels. It was Byron's support for the cause of Greek self-determination that inspired Philhellenes everywhere to  regard the struggle as their common cause.  As Shelley declared in the preface to his poem Hellas, 'We are all Greeks'.
Booksellers' Labels
Posted on 01/04/2021 at 12:04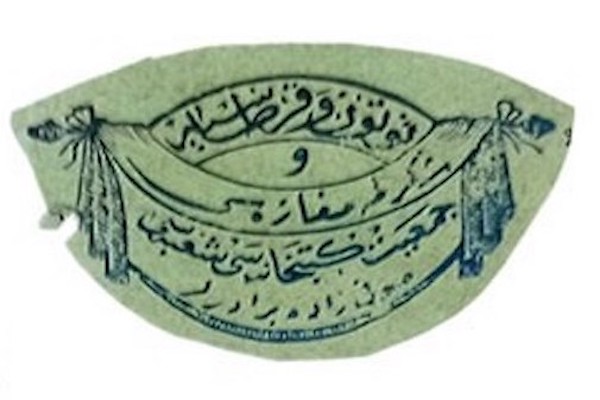 Alican Akın of Khalkedon Rare Books in Istanbul is a passionate collector of ephemera relating to the history of the antiquarian book trade. He is particularly interested in booksellers' labels, the miniature tickets, often exquisitely designed and usually affixed to the corner of an endpaper. My interview with Alican will appear in the Summer 2021 edition of The Book Collector, and shortly thereafter on this website. The decorative label above belonged to a bookseller in the Ottoman era.
Just as an ex libris documents a book's previous ownership, a bookseller's label also contributes to our knowledge of its provenance. It provides a vivid sign post on the book's journey from one owner to another. There's a Museum of Labels on the website of Plurabelle Books, where they are charmingly described as the postage stamps of books.