Latest updates
---
Fisher and Sperr's Back Room
Posted on 25/03/2018 at 12:03
No self-respecting secondhand bookshop is without a back room, the inner sanctum reserved for favoured customers, where the bookseller keeps his most precious finds.
Many readers will remember Fisher and Sperr's bookshop in Highgate High Street, over which John Sperr presided until his death in 2010. Professor Mark Mazower, the distinguished historian of twentieth-century Europe, grew up in North London and attributes his book-buying addiction to Fisher and Sperr's shop. A favoured customer, he describes a visit to John Sperr's back room in his account of the momentous upheavals of twentieth-century Europe told through the memories of a single family – his own.
'In Highgate, I found myself thinking about Fisher and Sperr, an antiquarian bookshop on the high street next door to the Hilltop Beauty Salon. Why it had come into my mind I am not sure – maybe because nothing preserves defeated ideas better than an old bookshop, which keeps intact the possibility of their discovery and reincarnation. And perhaps for that reason I remembered how dismayed I was only a few months after Dad's death when a dusty green curtain appeared across the familiar bow window to mark John Sperr's passing (in 2010).
The shop had been there for so long I had somehow assumed it would go on forever; Mr.Fisher had disappeared years ago, but John Sperr had manned the desk to the end. He had become forbiddingly deaf and barked at visitors, but once you had his confidence, the key came out, the cavernous back room with its treasures was grudgingly unlocked, and the light was turned on. Inside it was always freezing and the books were crammed high, gathering dust and rarely touched. 
One afternoon I found a small leather-bound edition of the Anthologia Lyrica Graeca, its title page bearing in a precise but minuscule schoolboy hand the signature "V.E.Rieu" and the date "Nov.10th 1902". I bought it because I had heard of Rieu, who would later become the first translator of Homer in paperback and the founder of Penguin Classics, the great disseminator of the world's learning. He had lived and died nearby, leaving his library to be dispersed and then reassembled in a bookdealer's afterlife.' 
Mark Mazower
What You Did Not Tell. A Russian Past and the Journey Home
London, Allen Lane, 2017.
Celebrating a Year of Anniversaries
Posted on 04/03/2018 at 20:03
2018 marks the 70th anniversary of the foundation of ILAB, and the 60th anniversary of the ABA's first book fair.
The Danish bookseller, Einar Gronholt-Pedersen, was President of the Danske Antikvarboghandlerforening when it hosted the congress in Copenhagen, at which the ILAB was formally incorporated in September 1948.  Here he is in a photograph from 1969, inspecting a book on the 'Under £5' stand at the ABA fair, held at the National Book League in Albemarle Street, London.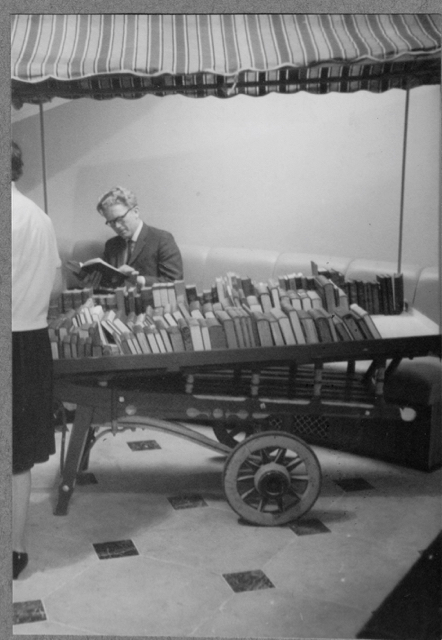 The ABA held its first book fair at the National Book League in 1958, where it continued to hold fairs until 1970, by which time the number of exhibitors had risen from 28 to 45.
Solomon 'Inky' Pottesman, collector of incunabula, was a regular and memorable visitor at the ABA book fair in its early days. As depicted in this photograph from 1973, Pottesman was never without a brown paper parcel, which he carried by the string.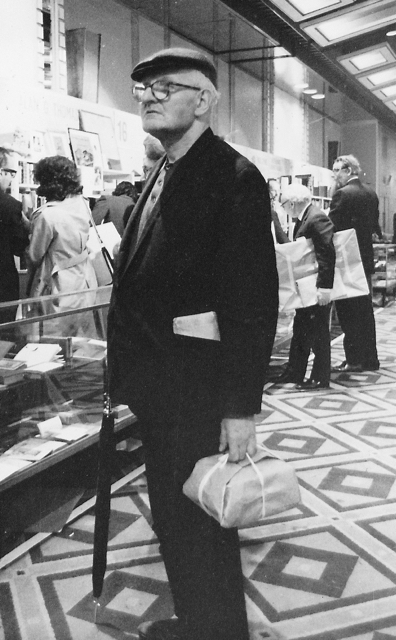 Keith Fletcher took these photographs when he was in his twenties and early thirties, working with his father, Bill Fletcher, in the family bookshop in Cecil Court. Interviews with both father and son may be found on this website.
The two photographs, here published for the first time, belong to an extraordinary collection of Keith's photography documenting various book fairs and ILAB congresses that he attended as a young man.
Keith Fletcher is a Past President and a current Patron of the ABA.