Latest updates
---
Celebrating a Year of Anniversaries
Posted on 04/03/2018 at 20:03
2018 marks the 70th anniversary of the foundation of ILAB, and the 60th anniversary of the ABA's first book fair.
The Danish bookseller, Einar Gronholt-Pedersen, was President of the Danske Antikvarboghandlerforening when it hosted the congress in Copenhagen, at which the ILAB was formally incorporated in September 1948.  Here he is in a photograph from 1969, inspecting a book on the 'Under £5' stand at the ABA fair, held at the National Book League in Albemarle Street, London.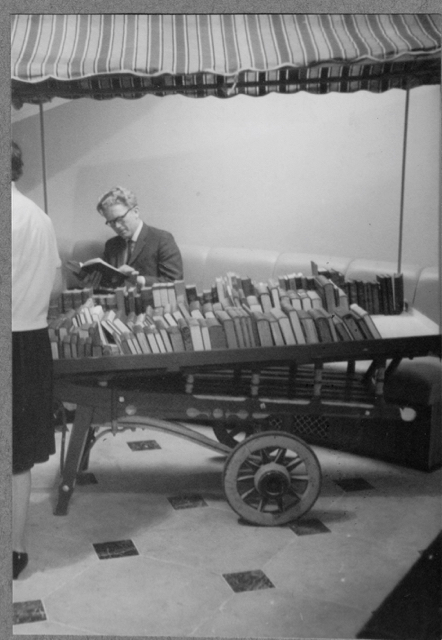 The ABA held its first book fair at the National Book League in 1958, where it continued to hold fairs until 1970, by which time the number of exhibitors had risen from 28 to 45.
Solomon 'Inky' Pottesman, collector of incunabula, was a regular and memorable visitor at the ABA book fair in its early days. As depicted in this photograph from 1973, Pottesman was never without a brown paper parcel, which he carried by the string.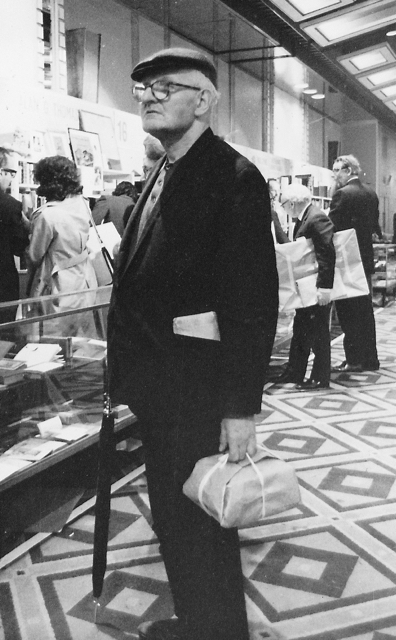 Keith Fletcher took these photographs when he was in his twenties and early thirties, working with his father, Bill Fletcher, in the family bookshop in Cecil Court. Interviews with both father and son may be found on this website.
The two photographs, here published for the first time, belong to an extraordinary collection of Keith's photography documenting various book fairs and ILAB congresses that he attended as a young man.
Keith Fletcher is a Past President and a current Patron of the ABA.
I have grown more optimistic...
Posted on 29/12/2017 at 17:12
Twenty-two years have gone by since I first interviewed Stuart Bennett - long enough for much to have changed in his business. Here are Stuart's thoughts as another year comes to an end.
"Has the antiquarian book business slowed down, or have I? Maybe my problem is the decreasing amount of unusual or high-quality antiquarian literature coming onto the market, although I and others had plenty of adrenalin when Robert Pirie's extraordinary collection came up at Sotheby's New York at the end of 2015.
"In 2009, towards the end of my term as president of the Antiquarian Booksellers' Association of America, I was interviewed for the ABAA website and – perhaps reflecting on my pending sixtieth birthday and the fact that the majority of ABAA members were then at least as old as the Association itself (founded in 1949) – I remarked that over the next ten or fifteen years membership would implode and what was left of the ABAA would look around and ask "what happened?"
"I have grown more optimistic since then, mostly out of admiration for my younger bookselling colleagues and their generation of collectors and curators. There are fewer of them than there were in predecessor generations, and fewer still who share my affection for really old English books. But those who do are enormously impressive, and the energy and enthusiasm of educators such as those at Rare Book Schools in Virginia and California, Indiana University, the Colorado and York Antiquarian Book Seminars, and elsewhere, along with their growing number of students, should mean that the torch stays alight for at least another generation."