Adrian Harrington
[One Last Fling]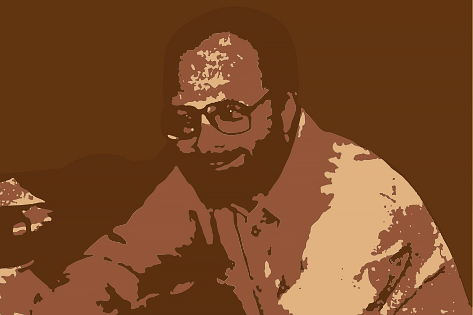 In my childhood there was a secondhand bookshop on West Hill in Wandsworth. I remember going there and buying books with my pocket money. My brother, Peter is six years older and, in our teens, we used to spend time in Mr Hutchinson's bookshop in Tooting Bec. This was in the early 1960s and there were a lot of good books around. His shop gave me my first exposure to books as objects of commercial value.
Most Saturdays Peter and I went 'booking', visiting secondhand bookshops and George Jeffery's barrows in Farringdon Road. George smacked your wrist if you tried to lift the canvas off the books before he was ready. But we worked out a method of finding the old books by feeling the ribs on the spine through the canvas.

In 1968 Peter put some books into Chelsea Antique Market, sharing a small stand with our cousin, Bill Austin. He found that they sold very well. When Bill moved on to other things, Peter took over the stand and I joined him in 1970. I was twenty-two and had just finished my degree in geology at London University. While I was a student I had started selling books to and working a bit for Peter. By the time I graduated, I was married with children, a mortgage and the usual commitments. So I decided to join Peter full-time.
The book business took off and we expanded rapidly during the '70s and '80s. Finally, in 1991, we bought the free-hold to Chelsea Antique Market. The idea was to develop the site, but that would have cost at least £5 million and we were not in the mood for that at our stage in life. We then received a very good offer for the market, and decided that it would be an opportunity for the two of us to go off and have a last fling at doing our own thing.
Separation made a lot of sense at that point in our careers. We have a huge amount of overlap in experience and knowledge. While we built up the business, this didn't matter. In fact, it probably explains why the business grew so quickly — sibling rivalry also helped, in its healthiest sense. But after almost thirty years together, the overlap might perhaps become stultifying.
The business was big enough to divide up very easily. In December 1997, Peter opened his new premises in Fulham Road, and I moved into my new shop in Kensington Church Street a week before Christmas. In many ways this area is very similar to Chelsea. There are over 90 antique dealers in the street and I am very happy with it as a trading area.
At the moment I'm working harder than I have ever worked in my life. Admittedly a lot of time is spent on setting up the infrastructure, dealing with builders and the design of the shop. With so much to think about, I have to try to keep focused and not lose sight of the day-to-day business of bookselling. I remind myself every morning to buy and sell some books. I'm always amazed when I visit booksellers who say, 'nothing's come in this week'. If I sat here waiting for books to come in…
I hate shops where you are made to feel an intruder, and am anxious to avoid that in the design of my shop. I remember a very eccentric dealer in Eastbourne who had created a maze of cardboard boxes around his desk. I walked halfway round the maze before plucking up courage to step over the boxes. The bookseller hit the roof and said, 'you're not allowed beyond this line'. Almost every pictorial image of the antiquarian bookseller — for hundreds of years — shows him barricaded behind a desk piled with books. I'm convinced the books are there to protect him from customers.
I learned the business from my customers. They came in and asked me for books and I would then rush out to find them — only to be told that such-and-such was no good without the misprint. In those days it was moderately difficult to make a bad mistake. If you paid too much for something, the price very quickly caught up. I'm sure I made mistakes but, at the time, I didn't know what I was leaving behind on the shelves.
I traded by the seat of my pants for fifteen years before I seriously discovered the world of rare books and bibliography. Looking back, I would love to have had the time to take a more academic approach to books — to acquire some 'Quaritch knowledge' which I greatly admire. I'm still easily intimidated and it's only after thirty years in the trade that I can walk into certain shops and not feel insecure.

Nigel Traylen was a great help and inspiration in my early days. We first met when he was working for Foyle's at Beeleigh Abbey, buying great books and selling them fast. Nigel demonstrated what could be done. I started with books that were easy to buy and required no great knowledge — children's and illustrated books, plate books and literary sets. In terms of space, sets tend to overwhelm a shop, and I'm always frustrated when people come in and think I only deal in bindings. In fact I have always dealt in important books as well —major atlases, scientific books, rare literature and so on. But for every ten good books, I might have ten sets, which dominate the look of the shop.
If you have premises in a high profile retail spot, you soon learn to spot fashions. When Mrs Thatcher came to power, the Deutsch mark went down from 2.5 to 4.5 to the pound. As a result the German market, which had been very strong in the early 70s, collapsed. Within nine months the exchange rate had recovered but the Germans never returned in anything like the same numbers. The habit of coming here had been broken. In the days of the Colonels, I sold a huge amount of books to Greek customers — similarly, to Persians in the days of the Shah. As soon as those regimes collapsed, the trade died down.
To be a retailer, your shop needs to be accessible in the widest sense. Children's books are consistently the star performers with the public. In my window display I might have a first edition Biggles and some Rackhams and perhaps a nicely bound Dickens. People have happy memories of reading these books as children and would perhaps like to own a fine copy — and this time not scribble on it. Such a purchase can provide an open door into the world of book collecting, which may otherwise appear daunting.
In my experience of fine art and antiques collectors, they often find rare books esoteric and the language of the book trade exclusive — in the sense that it excludes. They are puzzled by bibliographical terms such as 4to and 8vo. Over the years I have had many calls from customers to say that only four volumes had arrived when I said the book was 8vo. You have to bring people in by the easy route. A few years ago David Brass produced a catalogue aimed at the non-bookman. The descriptions were accurate but dispensed with 4to and gave actual sizes. Even for the trade, 8vo tells you very little. If you really know the book, the physical dimensions have much more relevance.
It is quite common to find no old or rare books in the home of a sophisticated antiques collector. When I comment on this, the explanation is always the same, 'don't you need special conditions to look after books?' I explain that as long as you are comfortable, the books are comfortable. I tell people to treat books as they would treat their Chippendale furniture — away from the radiator, natural light and damp. A tiny bit of thought is all that's required.
Another problem is the question of vetting. Collectors feel confident buying at a reputable antiques fair because they know the exhibits have been vetted. Admittedly it's not feasible for a committee to collate or vet every book exhibited at a book fair. But we can reassure visitors that all the exhibitors are professional dealers who have signed up to a code of ethics and good practice. And this is exactly what we shall be doing at Olympia.
The quality of the June ABA fair is not its venue but the books on sale. I firmly believe that this year's move to Olympia is right. As Chairman of the fair, I have a responsibility to the future of the ABA and its finances and I'm not doing this frivolously. The move puts us at the right time in June, in a purpose-built venue with exposure to new customers.
Grosvenor House would have been an excellent venue if it had coincided with the antiques fair. But the end of June was the only slot available to us — a time when, crudely speaking, all the money has left London. The move to Olympia will put us at the beginning of June, with the PBFA, the Royal National and Gerry Mosdell's fair nicely slotted in to the most concentrated book week ever — with obvious advantages for overseas dealers and collectors.
The move to Olympia also gives us the space we need, with almost 60 more stands than Grosvenor House last year. Stand numbers were bumped up to just over 90 at Grosvenor House. But it still meant that we were unable to accommodate many dealers for whom the only reason for belonging to the ABA is to do bookfairs.
The organisers of the antiques fair at Olympia are keen for some form of mutualité and have agreed to a connecting area between the fairs and joint ticketing for the first day. The antiques fair has a mailing list of around 60,000 people who buy fine art and antiques —a very focused group who have all been sent two complimentary tickets for the book fair.
It is sometimes said that wealthy collectors don't stray outside the West End. I know from my experience at Chelsea and now in Kensington that this simply isn't true. The Sultan of Brunei doesn't find it a problem to go to Olympia and nor does Princess Margaret. The antiques fair takes something in the region of £20 million from 18,000 visitors during the period that we will be exhibiting — this doesn't come from the man in the street in Olympia.
Of course none of this would have been possible without David Slade and Peter Miller's staggering job in reorganising the infrastructure of the ABA. I could never have got Olympia off the ground without brilliant support from the full-time office. As to the outcome, I would like to do at least two years at Olympia before making any assessment. If it is judged a success, I believe it is not unreasonable to start thinking about a third London bookfair — that's not official ABA policy, just a personal opinion. Also, I wouldn't mind trying to get an ABA blues band going, but one project at a time... People tell me I'm ambitious but all I do is the next job in front of me — and do it to the best of my ability.
Interviewed for the Bookdealer in April 1998