Alan Shelley
[Antiquarian Bookselling - wonderful or crazy?]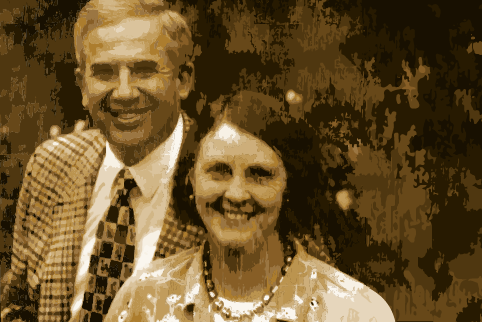 When I was ten I found a book at home published in 1851. It was a hundred years old, which struck me as extraordinary and rather wonderful. My parents approved of my interest in reading, but they did not understand the collecting mentality. In later years my father worried greatly about the quantity of books in my bedroom and whether the house would suffer from uneven floor loading.
I went to school in Marylebone and spent my lunch hours in Mr Duley's bookshop in Bell Street, spending threepence or sixpence a time. Initially I was an indiscriminate magpie but, as I carried on buying through my teens and twenties, my collecting became more finely tuned and I gathered quite a good collection of nineteenth century geology books.
In the early days I was too inhibited to go into Maggs or Quaritch; I lacked the confidence to be confronted with a world of knowledge and beauty that I knew nothing about. I did occasionally go on brief skirmishes to Francis Edwards and Charing Cross Road. Later Oxford and Aylesbury were favourite haunts. But mostly I scoured the book and junk shops in the suburbs.
After leaving school, I should have gone to university. Instead I spent a couple of years in stop-gap jobs before embarking on a career in personnel work with various multi-national companies. I acquired qualifications by different means and in due course was in a position to indulge my interest in books more freely. It never occurred to me that this might one day become my professional activity - for one reason, it was too enjoyable.
By chance a colleague of mine went to a tea shop in East Anglia and was surprised to find the walls lined with old books. 'Is this a tea shop or a book shop?', he asked the waitress, somewhat peremptorily. It turned out that she was the owner and that the books were part of a divorce settlement. She had no interest in them and would be happy to sell them. My colleague knew of my book collecting and put me in touch with her.
The books represented the residue of a wonderful collection that had ceased in about 1825. The folios had been auctioned some time before, but there still remained a good collection of quartos and octavos - some just handsome and some of importance. The owner did not want to put them into an auction and I was able to buy them.
In order to do so I had to borrow a substantial sum from the bank, which concentrated the mind wonderfully. It was no longer a question of playing around with bits and pieces of my own money - I had to sell these books. So I started doing lists and taking the odd day off to go to peripheral book fairs. I was still working full-time and certainly did not think of myself as a bookseller.
While I was dabbling in dealing, I saw an advertisement in this magazine for the Fifteenth Century Bookshop in Lewes. As a child, I had spent many summer holidays on a farm just outside Lewes and had happy memories of the place. We had subsequently visited the town many times and always enjoyed it. My wife and I decided to go and look at the bookshop, without thinking too seriously about it. When we got to Lewes, we were once again charmed by the place and fantasies of becoming booksellers dawned.
We spent a long time talking to the Blundells who had managed the shop for many years, and to our accountants. For various reasons, we decided not to go ahead but, during the process, I had also talked to Robert Seville of Bow Windows Book Shop just up the road. Months later Bob remarked to a mutual friend, 'Have the Shelleys bought a bookshop yet? Tell them they can have this one.' The message was passed on and I replied, 'Tell Bob we'll have it'.
I had intended the remark as a joke but it made me stop and think.
So I called Bob and discovered that Bow Windows was not in fact on the market. However we got talking and Bob offered to take it further with Dawson's directors. At the time Bow Windows was part of a small group of antiquarian bookshops owned by Dawson's of Folkestone, which included Deighton Bell, Frank Hammond and Dawson's of Pall Mall. The idea for the group had originally come from one of the directors who was fascinated by antiquarian books.
An appointment was arranged and I went down to Folkestone and was presented in a very businesslike way with all the facts and figures. It transpired that we were talking at a time when Dawson's was thinking of divesting itself of the antiquarian business - the bookish director had by then left the company. Six months after the meeting, my wife and I had bought Bow Windows. That was in 1984. Subsequently Pall Mall went to William Rees-Mogg and Deighton Bell to Heffers.
We had switched our lives - given up an attractive house in Buckinghamshire to live in a flat over the shop. I was forty-three and we had three children. The only equity we had was the house and that went straight into the business - plus my own book collection which, with very few exceptions, went into the stock. Our friends divided into those who thought it was a wonderful idea and those who thought we were crazy; they were both right.
Bob Seville is a highly principled and knowledgeable bookseller. His presence and support have been invaluable for the business. One of the secrets of success together has been the combination of Bob's skills in bibliographical areas and my interest in the entrepreneurial side of the business. Although Bob retired officially some months ago, he now works for us on a consultancy basis. My wife Jenny is a full partner in the business and has always supported the decision to become booksellers, although this came about more by chance than design. We would not have a book business if it were not for Jenny's day-to-day work on the administrative side.
About a year ago Ric Latham joined the business and has provided the impetus for our entry into the world of high technology. If you had asked me eighteen months ago what I thought of the Internet, I might have been rather dismissive. But things are developing at such a pace that today you ignore it at your peril. The communication aspect is wonderful, but I hope the new technology can exist alongside traditional retail business - I do enjoy the handling of books in a book shop and the face-to-face contact with the customers.
When I turned bookseller, it was wonderful and exciting but I was conscious of being an outsider - an instant bookseller. Of course there is merit in the hurly-burly of finding things out for yourself but, if I could design things again, I would certainly have welcomed the opportunity for some kind of formal training.
The manager of Thornton's in Oxford was a bookseller whom I greatly admired. Mr Wild belonged to a species that no longer exists in the trade. He joined Thornton's in his early teens and worked there for a couple of years before being sent to the leading bookseller in Manchester. He then moved to Deighton Bell for further training, at which point he was allowed to come back to Thornton's and perhaps pencil prices in books - under supervision.
By the time I met Mr Wild, he had been the manager for many years. I admired his style of bookselling but have never been able to emulate it. He was constantly aware of what his customers wanted, and was never greedy in the profit he made - always happy to turn books over at a rate that suited the business. Today these considerations are usually driven by bank managers and accountants, with the result that bookselling is often more of a commodity than a service business.
The diploma in antiquarian bookselling was a brave attempt by the ABA and to deride it is to ignore the rudiments that form the basic framework of bookselling. The ABA is currently exploring another educational scheme that will be more in the form of Open University-style distance learning. If it comes about, it will be happily received by newcomers and others who have had to acquire knowledge in an unstructured method.
Bow Windows was a member of the ABA when we bought the business. As a new proprietor, our membership lapsed for a period in accordance with the rules. I was a rather outspoken critic of the outmoded practices of some ABA members, as I saw them. There was a rather cavalier attitude to any bookseller who was not a member, and PBFA members were regarded by some past presidents as though they were fifth columnists in our midst.
I became a member of the PBFA before joining the ABA, and instantly started doing the bookfairs, as I still do. The PBFA has provided an amazing platform for expert and less expert dealers to sell their books. In fact I would say that the organisation has changed the face of bookselling in this country.
When Bow Windows re-joined the ABA in 1988, the Association still functioned rather like an old-fashioned gentleman's club. Very little was written down, accounts were not published and so on. Paul Minet suggested that I should say what I had to say where it mattered, and not in private. So for about ten years I have been a member of the ABA Committee, which has been an enjoyable part of my working life.
We are embarking on a new phase, which won't be without controversy but it will be better suited to the modern world. In a word, the ABA has 'professionalised'. We now have a full-time Director, John Critchley, which should mean that the President and Committee members will be free to concentrate on policy-making. We are becoming a first-rate trade association that can provide a range of benefits for its members, at the same time as being a spokesperson for standards in the booktrade.
I see the ABA and the PBFA as parallel organisations, but with very strong links. They cannot merge - for one reason, the ABA comes under the umbrella of ILAB which requires its members to be full-time booksellers. One of the wonderful advantages of the PBFA is that it provides an entry point for those that are part-time as well as full-time.
If we had unlimited funds, both organisations could do much more together in the area of education and publicity. Vanessa Clewes Salmon works very hard to get publicity for exhibitors at the ABA fairs, but the media only seems to be interested in the high spots in financial terms. This approach is likely to deter the newcomer to book collecting who may have considered spending something, but not £25,000.
It would be ideal to have a television series to show the excitement and importance of books and that they can be handled and enjoyed without special conditions or undue care and attention. Of course we face the problem that books imply learning. If you don't have that learning, you might feel inhibited about lining your walls with French books - when your friends know you can't speak a word. But we need to spread the message that books can be appreciated on many levels for many different reasons. In a sense we are prisoners of our own mystique. We need resources and enterprise to tackle this important issue.
Interviewed for The Bookdealer in November 1999