Brian Lake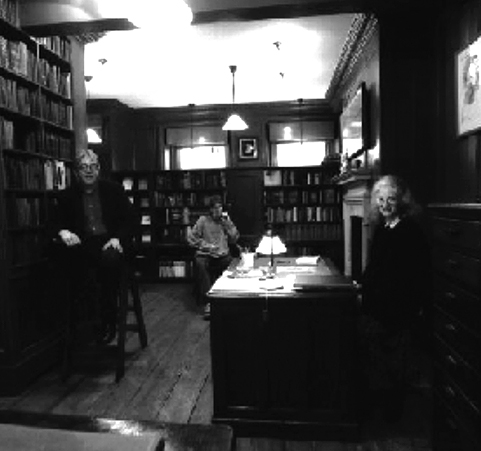 I was born in Bath, but brought up in the Medway towns. If W. H. Smith didn't have the book you wanted, that was it. In 1965, I went to the University of York to read Social Sciences. It was a good part of the country for interesting, old-fashioned bookshops – Godfrey's and Spelman's in York itself, and others in Ripon, Harrogate, Whitby and Scarborough. Peter Miller, Mervyn Jannetta and Chris Johnson were at York at the same time, and I also met my wife, Janet Nassau. Chris woke me up to the fact that you could go out and buy original editions. He was a great enthusiast for literature; I was more interested in social history. I think we learnt a lot from each other. As things have turned out, Chris's catalogues are nowadays 50% literature and 50% social science-based. In fact he has gone on to turn poverty as a subject into an art-form – you could say Chris has done well on poverty.
After university Janet and I came down to London and I began work as a journalist. Chris was at Oxford and had a Saturday job in the Turl Cash Bookshop. While we were students, we had discussed the idea of bookselling together, and the idea came up again. In the summer of 1970 we did a catalogue of books of the seventeenth to the twentieth century, issued from my flat in Edgware Road. We picked up a few customers and sold enough to keep going. Meanwhile I was becoming fed up with journalism and Chris moved on to teach at Malvern College and then at Manchester Grammar School. I went to work for a publisher in Covent Garden. As there wasn't much to do, they let me have my own room above a fruit warehouse in James Street, on condition that I was available for work when required. Meanwhile there were practical problems with the bookselling partnership. Chris was so far away and I was running the business and needed to take money out. After a while we agreed that the partnership could not go on in the same way and Janet was able to buy Chris's share in 1977.
Our third catalogue was issued from James Street, by which time the business was called Jarndyce Books. When Covent Garden Market moved, we stayed on, rent-free, above the empty warehouse. A few months later, the landlords sent heavies round to rattle the doors, and I decided the time had come to move on. From there we went to Neal Street and, in 1987, I found our present premises at 46, Great Russell Street. The move involved a jump from paying £4,000 a year rent to buying a freehold property at £400,000. For the first six months, I had very restless nights – it was the only time in my life when I really worried about something commercial. Then one night I woke up and thought, 'what's the point in worrying?' Of course we've had difficult periods since then, but you have to do a balancing act, and worrying doesn't help.
There has been a bookshop on this site since the 1890s. When we moved in, Luzac & Co., the Oriental booksellers, occupied the ground floor and were sub-letting to Jeffrey Somers of Fine Books Oriental. We continued to sublet the ground floor, but it was clear that Luzac was on its last legs and finally went out of business. But Jeffrey Somers stayed on as a licensee – on the understanding that he would eventually move out – and he now has a shop in Museum Street.
Four months ago we expanded into the ground floor and opened our first shop in twenty-nine years of bookselling. Janet is assiduous in keeping records of sales. Everything is carefully analysed to demonstrate whether the shop is working or not. We have set a six-month trial period and, if the shop doesn't work, we will simply use the space as a showroom. Of course we are doing our best to make it work, but it's an aspect of the business at which we are novices.
Bookselling is the last resort of the English eccentric. Therefore to run a book business as a purely commercial venture seems to me quite alien. Yes, you've got to make money, but at the same time you should enjoy it – this was our approach to doing up the shop. We have done exactly what we wanted – renovation in keeping with the building – and hope other people will like it. The same applies to our bookselling. I didn't want the builders to do a 'temporary' job. The context of this business is long-term. To this extent, I hope that our sons, William and Edward, may take over one day. They have both worked in the business and expressed some interest in it, but of course there's no pressure on them. If you look at the book trade in general, very few businesses survive into a second generation.
The business of bookselling is about breadth of stock. Booksellers shouldn't contribute to the narrowing of literacy by only going after the 'big' books. Take the nineteenth century: there are a limited number of authors and a limited number of their works that have really taken off in financial terms. But if you move slightly off to the side – to the Gissing-type figures – the demand falls off. Personally I find it difficult to justify paying £8,000 for a Thomas Hardy first edition because it would in turn be difficult to justify the final price to the customer. When I can't or won't compete at the top end of the market, I like to shoot off at angles. I see the book business as an enormous tree branching off in different directions. At the moment I'm working on Continental literature translated into English – in other words, relative 'dogs' in bookselling terms. If you read 'Translated from the French' on the title-page of a three-decker, you tend to think, 'that's for the twenty quid pile'. But the project becomes exciting as you discover that fairly mainstream English writers were translating foreign works and thereby introducing them to the English literary scene. As the collection develops, a picture emerges of the Continental influence on English literature.
Bookselling in general isn't a very creative activity, and I find that this type of project helps a lot. Someone said to me, 'you know how to make a book Brian'. It's about doing things differently – you've got to be unexpected. Catalogues are an essential part of this process. The ideal buyer is a bookseller in the last stages of getting a catalogue ready. He knows where the gaps are and has a clear idea of what is rare. If you start developing an offbeat subject, you can buy cheaply at the outset. Then the prices tend to creep up and, as you build towards a catalogue or collection, you are able to buy material almost regardless of the price, as you're subsidised by your cheaper purchases at the outset.
In order to build up stock, it's essential to have a period when you can afford to keep capital locked up in the books – the ability to resist a quick sale and hold on to a book until you can put it into the best context. We do a Romantics catalogue every three years, which means we have to hold material during that period to make a good catalogue. Years ago I learnt a useful lesson from watching Francis Edwards at auctions: they would bid, say, £150 for a book which they had in a current catalogue for £100 – they were buying stock for several years ahead. People don't beat a way to anybody's door for a chat with the proprietor. The unique selling point of any dealer is the quality of stock, and an ability to maintain that quality. We are proud of our specialist eighteenth and nineteenth century catalogues, most of which are prepared by our cataloguer, Helen Smith.
The best catalogues become reference sources and research tools, and this is one area where we should be cautious about new technology. Our medium is the printed page; we should be committed to it in terms of producing catalogues. We cut off our noses to spite our faces by rushing into Internet selling – denying the medium from which we derive our living. Sometimes you have to be conservative to be radical. Peter Kraus wrote a good piece in the ILAB Newsletter (May 1997), touching on new technology and the 'oxymoronic relationship between rare books and the electronic transmittal of information. If all information is available at the push of a button, why do we need these objects ?' We don't have a computer in the building.
Peter Kraus also discussed the auction system. Quite simply, if people buy and sell books at auction, we are made redundant. The modern world is a competitive place and the book trade needs to take a much more aggressive approach to the auction houses. In the old days the ring enabled some booksellers to get even with auctioneers and, although it's still maintained by a handful of people, it's no longer a powerful force. The trade associations need to be more dynamic in finding ways to cut out the middle man. The tendering process is one way of doing this: people with books to sell could consult the auction houses and then come to the ABA and be given a list of dealers. In this way vendors could make sensible decisions about how to sell. They could then proceed by tender and maximise the selling price. Of course it's difficult to get this idea accepted, as some dealers – a decreasing number
– still expect to buy cheaply from private people.
At the moment, in terms of book trade politics, we are entering into a very positive period. The ABA has gone from being a sub-masonic operation to something quite efficient. It's doing its best with the new Code of Good Practice, but backs off from the major questions, such as, 'Should book-breakers be allowed in a booksellers' association? What relevance is ILAB to most booksellers? Why isn't there proper co-operation with the PBFA?'
The PBFA had a very high profile during the '80s, when the ABA was still in the hands of the old guard. But now the ABA has benefited enormously from a period with Peter Miller as President, which followed his stint as PBFA Chairman. However this is not the time for triumphalism.
Concerning fairs, the question remains, 'Why don't private customers come to fairs – at least, not in significant numbers?' During the June fairs, the majority of sales were made to dealers, of whom most were fellow exhibitors. When I was Chairman of the PBFA, we spent time and money thinking about this question. The fact remains that you can have a successful fair in a cowshed in the middle of nowhere – we are basically talking about stock exchange among exhibitors. In America the organisation of bookfairs is handed over to commercial companies, which ensures a level of professionalism and draws the flak away from the committee. Here we leave it to people who are already working hard at their own businesses and expect them to put in a lot of unpaid extra work. It may be amateurish but it's the British way. That doesn't stop any of us – either as individual booksellers or contributors to the trade in general – from trying always to do our best.
Personally I would prefer not to sit on committees any more, but I still want to see things happen. Perhaps I've got to the stage where I prefer to plant ideas and let other people get on with it. I would still quite like to do a gossip column, but it might prove too hot to handle. We get a very one-sided picture in the trade press because everyone is afraid to cause any sort of upset. It seems to me that too much of life is about safety and predictability, whereas I like to ask questions and to encourage other people to do the same. Asking questions contributes towards improving things next time. But this is a conservative trade and people in general are nervous of change and the unexpected.
Interviewed for The Bookdealer in July 1998
Afterword
There is nothing I would want to change from my interview, but in the intervening years the changes for Jarndyce have been immense. I am now approaching my fiftieth anniversary as a bookseller.
'No computers in the place' in 1998; now, like pretty much everyone else, our lives are dictated by them.
The shop flourishes – thanks to Janet's helpfulness & efficiency, and the simple fact that we own our building.
We are still committed to 'business' as pleasure, the printed catalogue before e-list, holding a wide breadth of stock 1600-1900 (and we are now moving into the twentieth century!) 
Edward has come into the business and is a brilliant bookseller – expanding our horizons through international fairs, which I don't think we would have contemplated without him.
Helen Smith remains cataloguer emeritus, but we now also have Carol Murphy, Joshua Clayton, Jess Starr & Paul Lee in the team.
'Personally, I would prefer not to sit on committees' I said then….and find myself saying it again twenty years on after a long spell on the ABA Council including two years as vp under Laurence Worms (following the ABA's first contested election for vp and president) followed by two years as president.
…And I would still ask the same questions: What relevance is ILAB to most booksellers? Why isn't there proper co-operation between the ABA and the PBFA – in fact why on earth haven't they merged?
P.S. University of York graduates from the Sixties & Seventies who went on to earn a living in books: librarians - Mervyn Jannetta, Chris Ridgeway, John Fuggles, Alex Werner; booksellers – Peter Miller, Christopher Johnson, Brian Lake, Janet Nassau, Stephen Wycherley, Jeffrey Stern, Peter Allen, Tony Fothergill & Tony Cox
 Afterword added in August 2017