Charles Cox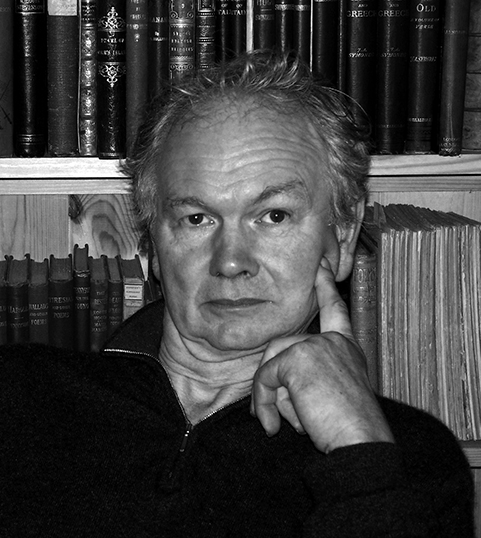 There was a bookshop in the small seaside town of Dawlish run by a man called Gordon Wright whom no one will remember because he never made any splash in the world. He had a few shelves of very nice books, but made his living by selling paperbacks outside the shop in the summer. It seemed to me that Gordon lived an ideal sort of life – calm, sequestered and studious, all of which I aspire to but have singularly failed to achieve.
I grew up in Perthshire and was educated at Wellington, where I had a wonderful English teacher. He gave me his copy of Robert Bridges's The Testament of Beauty as a prize for something that I had written. It was a 1930s edition and there was something very pleasing about it – although the book-collecting bug didn't strike until I went to university. My father was well educated but had never been much of a reader. When it became obvious that I was interested in literature, he began to read so that he could discuss books with me, which touched me very much. He read the whole of Hakluyt's Voyages and Pepys's Diary and rejoiced in them.
In 1967 I went to the University of Exeter to read English and soon discovered the Exe Bridge Galleries, now demolished. It was a lovely tottering shop on several floors at the bottom of Fore Street by the river. As you climbed the stairs, the building became increasingly rickety and on the top floor you could see daylight through the ceiling. In retrospect it was a bit like Gormenghast. It was here that I bought the first book that really amazed me. It was a fire-and-brimstone Puritan tract. I loved it – not because of the text, but as a beautifully weathered object, with owners' names and a lovely seventeenth-century calf binding. I had in my hands what seemed to me to be a museum piece and yet I could afford to buy it.
While I was at Exeter I came across Richard Gilbertson's advertisements in the Times Literary Supplement. He was publishing rather cheaply produced limited editions of poetry including the work of the young Ted Hughes. Richard lived in a tiny cottage in the village of Bow in mid-Devon, where I arrived one bitterly cold day having ridden my 50cc Mobylette fifteen miles from Exeter. I was frozen to my moped and had to be thawed out with cups of tea with whisky before I was able to speak. I bought two rather battered volumes of The Yellow Book, which I had never seen before. As I was very interested in the 1890s, it represented the Holy Grail for me. This was the beginning of a long and difficult relationship with Richard who became something of a mentor. He had a wonderful nose for a book and over the years was extraordinarily helpful to me. I describe Richard as difficult, but I now realise that he suffered from manic depression.
After university I wrote to the main London booksellers to ask if they had a job for me. I was interviewed by Dawson's, Bernard Quaritch, Charles J. Sawyer and Bertram Rota where George Lawson offered me a job. As the position wasn't immediately vacant, Rota's arranged for me to spend three months working in Raymond Smith's bookshop in Eastbourne where I was then living with my parents. Smith was a very precise man with a neat naval officer's beard. He would tuck in his chin as a sign of disapproval, and there were many things of which he disapproved. People were chased out of the shop if they didn't put a book back on the shelf neatly or if they had a child in tow. Most of my time was spent straightening books and polishing them. The shop had a very strong smell of Backus Bookcloth Cleaner with which everything was coated – leather or cloth. I regarded my time there more as a waiting room before my proper education began at Rota's.
Bertram Rota was the most important dealer in modern firsts which, in those days, went back to around 1880. I never met the man himself but his towering presence was still very much felt. The firm had moved from Vigo Street to Savile Row where it occupied premises that had previously been a ladies' foundation garment showroom. This explained the rather precious dove grey carpet and the cherubs on the walls. Raymond Smith sold books to people who came off the pavement, but Rota's style of business was entirely different. We would reach out to the world by offering books to specific customers and doing meticulously prepared catalogues.
Rota's had a terrific reference library where I immersed myself in bibliographies such as Henry Danielson's Bibliographies of Modern Authors, and the works of C.B.Tinker and other scholars now considered old-fashioned. I have always been a magpie for collecting odd bits of information, although I keep very few booksellers' catalogues, George Sims's being the exception. He was a great friend of Anthony Rota's and had a way of cataloguing a book that made it immediately desirable. I extended my education by taking very long lunch 'hours' and spending them in other bookshops. Rota's were very good to me and allowed me to sell books to them from my lunchtime buying trips. I would go as far afield as Thomas Thorp in Holborn and Andrew Block in Bloomsbury where I went through the wonderful trays of ephemera. On one occasion I found a rather vulgar Victorian Easter card sent by H.P. Liddon, Church of England clergyman and biographer of Dr Pusey, to his friend and pupil Gerard Manley Hopkins just at the time of the latter's conversion to Catholicism. Liddon was trying to prevent him from taking this decision and had written a Latin verse inside the card to that effect. Meanwhile I was also putting aside material for the time when I would eventually start my own business. I had a cupboard at home in Highgate which was full of books still in their paper bags, which I didn't unwrap until that time.
While I was at Rota's I met Simon Nowell-Smith, who became my second mentor. Simon had wonderful taste and knew so much about his books and took such pleasure in them. He was a regular visitor and would be ushered into Anthony Rota's office but would always stop and chat to me at my desk in the shop. When I left to start my own business in 1974, Simon was an enormous help to me and gave me books to sell for him.
It never occurred to me that location mattered at all for a business. I planned to do everything by catalogue and wanted a nice view and lots of fields around me. My first wife and I had met at university and had Devon in common. We decided to move to Cheriton Fitzpaine in the middle of nowhere. I converted a cob barn into my book room and issued my first catalogue in 1974. It was entitled 'Some Poets of the Last Century' and Simon Nowell-Smith was my first customer, which was exciting and gratifying. It was either my first or second catalogue that Steve Weissman considered buying in its entirety. I remember thinking that everything must have been terribly underpriced.
It was a time when American universities were still building collections, and I became very involved in helping Chris Kohler to put them together, particularly one on Victorian poetry. It was a tremendous help to me as it meant that I could buy almost any verse of the nineteenth century and Chris would probably want it for his collection. I also put together a few collections myself, including one on Edwardian novels, strictly first editions, 1901-1910, which I sold to the University of Tulsa, and bought a car on the proceeds.
I did my first book fair at The Rougemont Hotel in Exeter in 1975 when the PBFA was barely off the ground. I remember lugging an enormous coffin-shaped object which was my bookcase and listening to stories of dealers who had taken £400 or £4000. I had taken £40 and didn't exhibit at another fair for over twenty-five years. Nowadays I do the Edinburgh fair, partly because it's an excuse to go to Scotland where my family comes from. In 2011 I exhibited at the Olympia ABA fair for the first time and will do so again. I don't have a website and tend not to look at other booksellers' websites. It's mostly vanity as they also list their stock in the big databases like ABE, which is a much quicker way of finding a book. I list my books on ABE and on the ILAB website from which I sell something perhaps once a quarter. I'm only there out of loyalty and indolence.
There isn't enough material nowadays for me to deal exclusively in my speciality of English literature from 1780 to 1920. I have an advertisement in Yellow Pages and, living in the back of beyond, I have to take what comes – books on windmills, game birds and so on. It can be fun but I'm always happiest when I can get back to the nineteenth century where I feel most comfortable. I tend to be very enthusiastic about lesser known literary figures because there's more to find out about them. I still experience the thrill of the chase, but nowadays I derive as much pleasure from the research as the search.
I'm attracted to the minor late Romantics such as George Darley and Thomas Lovell Beddoes whose work gives me a lot of pleasure. Many of them were anguished and unfulfilled people who felt that they could do better. Herbert Edwin Clarke (1852-1912), a completely forgotten poet on the fringes of the Pre-Raphaelites, is a good example of a peripheral figure that deserves more attention. I bought a couple of his manuscript notebooks, which I sold to the University of Birmingham. I very seldom ask a customer why they bought something – it's not good manners – but, as it was a library and I had the librarian on the telephone, I did in this case. He said that the manuscripts were ideal research material. It was very pleasing to find a librarian with the money and the enthusiasm, and I'm delighted that somebody is now working on Clarke.
Not far away from me in Devon there is a wonderful collection in private hands of the works of Henry Francis Lyte, hymn-writer, book collector and Vicar of Brixham, where he wrote 'Abide with me' in the summer of 1847. Lyte's most famous hymn was first sung (to his own tune) at his memorial service later in the same year. In the private collection there is a copy of the first printing of the hymn, as it was handed out in the church. This kind of material gives me enormous pleasure and I would love to introduce a scholar to the collection one day.
I found my most exciting archive in a sale in Exeter. It was a huge tranche of the papers of a Napoleonic officer, Lieutenant-General Baron Thiébault (1769- 1846), which I bought together with Maggs Brothers. I spent the next four months burning with excitement as I found out more about Thiébault's experiences in Italy with the French army. It was such an extraordinary adventure that at first I assumed it was a novel. Thiébault fell in love with a beautiful young woman who was married to a much older Italian aristocrat. With Nelson and the British fleet in the Bay of Naples, he persuaded the Italian couple that their only chance of escape was to travel in his carriage with the retreating French army. The description of the atmosphere in the carriage is quite electric, with the presence of the secret lovers and the thoroughly suspicious husband who had been forced to accept the help of his wife's seducer. I love working with manuscript material. Of course content is terribly important, but so is the voice. I want to hear the person talking. The archive was sold in 2004 to Yale, which already had some of Thiébault's papers. The Baron's fairly rollicking memoirs were published fifty years after his death.
When Maggs acquired the enormous library of John Fowles in 2007, two years after his death, I was asked to handle the pre-twentieth-century books. We met in Lyme Regis and it took three of us ten hours to pack the books. It was the biggest collection that I have ever moved and over the last five years I have produced three catalogues devoted to it. Fowles began his book collecting at Francis Norman's shop in Hampstead. He had a bookplate of a magpie and a blind-stamp 'John Fowles Lyme Regis', and annotated his books with much underlining of passages and scoring in margins.
Fowles was a man of extraordinarily catholic interests and a voracious reader as a stimulant to his own writing. In his diary for 1963, the year in which The Collector was published, Fowles noted that he collected books 'for reasons that would make most bibliophiles spit – because I want to read them'. His knowledge of English and French literature was enormous. He was fascinated by natural history, particularly pre-Darwinian geology, and ecology and conservation, and was very involved with the Lyme Regis Museum. As a writer Fowles might be considered a little unfashionable these days, but he still has his devotees who collect him keenly. Typically they were young in the 1960s and 1970s, and had grown up with The Magus, which was very much a book of its time.
My most recent catalogue is devoted to the book collection of Jonathan Gili, distinguished filmmaker and manic collector of everything small from hotel sewing kits to glass-domed snowstorms of which he had thousands. He liked association and presentation copies of novels, and had inherited a lot of books from his Catalan father Joan Gili of the Dolphin Book Company. Jonathan was married to Phillida, the daughter of Reynolds Stone, from whom more books poured into their house in Fulham. At the time of Jonathan's death, the house was so full of books that you had to walk sideways up the stairs.
All booksellers have stories of wonderful things that they have found, but I don't think that they really add much to your understanding of them as a person. It's not just a question of being good at bookselling; it has to be good for you, providing a living and a consuming interest, which gets you up in the morning and probably keeps you up late at night. I'm eternally glad that I found it – or that it found me. I can think of more sensible occupations but I can't think of any more pleasurable.
First published in The Book Collector Summer 2012