Clive Farahar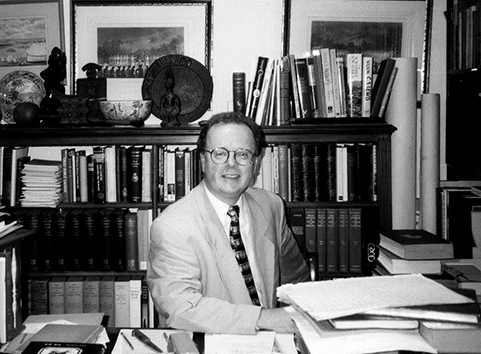 I joined Francis Edwards straight from school in 1969. In those days it was still a marvellous old shop in Marylebone High Street. My first boss was Herbert Edwards, the nephew of Francis Edwards junior, whose father had started the business in 1855. I was put into the travel department and spent my first month dusting the shelves. This was considered a good way of becoming acquainted with the stock. Everything was rather old-fashioned, but I could sense quite clearly that it was a useful apprenticeship and that I was learning a great many things of long-term value.
Gradually I moved into cataloguing and learned how to use reference books. I remember being particularly struck by Percy Muir's books on points. It was quite astonishing to me that you could find out so much about books from their bibliographical peculiarities, mistakes on dust-jackets and so on. I was also taught the basic rules of cataloguing, which I still try to follow in my own catalogues today. For example, in most cases it isn't necessary to give a long list of bibliographical references. The customer will assume that the book is present in all the usual places, so it's much more effective to say what the book isn't in.
After a couple of years at Francis Edwards, I began to realise that I was not going to climb the ladder – there were just too many people ahead of me. So I began to look around for another job, and an opportunity came up rather unexpectedly. The Bibliomites were still flourishing in those days – this was a social club for booksellers' employees – and one of our outings was a visit to Colin Franklin's home at Culham. He had recently set up as an antiquarian bookseller, with beautiful books in the most wonderful surroundings. The thought of living in the country and dealing in books seemed a magical combination and I wanted to find out how it was done.
So I wrote to thank Colin for a lovely day and asked if there was any chance of a job. To my surprise, there was and I moved to Culham in 1972 and stayed for eighteen months. Of course I had pictured myself cataloguing books and going to auctions, but Colin is a very individual bookseller and likes to do these things himself. So I became more of a factotum, taking his sons to watch Oxford United, which I had not quite expected. While I was there, I struck up a friendship with an antique dealer who also lived in Culham. She had a weekly stall at Bath Antiques Market and I occasionally went down to see her. Faith Legge also had a stall sell- ing books there. But she was about to move to Suffolk and wanted to reduce her attendance at the market. In due course an opportunity arose for me to take over her stall for three out of every four weeks. So I decided to leave Colin Franklin and to become a market trader.
By chance my parents had just moved to Bath and I was able to stay with them for the first six months. Every Wednesday I sold books at the market, and made some extra money at the weekend working as a wine waiter. Gradually my book business began to expand. Then, in the long hot summer of 1976, I met my wife, Sophie Dupré, the manuscript specialist, and nearly went bankrupt as a result of taking too much time off.
In 1979, we both happened to be visiting Francis Edwards and bumped into Alan Mitchell. He told us of his plans to take over the shop with the help of a bank and a couple of partners, and asked if we would be prepared to come and work there. It was an interesting dilemma – on the one hand, our daughter had just been born and we had recently bought a house in Bath; on the other hand, it seemed an excellent opportunity to expand both our businesses. So we accepted Alan's offer and moved up to London.
I became a partner in Francis Edwards and it was a very exciting time with lots of ideas in the air. In particular, we launched a book investment scheme. Of course, we didn't know at the time that we were expanding into a recession. The money and the books began to run out, and we got to a point where we could no longer manage. The bank gave us a month to carry on trying, but it was no good and the receivers were called in.
Cynical old booksellers will always say that you can't buy books for investment because the prices may well go down – as indeed they did in the 1930s. And there is always the argument that you should only buy a book because you like it – the financial aspect should always be a secondary consideration. Nevertheless the scheme worked as far as it went, and certainly helped to expand Francis Edwards' clientele. But we also got involved in a nasty legal battle with ABMR when it published an article by Christian Verbeke, containing some rather disparaging remarks about the scheme. The legal costs were enormous on both sides and, in retrospect, I don't think we should have bothered to take up the battle. The scorn of our elders would have disappeared in time. Of course part of the trouble was that we were all so young, and a lot of the older generation remembered the firm the way it had been.
Then Leon Morelli came along and spent good money on Francis Edwards. Meanwhile, all the staff were given notice to quit, including Sophie and myself. We were also out of a home, having lost the money we had invested in Francis Edwards, most of which had been put up against our house in London. To cut a long story short, we had to get out and moved down to our present house in Calne which we were able to buy rather cheaply.
In the event, Leon Morelli invited me back to Francis Edwards as manager. I remember he offered me a choice of two salaries, one with profits and one without – which was £4,000 higher. As I needed every penny, I chose the higher figure and began commuting to London from our new home in Wiltshire. Actually I wasn't at all convinced there would be any profits in the first year. You can throw money at a firm but you can't necessarily turn it round in one year. After eighteen months, Morelli began to think twice about running an expensive high street premises. At the time the rent in Marylebone High Street was £35,000, with rates of £10,000 on top. So he decided to move the flagship name of Francis Edwards down to Hay- on-Wye. I was offered the chance of going there but, by that stage, we were very happy living in Calne, and Sophie had already built up quite a thriving business from home. So we decided not to move again and I started my own business with the severance pay from Leon Morelli.
Neither of us ever considered opening a shop – in a Wiltshire village, it would be rather like a doctor's surgery, with people constantly coming in to discuss their problems. Running a shop is a tremendous tie and, anyway, we had done the shop scene and it was a real breath of fresh air to live and work at home.
I have continued to specialise in travel books and, over the years, acquired a bit of a corner in books on Mauritius and the Indian Ocean. This came about rather by chance, when a customer of mine in Mauritius died and his library came up for sale there. Sophie and I heard about it just in time and decided to fly out on a whim. It was quite an extraordinary sale, conducted in French with prices in piastres, an old sugar and slave currency. Whenever I managed to buy a book, the auctioneer appealed to the room, 'Gentlemen, please. This is a foreigner. Any more bids?' The sale was mainly attended by private collectors and, although I only bought a few books, I came away with a lot of good contacts.
For the last eight years or so, I've been appearing on television in the BBC's Antiques Road Show. It all started when I happened to remark to a friend what a pity it was that nobody ever talked about books. He was involved with the programme as a picture expert and recruited me to deal with any books that came along. Over the years, it's become a very popular programme, with viewing figures just short of Coronation Street. You never know what will turn up and I always go along armed with Book Auction Records and the Dictionary of National Biography.
Of course I'm on familiar territory with travel books and recently a woman came in with a complete set of Cook's voyages, which I can talk about standing on my head. When I first joined Francis Edwards, there was a vast stack of odd volumes of Cook and it was one of my jobs to see if any sets could be made up. Funnily enough, the set which came up on the Road Show still contained Francis Edwards' coded cost price of £45. It was a particularly nice set, which I valued at £8,500. After the programme went out, dealers rang up asking me how they could get hold of it. Of course I can't give that sort of information, nor have I ever made any money out of the books on the show. Obviously that would compromise my role as an impartial valuer. You do hear dealers complaining that the programme has done the trade a lot of harm. Why should precious information be shared with the general public? Personally, I disagree with this attitude. It's rather like saying 'What a pity people write bibliographies'.
It's always interesting to see how the standard of material differs as you travel around the country. For example, if you do a programme in a commuter town, the standard often drops dramatically. People tend to move frequently, turning out their attics on a regular basis before antiques and books have time to accumulate. However, a place like Somerset is always a good bet – farmers often have the space to store things and tend not to move around so much. On the other hand, in cities like Bath and Edinburgh, people tend to know exactly what they've got and don't particularly want it paraded on television.
I'm pleased to say that the quality of the books on the programme has been steadily improving, although I still see more Rupert annuals than STC-type books. In fact, I've had to do my homework on Rupert and can recommend a biography – if you can call it that, by George Perry. To a certain extent, I try to anticipate what might turn up and equip myself with a few relevant facts. I'm sure one day someone will ask me about the typographical use of the letter f for s. So I've prepared my answer on that and now I'm just longing for an opportunity to explain it. But you can't be prepared for everything and I just wonder what I would say if someone walked in with an unrecorded copy of the Gutenberg Bible.
Interviewed for The Bookdealer in June 1994
Afterword
The changes in our business have been immense since I was interviewed in 1994. We rely less on catalogues and more on the Internet now, which would have been inconceivable ten years ago. We have given up book fairs and taken the bold step of exhibiting at the Olympia Decorative and Fine Art Fairs. With a large stock of photographs, prints and odd decorative illustrated books, we are finding a different market. The Antiques Road Show goes from strength to strength. No Gutenberg has turned up yet, but my greatest find to date has been a collection of twenty-three original Beatrix Potter drawings and watercolours, which turned up in Dumfries in 2003.
Afterword added in 2004