George Locke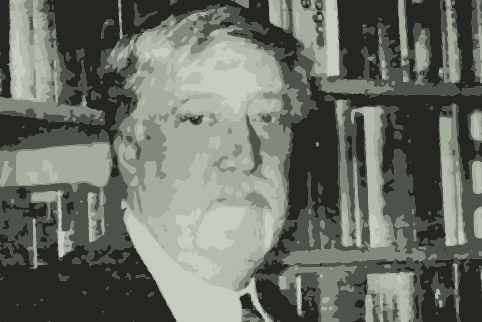 I was a schoolboy in the fifties when I first got the bug for collecting contemporary science fiction. A few years later I was steered into nineteenth century science fiction by Arthur Sellings, bookseller-cum-science fiction writer who is no longer with us. Under his influence I started looking for books all over London, somewhat to the neglect of my studies. I managed to qualify as a pharmacist and did various jobs, mostly as a locum, while continuing to add to my collection.
Eventually I became sub-editor for a few years on The Pharmaceutical Journal, which provided a handy way of book hunting at someone else's expense. I used to volunteer for boring conferences up and down the country as they usually took place on a Sunday, which meant that I could stay in the area for the weekend and spend Saturday looking for books. During one of these conferences, I managed to visit Mr Wilkinson's legendary bookshop in the Lake District. All the local bookseller warned me that I would never get in as he did not like visitors. However he seemed quite jovial when I arrived, so I selected one or two books from the shelves and then he threw me out. I believe he died a few years ago and his stock was sold off at local auctions.
By virtue of taking the job on the Journal I started to drift out of pharmacy as I was no longer practicing it. Although I had quite enjoyed it, I never liked all the aspects of working in a chemist's shop — for example, selling toilet paper and answering embarrassing questions about people's ailments.
In due course I left The Pharmaceutical Journal and became editor of another magazine, which did not work out at all well. My personality is a touch on the prickly side and I did not get on with one or two of my colleagues. After a couple of years I jacked it in and in 1972 I decided to have a go at being a full time bookseller. As I had been dealing a bit in my spare time, I had already picked up a mailing list and the dupli-cates in my collection became my opening stock.
Over the next few years, I added detective fiction to my specialities and gradually moved into first editions of nineteenth and twentieth century fiction. The business started out with the name of Ferret Fantasy as I have spent my life ferreting in odd corners for old books on fantasy. The word fantasy could be dropped now that I have despecialised into one or two other subjects.
In the early days I drifted a bit and became quite interested in publishing. I thought that a certain amount of specialist publishing might go rather well with bookselling, and spent a long time producing bibliographies on an IBM typewriter. I also did collections of short stories lifted out of old periodicals. At the moment I am working on an unpublished manuscript by Arthur Edward Waite on Penny Dreadfuls. There have been a number on the market recently and it seems a propitious moment to publish Waite's work.
There is no money in publishing on the 500 copy or less scale, but if you have the bug it can be very difficult to clear it out of the system. My most successful publication is the two-volume checklist of my own collection, A Spectrum of Fantasy. The Bibliography of a Collection of Fantastic Literature. If I really wanted to make some money out of publishing, I should get on with my Rider Haggard bibliography which is on the back burner at the moment.
Most of my bookselling is done by catalogue. I have never had a shop, although I did reside for several years in the late 70s in the basement of Paul Minet's establishment in Sackville Street. More recently I spent a few years in the basement of a shop in Cecil Court. Last November I moved into the London Antiquarian Book Arcade, which gives me a shop window in town. I keep a representative selection of stock there and have been quite pleased with the sales.
Nowadays I spend very little time visiting bookshops because the books are simply not there to be found. I believe this is largely due to the recession and the static housing market. As there are so few fresh books coming along, when anything decent does turn up everyone scrambles for it. In my experience this is the first recession that has really bitten the book trade.
In the old days one of my regular hunting grounds was a wonderful warehouse in Surbiton. It belonged to Alf Wallis and, when he decided to retire, I took over the tag-end of the lease. Unfortunately the landlord changed almost immediately, jacked up the rent three or four times, and the warehouse suddenly stopped being a viable proposition. I was only there for a year, after which I put my family through a bit of hell.
In my naivety I had never heard of 'dilapidations' in a legal context, nor did my solicitor warn me about it. The new landlord was an estate agent and his first estimate for repair work was in the region of £20,000. I managed to raise the money by selling off the warehouse stock through auction, removing the better books to a brick shed which we built in the garden at home. However for nearly a year, until the matter was settled, visions of cardboard city rather than brick buildings haunted my darker moments.
I tend to buy more from auctions these days, although I cannot say I enjoy them. Someone described warfare as long periods of boredom punctuated by sheer terror, which is very much my experience of auctions. You sit there waiting for your lot and, when it finally comes up, start quivering — psychologically, at least. However I have made some of my best buys at auction, largely due to book auctioneers' lack of respect for the properties they sell.
When an auction house is given a library to handle, the staff cannot be expected to know the ins and outs of every speciality represented in that collection. But instead of asking for specialist help when necessary, as often as not they take the easy way out and bung everything into big job lots. One effect of this is that it tends to restrict the buyers and therefore depress the prices — a collector of detective fiction does not want to buy 350 miscellaneous volumes for the sake of one item rele-vant to his collection.
A few years ago the best H. G. Wells collection I have ever seen came up in a central London auction house. Half a dozen of the more obvious titles were lotted separately, but the rest were left in a pile on the floor in one lot. The book on the top of the pile was a paperback parody of The Food of the Gods in very good condition, which I wanted for my personal collection. This chance discovery made me sit down and go through the whole pile carefully to work out a proper bid. I estimated that the lot could resell for £8-10,000; I could only afford to pay £3,500 and got it for £1,200.
It was a superb collection including all the rare pamphlets and the biology books that were H. G. Wells' first published works and are almost impossible to find today. If the auctioneer had divided the lot more carefully, the consignor might well have got a decent price. In the event it was a bargain for the trade.
You can also get a situation where a lot contains half a dozen books, each of which appeals to a handful of different specialists. Those dealers will inevitably gravitate towards each other and do a deal — I'm not suggesting anything illegal. It is perfectly legal for two or more dealers to agree to buy a lot on a joint account as long as they notify the auctioneer beforehand. However, from the consignor's point of view, this arrangement inevitably depresses the price by the loss of competition between dealers. In terms of the consignor's financial remuneration, there is little difference between this legal practice and a ring.
There is nothing more frustrating than to spot a great book at auction and know that someone else will not only spot it but have more money to buy it. My idea of a good bookseller is someone with courageous business sense and an eye for a book. But it is not much good having an eye for a book unless you have the money to buy it, and the wherewithal to sell it. In my own dealings, I have always tried to avoid the obvious. For example I do not bother with Agatha Christie first editions in dust-jackets — there are too many people looking for them and I do not have the customers to give me £1,500 when I find one, for which I may be asked as much as £1,000.
On the other hand, I like books on which I can hang specialized hooks. At a book fair a few years ago I bought a collection of stories about billiards published in the 1920s. It was only a cheap paperback but it contained a parody of a Sherlock Holmes story for which there are a lot of collectors. Ironically, however, when I catalogued it, it was ordered by an unsuspected — by me! —collector of books on the sport.
There are certain drawbacks to being a specialist dealer, of which book fairs are an example. I have done four ABA June fairs but the stand rental has become too high for our level of business If it costs £1,000 to exhibit and we sell books for £3,000, it is not really good enough. In London there is a population of regular fair goers who attend the monthly bashes around Russell Square and sweat in the queues for the June bonanzas. But it is basically a very static crowd with few fresh faces. Unfortunately, if there was a solution to the problem of attracting new private buyers, the committees of the ABA and the PBFA would have hit on it by now.
Publicity is very important, but it is down to the exhibitors to provide good copy for the press. PR people are only as good as the material they are given. When John Mortimer opened the ABA June fair in 1987, I had a set of Oz on my stand. As Mortimer had defended the Oz trial, I contacted the PR people and we got on the front page of The Guardian —in that sense, the high point of Ferret's career.
From time to time I advertise with varying success. In days gone by I took space in the TLS and received two replies at the very most. Recently I placed my first advert in AB Bookman's Weekly to coincide with their issue on the World Fantasy Convention and got three replies. The best response I have ever had came from advertising in a magazine which is now dead. Books Maps & Prints was around for a year in the late 80s before it got the chop from the publisher, although it was quite successful and was evidently hitting the spot.
I have always continued to collect even though I deal in the same books. The temptation to keep all the best stuff is strong, but soon crumbles when faced with the need to earn a living. I am a completist collector of pre-1914 inter-planetary fiction, but I will not live long enough to find all my wants. In fact I still do not know half the books I should be looking for — the scholarship is not very strong in my area. My number one want is an anonymous three-volume novel published in the l870s, The Annals of the Twenty-Ninth Century. I have never had a sniff of a copy at any price, although I have read it in photocopy. The author has a marvellous vision of bridges across the Atlantic constructed by corals.
Collectors should be encouraged to collect what they enjoy reading, although they must be sensible and not spend £50 on the latest Stephen King novel. A first edition of any current novel by him is likely to have a print run of 20-50,000 copies and is never going to be a rare book. One should avoid following the fashion as prices will inevitably be over the odds and the bubble may burst in a few years.
Certain contemporary authors are hyped by the modern first edition dealers, who are in fact in a position to educate their customers. Instead they all tend to push the same authors. Within a year or two of publication, copies of D. M. Thomas's The White Hotel were going for £150. During that period the novel had picked up a few reviews and acquired a certain notoriety. Modern first edition dealers talked it up to their customers. It had a brief collectors' appeal and then suddenly fell flat on its face. Now you could probably get £30 for it. On the other hand, a book like The Satanic Verses will eventually be keenly collected in first edition because it represents the darker side of the relationship between politics and literature.
English collectors in my field tend to restrict themselves to modern science fiction or ghost stories of the M. R. James variety. The Americans are stronger on nineteenth century science fiction and represent the biggest collect-ing base for the subject in general. Carl Hiassen is an American mystery writer whose books are going to be very collectable. I do not think his work has been on television yet, which is half the secret of becoming a collectable modern author. Why is James Bond still fetching enormous prices? Because the films are still coming out.
In a sense Bond books are easy to collect: there is a limited number and you can pick them up any day as long as you are prepared to pay the money. In collecting a writer like Fleming, one quickly runs out of books. But then there are proof copies, manuscripts, letters, art-work for jackets, film scripts and other material peripheral to the main theme. I believe the future of modern firsts collecting should lie in that direction, and that dealers should encourage their customers to seize the opportunity to add manuscript and other material as and when it comes up.
Looking ahead, it would be nice if one of my family could take on the business. I have three sons and the youngest has the soul of an entrepreneur. If he came into the book trade, he might become another Bernard Shapero. My wife, Rita, is not a book person but she has always done the most important part of the business — keeping the accounts straight and telling me when I should lock the cheque book away. In fact, without my wife, Ferret Fantasy would not be a business. It would just be me faffing around, selling the odd book.
Interviewed for The Bookdealer in January 1996
George Locke died on 1 February 2019