Helen Kahn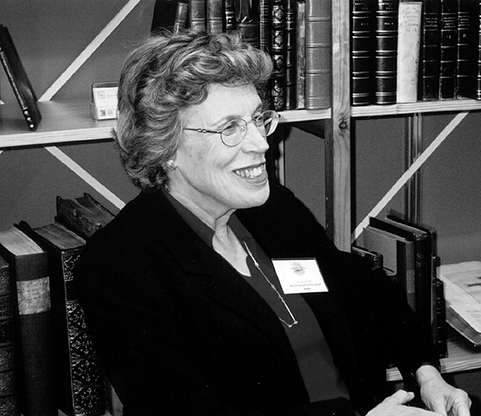 In my generation, there were a lot of women who didn't work. They raised a family and stayed home, as I did till my children were ready to move on. Then I went back to McGill University, in Montreal where I live, and got a second degree in Linguistics. When I decided to go into the book business, my family was very supportive. I have friends whose husbands would have discouraged them from working, but it was never a struggle for me from that point of view.
Family history would indicate that I was collecting matchboxes at the age of two. I moved on to stamps as an older child, and collected nineteenth-century English literature for a good part of my later life. In order to raise capital to set up the book business, I sold my collection and started to concentrate on travel books. We sold our family house, and moved into a building in which I was also able to rent an office suite. I found I needed physical separation between home and work – it helps with discipline, and the present arrangement certainly helps with commuting in the Montreal winter.
I set up the business in 1976 and did everything that people said that one shouldn't do – all at the same time and it worked. The mid-'70s were just after the boom times when Canadian libraries had large budgets to spend, but there was still a lot of interest in books. Although I had no business experience, my husband was able to help out with administrative aspects after his retirement. Fred does not spend time in the office except at tax time; he is busy with his own life. But we are able to travel together which we very much enjoy.
I deliberately didn't put out my first catalogue for a couple of years – you don't want to make stupid mistakes.... Also, I wanted to be a full member of the Canadian association (ABAC). My first bookfair was a small event in Ottawa, which I chose because it wasn't too daunting. Once I had that under my belt, I did a Boston fair. My first fair in New York was very poor for me, but somebody gave me a good piece of advice, 'You've got to give any bookfair in any city three successive years.'
It would have been impossible for me to have had an apprenticeship in Montreal; there just weren't the openings in the trade. But the dealers were very welcoming, and the late Bernard Amtmann, who ran Montreal Book Auctions, was very sharing of his knowledge. From time to time I pass a building and say to Fred, 'That would make a good book store', and he'll just smile and say, 'Hmm'. Realistically, there's not much serious passing trade in Montreal, and there's no reason for me to have the risk and expense of a shop. It would be different if I had a more general stock, but I prefer to concentrate on travel literature. I like to focus on a small range of books, on which one can gradually become quite knowledge- able, and this is advice that I give to collectors.
For as long as I can recall, I have been fascinated by the psychology of exploration – what made early explorers cope with such devastating hardship, especially on some of the sea voyages, wondering when they were going to sail off the end of the earth? There is tremendous interest at the moment in the Antarctic. In fact material on the Polar Regions in general is becoming very difficult to buy.
The focus of my stock is non-Canadiana, except for very specific and important items. In the past there were some very major collectors of early Canadiana, for example Victor Morin, and Lawrence Lande who died a couple of years ago. But I can think of no one of the same stature collecting Canadiana at the moment. One or two young Canadians have come into collecting and gone out again within a few years. People would walk into my office, look at a book and ask if I could guarantee that they would double their money in five years. If I could do that I would be in the investment business. I tell them to look at auction records and old catalogues and they will see that good books have always appreciated. But you can't make any short-term guarantees. That is not the basis on which to sell antiquarian books.
We have made customers, primarily overseas, through the Internet. They have been return customers and very pleasant to deal with. But I think the trade needs to wait a few more years before assessing the ultimate impact of the Internet. One must always keep in mind that there is still a certain section of the population – even in North America – who never touch a computer. Also, if you're spending US$10,000 on a book, you want to know whom you are spending it with. There is a lack of confidence about the Internet and quite a few horror stories out there. The fax machine and e-mail are great inventions, but the new technology is no substitute for personal contact. There's still nothing like meeting somebody over coffee and chatting about their collecting.
The ABA is launching a new website in September, which could be very interesting for ILAB members. When I was on the ILAB committee, I strongly urged them to become the umbrella for the trade, but I'm happy to see the ABA taking the initiative. The Canadian association is difficult to run, because we are such a large country with very few members, all with different agendas. Fortunately we haven't had any major kerfuffles for some time. When I was President, we did have some problems, but they were more to do with personality than locality. Committee work is very time-consuming, but you only get out of life what you put in.
As with any business, you conduct it according to your personality. I'm not an aggressive person and I probably lack the traditional sales push. As one customer put it, 'Helen, your problem is that you don't go for the jugular'. But I haven't found it difficult being a woman in business. There is probably an 'old boys' club' that I'm not part of, but I have never encountered any discrimination. I think my male colleagues respect me for what I do, as I respect them.
Friends ask me when I'm going to retire. What does the word mean? I've always been an active person, and when I can no longer lug trunks to a bookfair, I'll stay home and put out a catalogue. I really feel blessed because this is a business that you can do any way you want.
Interviewed for the Bookdealer in September 2000
Afterword
The ABA website envisioned at the time of the interview never came about, whereas the ILAB site is now a reality and very well run. The Internet has, as we all know, greatly changed the manner in which books are being sold, for better or for worse.
Afterword added in 2004