Ian Marr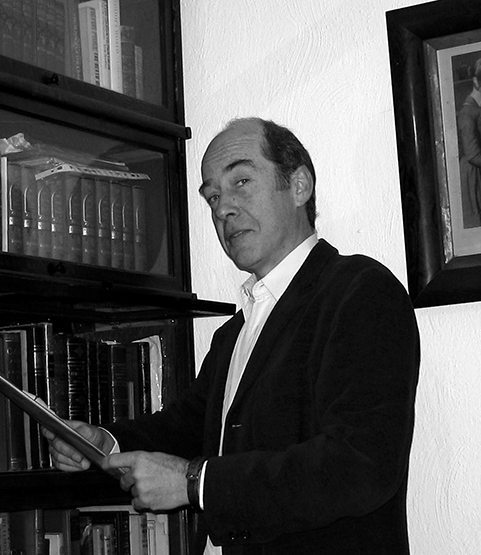 There are different types of calling in life. You might hear the voice of God instructing you to do something in particular, or the fates might conspire to channel you in a certain direction. I have tried to escape from the book trade more than once, but each time I am shepherded back. It's a forgiving business; and I am grateful that there is a place for me.
I was born in Windsor, educated at Eton and Edinburgh University where I read History. My father was in the City, and my mother was an artist whose artistic impulse culminated with me and my sister, who she described as her two masterpieces. I graduated in 1983 and had the idea of setting up my own company doing hedges and boundaries. I have a fascination for the outdoor world and wanted to work outside. At the time there was only one course in the entire country on dry stone walling. I applied three times, and each time the course was cancelled due to lack of interest. Finally I found an old boy on Exmoor who was willing to teach me all about hedges, while I lived down there in a borrowed caravan. Rather late in the day, I did a bit of market research and discovered that farmers were receiving grants to grub up their hedges.
My father had been quite keen for me to follow in his footsteps and, to be fair to him, I did a couple of summer jobs in the City, which only confirmed that it was not for me. My first real job was selling advertising space, which I did for two years in Covent Garden. The advertisement had promised '£££s', and I certainly did earn a lot of money, and was well trained, but it was so stressful that I spent large sums in the American Bar at the Savoy, and in the end had nothing to show for it all. After a period of unemployment, living in a flea-ridden flat in East London, my girlfriend took me off on a picnic and we discussed what I really wanted to do. It had to be some form of work from which I did not have to retire. As I did not anticipate earning a fortune, it was important to find something that would keep me ticking over into my old age.
Hence, in 1985 I applied to the four big auction houses, and got a job as a porter at Bonhams in Lots Road, and as amanuensis to Christopher Johnston, Head of Prints. His duties included cataloguing the Lots Road pictures, which I took over once he had trained me. I started on £5000 a year, which was not a living wage, but quite standard in the auction world in those days when people still tipped very generously. Lots Road was nothing like it is today. Chelsea Harbour had not been built, and the area was a wasteland of car wrecking yards. We held a general mixed sale every fortnight, with pictures, furniture, porcelain, objects and books. There was no book department, but a few plate books were simply tacked on to the end of the print sales. I knew a little bit about books and saw that they were not fetching the right money in our sales. They often came from deceased estates and just went out into the sale room in tea chests. I began to hold back the better books until I had enough to make a feature of them. In this way I built up Bonhams book department more or less from nothing.
I liked my colleagues and learnt a lot from them, and also from the buyers who were often very generous with their knowledge. We handled a vast amount of material and job lots were the order of the day. For example, I must have catalogued an average of 250,000 pictures a year. You trained your eye, got an instinct for it and watched what people were buying. We all longed to buy things for ourselves in the sales, but it was impossible on our miserly wages.
My time at Bonhams coincided with a boom in the economy, which turned into a recession shortly after I started as an independent trader in 1989. I had a business card printed by a friend, unfortunately in a very large quantity; the very bold, stark font was more apt for a funeral director. 'Black Monday' had been and gone, but its effect had yet to ripple through the market. I traded at antique fairs, book fairs and boot fairs. At first I could not buy enough stock; everything sold like hot cakes.
There was a caterer at one of the auction houses, who offered me an interesting sociological insight into the book trade. I asked her if there was any pattern in sales of refreshments to different types of dealer. Without hesitation, she replied that she sold endless chocolate cake at fine arts sales, lemon cake at picture sales, sausage rolls to dealers in general junk, but book dealers always went for the rock cakes – nothing fancy. Perhaps books are in some ways the poor relation among the Fine Arts – they are rarely the chosen vehicle for a display of conspicuous wealth.
By 1990 the trade had slowed down and a lot of fairs disappeared or struggled to survive. There was still action to be found at the boot fairs, and I did one every Sunday in Ascot. In 1993 I moved to Devon. Shortly thereafter I met my wife Anne, and moved to Germany with a sense of saying goodbye to the book trade. It had kept me going, but I would not have been able to support a family on it. My wife is American but was living with her four children in rural Bavaria. I joined her there and set about the task of learning to speak the language. Ironically, my first job did not involve having to speak. I worked as a landscape gardener and so would turn up at my language class after work covered from head to toe in mud. It did not take me long to find a secondhand bookshop and, with my labourer's wages for one week, I bought a large bundle of Penguin books that carried the official rubber stamps of some long lost POW camp. It was the stamps that interested me, and what books had passed the German censors.
The gardening work was seasonal and, anxious for work, I applied for a job as a lavatory cleaner, but did not get it. Clearly the universe was trying to tell me something. By that stage I had been in Germany for a year and had failed to learn the language adequately. Anne's children were at a stage where, for educational reasons, it made sense to settle in England. I moved back in 1994, and applied for twenty-eight jobs, one of which was a vacancy at Marlborough Rare Books. I was interviewed by Jonathan Gestetner and Mickie Brand who very kindly gave me the job, which I desperately needed. The family were still waiting in Bavaria; I found us an ex-council house in Surrey.
Alex Fotheringham and the late John Manners had left Marlborough Rare Books and, with their departure, the firm no longer had anyone to look after the subjects in which they had specialised. This left history, literature and theology wide open for me. It was an enormously sharp learning curve, although I had the benefit of Marlborough's marvellous reference library. Jonathan Gestetner was very patient, particularly as I was not a model employee – poor time-keeping, outbursts of contrariness and irrationality – and gave me a free hand, financially and intellectually, to develop my own interests. At the same time, I was also working as a book consultant for an auction house near where I lived in Haslemere. This kept me in touch with the wider market, and I had my feelers out to see what was buzzing.
John Manners described my early catalogue descriptions as 'crunchy'. I am not sure what he meant, but took it as a compliment. I like to bring out all the different angles to a book and to make connections that might not be apparent. When I am cataloguing, I become fantastically involved in the book to the exclusion of almost everything else. Metaphorically speaking you have to deconstruct a book and put it back together again to see what makes it tick, and that is how a book gently reveals itself to you. I often find that there is much more to say about something relatively humble than, for example, an expensive colour-plate book in which the illustrations speak for themselves.
When I joined Marlborough, the internet was not yet upon us, but there was already a sense of big change in the air. The profile of our customers was somewhat elderly, with no sign of their being replaced by a younger generation. As the internet began to take effect, it became clear that customer loyalty was going to be a thing of the past. The traditional hierarchy was bound to collapse. Information and expertise, experience, access to reference literature, and long-established international contacts, previously stored at the top of the trade, were increasingly open to all. Marlborough went through a period of wait-and-see. Although the idea of a website was much discussed, it was seen as time-consuming and unnecessary, and the firm was one of the last of the major dealers to go online.
I have a pattern of dramatic change every few years, as Jonathan Gestetner commented on reading my CV. However, I stayed at Marlborough Rare Books for eleven years and, when I left in 2005, it was due to a combination of circumstances not entirely of my own making: my last stepchild had flown the nest; I had come into a small inheritance, and the amalgamation of Marlborough Rare Books and Pickering & Chatto was under discussion. It was a logical stepping-off point for me. Before I went independent for the second time, I had been warned by a colleague not to be under any illusions; it would not be easy. As a result, I went in with my eyes open, and resisted the temptation to borrow from the bank. I had a strong feeling that a major recession was on the way, as had occurred during my first experience as an independent dealer.
In 2005 my wife and I moved down to Liskeard, where we are open by appointment. John Betjeman loved the town, Wilkie Collins hated it and Edward Gibbon was once the M. P. I considered having a shop with normal opening hours, as I believe that the continuity of a shop's presence is the best way to find new customers. However, I was put off by the bureaucracy of employment law and so on. We still have Wednesday early closing in the town, the people are friendly and in some respects it is like living in England thirty years ago. The Cornish are different but, as I get to know them better, my respect only increases. I had a customer recently who said that my stock gave the lie to the general belief that you could only buy mouldy books in Cornwall. There are a lot of mouldy books because of the sea air, but there are also a lot of very good books.
'What is a book worth?' That is the question I am most often asked by members of the public. It is often prompted nowadays by the internet where one finds comparable copies of the same book at very different prices – one copy at £100 might be offered for sale by someone who had paid too much for it and/or had high overheads, compared to another copy at £10, bought for virtually nothing at a boot fair by a fast turnover merchant –to mention a few of the variable factors. You might answer the question by consulting a reference database like ABPC, and establish a precedent, but the price might have been achieved by two people slogging it out in the auction room for reasons of their own. There are also market makers in our business – dealers who have the courage of their convictions to buy up all the books of a certain type and make the market. I am very attracted to this approach.
After I had been in Cornwall for about a year, I rang a colleague who said that he thought I was dead. Obviously I would have to improve my visibility and so, in addition to exhibiting at book fairs, I make a point of coming to London regularly. Liskeard has a railway station, and it takes three and a half hours to Paddington. I receive about a dozen visitors a year, who come down because my books are not on the internet, and you never know what you might find. I am like a magpie in my buying instincts and salting things away. I also like my books to have something unique about them. Although they are probably not talking about it, many dealers are taking this approach.
There was a time when we thought that the internet would mean the end of the bookseller's catalogue. Some dealers send their catalogues by e-mail, but I am not convinced that people like to receive them online. If you do not open the e-mail fairly immediately, it has a way of dropping out of sight. Although a hard copy may get buried under a pile of other stuff, it has a way of rising to the top. In my experience the hard copy catalogue has a longer shelf life than its online version. Interestingly, many of the giant online retailers still produce and mail out a hard copy of their catalogue, often with higher production values than in the past.
I have a rudimentary website, but do not use it for selling yet. I am fascinated by Amazon's ability to record your purchases, and then make recommendations based on them. I am not aware of any antiquarian website which is set up to do this, although it is just a question of joining up the dots. Most computer systems for booksellers already have stock, accountancy and mailing list software. If you combine these with the various keyword searches and tracking features on, for example, auction websites, and 'sniping' on eBay, your computer could go out there, buy what you need and offer it on, while you sit at home watching your bank balance fluctuate. It has not happened yet, but it is the logical conclusion to the different elements of software that are already in use. But that is not the sort of bookselling that appeals to me at all.
The Harry Potter phenomenon was great news for bookselling, creating a new generation of readers who might turn into collectors. As we know, book collecting very often does not come to people until later in life. At the moment I am stashing away books on folklore, legends, and fairy tales, partly in anticipation of the generation which has been reared on this genre. I do not know what effect the proliferation of electronic texts will have, but I am confident that there will always be a demand for the printed book. In one of the Star Trek films, I was delighted to see a shelf of old books in the Captain's Cabin. Presumably the designers of such films are futuristically-minded people, and yet they felt that there was still a place for a traditional old book.
I think many people view the secondhand book trade as a rather gentle occupation from a past age, with no idea of the work it entails. As John Bell said to me, they see the swan gliding along, but not the frantic paddling beneath. Our training should probably include hod-carrying – people think that I am joking if I tell them that I sometimes move several tons of books in a day. Oddly enough, the physical aspect of bookselling is not so very different from dry stone walling.
Interviewed for The Bookdealer in February 2009