John and Juliet Townsend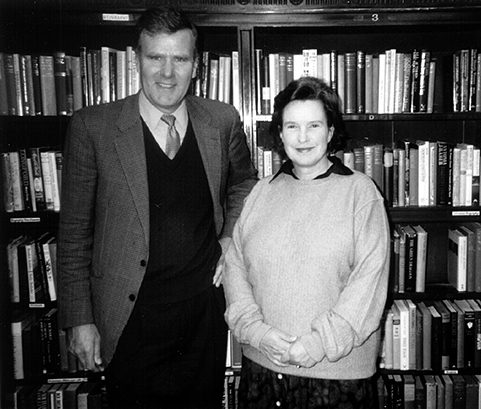 John and I came to bookselling by slightly different routes. I began collecting books when I was a child. I bought my first book for sixpence at a village fête. It was something quite hideous called La Vie douloureuse de Charles Baudelaire – not a very well known tome, but I bought it for the cover. I think I was first attracted to books by their bindings. When I was about twelve years old, my mother took me to Sangorski & Sutcliffe and I saw a wonderful binding of The Jungle Book, inlaid with snake skin. I went home and described it rapturously to my brother and, many years later, he gave it to me as a wedding present.
When we first got married, John didn't collect books. As I was always dragging him round secondhand bookshops, he soon became infected. Whenever we went away for the weekend, we always checked the directories for the local bookshops. On one occasion, we were in Lincolnshire and went to visit Tony Laywood. It was a beautiful day, an idyllic spot, and we bought lots of books. As we drove away, we both looked at each other and said, 'why aren't we living like that?'
Of course it's quite another thing doing something about it! But that was the first moment the idea of a bookshop really crystallised in our minds. We were still living in London at the time and decided slowly to start building up stock. People in the trade were very nice to us. We always explained that we were buying stock to start up a shop and nobody tried to shut us out in any way. After five years or so, this building in Brackley came up for sale. It seemed the right opportunity, so we jumped in and opened the Old Hall Bookshop in July 1977.
Our topography section was stocked – not unnaturally, we thought – with books on Northamptonshire, Oxfordshire, Warwickshire and so on. But people kept asking for books on Yorkshire or the Isle of Wight. We simply couldn't understand it – till John discovered that Brackley was the only town between Leeds and Southampton which you had no choice but to drive through. So they used to stop off and buy their holiday reading here. Then the by-pass came and we now sell fewer books on the Isle of Wight.
Brackley is also situated on an important east-west route. One day a mini-bus turned up, full of clergymen on a pilgrimage from Somerset to Walsingham. They cleared out the theology section – they couldn't very well buy anything else as they were all together!
John Betjeman gave us some good advice when we were just starting, 'Don't over-stock yourself before you know what your customers want'. Of course we thought we knew exactly what they wanted – and we were totally wrong. Nowadays there are subjects we tend to avoid, rather than subjects in which we specialise. In a sense we specialise in the subject collected by the last person from whom we've bought a collection. At one moment, we were tremendous specialists in big game books – only because we'd just bought someone's library. I don't think we've had another book on the subject since.
Both of us are deeply unscientific, so we tend to avoid anything too technical. Motoring books are a bit of an exception, as we are quite near Silverstone. There's so much to learn about everything. I remember having dinner once with Alan Thomas, and asking him if there was a course we should go on – earnest seekers after knowledge that we were. He told us that he spent two years just dusting the books when he first started in the trade. But you learn more about books by dusting them than by going on a course. The best way to learn about books is undoubtedly to handle them.
Of course we've made our mistakes – sometimes caused by John's illegible handwriting. A £450 book once went down the garden path for £45 – or was it £4.50? The great thing about most mistakes is that you never discover them, as the customer leaps away with his wonderful bargain. When people come into the shop, I love guessing what they are going to buy and it can be very surprising. For instance, a dear old lady came in once and I immediately thought, 'this'll be a Mills & Boon'. But, no, she wanted one of those lusty paperbacks, set on a southern plantation, with a half-stripped girl on the cover and a huge black man bending over her with a whip. The old lady went off, licking her lips. She must have been 85 at least, and very delicately brought up.
In the beginning, we didn't intend to stock paperbacks. But they're rather convenient to keep in the entrance hall – an unprotected area. They sell very well and certainly pay our electricity bill. Anyway, as we buy a lot of books privately, people always want us to take the paperbacks as well. If you're a local bookseller, you have to take what's offered to you – unless it's obviously unsaleable. We have boxes of books coming in all the time. Each time we go through them, hope rises again. Just occasionally there's something good down at the bottom. It's rather like when your dog has puppies – you always hope there's going to be a champion in the litter.
Our trade is rather seasonal – we can't sell cricket books in winter, but gardening and cookery sell all year. June has always been a bad month for us. I'm sure it's something to do with the beginning of summer. People get out into the garden for the first time and don't come into our shop again till July or August – and then they start buying holiday reading.
We've run the shop for over fifteen years now. During that period, I've noticed one big change in the secondhand book trade – and that's the gradual disappear- ance of the old-style dealers. One feature of their behaviour was that they tended to see books very much as objects. I remember visiting one of their shops and pointing out a book which I had very much enjoyed. He looked at me in absolute horror and said; 'you haven't read it?' Clearly it was the worst thing I could possibly have done to a book.
[John Townsend]
Juliet read English at Oxford and comes from a very book-minded family. Her grandfather, the first Lord Birkenhead, had an excellent library. He died in 1930, not very well off – having invested in Wall Street, and most of the library was sold. Her father wrote a series of distinguished biographies, and her mother wrote two or three books, which we often come across. She was also chairman of the Keats- Shelley Memorial Association. Juliet has kept up the family connection with the society, which largely exists to maintain the house and museum in Rome. Juliet is directly related to Joseph Severn, who looked after Keats when he was dying. One of the nice things about the Association is that many of the people connected with it are descended from members of Keats' circle.
Juliet's brother died some years ago and was also a very keen and immensely knowledgeable book collector. We have three daughters, not yet showing any signs of interest in the shop, though our youngest enjoys working the till at Christmas.
I was in my early twenties before I discovered I was a book man. I had gone out to New Zealand to farm but didn't take to it, so I got a job in a new bookshop in Auckland and liked the work. When I came back to England, I went into publishing with Pitman and wrote blurb for their jackets. Nowadays I always look at any Pitman book published in 1961 or '62, as I might have written the blurb. Then I joined the advertising side of Blue Circle Cement and stayed there for about fifteen happy years. A few months or so before we opened the Old Hall Bookshop, I worked for a short time at Heywood Hill.
While I was there, someone came in who happened to live in a village near Brackley. I shall always remember John Saumarez Smith saying to him, 'Isn't it wonderful? John and Juliet are going to open a bookshop in Brackley.' The man simply replied, 'What makes them think anyone reads in Brackley?' Actually, he had a fairly dim view of Northamptonshire as a whole – 'nothing but speeding and incest'. When we first opened, the shop was certainly an object of some curiosity. One day a hard riding lady came in, looked round at the fruits of our labour and said, 'Does anyone actually buy this rubbish?'
In some ways, I'm rather surprised we're still here. At the beginning of each week, I often wonder if anyone will appear – and yet they always do. Sometimes I think we are pretty idle booksellers, relying to a great extent on trade visitors coming in. I suppose we could try doing catalogues, but, generally, everything that comes into the shop goes out through the shop. I believe this is called the 'leg trade'.
Anyway, we just don't have time to do catalogues. Books are always piling up, waiting for my attention. Look at this window sill – these are my 'problem' books. In theory, I would like to spend time doing research on them. But, in most cases, there won't be time and I'll end up pricing the lot at £10 – you can almost hear customers chuckle as they leave the shop.
Here's one of my 'problems' – an interesting collection of family papers, full of all sorts of extraordinary bits and pieces. I managed to identify the family and wrote to them about the material. Unfortunately, there's obviously been an appalling divorce and no one wants to know anything about it. So now I'm stuck with it under my table for the next ten years.
Sometimes we come across a book, which would obviously sell better in a catalogue. So then we usually contact a colleague who may agree to include it in his catalogue. Often this cooperative arrangement works rather well. We've done a number of joint ventures with Nial and Margaret Devitt – buying one or two collections together. It's worked well and we found the books divided easily between us. John Saumarez Smith and Steve Weissman are also close colleagues, friends and mentors.
When we were just starting, the Burtons in Cirencester were very helpful to us. To some extent we modelled our shop on their business, which was always a pleasure to visit – a very nice house, full of good secondhand books. They also taught us one or two points of book trade behaviour. For example, when dealers visit, they should put down their card and announce who they are. It's no good picking up a few books and then mumbling something about 'trade'.
The whole business of giving discount has become very confused. We only sold two books at full price at the ABA fair in June – so many members of the public regularly ask for and receive a 10% discount. The result is that many dealers price their books accordingly, putting on 10% just to be able to take it off again – which makes the books rather expensive for those members of the wider public who don't ask for a discount. I'm not saying there's no place for bargaining – I'm just against the automatic assumption that a discount will be given. If I were a really bold soul, I'd say, 'No discount of any sort to anyone!' Meanwhile, I continue to run with the pack....
I enormously enjoy buying books privately. In most cases, I never meet the original owners – normally, they've died or moved into an old folks' home. And yet you can learn so much about a person simply by going through their books. I always think buying a library is rather like buying someone's life. I shall never forget going to a house near Stow-on-the-Wold. It was completely empty except for the books, filled with the owner's notes and comments. In a copy of a book by Ivy Compton-Burnett, I found the remark 'why do these people worry so incessantly about themselves? Why can't they just do something useful – like hunt?' I also came across a postcard, dated around the time of the so-called Miners' Election which Edward Heath lost, 'The world is in a sorry state. Why can't we have a benevolent dictatorship?'
In the last two months, we've bought three libraries. We're constantly trying to keep up with processing them all. Someone said to me at the Oxford Bookfair recently, 'I don't mind the buying or the selling – it's the bit in between!' Fortunately, we're very lucky with our staff. Margaret looks after the new books and is terrifically important to the business. We also have a number of part-time helpers and together they make an excellent team. Customers often say they get a nice reception here.
I don't think there are too many shops that successfully combine new and old books. Margaret is wonderful at knowing exactly what to recommend to customers, and I try to keep up-to-date with all the new titles by reading The Bookseller, The Spectator and reviews in the newspapers. We also do an enormous amount of ordering of specific new titles. Next month I could tell you this year's Christmas bestseller. One thing I can tell you now – Delia Smith's cookery books will sell better than Margaret Thatcher's autobiography in Brackley.
We are members of The Booksellers Association, and I'm very impressed by their service. For example, they negotiated a fantastic deal on credit card payments and they're altogether a very effective lobbying organisation. We also belong to both the ABA and the PBFA. Much as I enormously admire the people who devote their time to running them, I do wish they would both come together. A house which is divided will never be very successful in putting across its message.
They really must do more to generate publicity. I'm sure the press would be very susceptible to good stories about the trade. George Ramsden, who worked here for a while, did a series of good articles on secondhand bookshops for The Guardian. He's got a jolly good eye for detail and a nice use of the pen. He pointed out what a pleasure it was (or wasn't) to go into various secondhand bookshops. Similarly, we sell a lot of Driff's book. Dealers may not like some of the things he says – he wasn't awfully kind to us – but he does bring the trade to a wider public.
The trade should be trying to market the civilising effect of secondhand books and bookshops. We get a lot of people in here – usually late on a Friday afternoon – men in grey suits on their way back to their snivelling children. They come in for a few moments of peace and just enjoy browsing and perhaps picking up interesting ideas. I'm quite sure a place like Brackley is better off for having a secondhand bookshop.
When we first started, I imagined our stock would gradually become more and more grand. Quite recently I realised that, although I greatly admire people who deal in £25,000 books, I'm much happier with a nice, varied secondhand stock. We exhibited at the ABA fair in June this year, but I've applied for the PBFA fair next year. It's probably more suited to our business – particularly as the ABA continues to go upmarket.
I must say I shall be interested to watch the effect of VAT on the trade. If it comes, it's bound to emphasise the distinction between full and part-time book dealers. And this may lead to more resentment of the kind Charles Traylen mentioned to you recently. At the very least, it means we shall probably have to buy a more sophisticated till. Fortunately, we have marvellous Mary, who does all our book-keeping. She's in her eighties and her books are a work of art. Juliet and I were furious when the accountant tried to introduce some horrible computing system which Mary couldn't quite sort out. When he expressed doubts about Mary's 'learning curve', Juliet asked him why on earth a woman of 80-something should bother about such a thing. Anyway we got rid of that scheme and Mary sails serenely on.
Actually we don't have a computer of any sort. Sometimes we feel rather guilty and think perhaps we're not keeping up with the times. But I doubt if it would really help our business. Some days I think it would be nice to do catalogues – for which a computer would of course be very useful – and other times I think it would be nice to sell Audubons. But you can't cover everything, and at some point you have to decide what you are – and I hope we are a reasonably friendly country bookshop.
Interviewed for the Bookdealer in November 1993
Afterword
[Added in 2004] We have had to come to terms with two factors – the Internet and the passing of Anno Domini. In 2002, we celebrated the twenty-fifth anniversary of the business. Sadly Margaret, who had been with us almost since the shop opened, announced that she and her husband wanted to retire. We were faced with the decision of whether to close, or try to build on what we had achieved since opening in 1977, with a new generation of staff. Tom, who is young, arrived full of new ideas as to how we can move forward. We have changed the layout of the shop. Computers are now everywhere. But we are confident that we can retain the essential character of an easy-going general bookshop with the latest technology. We also believe that there are still a large number of people who enjoy secondhand bookshops and bookfairs.
[Added in 2017] My wife Juliet sadly died in 2015. Certainly The Old Hall Bookshop would not have come into being without her inspiration, and she would have been as proud as I am that we are about to celebrate its 40th birthday. 1977 seems like yesterday. Where has it all gone! Rereading this interview, and indeed those with other booksellers makes one realise how much has changed since 1993.  So many old friends have either retired or joined other booksellers in the sky. Undoubtedly the biggest change in the secondhand and antiquarian trade is the almost total lack of visiting trade customers. This of course has been replaced by the Internet and now, through ABE, we send books across the world.   My prime aim though has always been to meet the needs of the local book buying and reading public. Anyone coming into the shop should be able to find something of interest – probably on a subject that they have not thought about beforehand. I feel it is my job to weed out the mass of secondhand books that are grubby, too common or out of date. We do stock some more expensive books but primarily we are there to provide books, either old or new, that customers will enjoy reading. I am also exceedingly fortunate in having such a good team headed by Christine Bridger, who does the new books and manages the shop.  They ensure a warm and friendly service for our customers. Above all they are able to operate the complexities of the till - a skill I have never achieved!