John Robertshaw
[Boxing Clever]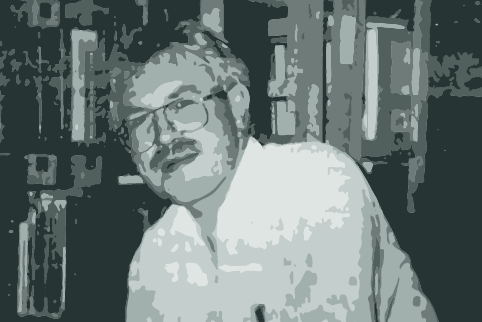 I came into bookselling very slowly. It certainly wasn't an overnight conversion. In fact for many years I thought it was quite beyond me to become a dealer. While I was still in teaching, I used to go to auctions and watch people spending my salary for a year in ten seconds. It was interesting to see what dealers paid for things and then see what they were asking for them in their shops. When I began to notice that the difference was often enormous, I thought to myself, 'I can do this too'.
I was born in Leeds and went to university there, reading French, German and Art History from 1962 to 1965. These three subjects influenced my later life and now influence my bookselling. Quentin Bell was my personal tutor and also had a great influence on me. Before I became specifically interested in books, I was generally keen on the world of fine art and antiques, which eventually became my way into the trade. After university I became a teacher, first in Birmingham and then in South London where I spent four years teaching French and German in a rather rough school in Tulse Hill. As a teacher with a young family, I didn't have much money to spare. However one of many enthusiasms at the time was Victorian art, particularly watercolours and drawings. I remember wanting something to put on the wall in our flat in Forest Hill - something original rather than a reproduction - and I bought a little Burne-Jones drawing from the Maas gallery. It cost me £32 in 1971 - a bargain by today's standards.
The first time I went to an auction was in 1972. It was a Sotheby sale of Japanese prints, and I went one half term with a friend who was interested in Japanese art, as I was and still am. Prices then were very low and I managed to buy a group of Kuniyoshi prints for £14. Of course you must bear in mind that my salary as a teacher was only about £1,000 a year. Nowadays I can't afford Japanese prints in the sale rooms. They have really taken off since I was buying them in the '70s.
Although I was mainly concerned with collecting prints, I soon started buying reference books on the subject and on other (mainly artistic) subjects that interested me. I gradually became more and more involved in the books themselves and started getting dealers' catalogues and going to bookshops and auctions. In 1973, we moved from London to our present home at Ramsey in the Fens. I was tired of the daily battleground of Tulse Hill, and got a job as Head of Modern Languages in a small comprehensive school near Peterborough. During half term and holidays, I started coming down regularly to London for auctions. It's a decent rail service from Huntingdon - John Major is our MP...
From 1976 to 1978 I went with my family to Germany for a couple of years, teaching English in a school near Cologne. I used to frequent the bookshops whenever I had time and, although I didn't attend any auctions, I bought quite a few books there. By this stage, my heart was no longer in teaching, although I still didn't see how I could become a dealer. Teaching Modern Languages eventually becomes a real grind, especially at the more elementary level. I remember saying to some pupils, 'I can understand why you find it difficult to remember that the word for table is feminine and book is masculine. But surely you can understand why the word for girl is feminine?'
When I came back from Germany in 1978, I had a bit of money and started to think more seriously about going into books. I was still teaching full-time, but I started to sell books at weekend antique fairs. At one point I went to Christie's South Kensington and bought a few boxes of books - a bit of art and travel. That was my opening stock as it were. Whenever I had some money to spare, I bought more books and gradually my stock was building up, both in size and value. To start with it was all financed out of my salary as a teacher. Then in 1981 I joined the PBFA and that got me into bookselling properly. I borrowed some money from the bank and started doing book fairs at Cambridge, Stamford and one or two others.
At Christmas 1982, I finally gave up teaching. By that time I was fed up with it and had worked out that - with a bit of luck - I could make a living as a bookseller. Looking back, I should have started a lot earlier. But there really was no other route in for me. My wife was very supportive about the decision. She was and still is a music teacher and I couldn't have managed without her. After teaching, it was wonderful to be working for myself and doing things the way I wanted to do them. Of course there are aspects I dislike about bookselling - packing parcels, standing in the post office, loading books in the rain, but who doesn't? The idea of a shop has never appealed to me. In a place like Huntingdon, I would have to deal in what local people want to buy. Basically I don't want to sell what they want to buy.
My first catalogue came out early in 1983 and contained a large quantity of books on the French Revolution and Napoleon which I had recently bought at auction. I didn't know too much about these books. Anyway I sent the catalogue round the trade and it sold quite well. In fact I had a letter from a bookseller thanking me for the catalogue, saying 'I shall use it as a reference work and price guide'. Actually I had invented the prices off the top of my head. I did six catalogues in my first year, as well as exhibiting at a number of fairs including the PBFA London fair which I still do. In fact I haven't missed a month in twelve years. I like the combination of doing catalogues and fairs - you get the best of both worlds; the pleasure of researching books and the conviviality of book fairs.
Over the years I've built up quite a good bibliographical library for the areas I deal in. I think it's essential to have your own reference books, or at least access to a good library. Cataloguing is a lot more than just listing titles, dates and prices. You can make a book much more attractive by describing it a certain way. I've learnt quite a lot from Alexander Rogoyski about the importance of describing a book correctly. His descriptions are always so bibliographically accurate.
It's always a pleasure to receive catalogues from, for example, Maggs and Quaritch, and also Hesketh & Ward, Marlborough Rare Books and Ken Spelman. I also receive a lot of interesting catalogues from French dealers. I sell a lot of French books, which stems from my teaching days. In fact I've made a bit of a speciality of middle-range Continental antiquarian books. Typically a book in my catalogue is priced between £75 and £200. To any serious book collector, they should be affordable.
In contrast to most PBFA members, I'm unusual in having a very large number of foreign books. About three times a year I go to Paris to buy stock. The prices in general are higher than here but the quality is very good. I'm quite well known to certain dealers and they buy from my catalogues, so it's a two-way process. If you look like a serious customer, most shops are helpful about giving discounts. Of course the French are very keen on payment in cash.
I once asked for a discount in a Viennese bookshop. The manager refused because I was not a member of the ABA. I told her that I was a bookseller and a member of the PBFA, which she hadn't heard of. So then I tried a different approach. 'If you wanted to buy a book off me' I asked, 'would you expect a discount?' She said that of course she would because she was a member of the ABA, to which I replied, 'Ah ha. But you're not a member of the PBFA'. I got my discount and I've never had any similar problems in Vienna again.
Meanwhile I've never thought of joining the ABA. The way I run my business, I can't see what could be improved by joining. I suppose I could do more fairs, but I don't think my books are grand enough for the Europa, or whatever it's called. I'm quite happy with the level of my stock, and get a lot of pleasure from handling books which are not grand or grandly expensive. At the moment I don't need to borrow any money. The business is entirely self-financing. If I wanted to be a grand bookseller, I would have to pay grand prices. A certain amount of fun would go out of it, and the worry would increase.
Ever since I began bookselling, I have liked to buy big boxes of books. I follow the London auctions very closely, and also Dominic Winter in Swindon. I very much like the auction atmosphere - the sense of being a bit of gambler, taking a risk and going out on a limb for something really good. The booksellers I most admire all seem to do this. One of the first dealers to influence me was Roger Elliott. I used to admire the way he bought even bigger lots than me, and then seemed to dispose of most of what he had bought within ten minutes of the end of the auction. Actually I need big lots because I'm selling on three fronts - catalogues, fairs and a wonderful local village hall auction every two weeks. When I buy a big lot, I put the junk into these sales and get an immediate return on my money.
Typically I like to come back from a London auction with several boxes containing a cross-section of stuff, from good quality volumes for catalogues and fairs, and junk for the sales in Ramsey St Mary's. By the way, there's no buyer's premium if anyone wants to come and buy my junk. The first line of attack for a good book is always to put it in my catalogue. At book fairs, they are subject to a lot of wear and tear - in and out of boxes and perhaps being pulled on and off the shelf by people who have no intention of buying them.
At the moment I probably have enough stock to produce three or four catalogues without buying another book. In my early days, whenever I finished a catalogue, I used to worry about where I was going to find the books for the next catalogue. Somehow or other the supply is always there.
During the recent so-called recession, I had some quite good years. Interesting and unusual books in good condition always seem to make their price at auction. I try to go for this type of book and to steer clear of the more obvious things. When my catalogues come through the letter box, I hope customers think, 'he's going to have some interesting and unusual books'. I would be happy to have that said about myself - or even, 'John Robertshaw - he'll have some oddball books'.

Interviewed for The Bookdealer in January 1995