John Wilson
[Playing it by the Letter]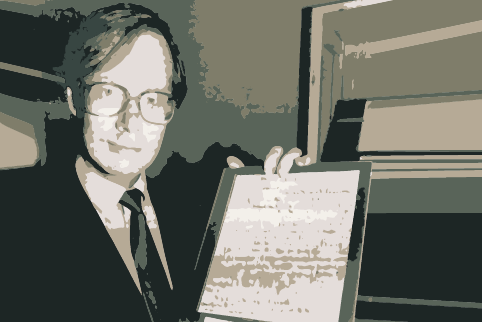 John Wilson has been interviewed before. Usually people want to know the value of an Elvis Presley signature. In 1986, The Financial Times printed a serious piece entitled 'Autograph-hunting may be a good investment', and made the point, 'It is advisable to purchase autographs from a reputable dealer — preferably registered with the Antiquarian Booksellers' Association. One of the best known dealers is John Wilson.'
It has certainly been a good investment for John, whose business is now twenty-five years old, and 'tends to increase its turnover every year, and sometimes the profits even go up'. After school in Manchester, John came to London in 1963 to work for Maggs. He already knew quite a bit about early printed books — 'at least, where to look things up' — and would have liked to work with them. But Maggs needed a manager for the autograph department.
'I had six weeks to pick it up. I remember they showed me Nelson letters side by side and I had to identify the genuine one. They looked exactly the same to me, but one develops a visual skill for what is right or wrong with practice.'
After three years with Maggs, John started his own business in 1967, at first working from his flat in the West End, before moving to Oxfordshire in 1972. Today he runs the business from the old chemist's shop in the village of Eyn-sham, the walls lined with a magnificent working library of biographies and collected letters. But this is no cottage industry, and the place positively hums with state-of-the-art computing.
'Computers appeal to me because I like to be well organised. I first got one in 1981 and the present system is probably unrivalled in this business. I used to write most of the programs, but nowadays I adapt commercially available software, which is what I have done with D-base 4. It allows me to access stock in almost any way, and to store the records of tens of thousands of sold items, and my customers' wants lists. I can also get out a complete profit and loss account in a couple of minutes.
'We used to store the stock in cabinets with suspension files. As we are dealing with paper, I reckoned that systems designed for offices would be suitable. But they didn't really work — and some of the systems used by auctioneers are quite awful. Nowadays the letters are kept in paper folders with descriptions inside and out, and one without the price because customers don't always want it known. Then they are filed under subject in boxes, and can easily be found. Well, if you're lucky!
'My computer can not only pick out a customer's specific interests, but it will also write him a letter offering an appropriate item, and prompt me with such details as the age of his children so that I can add the personal touch by hand at the end. It's the only way one can reasonably blend old.style courtesy with modern technology.
'This personal contact, whether by letter or fax, means far more to my business than ever before. Simply banging out catalogues is not going to sell the goods. Anyway, in my business, if you put something unique into a catalogue and you get two orders, someone is going to be very disappointed. Fairs definitely come bottom — after all these years and with a mailing list of nearly 3000 names, I cannot believe that it makes sense for me to go to some strange hotel and put my wares on show in case people walk in off the street.'
But they do, and John continues to exhibit at two or three international fairs a year, and reckons to meet at most one good new customer each time. His stand is always a haven of method and calm, set up in half the time it takes to get one old book to stand straight on a shelf like a ouija board.
'I suppose I specialise in what I can buy for a certain price and sell for a certain higher price. Obviously I specialise in English material, and, in particular, historical items, which I rather like. Over the years I've got better at reading handwriting, but Queen Victoria is still a difficult one. 

People like Dickens and Thackeray wrote a very attractive hand. Sir Walter Scott and Trollope are both almost illegible, which has its uses when things turn up unrecognised in the sale rooms.
'American handwriting is quite different from English. They don't go in for what you might call a neat layout on Basildon Bond. It's usually possible to tell if a handwriting belongs to a man or woman and you can often see from the other side of the room if a letter was written by an actress or an opera singer. The big clue is extremely large writing, as though they are waving their arms on paper. Politicians can be very guarded, and writers too. Before modern technology, writers had to get a lot of words on paper, and their writing tended to become small and economical. There's a great deal of truth in the statement that handwriting reveals character.'
As for bad character, John is constantly on his guard against the forgers' handiwork. About 50 years ago, the South Coast Forger was churning out letters of Dickens and Tennyson, and anyone else valuable at the time. Today there are plenty of forgeries about and new media to exploit.
'The current trend, especially in America, is for type-written letters and signed photographs, which only need a biro and a reasonable attempt at a signature, and you've got something quite hard to detect. That's why I'm not dealing in things like film stars' photographs, which is a big but very risky market.
'There are certain details that forgers tend to get wrong, for example the colour of the ink, the shape and format of the paper, and the authority of the hand —how real does it look? With luck and skill, it's even possible to detect a forgery of something of which one has never seen the original.
'And then there's photocopying. Of course it's very useful to be able to send a good reproduction of the entire object to a potential customer, which you can't do with a printed book. But there's a danger that he might hang on to the copy and not want the original. If I'm sending something fairly sensitive, I photocopy it on to special paper printed all over with "The original is the property of John Wilson and may not be reproduced". That also prevents other dealers from sending on copies to their own clients without my permission.
'Recently a dealer expressed interest in my stock of Churchill letters, and I duly sent him copies. Eventually he replied, "I made twenty-five more copies and sent them on to each of my potential customers, but none of them responded". And now he's probably killed half my market. In the autograph trade, there's a generation of younger dealers (not ABA members, I hasten to add) who seem to act more as agents, without necessarily asking permission to do so. I find this extremely irksome.
'To some extent I suppose we are all running out of material. There are fewer letters being written, and those that are may as often as not be typed and then transmitted by facsimile. But it can't do the business much serious harm as it will simply increase the value of the remaining material.'
And it is not improbable that a general interest in letters may increase as the genre approaches extinction, which it very nearly has according to a leader in The Times on August 1 1991, 'Incontrovertibly, the art of letter-writing is dying. Telephones have ruined grammar; word processors, calligraphy; television, concentration spans. The irony is that there has never been more interest in other people's letters.'
'I'm not much of a collector myself, mainly because of the conflict with my business, but I have plenty of outside interests. I'm very keen on music and play the organ part-time at the local church. In 1980 to '81, I did two seasons of National Sports Car Racing, driving MG Midgets round most of the circuits in this country. I didn't enjoy the cut and thrust of it much, but the exciting thing was getting the car round. Nowadays I enjoy exploring the countryside in a light aircraft, having decided to get a licence before I was quite fifty. The technicalities of flying fascinate me; the financial aspect I try not to think about!
'Did you say you need a photo for this? I don't copy very well, but this one has the advantage of having been taken ten years ago. People will say "He has less hair than that", and I don't wear those glasses anymore, but I've probably still got the suit. Someone once described me as looking like a senior civil servant. Did you know that tape's still running?
Interviewed for The Bookdealer in March 1992