John Windle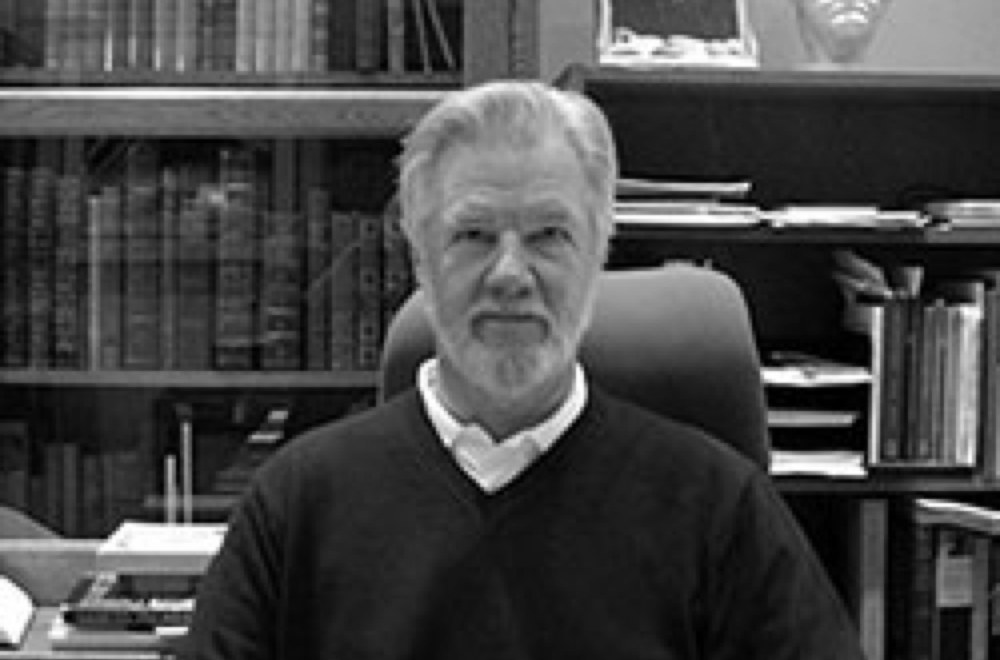 The idea that I wanted to surround myself with books seemed ridiculous to my adopted parents. They wanted me, an unwanted war baby with an unknown American father, to go into the Army, be a good soldier, kill some people and make a man of myself. I was bundled off to boarding school at seven and later to Wellington College. Luckily I had a godmother who intuited my nascent love of books and encouraged it by sending me book tokens every Christmas and birthday. Living in Suffolk, she knew a number of people in the book world including Geoffrey Keynes and Francis Meynell, who designed a bookplate for me. It was an elaborate typographic design with 'Ex Libris John Richard Windle' beautifully set in type surrounded by flowers in a Nonesuchian manner. I would take the tokens to my local book shop in Hove, where the bookseller decided what I was allowed to buy. She started me on Sir Walter Scott, and then Conan Doyle's historical romances, and Rudyard Kipling – the edition in the limp red leather binding. By the age of eight or nine I had developed a passion for books which were the same size and colour, and took great pleasure in arranging them on my shelves. 
As we lived next to the Sussex County Cricket Club I also collected cricketers' memoirs and would haunt the Club getting the players to sign my books. One sad day I came home from boarding school to discover that my mother had redecorated my room in Danish Modern and given away all my books. (Fifty years later, I have yet to find one of my books with its Meynell bookplate.) I had a tutor in Hove for the holidays to help me get through my exams, whom I recall vividly – Llewellyn Slingsby Bethell, a great scholar and eccentric whose house was crammed with books from floor to ceiling which inspired me no end. I started collecting Penguins, attracted by the different colours for the different subjects. By the time I left Wellington, I had a collection of about 1,000 Penguins beautifully colour-co-ordinated on my shelves which were the cause of much less-than-good- natured teasing from the army brats I was surrounded by. 
In 1963 I went to France, partly to escape going to Sandhurst and also to pursue my love of modern French literature. I had a wonderful time at the University of Poitiers (Tours) and quickly discovered the delights of French paperbacks, unopened in their lovely cream wrappers. After a year abroad, I went to the newly- founded University of Sussex, where I had the privilege of studying with David Daiches, Asa Briggs, Tony Thorlby and David Galloway whose love of American literature opened up a whole new world. 
In 1967 I moved to London and tried desperately to get a job with Jardine Matheson. I had a romantic notion of becoming an international man of mystery, smoking Sobranie cigarettes and dealing in something exotic. When I told my best friend that Jardine's were interviewing, he also went along for an interview – and got the job. We were living in a £3-a-week flat in Islington, where I discovered the Angel Bookshop, and thought that there might be a job for me. It was run at the time by a delightful man called Hugh Crace who was very discouraging about making a living in the book trade, but suggested that I approach one of the top firms. I made an appointment at Bernard Quaritch, put on my best suit, and went along to Grafton Street looking frightfully smart. The door was opened by a man in his shirt sleeves, to whom I announced in rather an imperious way, 'I am here for an interview with Mr Dring, Managing Director', to which he replied, 'That's me'. 
By sheer luck Quaritch had an opening, and I spent my first year packing books, running around the auction houses picking up purchases, and generally doing odd jobs. Quaritch did not pay me for a while – I think it was a test to see if I was serious about becoming an antiquarian bookseller. In the evenings I worked in a pub, and by my second year at Quaritch I was earning a salary of £8 a week. I was put in Modern First Editions, which was taken to mean books printed after 1700. I also had the opportunity to handle music, autograph letters, private press books, and The Blake Trust facsimiles. It was pure heaven to work for a firm of such depth and history. Occasionally I encountered 'young' Mr Newton, who was in his nineties and had worked for Mr Quaritch. 
Every lunch time a particular collector would come in and go through the private press books. He was especially interested in the Daniel Press, and would pull out the slim volumes, with infinite care, examine them and make his purchase. We became friends and I went to his house in North London where he had the most wonderful book collection. He was in publishing, but on the verge of moving to the country and starting his own rare book business. This was my introduction to Colin Franklin who became my mentor. Colin taught me not to pay too much attention to the price of a book. The price is not the most important factor – it is the quality of the printing, the paper, the binding, the text and the illustrations. If they are not good, it does not matter if the price is cheap – it will never be a desirable book. A good copy of a good book will always be worth its price. 
I was twenty-two when I joined Quaritch in 1967, and stayed for four years. With hindsight, I can see that I left much too soon, but I did not have the means to buy a partnership, and I would always have been an employee, and a very junior one. In England in the 1960s people rarely thought of opening their own business. America, on the other hand, seemed to be the land of opportunity. When David Magee came into Quaritch one day and invited me to visit his shop in San Francisco, I jumped at it and left for America on a wing and a prayer. As luck would have it, David had sold his business by the time I got there but I walked into Howell's shop just as one of Warren's cataloguers was going on maternity leave. He offered me a job on the spot and I started on the following Monday. Warren liked the fact that I had worked at Quaritch and had met or at least knew of many great collectors, who were also his customers – men like Jock Abbey, Robert Honeyman, Elmer Belt, Herbert M. Evans, Raphael Esmerian, Paul Mellon, Lessing Rosenwald and the de Belder brothers, as well as the cream of the trade. Over the years I have met richer men, but not greater collectors. 
I worked for Warren Howell from 1971 until late 1974, when I decided to start my own business in my bedroom in the house which I was sharing with friends in San Francisco. I had only been on my own for a few months when I received a phone call from Ron Randall who was still working at Howell's. He told me that he wanted to go into business for himself, and that his father had suggested that we form a partnership. Ron's father was David A. Randall of the Lilly Library (Indiana University), perhaps the most distinguished rare book dealer turned librarian of his or any generation. 
The Lilly Library had recently bought the Ian Fleming collection of rare source material concerning Western civilisation (he was a consultant and lender to the great 'Printing and the Mind of Man' exhibition as well as the creator of James Bond) and, as a result, had a room full of duplicate copies from its own holdings. David Randall was able to arrange for the duplicates to be shipped out to San Francisco, where we catalogued and sold them, took our commission and the rest of the money went into a credit with the Lilly Library to spend with us. I did most of the cataloguing, while Ron looked after the Lilly Library business, and the collectors in his father's circle. We used to compare ourselves – ambitiously and perhaps rather pretentiously – to the New York partnership of Mike Papantonio and John S. van E. Kohn at Seven Gables Book Shop, each with our different strengths and responsibilities. 
The partnership worked well until 1979 when it came unglued for personal reasons. I was going through a difficult divorce, and Ron's wife became seriously ill and died. My ex-wife and Ron's in-laws decided that their share of our book business must be incredibly valuable. Everybody in the trade knows that a business may look enormously valuable, but it can be extremely hard to get actual cash out of it. Ron and I decided that things were not working, ended the partnership and dealt with our family issues as best we could. Ron moved to Santa Barbara and opened Randall House where he has successfully carried on bookselling to this day, and I stayed in San Francisco for a while and did a little publishing and writing before moving to Venice Beach in Los Angeles. 
At about this time it occurred to me that I could choose to do something completely different with my life. I became deeply involved in Tibetan Buddhism and joined a centre in Los Angeles, where I helped to sponsor the Dalai Lama's visit to America in 1984. When His Holiness arrived in Los Angeles, I picked him up at the airport in my VW. Things were more low-key in those days. At the end of his visit, he invited me to stay at his monastery in McLeod Ganj in the mountains above Dharamshala. I put my books in storage with Bill Dailey, moved to India, shaved my head and became the only Tibetan monk in India with an American Express Card. 
I loved my new life and was quietly going about my routine in the monastery when the Bhopal tragedy occurred. In the immediate aftermath of the explosion, the tension between India and the United States was extreme. The authorities decided that Americans were no longer welcome in India. A government official arrived at the monastery, and I was given twenty-four hours to leave the country. My first thought was to contact the Dalai Lama and ask for his advice. He replied, 'Go to Los Angeles and work for peace'. And so I walked into Bill Dailey's shop in my Buddhist robes and announced that I was back. 
I did some cataloguing for Bill and for Heritage Book Shop, sold some of my books, and spent time on a couple of writing projects which I had always wanted to do. Thomas Frognall Dibdin and Mary Wollstonecraft Godwin were both indirectly connected to William Blake, who has always been a special interest of mine. In my researches on Blake, I was amazed to find that no bibliography existed of Dibdin or Wollstonecraft, which was particularly ironic in the case of Dibdin, the self- proclaimed 'father of bibliomania' and founder of the Roxburghe Club. With the bravery borne of ignorance, I decided to put this right and my bibliographies were eventually published by Oak Knoll in 1999 and 2000. 
Although I very much enjoyed being a researcher for a while, I did not deceive myself that I was a scholar, as my commercial instincts never died down. There is a great difference between an autodidact who dabbles in one tiny area for a certain period of time, and someone who devotes their life to its study. If I have one regret about being a bookseller, it is the loss of the ability to enjoy books as books. When I walk into some of the greatest libraries in the world, I cannot stop myself from mentally pricing every book I look at. This continual ker-ching taints my enjoyment of the book itself, though it has enabled me to travel the world and savour the temporary possession of some wonderful books. 
In 1985, I happened to see an interview on television with David Mixner, the Los Angeles political activist. He was talking about his plans for a Great Peace March for Global Nuclear Disarmament. Remembering the advice of the Dalai Lama, I went along the next day to the office of the organisers of the march, and volunteered to help. In March 1986 I was one of the peace marchers who set off to walk across America from Los Angeles to Washington DC, a journey of nine and a half months and 3,700 miles. 
In many ways it was a pure Buddhist experience, living from day to day, accepting whatever came our way, and in some ways I have never been happier in my life. After arriving in Washington I went to Florida with some friends on a second peace march down the coast to Cape Canaveral, where a Trident missile was due to be tested. We managed to delay the test, if only for a week, and all got arrested. Still, it was a symbolic gesture and one that I am proud of though it means I will never earn a Government security clearance in the USA. 
It was time to sell a few books again, and put some dollars back in the bank. I asked Bill Dailey to ship some books to Florida, where I had bought an old school bus and converted it into a book-mobile, complete with shelves and a study area up front, and a comfortable bed and a shower in the back. I filled the bus with books, and began the three-month drive back to California, zigzagging across the country, stopping at bookshops on the way, and calling at all the university campuses. When I reached Texas – a very conservative state – I knew that I would be viewed as distinctly dodgy with my long hair, hippy clothes and a bus covered in peace signs. To my amazement, the head librarian of Southern Methodist University in Dallas not only came down from her office, and spent $20,000, but also told me that she admired what I was doing, saying, 'My pastor's daughter was on the Great Peace March and she knows you'. 
Basically I had taken the '80s off or, as someone put it, I had my '60s in the '80s. The main thing that had changed in my absence was that my friends in the trade had made a lot of money. It had been a real boom time in the rare book business, with the Arabs and the Japanese in the market. By the end of the decade, that market had more or less collapsed. Meanwhile the internet was about to come along and kick the bottom out of the market for less expensive books. I embraced the new technology very early on. I bought my first Mac in 1986 and got on to the web as soon as I could. The internet has exposed far more people to the world of rare books, and to the kind of books in which I deal, than I ever could have reached on my own. It is a fantastic tool, but no substitute for having a bricks-and-mortar establishment. If you are thinking of spending a thousand or two thousand dollars on a book, would you like to be able to visit a dealer in a shop where he has done business for many years, and can show you different copies of a book, discuss what is available on the market, help to develop your interest in the subject and generally be available for consultation, or would you rather do business with a website that can disappear at the flick of a switch? 
I moved back to San Francisco in 1989 and reopened my business full-time. Later on, my wife, Chris Loker, opened the Children's Book Gallery, our second shop in San Francisco and, within a year or two, had established herself as the leading dealer in antiquarian children's books on the West Coast. There are lots of people selling more recent children's books, but no one else currently has an antiquarian shop solely devoted to children's material from 1750 on. The traditional methods of bookselling from a bricks-and-mortar establishment can easily be combined with new technologies. In the last few years we have issued catalogues of illuminated manuscripts, children's books, and books by and about Blake and his circle, each with a CD-ROM of the catalogue included which holds the entire text and hundreds of colour images and thus serves as a fully searchable index. 
Young people will be drawn into collecting by looking at books on the web, and developing a hunger for the real thing. I compare the process to watching a movie on a tiny screen on the back of an aircraft seat, and then wanting to see it at the IMAX. Areas of collecting will change. The modern firsts fad is already refining itself. For example, a new book by Stephen King no longer automatically jumps from $29.99 to $200 on publication. New subjects are emerging. I have collectors who are very interested in books on global warming. One customer collects diaries, as they frequently contain accurate observations recorded over a long period of time on the weather in a particular location. This material can be mined for priceless information on climate change. Another is fascinated by recycling and how societies have dealt with surplus and waste over the centuries. And of course, Bibles, books on food and drink, and children's literature are always in demand 
As for bringing young people into the trade, I have just hired a twenty-six-year- old, who would have worked for nothing in order to get started. He is extremely well-educated and reads Greek and Latin, and two or three other languages. Nowadays there are very few occupations outside the rare book business in which someone of his abilities can feel truly valued. I would love to see every one of my colleagues bring on one young person, either as an employee or as a collector. The challenge for the book trade is to introduce young people to rare books and foster an appreciation of the importance of books as cultural artefacts. We can show them what a difference they can make to the world by what they choose to collect and treasure, to write about and share with friends. Chris and I are thinking of publishing our next ventures as apps for the iPad. If we continue to embrace technology, the future for the rare book trade is unlimited. Terry Belanger once pointed out that the less utilitarian horses became, the more highly they were valued and treasured. I'm betting the same is true of books and I hope to be selling them for many years to come. 
Interviewed for The Bookdealer in August 2010
Afterword
My interest in Blake has led me to open two more spaces, one The Blake Library containing about 1000 books for sale by and about Blake ranging from original leaves from illuminated books, Blake manuscripts and drawings, to his rarest printed books and volumes containing his commercial engravings  - the other being The Blake Gallery which is mounting three shows a year around Blake's art. The first was titled "Always in Paradise", and the second "Blake in Color"; the full-scale colour catalogue lists everything in the first two shows.
I continue to deal widely in areas of interest, most recently cataloguing a major collection of about 200 books by and about Charles Dickens. The Children's Book Gallery has been moved (to make way for Blake) back into the main shop, and consists of about 250 rare titles before 1950. 
In other news, my stepson and his wife are having our first grandchild so I will need to keep selling books for the foreseeable future. As I have four employees currently, their help getting the books catalogued and sold is invaluable as it allows me a little time off to play golf before the grandchild arrives and takes over.
Afterword added in June 2017