Pom Harrington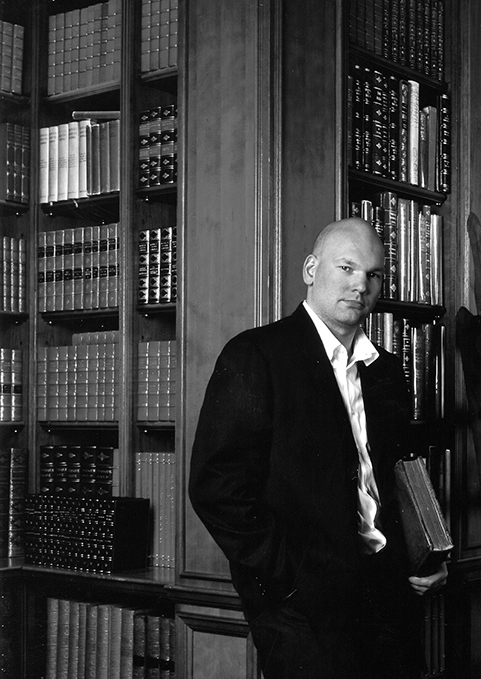 Most booksellers are not businessmen first; they're book lovers. They trade in something they love and try to make a living at it. Being born into the trade, I was always very conscious of the business side. My father, Peter Harrington, wanted me to join the business, but nothing seemed less attractive during my years of teenage rebellion. I did however work for him on Saturdays and during the school holidays at Chelsea Antique Market, where he had a colossal back room stacked floor to ceiling with decorative bindings, which I sold to interior designers. Eventually I went off to Sheffield University, where I quickly discovered that student life wasn't for me, and came down after one term with my tail between my legs. I started doing odd jobs wherever I could find them, while helping my father on a part-time basis. I was gradually beginning to appreciate the business, and to enjoy selling books. In 1994, I asked my father for a proper job, and he turned me down – for the simple reason that he thought that I wouldn't listen to him. He would have liked me to go and learn the business from someone else in the trade. We had a bit of a stand-off for a few months before my mother intervened. And that same year I joined Harrington Brothers, as it was in those days, working with my father and my uncle, Adrian.
I learnt a lot from my first few years with my father and Adrian. They had such different styles, while both being very successful booksellers. Adrian takes a more studied approach, while my father relied on his instincts. He taught me to think out of the box – to have the confidence to buy something you have never seen before and know that someone else will share your reaction and be prepared to pay more money for it. He didn't need to think about it or look it up in reference books – a nice bit of red morocco around a good book and the decision was made. I like to think that I inherited my father's instinctive approach to bookselling. We certainly found quite a lot of common ground when we worked together. In 1997, we moved out of Chelsea Antique Market and my father and Adrian went their separate ways – Adrian to a shop in Kensington Church Street, and Peter to our present location in Fulham Road. Although my father was still in charge of the business, I took over the running of the shop in 2000. When my father died in 2003, I took over his share of the business. My mother has the other half.
While my father was trading at Chelsea Antique Market, he also developed a map and print business, which was largely run by my mother. In 1989 she established Old Church Galleries with my sister Nicky in a shop in Old Church Street. The business became a thriving concern, and eventually had two branches – one at 98 Fulham Road next door to our bookshop. After thirty-five years of trading, my mother wanted to step back from the business, and last year we merged Peter Harrington Antiquarian Books and Old Church Galleries into one firm under the name of Peter Harrington, occupying a double-fronted, four-storey building, with more than 20,000 volumes and 6000 works on paper. Since my father died, my mother has been a great support. She encouraged me to spread my wings and has helped the business to succeed.
There are very few rules for running a book business. You make it work as you see fit. I employ people who bring a string of new knowledge to the business. A decade ago we didn't have anyone who knew about modern first editions. Kevin Finch joined us and introduced us to twentieth-century books, which he had been selling at the Royal National Hotel fair, where I first met him. Kevin still covers provincial book fairs for us and does all our auction viewing. We had Clive Moss with us for a while, and he introduced us to a new range of books such as the Kelmscott Chaucer and other expensive and glamorous books that he had handled while working for David Brass. My father never felt entirely comfortable with very expensive books – he would handle them occasionally, but it was not in his nature to buy them for stock. When Clive was lured by the bright lights of Los Angeles and went to work for Heritage Book Shop, I continued to buy books in new areas. I was probably a bit scatter-gun in my approach, but you learn quickly when you make an expensive mistake. In 2003 Adam Blakeney joined the firm. I would trust his knowledge of twentieth-century books over anybody else in the trade. Almost ten years on, our stock is dominated, in terms of volume, by modern first editions.
Adam Douglas is in charge of our cataloguing and we take great pride in the quality and production of our catalogues. I value them for the image that they project of our business. Hundreds of books go through our hands every month. They are all hand-picked – we rarely do house clearances – and described with great attention to accuracy. We work to a tight formula in terms of the nuts and bolts of the collation. But the tricky part is to write something concise that is entertaining, informative and captures the essence of the book. A good cataloguer will get to the point of the book – not least why it's worth the price. A lot of people don't understand why there's so much variation in prices – as a glance at ABE will demonstrate. We want our customers to trust that there's a good reason for the price of our books.
The relationship between the bookseller and the customer is based on trust. There's nothing new about this, except that the internet is changing the way in which the relationship develops. We have customers who spend a considerable amount of money with us, whom we have never met. The relationship is based entirely on e-mail, their preferred method of communication. I don't think that we have experienced the full extent of the change that technology will bring. As confidence in the internet grows, the financial threshold increases – people who were comfortable spending a few hundred pounds on our website and paying by credit card are now spending larger amounts. Our ability to describe and portray the books in ever greater detail obviously plays a large part in building this confidence. ABE allows dealers to upload several photographs of each item, so that you can present the book from different angles, which helps the customer to make a decision online. It's been very noticeable in the shop over the last couple of years that people don't come in to browse. They've already done their browsing on our website, and come into the shop to see a specific book. Of course they often browse while they're here, but they're quite focused when they arrive.
The number of bookshops will continue to decline, as people's buying habits migrate online. But I believe that it's still necessary for a business such as ours to maintain a physical presence. If you sell expensive books, you need a proper establishment in order to inspire confidence. Would you spend £50,000 on the internet with Joe Bloggs and his PO Box address? I like the ABE star-rating system, which is not only based on the fulfilment of orders, but also on orders not returned. You need to achieve a 95 per cent success rate to earn five stars, which we have had for several years. Pablo Picó is our web manager and processes internet orders, updating our online stock every day. He's immensely proud of our high order-fulfilment rate.
Collectors are learning to spot the 'chancers' on ABE – dealers with one star and a PO Box selling very expensive books. They're not so easy to spot on eBay, where rogue traders present a real problem. Forgeries are nothing new, but the problem is becoming much harder to control on the internet. I'm on the ABA's security committee, where we're doing our best to try to remove a bunch of fraudulent books from the market. There's someone at work at the moment who is responsible for hundreds, if not thousands of autograph forgeries. His style seems to be to sign reprints or undistinguished editions, which have cost him nothing if he makes a mistake. He never inscribes a book, as too much writing might give the game away. I would advise anyone to be suspicious of a cheap edition of a book by, say, Virginia Woolf, inscribed with just 'her' signature.
The internet has obviously had an enormous impact on how people are buying, but we're also seeing a huge change in what they're buying. The market is becoming much more discerning, and prepared to pay for it. We live in a time of huge prices for the right book in the right condition. For the old-style bookseller, such as my father, it was all about the book itself. If it had the dust-wrapper, so much the better, but it wasn't crucial. If the binding was unattractive, you rebound it in morocco.
Now the fashion is entirely for the unsophisticated object; the book itself is almost secondary. Last October we bought at Sotheby's a fine copy of the first edition of Thomas Hardy, The Trumpet Major, a three-decker in the original red cloth for £14,375. A less attractive copy sold at auction recently for a few hundred pounds. The middle ground in bookselling has changed, but the high end has kept on selling. If I find the right book at the right price, I'll buy it, no matter how many copies I have in stock. English literature is our strongest suit and one in which we have a strong influence on the market – and in the case, for example, of Harry Potter – a very positive one. Over the years Adrian and I have sold a huge number of Harry Potter books, and tried to iron out some of the myths. There are 500 copies of the first edition of the first book in hardback, Harry Potter and the Philosopher's Stone, published on 30 June 1997 by Bloomsbury, who sent 300 copies to libraries. Only 200 copies went into circulation. I sold my first copy to a woman who lived around the corner and had never been in the shop before. She paid £6000, the market price, but I remember warning her that it might be worth nothing tomorrow. When the film came out in 2001, we sold six copies of the book at £15,000 each. A good copy today is now worth over £20,000. I met J.K. Rowling on one occasion and she signed a book for me. I'm sure she thought that I would sell it. She's rather suspicious of booksellers, but the trade should be grateful to her. The impulse to collect often begins with books that people enjoyed in their youth. J.K. Rowling has created a new generation of readers who may be our customers in twenty years' time.
You could spend a lot of time trying to spot the next Harry Potter when often it's better to wait for a book to become established and then join in. If you take the examples of Evelyn Waugh, Graham Greene and Ian Fleming, the market for good copies of their books just keeps on going. In our little world, it doesn't take many collectors to move a market. Ian Fleming is a good example – there are only fourteen books to collect; it can be done quite quickly, and there are always people wanting to do it. I collect Roald Dahl. I originally chose his books because they were cheap – you could buy a signed copy for £50. Nowadays you would have to pay around £1000, and my collection has become more of a business proposition than a hobby, as I'm spending so much more than I intended.
Book collecting is a hobby for most of our customers. As a business,we recognise this and try to make it fun. Our shop has a smart appearance, and visitors receive a warm welcome. Everything is priced, catalogued and guaranteed. I can't stand shops where the books are locked up, nothing is priced and you might just as well be in an old-fashioned library. This is not the way to attract the new generation of collectors, who expect smart presentation and full transparency. I've been involved for several years in the organisation of the London International Antiquarian Book Fair at Olympia, which increasingly faces the challenge of trying to present an old- fashioned concept to a new generation of young buyers who are more at home online. All the art and antiques fairs are facing the same challenge.
New collectors are not attracted by the image of the musty old bookshop, with a clock ticking in the corner. The Olympia fair needs to be smart and contemporary and to present book collecting in the most attractive light. I'm a strong believer in London's potential to be the centre of the world book trade – New York and Paris being the other contenders. Olympia is our big showcase and has attracted some excellent new collectors in the last few years. But we have a long way to go to catch up with the New York fair at the Park Avenue Armory – at least, in terms of number of exhibitors and quality of buyers. It must help to have a location in one of the richest parts of the world.
I'm sometimes asked if I believe in investing in books. Of course I believe in it – I've got a shop full of them, but you have to pick the right ones. In that respect they're no different to any other investment. People keep telling me that Kindle is the end of the book. It's not; it's the end of the paperback. When a new book comes out, some people will happily pay £25 for the hardback, while others prefer to wait for the paperback and they're the Kindle customers. As a result, we might find that the new trend actually increases collectability in modern books, because the print- runs will drop. Kindle doesn't change the intrinsic object. I believe the object will remain, just in smaller numbers. From our point of view, you might say that Kindle will save the book. Our business has grown year on year, and I don't see any reason for this not to continue. My children are aged six, four and one and I'd love the idea of one of them going into the business. The future of the book trade is fine.
Interviewed for The Book Collector Autumn 2011