Richard Sawyer
[Unsentimental Journey]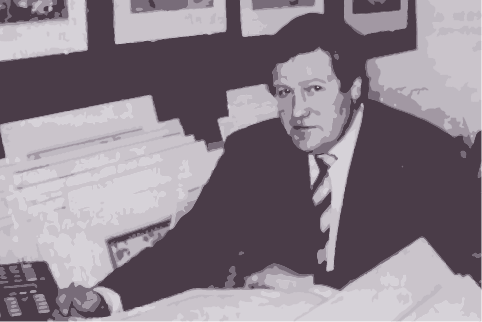 Being the son of a bookseller, I was born into the business. From the age of eight or nine, I can remember going with my father to the shop on Saturdays to dust the books. Although he had a staff of ten people at the time - this was in the late fifties - the books were not dusted as regularly as they should have been and it was the only way to get some pocket money. The shop was at 12 and 13 Grafton Street, a nice little niche of booksellers with Quaritch next door and Thorpe's in Albemarle Street.
When I went to boarding school, I still came up to do a bit of work in the holidays. The packer taught me how to pack or, as he put it, 'Richard, I'm going to learn you how to pack'. And he did learn me. In those days the old Book Post was quite an art to do properly. When I was about seventeen, I had a holiday job in the Post Office, which was certainly a lesson in the value of good packing. There were two or three of us in the sorting office, all members of the rugby club, and we used to drop-kick parcels into the loading bays.
When I finished school, I was not sure what to do next. I had flirted briefly with the idea of going into the Church and the school was keen for me to join the Army. As my father and uncle had both been to Cambridge, it might have been expected that I should at least have a crack at getting in. So I stayed an extra term to take the entrance exam, which I enjoyed as it was the rugby term. But I knew I had failed as soon as I walked out of the exam. No telegram arrived. So my father suggested I might like to go abroad instead of going to university, to which I replied, 'Can I do both?'
Through his business connections, my father knew the librarian at the University of Cape Town and asked him if there was any chance of my going there. Cape Town came back very quickly and offered me a place. This was in the mid-sixties when they were feeling very isolated and trying hard to encourage foreign students. It was already December and their academic year started in January, so we took a quick family decision and I was on a plane to Cape Town.
I always describe it as a not particularly good degree, but a fabulous education. There was a little group of students from England and somehow we seemed to hold quite a bit of power on the campus. I became President of the Debating Society and we were generally known as the Foreign Office. As regards the political situation, I tended to take the approach that I was a visitor and therefore could not really say too much - unless people were attacking the university of which I was a bona fide member. The teaching was similar to the American system of credits. I majored in English and philosophy, which was a fascinating subject to be studying there, particularly political philosophy. Our professor was Andrew Murray who advised the South African government on the theory of separate development.
Once a month I had to present myself to Tony Clarke of Clarke's Bookshop in Cape Town, so that he could write to my father and say, 'He's still alive. I've seen him'. Quite frankly Tony should have come over to London. He was starved of good books in Cape Town, but he loved Table Mountain too much. It is a very romantic place, and a lovely place to be at university. My father's connections with South Africa began almost as soon as he joined the business after the War. At that time my grandfather's manager, Mr Newham, was still looking after the English customers and my uncle was in charge of the American side of the business. So my father felt that he did not have anything to do. He looked at a map and decided that Southern Africa and Australia were the only two English-speaking places that were not being covered. In those days, the Africana market was the stronger of the two - it was also closer - and in 1947 my father made the first of many big trips to Africa.
There are stories about him being late for the boat at Southampton, and having to go out in a little pilot boat with all his boxes of books. He would go for six months at a time, travelling to Nairobi, Bulawayo, Salisbury, Port Elizabeth, East London, Cape Town and Johannesburg, exhibiting his books and contacting local, mainly, art dealers. There were not so many booksellers in those days. On his first trip, my father met Alfred Gordon-Brown who was the archivist for the Union-Castle line. Together they worked on Pictorial Art in South Africa, which was published in 1952 and did much to stimulate the collecting of South African paintings, drawings and prints.
After I took my degree and came back to England in 1970, my father met me at Southampton and said, 'What are you going to do now?' I didn't have a clue and replied that I would come and work for him 'for a while'. I started the next day and tend to feel that I have been there ever since. Soon after I joined the business, our block in Grafton Street was redeveloped and we had to find new premises. Quaritch moved to Golden Square and it was actually Ted Dring who found us our new shop at 1 Grafton Street on the corner of Hay Hill.
My father suggested I should work in the Africana department, particularly as I already knew a lot of the customers who had made life very pleasant for me in South Africa. Eventually I became a partner and bought my uncle's side of the family out of the business. In the end I bought my father out in 1982 and, effectively, he half-retired from that time on. Although we got on quite well together, we were never very close. It was a typical middle class relationship between father and son. He taught me a lot of useful things but, at the same time, he let me get on and acquire knowledge in the same way that he had done. I remember him saying, 'You'll never make any money out of this but you'll have a good life'.
I kept the premises in Grafton Street, sharing with Jonathan Potter, till 1986 when we saw the rent review coming. We managed to sell the lease and I then went to work with E. Joseph for three years, which was an interesting experience. It was in effect a form of partnership, whereby David Brass hired me and my firm as a consultant. David and I broke up the relationship prior to his arrangement with his American backers. Obviously I know more than some people about what actually happened, and less than other people. The definitive story, if there is one, will not come out for some time and, quite frankly, I will maintain a discreet silence. As one South African cabinet minister said some years ago, 'No comment. And that's off the record'.
These days I'm working on my own from home in Sevenoaks, and have become more of a dealer and less of an old-fashioned bookseller, due to the economic reality of the situation. For a while I kept a London office in Dover Street but it was not cost-effective. As I do a lot of commission work in the sale rooms, I'm very grateful to have a desk in Jonathan Potter's office just up the road from Sotheby's. Working from home has its advantages. You don't for example get time-wasters telling you what a wonderful collection they already have. On the other hand, with a shop, you always hope that someone will walk in off the street and spend a lot of money. Having experienced the so-called carriage trade, I can say it doesn't happen like that. Rich people were supposed to walk up and down Bond Street and spend thousands at Sawyer's. In fact the streets of London are not paved with gold.
Sawyer's was originally known for English literature, fine bindings, colour-plate books, private press books - in fact quite a wide range, without going into anything too esoteric. Africana and Churchill were specialities that my father started and I have continued. What I like about Churchill is that he has stood the acid test of time, and is now being collected by a new generation that cannot remember him in the same way as my father's contemporaries.
Within the field of Africana, classical nineteenth century exploration still commands great interest. For the more modern period, there is a growing academic interest in the history of South Africa since Apartheid. A tremendous amount of books have been written about the period from 1946, individual experiences of Apartheid and the theories behind it. Alan Paton's Cry, the Beloved Country is a wonderful book for anyone who wants to appreciate what South Africa is and was like. There's a nice story about a party in South Africa House before Nelson Mandela was released. Nelson's column was in scaffolding at the time, and the story goes that one South African diplomat said to another, 'What's that out there?' 'Nelson's column.' 'My God, man, have they put a monument up to him already?'
There's nothing more certain than change. In the last twenty-five years, the book trade has changed greatly. It's a far tougher business to be in now than when I first started. If you think about the table at Sotheby's, many names sitting around that table no longer operate as shops in London, including Sawyer's, and now E. Joseph has gone. In the old days there was a different way of working together. If a provincial bookseller had a nice private buy, his first move would probably be to pick up the 'phone and invite a London dealer down for lunch and a deal would be done for the whole collection. I'm talking about the days before the PBFA and the big book fairs, when provincial book-sellers probably had very few overseas customers and might only occasionally do a catalogue. They did not have the customers for their bigger books and would simply sell them on in the trade. Nowadays we all have our fax machines, customer lists and the opportunity to bring books up to London. When I visit the fairs, I sometimes feel that the books are priced for private customers and there's not much profit margin left for London booksellers. You can't work on margins of 10% or 20% if you have to pay rent, rates and staff.
We need to rethink the way we do things if we are to survive. During the recession we lost the middle market which is badly needed to support the number of people in this business. The trade is trying to get a bit more professional about its approach. The Diploma course is certainly one example, although I hope they are going to teach the students about business - VAT, export licences, how to deal with bank managers, even how to do a cash flow, although I always think a bookseller's cash flow is something you could put in for the Booker Prize as a work of fiction. All businesses fly by the seat of their pants, as Nicolas Barker wrote in The Book Collector, referring to the E. Joseph case.
Everything has become a bit samey. At least the ABA London fair has moved and there's a new excitement about Grosvenor House. Unfortunately the opening party was a victim of its own success. It was just too crowded and people could not get into the stands. I would like to split the opening day into a trade and an official opening, perhaps tied up with a charity which would help with the PR.
When you meet a potential new collector, the hardest thing is to commit him to buying that first book. On the other hand, if people start buying a lot very quickly, they can get bored just as quickly because they are not being selective enough. I had a new customer in the days of Grafton Street who spent about £1,000 on an assortment of books. Six months later, he made another selection and I discussed some of the books with him - 'If you want that book, you don't want that copy' and so on. A dealer should always stop a good customer from buying the wrong book. As Percy Muir said, 'the places where books are bought and sold is the best school a collector can attend' (Book-Collecting as a Hobby, 1944).
It's difficult to be a good bookseller and a collector, because you are basically telling your customers that you keep the best for yourself. I like to collect through my customers, by taking great pleasure in the things I buy for them. I love trying to find something unusual that might fit into their collections. I particularly enjoy receiving catalogues from dealers with obscure or ephemeral items.
One or two of my more established customers have already got most of the books in their field and are now moving into autograph letters and ephemeral material. As this can be a problem to look after, we have started scrap books, which I keep and slip in the material. When they are nearly complete, I shall send the scrap books out to them. Meanwhile I have had the pleasure of putting them together.
Fleshing out a collection keeps the interest going. There was a sale in Birmingham with a gun that had been brought back with David Livingstone's body. I bought it and offered it to an American collector who replied, 'I thought you were a book dealer not an arms dealer'. He bought it and was excited to add to his collection in that way. Certain things are collected today that I doubt will be collected by my children's generation. Take Ian Fleming for example. I was seventeen or eighteen when the first Bond film came out, and we were all reading the books at school. That same generation went on to collect the first editions. My children have seen all the Bond films and might even have read one or two of the books, but they certainly don't have the same feeling for them. You can say a book should be worth £1,000, but if no one is going to pay more than £100, that's its value. Dealers do not control the market, they are servants of the market.
Although I enjoy bookselling, I do sometimes question whether it's what I should be doing. I never took a conscious decision to become a bookseller. At that stage in my life, I did not know what else to do. I think my father was exactly the same. He came back after the War and joined the firm because it was there, whereas Charles James Sawyer, my grandfather who founded the business in 1894, really wanted to be a bookseller. Now the chain is about to be broken. My two children are not thinking of book selling, which does not worry me. My father always said there should be no sentiment in business.

Interviewed for The Bookdealer in March 1995
Richard Sawyer died on 28 September 2012