Sam Fogg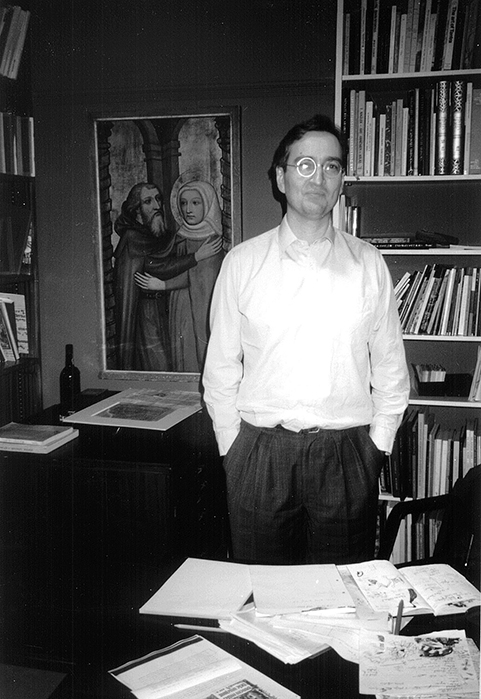 Sam Fogg is a wonderful name to be born with. Its mantra quality invites repetition until it breaks down in hilarious Spoonerism – not that Sam can have spent much time thus employed in the past ten years which have taken him from Portobello Road to Bond Street.
Today he occupies the top floor of the Colnaghi building, to which his incomparable stock lends a distinctly cloistered atmosphere. It would only take the admittedly unlikely arrival of Robert Curzon to transform this corner of West One into the Monastery of Souriani.
'Since about 1500, books have gone downhill until around 1950 when they perked up again. I only started dealing in medieval manuscripts about five years ago. Until then all my interests had been in nineteenth-century and modern art books.
'After I left college, I survived for a while as a painter, living on social security which I supplemented by running secondhand art books up and down Portobello Road. Eventually, I got a stall under the bridge. It took another eighteen months to realise that I was lonely and miserable as a painter and not very good at it, whereas I really enjoyed running books and did it well.'
Sam chose to become a full-time bookseller and continued on his own for another couple of years before hitting a bad patch and losing books in a disastrous flood. Next came his partnership with Sims Reed, which he broke off five years ago to go back to running his own business.
'I enjoy being my own man. It's really due to my inability to work well with others. I know I'm not a good boss, as I don't get the best out of people easily. If I do, it's because of them and not me.'
Whatever the explanation, the firm of Sam Fogg Rare Books and Manuscripts enjoys pre-eminence in the field of modern illustrated books, and is probably without rival in medieval manuscripts.
'This will sound terribly corny, but the sort of unity you find in medieval manuscripts – between the way they are made, their content and script – you can also find in book production of the last twenty years or so.
'To buy good manuscripts, you have to take horrible risks, but I'm quite good at not worrying too much. If I only bought things I knew I could sell, it would be much less fun. Dealing allows me to get interested in all kinds of subjects. For instance, at the moment I'm quite successful in modern painting. I did moderately well in Old Masters a few years ago. But I was no good with furniture or Japanese prints, and I've made a complete mess up of many other things.
'I'll trust my instinct if I haven't the time or ability to trust anything else. Having said that, I'm very lazy about doing homework. I have often wondered about becoming an academic, but I'm not sure I have the patience or talent for truly useful research. Also, I like earning more money than I would as an academic.
'I would quite like to be at the top, but this is not colossally important. I love the things I deal in and want to sell the best and that probably coincides with being top.
'Actually, I give most energy and attention in my life at the moment to my family. Six days out of seven, I make sure I see my children morning and evening. I know I can become obsessed with work, but my family comes first and I wouldn't be interested in a life in which that wasn't the case. I know this addiction to work is very unhealthy for me, and if I wasn't careful, I would be working all the time.'
Ian McKay recently re-opened his 'Catalogue Corner' in the Antiques Trade Gazette in honour of Sam's Catalogue 14, describing it as 'a breath-taking compilation of Medieval Manuscripts, this is certainly Sam Fogg's finest hour.' In fact it has come to be widely regarded as the most sumptuous catalogue in the history of the British book trade. Such talent and business flair inevitably invite comparison with H. P. Kraus, the doyen of learned bookselling, whom Sam himself regards as the greatest.
'I never met Kraus, but he seems to have had all the right qualities – knowledge, taste, courage, and sales pitch. In my field, he had all the finest things, and he didn't let anyone else get at them.'
Sam did not know that one of his own customers, an eminent French collector, had prophesied, 'Sam will be the next Kraus'. The remark was made at a Sotheby's reception and was not entirely Sibylline, as Sam had earlier that day demonstrated a Krausian blend of knowledge, taste and courage in bidding on an enormous Central Indian painting on cotton, depicting Maharaja Ram Singh II of Kotah out with his elephants. It was a most engaging composition with everything to recommend it except its size, and Sam just had to have it, undeterred by the certain prospect of having to rebuild his house around it.
The Book Collector recently sounded its own prophetic note in stating that successful booksellers of the future are likely to be those with the imagination to investigate less frequented paths.
'Most of bookselling is an old trick and it's got to be done differently. Everything is changing because it's mostly gone stale. As for all this talk about slipping standards amongst the younger generation, I know I've been guilty of such things
as grabbing books before fairs open. Traditional bookselling doesn't like people chasing a buck in that way. But I'm asking this, "How else do you earn a living?" 'I suppose the answer is by inheriting a firm from your family and then running it down, or by ripping off the public – traditional bookselling is also based on paying them a fraction of what you charge.
'I've only been a member of the ABA a short time. There were moments when it would have been extremely helpful to me and during those times I wasn't allowed to join. I suppose I have ideas about how it should be run that you will have heard before, but I do think the London Fair should be vetted to the highest possible standard and that participation should be on the basis of the quality of the goods offered by a maximum of 50 to 60 dealers. I keep saying I'm never doing a fair again, and then I do it again.'
Perhaps Sam will feel the same about being interviewed. 'I'm naturally a very shy person, but I'm not a shy dealer. Tell your readers the only fascinating aspect of Sam Fogg is his fantastic stock'.
Interviewed for the Bookdealer in December 1991
Afterword
Since I was interviewed, I have moved twice, first to St George Street and now Clifford Street – all within 100 yards and I won't move again. Although the business has diversified into Asian printing, European painting and sculpture, and Islamic and Indian works of art, medieval manuscripts are still the heart of the business. We do at least two catalogues a year, but no bookfairs any more. I miss them a lot.
Afterword added in 2004