Simon Gough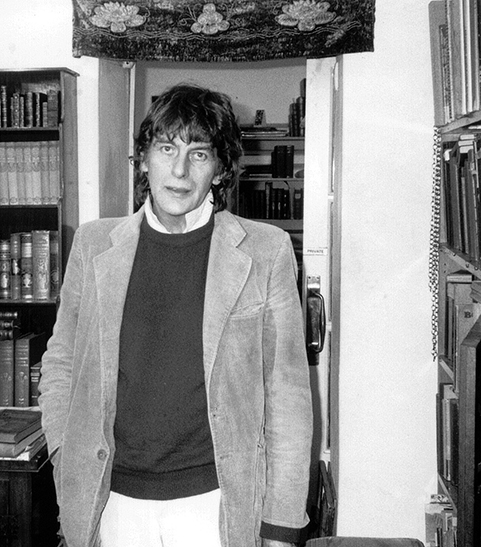 'All booksellers are lunatics' says Simon Gough whose own personal history lends something more than support to this claim. The product of a theatrical family and a deeply unconventional childhood, Simon spent his early years blowing up school buildings and hopping back to Italy to spend holidays with his mother in Portofino.
It must have been something of a jeunesse dorée, on which he looks back with pleasure and amusement. The atmosphere of dolce far niente suited him well enough and, with classical culture at his feet, he preferred the life of a wild child of nature. Today, Simon preserves something of the air of an Englishman just back from the Grand Tour, wearing his considerable knowledge with that particular air of well-bred indolence. He remembers Italy for its beauty and fun. It would, after all, be too horribly bourgeois to have visited all those churches and art galleries.
'I hate museums. I absolutely loathe them! I like my beauty in its natural state or in one that I put together.'
Simon left school somewhat under a cloud after blowing up the sewers. He was only fifteen and went immediately on to become the youngest boy ever to join the Central School of Speech and Drama. Those péchés de jeunesse, however, were far from over and it was not long before he brought the safety curtain down on the Principal's head. The man was being an intolerable bore and asking for worse. No doubt it was done with some considerable panache, but it cost him another start in life. Who knows if any lesson was learnt? Simon is a man of cavalier irritation for whom boredom is a capital crime – the iron fist in the velvet curtain no less.
As for the quiet (let it not be called boring) world of books, Simon bounded into it because he considered the theatre unsuitable for a married man. He also seemed to have acquired a rather unmanageable quantity of books. 'Library's too grand a word. They were collections in the family.' His wife comes from Norfolk, a shop was found in Holt, and trading began one Monday morning fourteen years ago, with the simple objective, 'Take the shop, sell the books and then think of some- thing to do.'
While Simon might appear to have emerged a perfectly formed bookseller, for whom anything resembling training would have been too dull, he was actually very fortunate in his mentors. 'One was Percy Muir. He was a serious friend and a quite phenomenal man. The other was Tom Crowe – quite a different end of the scale, but equally extraordinary. A strange Celt – we got on extremely well.
'Both men had proper book manners. I suppose one spends a great deal of time thinking about these, but they are to do with humility, patience and recognising the pecking order.'
Presumably Simon has yet to think of something to do as he continues to trade from his shop in Fish Hill. The view from the front room is all but obscured by an eighteen-gear Nissan – a car to be driven with an iron fist –which was quite indispensable during a recent visit to Majorca to buy eight tons of books from a private library on top of a mountain. 'We had such fun getting the books. They were all brought down by donkeys, and a storm was threatening the whole time we were there.
'The sexiest book is one bought privately that has not seen another dealer or the auctions. To buy them you have to be very bold. I live on a knife-edge all the time. But the pleasure, above all, is to place the book with someone who really wants it – for the joy of it and bugger the money, as long as one has enough to live and educate one's children.
'We are here to seduce people, and that's what I try to do with my catalogues. I love thinking of new ways to sell old books, and am trying to get catalogue design down to a fine art. Last year I was on some strange pills and so was not responsible for my actions when, one night, I got very bored and brought out a list with an introduction in doubtful taste.'
Simon seized upon the familiar text of the conditions of sale, and managed to squeeze out some quite advanced obscenities simply by inserting rather strategic typos. The revised text appeared inside the cover of his Christmas catalogue, and upset many a fastidious reader.
'Of course I blamed an unruly employee! You must remember I am stuck out here, 150 miles from civilisation with long winter nights to cope with. I did not know anyone read the blurb, and so I thought I was doing it for my amusement only. But one very good private customer asked to be taken off the mailing list.
'I very rarely read catalogues. Everybody suffers from too much erudition -these people with their extraordinary DNB entries and quotes from the Encyclopaedia Britannica! I bet those cataloguers collate their lavatory paper. It's the Bronco mentality. You simply cannot bore people to death.' Simon was visibly warming to his subject, and in between smashing the top off a crème brûlée, set his mind to the ABA.
'We cannot go on in this way with a minute budget. We need serious money spent on publicity. The membership subscription should go up ten times – it ought to be like belonging to an exclusive club, which it no longer is. The ABA is half-full of wonderful people and half-full of people who would like everything to remain just so and never grow up. I'm sure we all accept that booksellers are mad – well, when I say mad, perhaps I mean eccentric. As President, David Brass has to deal diplomatically with them. It's an impossible task.
'Take this with pinches of salt, if not whole salt mines from Ukraine, but I would like to see a public relations firm take us into the twentieth century. Almost every bookseller I know joins the ABA in order to exhibit at the June Fair in London. Now the fair can be a curse as well as a boon. I mistakenly work towards a stock for the Fair, simply for that one moment to give people some pleasure – lovely books in wonderful condition, a glittering stand to be proud of.'

Simon is currently writing a four-part serial for the BBC on his experiences at the University of Madrid. He first began writing in those overcrowded years of his youth, and only stopped 'because life got busy and complicated'. He has started again seriously and with great enjoyment, but has few illusions about its difficulties with the BBC in financial crisis and 'everyone being thrown out, mostly from top-storey windows'.
'With writing, everything is possible and everything is impossible. You can be on the brink of the greatest Hollywood contract ever, and remain on it until they tuck you into your grave. Last night I threw a book across the room. It was so self-conscious. I like a story where you are not conscious of the writer. There is the mysticism of it – that one man can put down something that so precisely is in tune with the other man and extends that man's powers of imagination and perception.
'Books are mystical things: they look beautiful, they read beautifully and they contain knowledge. They are the one truly three-dimensional art, to be understood in relation to your own magic, and that's why I like books.'
At this point, the wheel of the tape recorder jammed with a wicked disregard for the job in hand, of which Simon might have approved. The rest of the recording sounds rather like a prolonged and particularly raucous belch. Against this unpromising background Simon is occasionally still to be caught expounding his philosophy of beauty and quality, fun and jollity. O, how the wheel becomes it!
Interviewed for The Bookdealer in May 1991