Jeremy Miles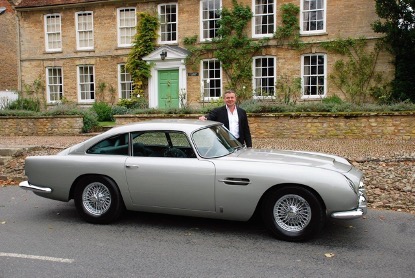 Sean Connery as James Bond on screen was the definition of cool to me in 1969 when my fascination with Ian Fleming's character began. I was fifteen, an incredibly impressionable age, when my father took me to our local cinema in Stratford-upon-Avon to see a double bill of Dr No and From Russia with Love. I was never the same after I came out of that cinema. I would spend hours in my bedroom in front of a mirror, reaching under my left arm for an imaginary gun, and saying, 'The name's Bond, James Bond.' My parents were quite concerned, as you might imagine.
James Bond was also a cult figure to my school friends at Gordonstoun. We were obsessed with Sean Connery in the films that came out in the 1960s, but no one more so than me. I saw each film several times. In those days you had to go to the cinema. When VHS cassettes started coming out in the late 1970s, and DVDs twenty years later, I collected the Bond films in both formats, but my interest did wane a bit after Sean Connery's departure.
Although I first met James Bond in the cinema, I grew up in a home full of books. My parents collected a bit of everything, and my father had all the Bond novels in paperback, in which I began to immerse myself. I first read Casino Royale when I was seventeen, and have now read it so many times, always with the same pleasure, that I can almost recite it by heart. Under Bond's influence, I started drinking vodka Martinis and smoking. Unfortunately Morland's, his brand of cigarette, went out of business in the mid-1960s. I learnt to play bridge, and have studied the famous game in Moonraker. Bond also introduced me to chemin de fer, the card game which I have never managed to master.
In my late teens and early twenties, I attempted to be like Bond with the ladies but, unlike Bond, I have maintained good friendships with nearly all of my old flames. When a girlfriend asked why I slept with my right hand under the pillow, I realised that it was something that I had picked up from Bond in Casino Royale. When he went to bed, he slipped his right hand under the pillow until it rested under the butt of the .38 Colt Police Positive with the sawn barrel. I was quite shocked to think that I had absorbed this detail subconsciously. My public-school background gave me a certain empathy with the world from which Ian Fleming came. Gordonstoun was a tough school in those days – cold showers, early-morning runs, and all the other stuff that Prince Charles hated when he was there. As I'm a sportsman, I enjoyed the opportunities that the school offered. I shot, played rugby and had a good time. In my final report, the headmaster wrote, 'In all my years of teaching, I can honestly say that Jeremy Miles is the most incorrigible boy ever to have passed through my hands.' I'm very proud of those words.
I went straight from Gordonstoun into the advertising business, joining Abbott Mead Vickers in 1980. My boss was David Abbott, the best copywriter this country has ever known. He devised the famous campaign for The Economist, featuring white letters on a plain red background, capturing the essence of its appeal simply and memorably. David was a great lover of books. There's a video on YouTube, filmed at John Sandoe's in Chelsea, entitled I Love This Bookshop, in which David talks about his passion for independent bookshops. He refers to them as 'small, heroic places'.
Although Abbott Mead Vickers looked after the accounts of some of the UK's largest advertisers, we also worked on various literary accounts including Waterstone's, Daunt's and of course The Economist. It was part of my job to spend hours in various branches of Waterstone's during the mid-1980s, when we were working on double-page spreads in the national press and magazines. The brief was to associate Waterstone's with a love of books. Tim Waterstone was a wonderful client to work for – exciting, energetic and full of ideas. The agency won an award for the campaign in the late 1980s. After twenty years with AMV, I co-founded Miles Calcraft Briginshaw Duffy, and David Abbott became our only non-executive director. When David died in 2014, I lost a great friend. He was a life-changer and a life-enhancer. My work has always been about personal relationships, and forming long-term loyalties – to people and brands.
There's something rather Bond-like about the advertising business. This is clearly demonstrated in the American television drama Mad Men, which has a cult following. I've watched every episode several times. Based on a fictional advertising agency on Madison Avenue, the series is set in exactly the same period as the novels of James Bond, with whom the characters share the same chauvinistic and patronising manner, glamorous lives and sleek styling. As an ad man, I was fascinated to read Ian Fleming's correspondence with his publisher on how much to spend on advertising for the early Bond novels. The information is in Fergus Fleming's edition of the 'James Bond Letters', The Man with the Golden Typewriter. They were arguing over such small amounts of money, and yet Jonathan Cape, the publisher, still wanted to go fifty-fifty with Fleming on the cost.
Ian Fleming understood the art of product placement, and was one of the first authors frequently to use brand names in his novels. Like Bond, I have a strong loyalty to the products that I respect and love. I buy nearly all my books from Daunt's in Marylebone High Street, or from Sotheran's, where I have been going for thirty years. I would be lying if I didn't say that I have sniffed around other bookshops, but I've never been unfaithful to Sotheran's, where Andrew McGeachin has always looked after me. I have a very strong view that bookshops should be supported, and I refuse to purchase books on the internet.
When I was in my twenties, I would walk past Sotheran's and buy the odd little thing. As I began to earn more money, I set myself two goals: to own an Aston Martin, Bond's car, and a complete set of first impressions of the first editions of the Bond novels by my fiftieth birthday. I got my first Aston, a V8, when I was in my forties, and Sotheran's helped me to achieve my book-collecting ambition. I bought the Bond novels in reverse order, due to their prices. Andrew advised me to have boxes made for Casino Royale, Live and Let Die, and Moonraker, the first three novels, which are the most valuable. I hadn't realised how much interest Ian Fleming took in the designs for the dust-jackets of his novels until I read The Man with the Golden Typewriter. I have a dual favourite – Casino Royale with the nine hearts in a playing-card layout, based on Fleming's own sketch, and Richard Chopping's trompe-l'œil design of the sawn-off Smith & Wesson revolver, with a red rose entwined through the trigger for From Russia, with Love. It's one of the nine famous jackets that Chopping illustrated for Fleming's Bond novels.
I have enormous respect for Ian Fleming as a writer. He worked with immense discipline, producing 2000 words a day and one book a year at Goldeneye, his home in Jamaica. Fleming had first visited the island during the Second World War when, as assistant to the Director of Naval Intelligence, he attended an Anglo-American naval conference in Kingston. The estate was named after Operation Goldeneye, the Allied plan, overseen by Fleming, to maintain vital intelligence if Germany took over Spain and Gibraltar. Chris Blackwell of Island Records, who put Bob Marley on the map, bought Goldeneye from the Fleming estate in 1976. I went there many years ago, as I wanted to see the place where the Bond novels were written. The view of Oracabessa bay on the northern coast of Jamaica is wonderful, but I found the villa itself rather small and a bit disappointing. It's now a luxury resort, and you can stay in the Fleming villa itself at huge expense.
If I could take one book to a desert island, it would be Casino Royale, not only for the superb dust-jacket, but also for reading. Although I've read all the Bond novels many times, I still find them addictive. If something gives me pleasure, it doesn't matter that I know what's going to happen. I'm an opera lover; the fact that I've seen a production many times won't stop me going again. Ian Fleming is the only author who has this addictive quality for me. Strangely enough I'm not a great lover of thrillers per se. I have all the John le Carré novels, but you can't compare the fantasy world of Fleming's novels with that of George Smiley, or Len Deighton's Harry Palmer novels with their far more honest and gritty depiction of what the Cold War was really like.
The escapism in the Bond novels is Fleming's kickback against the loss of empire and the decline in Britain's status in the post-war world. It's always the Brits and not the CIA who save the world, whereas the reality was exactly the opposite. But what's wrong with a bit of pride? Bond was a patriot, as am I. He was a champion of old-fashioned values and a man of his time, who is now being torn to shreds for his lack of 'political correctness'. If you take the question of James Bond and the glamorization of violence, I strongly believe that hard-core violence and pornography do have a detrimental effect, and know this for a fact from the advertising business. However the level of violence in the Bond novels is nowhere near what you can read today.
I read in The Man with the Golden Typewriter that one in five of the world's population has seen a Bond film. My daughter's generation love Daniel Craig, but he doesn't seem to have created an interest in reading Fleming's novels. My friends think that I've never grown up, but they respect my ambition to collect all the first editions. My book collecting isn't over, because there are other authors whose works I love and would like to own in first editions. I collect Graham Greene, Hemingway, Nabokov and Bulgakov but I have no ambition to own complete collections of their works. I'm not a great fan of the Bond continuation novels. The only two I enjoyed were William Boyd's Solo, and Sebastian Faulks's Devil May Care, which was published on 28 May 2008 to mark the centenary of Ian Fleming's birth.
Sotheran's continue to tempt me with Bond items from time to time. Andrew offered me another first edition of Casino Royale; it was a second impression inscribed by Ian Fleming with love to Fleur Cowles, the American editor and journalist, who had given the novel a good review. It didn't work for me as I don't want a second impression, and I prefer my copies clean. A novel signed by Fleming for Jeremy Miles – now that would really tempt me. My Bond interest helps me to keep youthful and cheerful. I'm 61 now and I can honestly say that James Bond taught me how to live my life and enjoy it.
Interviewed for The Book Collector Spring 2017