Otto R.Norland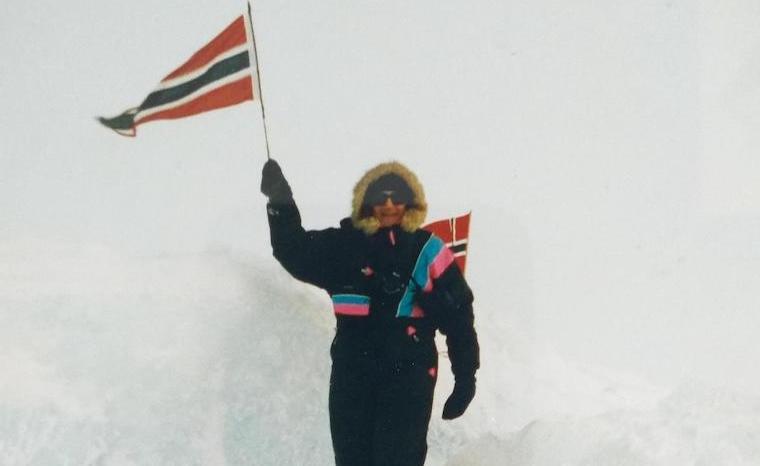 My lifelong interest in polar exploration began in 1938 when my grandmother gave me a Norwegian edition of Fridtjof Nansen's Farthest North. I was eight years old, and the book inspired my desire for a life of challenge and adventure. It's inscribed by my grandmother, whom I loved very much, and I didn't include it in Sagen & Delås's sale of my library in Oslo recently. In the words of Fredrik Delås, who prepared the catalogue, if it wasn't for Nansen, there would probably be no Otto Norland Polar Library.  
I grew up from the age of seven to eleven on the southern tip of Norway on Lista, a bleak peninsula jutting out into the North Sea. The walk to school along a narrow farm track was often so windswept that I had to push a wheelbarrow filled with stones to avoid being blown into the ditch. On 9 April 1940, Germany attacked Norway and there followed five years under German occupation. Lista was surrounded by German anti-aircraft batteries protecting their bombers from the daily sorties of Spitfires based in Scotland. The German bombers would fly past so low that I could see the faces of the pilots. Although it was dangerous, I used to stroll by the sea, wondering about the world out there.
My father was Realph Norland, who was for a few years Secretary-General of a new conservative party which became very popular, attracting 100,000 members. Fridtjof Nansen agreed to become President of the party. They were colleagues and friends, and as a baby I sat on Nansen's knee.  My mother, Aasta Sæther, trained as a pharmacist, but decided to study the history of art in an effort to match my father's intellect. He was a voracious reader of books on all subjects, and during the War years my brother, Andreas, and I kept ourselves occupied by reading books in his library. We were often ill with bronchitis during the winter months, and we had to learn to study under our own steam when we couldn't go to school. I absorbed the classics – Norwegian authors, the great Russians, as well as my favourites Ivanhoe and The Three Musketeers.
By the time I went to the Norwegian Commercial University (NHH) in Bergen to study Economics, I was an exceptionally well read student. I began to discover the antiquarian bookshops and, whenever I had some spare money, I would buy the great Norwegian authors, Ibsen, Hamsun and Björnson, slowly gathering a near-complete set of first editions.  Meanwhile I met my future wife, Gerd Andenæs, at a students' ball. Gerd came from a similar family background, and had the same passion for discovering new things, taking on challenges, and seeing the world.
I chose the City of London as my special subject at university because I was captivated by merchant banking as a dream of adventures embracing the whole world. When I graduated in 1953, I became a student trainee at Hambros Bank. It was my first step to exploring the world, and the start of a long and successful career in the City of London. Although I was a pretty good banker – I've written about my professional life in The Magic of Merchant Banking - I never bought a book because I thought I would make money on it. When I first came to London, I earned twenty-two pounds and sixpence a month. I couldn't afford to turn on the heating in my lodgings. I would sit in bed to keep warm, and eat fish and chips wrapped in the Evening Standard. I would get around London on my bicycle, and it wasn't long before I discovered the secondhand bookshops in Charing Cross Road, and Sotheran's in Sackville Street, which eventually became one of my main suppliers for polar exploration.  
There was also Winnie Myers, with her wonderful collection of letters and manuscripts, on the top floor of a rickety building in St Martin's Lane. Looking back, I wish I had bought more from Winnie, who found some of the most interesting manuscript items for my collection. I shall never forget my first visit to her office. I knocked on the door, and a rather masculine voice told me to come in, whereupon I entered a smoke-filled room and could just make out the figure of a man sitting behind a desk, piled high with parchment scrolls. On closer inspection it turned out to be an elderly woman, smoking a cigar.
Shortly before Winnie died in 1985, I was able to buy from her Captain Scott's autograph letter, written on the paper of the British Antarctic Expedition, dated 5 July 1910, concerning arrangements for his last expedition. The Terra Nova had already sailed from Cardiff, but Scott didn't join the ship until it reached South Africa in September. The letter is addressed to Sir Lewis Beaumont, who had served on the British Arctic Expedition's attempt to reach the North Pole in 1875. In his letter, Scott suggests steps to be taken should the Terra Nova fail to return from the ice at the appointed date. 'It would be an act of wisdom to leave somewhere in England a document dealing with the various possibilities which may interfere with the working of my programme. Such a document might be useful to allay public anxiety as well as to indicate the direction in which action might be taken'.
Meanwhile back in the 1950s I was establishing my career and, after I passed my banking exams in record time, I began to be noticed within Hambros. When I asked Sir Charles Hambro if I could have a salary instead of pocket money, he found it amusing and agreed. The whole bank knew about it within the same day. I also asked if I could travel wherever I liked as I wanted to see the world. I assured him that he could fire me on the spot if I didn't bring back enough business. From that moment I was destined to become the boss, and in 1964 the board approved my appointment as one of six managing directors of Hambros Bank, seated at three large desks in the magnificent front room on the first floor.
It was understood throughout most of my career that I would spend the first two weeks of January in my mountain cabin in Norway to refresh my thinking. The temperature could drop to minus 40 degrees Celsius, and I carried a tent and a three-day military survival pack when I went out skiing. I had no mobile phone with me, but I always left a note on the door of a mountain guide. Although I had been rather sickly as a child, in my youth I trained myself to become physically stronger by playing tennis and learning to be a good skier. In the mountains, I was deliberately testing my survival skills.  When I was surprised by a storm, I put the tent up, had my cocoa and sandwiches, and enjoyed myself. Fog can be particularly dangerous in the mountains. On one occasion I was out skiing and in the distance I saw a large figure, but no ski tracks. All kinds of thoughts went through my mind, including the chance meeting of Nansen and Frederick Jackson in the Arctic in 1896. When the fog lifted, I saw that it was just a large raven.
My January trip alone in the mountains was a way of training myself for the cold and the isolation, and the experience of being lost, or at least nearly lost. I find the North Pole and Antarctica quite marvelous. The word 'fear' doesn't exist for me. Actually the only time I have ever been frightened was on a flight from New York to London with my wife when one of the engines caught fire. I looked around the cabin and felt reassured to see that not everyone was panicking. There was a man in front of us who was reading a newspaper. I pointed this out to my wife, who never panics, and she said, 'Yes, but it's upside down'. We have trekked together along the route that Shackleton took from South Georgia's southern coast to the whaling station of Stromnes. It was quite an experience, and the island made a great impression on me. In 2001 we were on a Russian nuclear-powered icebreaker when an enormous iceberg broke off the Larsen B ice shelf in Antarctica. I will always remember looking down from the top of the huge iceberg, and thinking that our powerful icebreaker looked like a toy boat. It's the strongest impression I have of the immense power of nature.
I regard Sir Ernest Shackleton as the most important figure in polar exploration after my hero Fridtjof Nansen. Shackleton's son was a highly respected politician and industrialist, whom I got to know when he was Chairman of Anglesey Aluminium and I was Chairman of Alcoa Great Britain and President of the Aluminium Federation In 1982 Lord Shackleton agreed to be our guest speaker at the annual dinner of the Aluminium Federation at The Savoy. When we met him in his office in St.James's Square, he was sitting in his shirtsleeves behind a desk piled with documents about the Falklands War. Polar photographs covered the walls, including several from Lord Shackleton's own expeditions to Ellesmere Island. Sir Ernest Shackleton was shown in a few photographs, as was his gravestone in Grytviken in South Georgia.
After the meeting I asked if I could take him alone for a five-minute walk around his office while I did the talking. He got up and listened to me as I guided him from photograph to photograph, naming not only the places and ships but also most of the people. As we sat down, he said, 'I take it that you are a Fellow of the Royal Geographical Society?' When I said no, he rang for his secretary and asked for an application form, saying to me that he was the President of the RGS. He wanted to know about my own Polar explorations. At that time I hadn't even been to Spitzbergen, but I told him of my deep interest since my grandmother's Christmas present of Farthest North, and that I had sat on Nansen's knee. Lord Shackleton signed my RGS application on the spot.
At the age 62, I was asked if I would join the 1992 International North Pole Expedition.  My role was to lead the support team with two Canadian Twin Otter aircraft, and I jumped at it. I ordered a fur-lined outfit from a specialist in Finnmark, and a pair of Inuit straw-lined boots from Canada. I already had other essential items from my annual trips to my mountain cabin. After the expedition two of us hired a plane for a visit to Gjöahavn, where Roald Amundsen spent eighteen months in 1905 locating the only possible way through the Northwest Passage to the Pacific Ocean. The first edition of his account of the first expedition successfully to navigate the Northwest Passage was published in Oslo in 1907. It was in Gjöahavn that he learnt from the Inuit the art of survival, wearing animal skins instead of wool, and carrying supplies on dog sleds, an experience that gave him the edge when he went for the South Pole five years later.  In Gjöahavn we were quite amused to discover the number of people who claimed to be relatives of Amundsen.
I have always been interested in the exploration of the Northwest Passage. Jens Munk's extremely rare account of the first Scandinavian attempt to find the Northwest Passage achieved the highest price in the sale of my library. The Navigatio Septentrionalis was published in Copenhagen in 1624, and sold for just over £100,000, setting a Norwegian record for a single book at auction. The expedition left Copenhagen in 1619 with two ships and 65 persons, of whom only Munk and two others survived.  This copy has an exceptional provenance for me, as it had belonged to two great Norwegian collectors. Jonas Skougaard and Per Meyer were both members of the Bibliofilklubben, to which I was elected in 2001. The club was founded in 1922 as a group of friends dedicated to book collecting. Hans Reusch, the director of the Norwegian Geological Survey, was the first chairman.  The club is limited to thirty-three members, and candidates for election must be knowledgeable about books in general, and have a special area of interest. You must also be a likeable character, and election depends on the unanimous approval of the existing members.
I bought the Navigatio Septentrionalis from Claes Nyegaard of Damms Antikvariat in Oslo in the early 1970s. Claes was a great bookseller and a tremendous character, whose reputation was known far beyond Norway. It was Claes who helped me to buy Nansen's diary of the first crossing of Greenland in 1888. It had come to light in a small classified ad in a Norwegian newspaper, which my brother had spotted, and was simply described as a handwritten diary 'related' to Nansen. After Munk's book, it achieved the second highest price in the sale of my library.
When the time came, it wasn't a difficult decision to sell my collection because my eyesight has gone from bad to worse, and I can no longer get much pleasure from my books. I also wished to give private collectors a chance to experience the pleasure of 'the chase' after new treasures, rather than making a deal with a library like the Scott Polar Research Institute. The net amount I received from the sale was 3.5 million Norwegian krone, a good deal more than I had anticipated. However, my interest in collecting had nothing to do with money. It was a wonderful hobby, and enabled me to become involved in the world of polar exploration, and the activities of the Royal Geographical Society, through which I have met so many interesting people. I'm sure there's a link between my life in banking and exploration. Success in both activities depends on the will and ability to create and accept change. I never forgot my father's advice to think hard before saying no to an interesting opportunity, and so I have said yes to practically everything.
Interviewed for The Book Collector Autumn 2022