Manfred Flynn Kuhnert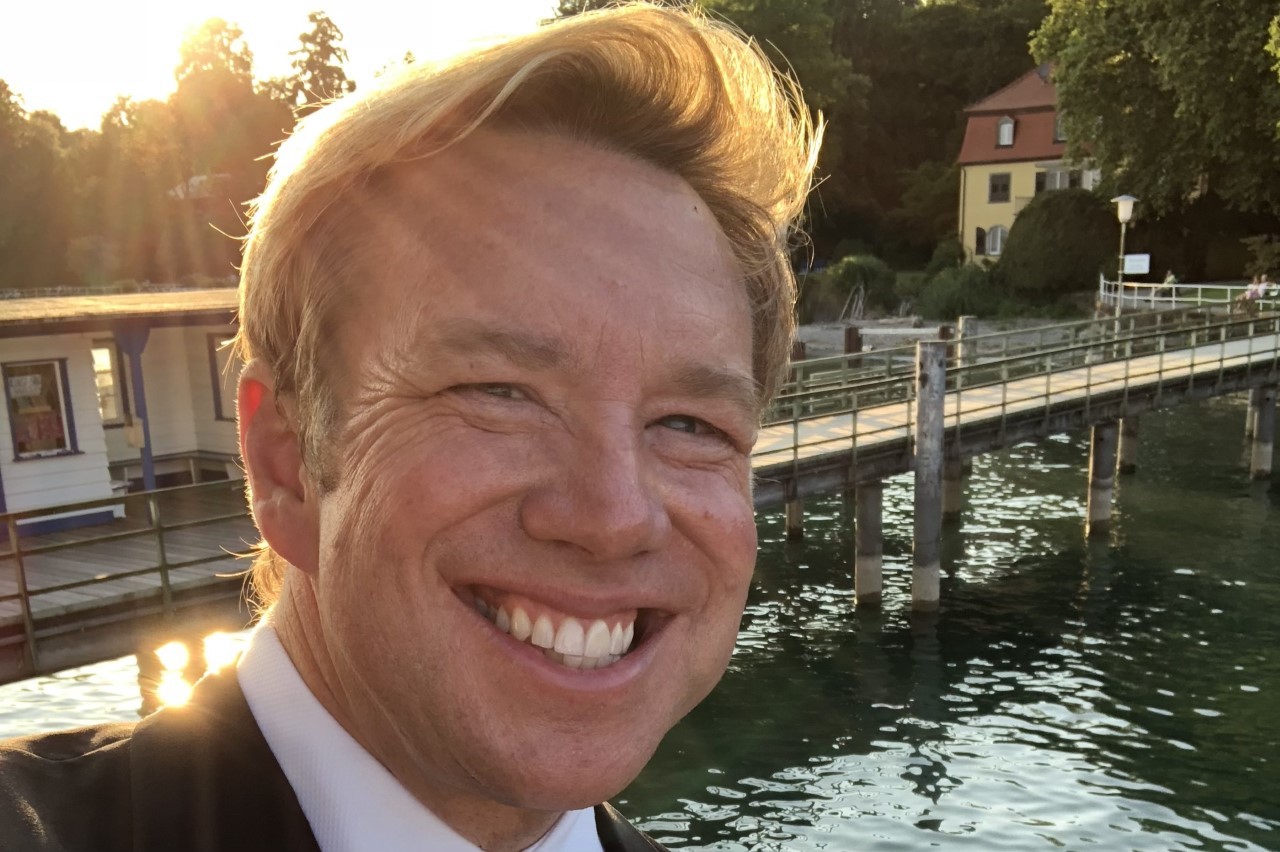 My book collecting began with my beloved father. He was insatiably curious, finding it impossible to leave a bookshop without a stack of art books under both arms, crammed into two heaving sacks. As we struggled to the car, he would always remind me giddily 'All knowledge is in books, everyone knows something'! My dad's legacy is of the immense joy inherent in the quest for knowledge. As father and son, we found that joy together in books – history, biography, criticism. On my fifteenth birthday my mother, who lives for history, gave me a copy of Robert Hughes's The Shock of the New. It became a seminal text in my life and inspired my unending love of 'the idea'. I was mesmerised by his prose, and how elegantly and vividly Mr. Hughes put forth the concept that the world had changed less since the time of Christ than it had in the last hundred years… in a single, beautiful sentence. 
My father loved painting, and my childhood home was filled with ever-growing towers of books on art history; no room was spared from this monumental installation, ever-expanding like skyscrapers in the 1920s. To my mother's constant surprise, there were always more! Growing up in California in the late 1970s, artists' monographs were my equivalent of the baseball cards found in other kids' homes – other kids gossiped with their dads about the Dodgers and the Cubs – but the teams my dad and I followed equally as passionately, as devotedly, were the Post Impressionists, Expressionists and California Plain Air painters of the 1930s. We lived in Laguna Beach, which I compare to Antibes for its physical beauty. I would spend hours transfixed by the changing colour of the sky over the ocean and the incredible sunsets; it was rather a Durrell-in-Corfu childhood.  I remember reading everything from Sophocles to Strindberg on the beach just to the left of the Surf and Sand Hotel. The town is known for its galleries and artists' community. A tradition of tableaux vivants started in Laguna about a century ago - ancient history for California - and each summer the residents would enact famous paintings, always finishing with The Last Supper.
Theatre has been my life's passion since I was in Seventh Grade at school. It happened by accident as I had wanted to study photography, but the class was full and so I took drama instead, ironically my third choice.  I've never looked back!  I've been very lucky with kind and wise mentors guiding my way.  At Harvard I graduated from the highly competitive Graduate Program in Directing, which took two people a year in those days. My professors in dramatic literature included Robert Brustein, the legendary American theatre critic, and one of our greatest men of letters, and Robert Scanlan, a great dramaturge and Samuel Beckett's literary executor.
I shall never forget my classes with Bob Scanlan in the basement of the Widener Library. We were studying Aristotle's Poetics, in the 1961 edition with an introduction by Francis Fergusson, the author of The Idea of a Theater.  Aristotle's Poetics is the earliest surviving work of Greek dramatic theory, and became another seminal text for me.  In the words of Fergusson, Aristotle paved the way for playwrights for centuries on end, and his seventy page, twenty-four-hundred year old book taught me the most important concepts necessary today in directing a play and creating a compelling event: reversal and recognition moments.  Those flashes of epiphany – when Oedipus or Bruce Willis, in The Sixth Sense, 'gets it'.
The theatre has given me the opportunity to be a 'generalist' as Joseph Campbell would call himself, and to view each play as a laboratory of life. While I was at Harvard, I directed Chekhov's The Seagull for the American Repertory Theatre. When the production moved to Amsterdam, I went with it – all expenses paid. I was able to stop off in Paris to see Pina Bausch perform 'Palermo Palermo'. I also had time to visit the bouquinistes, where I found a copy of Bertolt Brecht's Modelbuch for the 1949 production of Mother Courage with Helene Weigel, giving all his stage directions - for the equivalent of $22.00. Pure treasure to me!
Tragically I shipped Brecht's book to LA after teaching at Duke, and the US postal service lost it, along with first editions by Meyerhold and Edward Gordon Craig.  It was a lesson for a lifetime, and from that day anything precious travels with me in a cabin bag. Over the years I've discovered that a brightly-coloured, happy-looking bag tends to look light, and the airline staff won't ask questions as you heave it into the overhead locker. Of course you get a hernia, but none of your books gets lost.
For the last twenty-five years until his death in 2021, John Saumarez Smith guided my book collecting. John ran Heywood Hill, the book store in Curzon Street, like a literary salon, and he knew exactly how to match a book to a customer. When I go into a bookshop, I want to learn, and have someone place a book in my hand. John's recommendations had the ability to make you a more complete version of yourself. Great booksellers can teach you how to immerse yourself in a land of ideas. You must allow yourself enough time to find mentors across the centuries, to choose wisely and listen to the heart. I'm so grateful to John for telling me that I didn't have to finish every book, 'If it's not good enough, you stop and move on'.  At home in California, my partner Peter Iacono and I have around 25,000 books. I organize the books by date and place, with fiction and non-fiction, old and new books on the same shelf. If I take the example of England in the mid-eighteenth century, the shelf will begin with biographies of the reigning monarch George II, then prominent statesmen, architects, painters, furniture makers, novelists, poets and so on. The arrangement provides a microcosm of that moment in time, and I can find any book quickly.
I don't have a bookplate, although I love them, particularly some of Rex Whistler's designs.  Last Christmas good friends gave me the most wonderful present of having one designed by the author and artist Henry Chancellor. It's taken me a year to decide what I would like, as it's as precious a wish to me as if it came from Aladdin's lamp.  I think I might ask Henry to include some form of proscenium arch as the theatre was a point of entry to the world for me. 
Some of my shelves are painted 'Heywood Hill red', as an homage to the great bookshop. John's inspiring successor Nicky Dunne, who owns and cherishes Heywood Hill with the Duke of Devonshire, continues John's style of bookselling. As do the staff - past and present. Two of John's alumni, Venetia Vyvyan and Tony Smith, have become great booksellers in their own right. When it comes to bookshops, it's all about the people. I believe that bookselling works best in person, especially if the customer is made to feel part of a community of like-minded people. I love the idea of a book's passing from hand to hand and enriching each reader. My copies of The Normans in the South and The Kingdom in the Sun, by my hero John Julius Norwich, had originally been inscribed by him to Osbert Lancaster. It was such a joy when John Julius later wrote in them, 'And now to Manfred'.
The world is full of extraordinary bookshops, run by fascinating people. In Cairo I always enjoyed visiting Hassan Kami, the opera singer and actor, who had bought L'Orientaliste bookshop as a present for his wife. When she passed away in 2012, he decided to run the business himself. It was in a wonderful location in Qasr El Nil, opposite Groppi's, which had been the most glamorous café in Cairo. The last time I visited him was in 2018, shortly before he died. On that occasion, he opened a dummy-book door that I hadn't noticed before. It concealed the entrance to an inner sanctum, hewn out of the rock, in which I found many wonderful things, including original drawings by David Roberts.
On the Greek island of Santorini, there is a lovely shop called Atlantis Books. It's modelled on Shakespeare and Company in Paris, and is a wonderfully quirky space. They try to bring together artists and writers, and create a space for inspiring conversation in the most idyllic surroundings. In Athens, I love Vassilis Korovessis's bookshop in Plaka. Vassilis is a friend of Ed Maggs, and his shop is full of interesting books. On one of my visits, I found some of those wonderful carved ornaments used on old Greek houses to hide the joins in terracotta roof tiles. I brought home ten of them, and they're now on top of the book cases in my library – another hernia-inducing journey.
Bangkok is one of my favourite cities, and it now has a fantastic bookshop devoted to Asian art and culture, occupying the entire top floor of the Central Embassy shopping mall. It looks out on the beautiful garden of the British Embassy, and was sensitively designed by a Japanese architect who believes in the importance of browsing in a bookshop. In Hong Kong, Yves Azemar's Indosiam Rare Books is another of my favourite bookshops. It's on Hollywood Road opposite the historic PMQ building, which is now a chic shopping centre. The bookshop is not on the street level, but in a rather prosaic apartment block. You have to press a buzzer at the entrance, and it's difficult not to look as if you're up to something nefarious. Then you find yourself in a magnificent mahogany-lined apartment, filled with rare books and prints on former French colonies in Asia, and English books on Hong Kong and China. I was delighted to find a twentieth-century Chinese reprint – a rarity in itself – of Giuseppe Castiglione's designs for the Western-style palaces and gardens. They were built by the Qianlong emperor for Yuanming Yuan, the Old Summer Palace in Beijing, to house the Emperor's magnificent collection of European art.
In 1783 the Emperor commissioned a set of engraved views of the palaces and pavilions. It's a work of great rarity, and beyond the reach of most collectors, including me. I'm happy to have a reprint as it's the idea of Yuangming Yuan that fascinates me. It's such a perfect example of cultural dialectic at a moment when East and West were learning from each other. While in the West we were decorating our homes with examples of Chinoiserie, the Qianlong Emperor was indulging his curiosity in the European decorative arts.
One of the engravings shows the famous water-clock, made of twelve bronze animal fountainheads representing the Chinese zodiac.  The water-clock was in the grounds of the Hall of Peaceful Seas, which was modelled on Versailles. When the Yuanming Yuan was destroyed by the British and French during the Second Opium War in 1860, the animal heads were amongst the treasures plundered by the troops. In 2009 Christie's in Paris sold the art collection of Yves Saint Laurent, which included the bronze heads of the rabbit and the rat from the Chinese zodiac fountain. Their sale resulted in international controversy, and the animal heads were later returned to China. Meanwhile the complete set of heads was the inspiration for Ai Wei Wei's Zodiac Project, which travelled the world. I was lucky enough to see it in the dining room of Blenheim Palace in 2014. I truly live for these extraordinary cultural experiences.
During the pandemic, I decided to do something about my love of art and the people who create it, and so my partner Peter and I developed an app called 'My Favorite Year' Arts Almanac. It's essentially a rolling calendar of global cultural and literary events. Technically creating an app is like Dante's fifth circle for me, as I'm the least technical person on the planet, but the experience reminds me in some ways of the early days of television. For years there was little programming of any consequence, and then along came Kenneth Clark in 1969 with Civilization, demonstrating the ability of the medium to reach an enormous audience and ignite their imagination. I was three years old when it was first broadcast, but I subsequently watched it over and over again.  I'm hoping, by highlighting the best of human creativity across the continents, all in one place, we can increase understanding with our app.  Hopefully bringing everyone a tiny, tiny bit closer.
Specifically, our app provides a guide to the arts across the world, arranged chronologically, always fifty-two weeks a year in advance, whenever you open it. The inspiration for 'My Favorite Year' came from my classes with Bob Scanlan, who introduced me to Diderot's great encyclopedia. I found it incredible that in the 1770s one could encompass the known world in thirty-five volumes. Nowadays we're overwhelmed with information, and our app is designed to filter the best literary and artistic events to enable you to make the most of your time. At the moment it's an almanac with live links.  The next phase will include experts writing for us on upcoming events. The aim of the app is to provide a preview as opposed to a review.  Giving everyone a chance to plan, to find a bit of inspiration, and make the most of each day.  In the words of Seneca, life is long if you know how to use it.
Interviewed in December 2022