Robin Myers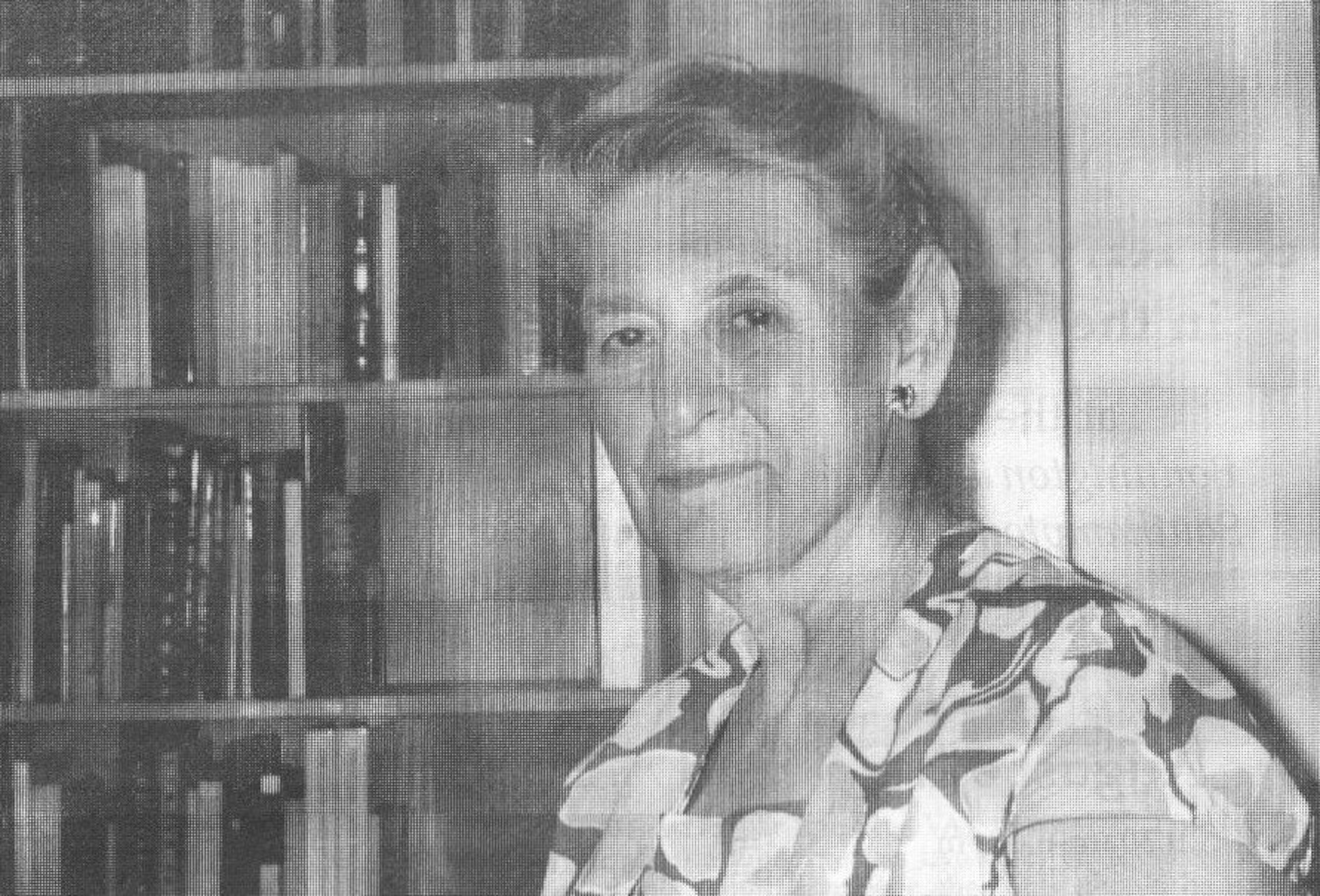 My mother thought that there was a slight madness about book collectors. When I turned into one, I remember her saying, 'How will Mary clean your room, darling?' Although she was a great reader, my mother believed that libraries were the place for books – you borrowed them and then they went back. It was always my excuse that I needed to buy something because I could work on it – the intellectual interest of the material is my main motivation. I remember showing my mother a collection of letters that I had bought and she replied, 'If you can be bothered to read all that old stuff, you deserve to make something out of it'. On the other hand, she was terribly proud and loved saying to friends, 'Rob's got 20,000 books', or some such figure – always a wild exaggeration.
I first became interested in bibliography at Oxford. As part of my B.Litt. I went to lectures on the rise of authorship and the patronage of letters, which I found quite riveting. I was fortunate to be given a copy of R.B.McKerrow's Introduction to Bibliography. Had it been Fredson Bowers's book, I doubt if I would have become keen on the subject. McKerrow was classically educated and wrote beautifully. Also, the book was intended for literary students, so it is not full of the mathematics of collating.
The Oxford University Society of Bibliophiles had not yet started in my time though I doubt if I would have joined – too many rather grand and snooty young men. Nor did I do much poking around in secondhand bookshops. Looking back, I think I had very little initiative. I didn't start collecting until I was quite old.
While I was a student, I was thinking of a career in antiquarian bookselling or publishing. The Bodleian took a few trainees every year, and that might have suited me. But when I look at the way academic libraries have developed in the last fifteen years, I might have been rather miserable. I knew Winnie Myers (no relation), the manuscripts specialist, and she told me that I was too old to get into antiquarian bookselling. Apparently I should have gone in at fifteen. In those days a degree was not the way into the trade, although Winnie herself had done a diploma in librarianship. Her father considered it the only available training for a bookseller.
So I floundered about, went into teaching, taught for a couple of years and decided it was not for me. I wanted to get back into bibliography, but the idea of becoming a librarian was not very attractive, partly because I couldn't face doing more exams only to end up earning even less than I was earning as a teacher. In the event I stayed in teaching, but all the time I was looking for a way to get out.
The Principal of my old college introduced me to Mary Glasgow who had just opened a children's bookshop in Kensington Church Street. I was offered the job of manager and stayed for all of three months. I was not very interested in children's books, though I dutifully read some 500 of them for the job. The whole set-up was rather a circus. I was the third manager in eighteen months, utterly miserable and in the end they sacked me. However, the job had introduced me to the book information service at the National Book League. I had the sense to ring them and in due course I was offered a research job, compiling a dictionary of literature in the English language. When I asked a friend from Oxford, who was a don, what she thought I should do, she said, 'Oh it's not for you – quick and careless as you are'. Anyway I began working for the National Book League in 1965, initially to compile the dictionary and then to be their librarian. From that point my life began to take a direction.
In the late '60s I fell in with a man who was working for Hodgson's, the book auctioneers, and mistakenly married him. He was the type of person who puts you off collecting – a real magpie. Five minutes later I divorced him, but meanwhile he had made me think about what I might like to collect. He encouraged me to buy a large library, which had belonged to a judge's clerk. Anyone who collects books on a grand scale inevitably accumulates some bibliography, and in the library I found some very attractive copies of Thomas Frognall Dibdin's books in fine bindings, and much else. I picked out 1,000 or so books for myself and sold the rest – partly because the mere sight of them was upsetting my mother.
Now that I had decided that I wanted to collect books, I cast around for a subject, which is not the way to do it. One should start out with a burning interest in something. As I had just come back from teaching English in Spain, and was passionate about all things Spanish, I decided to collect Spanish books. But I soon discovered that if they were memoirs, they tended to be deadly dull, and if they were colour-plate books, they were immensely expensive. So I gave up Spain. At the National Book League there was a large collection of booksellers' letters, and I kept on looking at them and rather wishing that they were mine. I mentioned it to my friend Nest Davies, who suggested that I should start my own collection. Today I have about 3,500 mainly book-trade letters, which certainly surpasses the National Book League's collection – at least in size.
In the early '70s bibliography had yet to become a fashionable subject, and it was possible to pick up material quite cheaply. I remember visiting Maggs and finding for £10 a group of letters from Joseph Haydn to Edward Moxon, who published the Dictionary of Dates, 1841. I recently wrote Haydn's entry for the Oxford Dictionary of National Biography. At about the same time I found in a drawer at Pickering & Chatto  some rather sooty-looking bits and pieces that turned out to be the tail-end of the collection of correspondence of Taylor & Francis, eminent nineteenth-century printers. The bulk of the collection had gone to the St Bride Printing Library. Pickering's were asking £25 for them. I discussed it with John Watson of Bernard Quaritch, who took the typical bookseller's approach, 'Did you count them? 100 or so? Five bob a piece. You're not risking much, are you, ducky?' So I went back to Pickering's and, in my naïve way, thought I would have a go at bargaining: 'Did you say £25?' to which they replied, 'Yes', and that was the end of my bargaining. I had yet to learn such phrases as 'Is that your best price?' When I ask, the answer is always 'Yes'.
In due course I was asked to revise the National Book League's series of booklets on printing, bookselling, binding, paper and so on. My work eventually resulted in the publication of my book The British Book Trade from Caxton to the Present Day, 1973. By this stage I was hooked on the freelance life. I have always had quite a strong dislike of being in the swim. But of course none of these projects earned me a living, and I still had to do a certain amount of teaching. From 1969 to 1993 I worked two or three days a week at the North London Collegiate School, first of all  teaching Spanish, then English, and finally I became their archivist. This paid the rent and left me time for my other activities.
For twenty years I taught an evening class on book collecting. I encouraged students to bring in their own books and explain why they had chosen them. I also illustrated the subject for each class with items from my own collection. One of my students regarded book collecting as a waste of time and money and I can't think why she joined the class. But at the other end, I had real collectors, librarians and some booksellers. I arranged lots of outings and guest speakers in my home to liven things up, and made a lot of friends through that class.
In 1974 James Moran, Honorary Archivist of the Stationers' Company, asked me to index miscellaneous documents in their archives. At the time they were kept in the outer covers of Company annual reports – hardly acid-free – and I spent six months coming in once a week and sorting them to the best of my ability. Time passed and I became involved in the Caxton quincentenary, and organised an exhibition with descriptive catalogue for St Bride's on Caxtoniana, which introduced me to William Blades and the world of scholars and antiquaries.
When James Moran died in 1978 the Stationers' Company asked me to come back as Honorary Archivist, which I did, and here I am today. Indeed I seem to have become rather typecast in this role, although my interests have broadened considerably with my involvement in the Bibliographical Society and the Society of Antiquaries. The threads came together when the Bibliographical Society asked me to be their librarian  and, in the same breath, asked if I could find space for the library to be kept at the Stationers' Company. For my Presidential Address to the Bibliographical Society in 1996, I gave a paper on Andrew Ducarel, the eighteenth-century Lambeth Librarian and antiquary who epitomises my enthusiasm for English antiquaries of that period and pioneers in bibliography. I discovered Ducarel through my work on William Herbert of the Typographical Antiquities. Unlike many eighteenth-century scholars, Herbert was assiduous in acknowledging his debt to others and he thanked Ducarel for the use of books and for suggestions. The name intrigued me. When I began to research him, I thought perhaps that everything would be in the seventeen volumes of Nichols's Literary Anecdotes, 1812,and Literary History, 1817. But Nichols never has everything. Ducarel wrote a great many letters but most of them are now in libraries, so I was very pleased when Michael Silverman offered me a very nice letter.
I particularly enjoy research based on a person. I come across my subjects because they are librarians or antiquaries or pioneers of bibliography. The eighteenth century is my century. There was such terrific excitement about being convivial and sharing knowledge, which I find immensely attractive.
Pioneers of bibliography was the subject of one of the annual Book Trade History conferences. Michael Harris and I have been running the conferences since 1979. I first met Michael in the mid-'70s when I was teaching my book collecting class. He was trying to organise a diploma in bibliography for the University of London and thought that a conference on the subject might help to get it off the ground. So we organised a one-day event with five speakers, which was far too many. I lost my voice and Mirjam Foot, who had just returned from the States, fell asleep on the train on the way home and went round the Circle Line twice. Somehow the event took place and the annual conference was launched. It will soon be in its twenty-first year. Peter Stockham was in the audience, and asked if we could publish the papers. He asked again at the second conference and Tom Colverson from Oxford Polytechnic, who was in the audience, offered to take it on as a project for his publishing students. In 1981 the proceedings were published for the first time, and so things have continued.
Being presented with a festschrift in 1997 was the proudest day of my life. I was warned in advance, as I hate having things sprung on me, even nice things. I couldn't believe it; festschrifts are given to regius professors or scholars in the British Library and such folk. I had noticed my friends getting into huddles and obviously not wanting me to join them. It went on for four years and I was very hurt. They couldn't tell me what was going and were also feeling miserable about it. But it was worth it when I found out why. The three editors, Arnold Hunt, Giles Mandelbrote and Alison Shell, worked like slaves and did a wonderful job on The Book Trade and its Customers. It's such a good book, full of new research, stylishly and often wittily presented.
A few years ago I started an informal group of City archivists, with the idea of exchanging information and getting to know each other. At our first meeting someone asked, 'What's the purpose of this?' I said, 'Well, I thought it might be fun', an idea that seemed to shock one or two of them. We had a dinner at Stationers' Hall, all reasonably informal with no speeches or toasts. Then I suddenly thought that perhaps they might like a little formality. So we had grace and then a toast to the Court of the Stationers' Company and on the spur of the moment, I gave another toast to 'Archives and Scholarship'. They thought that was splendid and cheered to the roof. Although I don't particularly care about running things any more, I always enjoy being sociable. Perhaps my funny life has suited me rather well.
Interviewed for The Bookdealer in August 1999
Robin Myers died on the morning of her 97th birthday on 1 May 2023