Alican Akın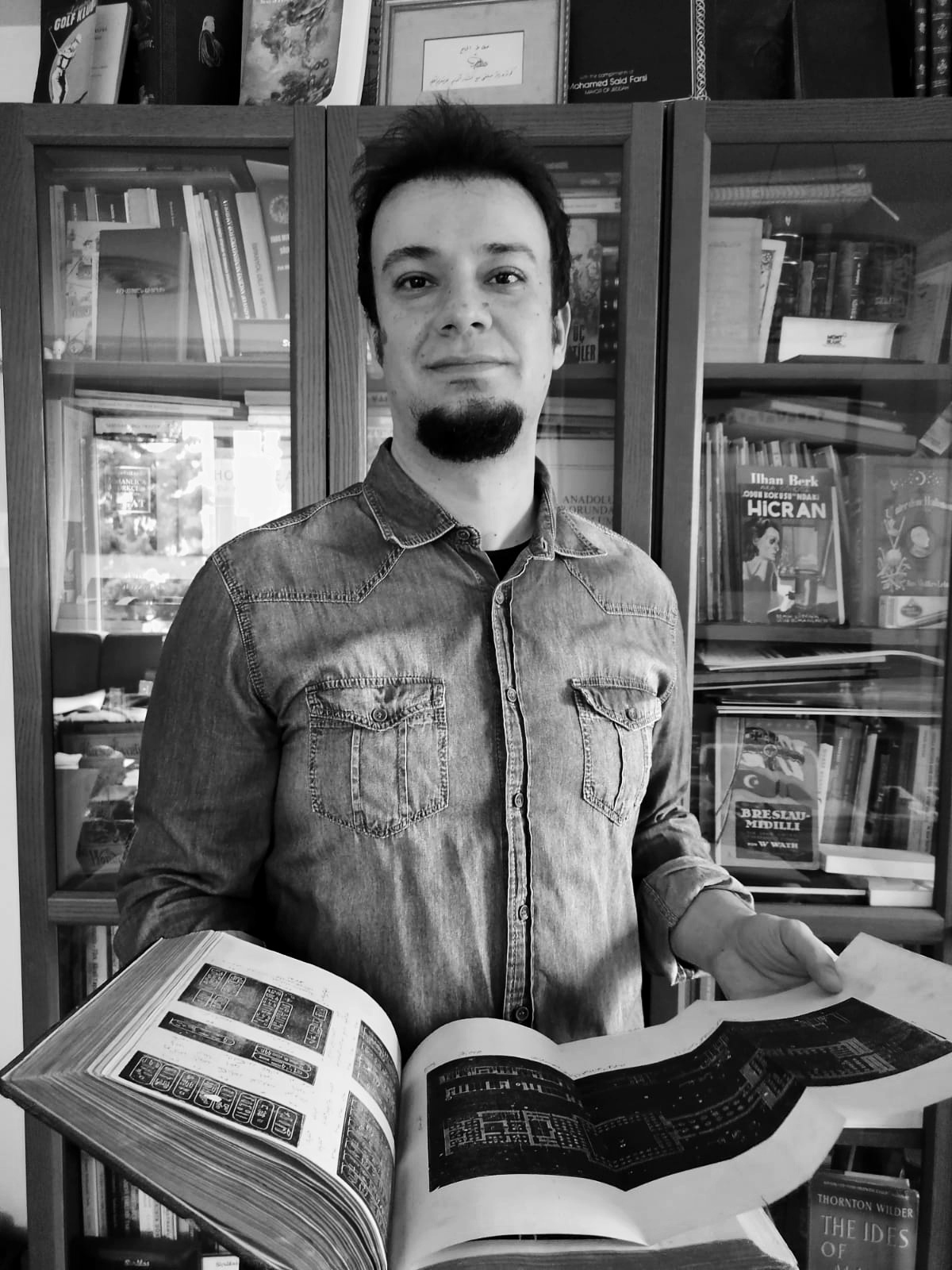 Istanbul is one of the oldest cities in the world, and has been the capital of three empires. It has hosted so many different languages, cultures and religions and is the perfect place to be a bookseller. I was born in Kadıköy on Istanbul's Asian shore in 1983. Although there were no rare books in my childhood home, there were enough books in general for me to fall in love with them. They were mainly attractive Turkish editions of popular world literature such as Dr Zhivago and Gone with the Wind. My father is a passionate collector of comics, especially the Italian imports which were very popular in Turkey. They were called fumetti after the speech bubbles that look like little puffs of smoke. His favourite character was Tex Willer, an Italian cowboy. I remember finding them rather old-fashioned, and preferred the action-packed American comics featuring Batman and the Marvel super heroes
My interest in old and rare books dates from my first career when I was working as a tourist guide. I have a degree in Tourism and Hotel Management from Marmara University. After a while I began to find it a very tiring job - it's not easy to keep clients happy all the time - but it did give me the opportunity to visit many bookshops on my travels. I began to educate myself in preparation for becoming an antiquarian bookseller. From the outset I became a bit of a book detective, determined to learn as much as I could about every aspect of the business. Old Turkish booksellers have a saying that it's better to see than to buy, meaning that it's possible to learn a lot about the business simply by looking at books.
I grew up studying the catalogues of the great Orientalist booksellers, E.J.Brill of Leiden and Otto Harrassowitz of Wiesbaden.  I treasure the catalogues of Rijk Smitskamp, who ran the antiquarian department of E.J.Brill, and produced a remarkable series of scholarly catalogues on the study and printing of Oriental languages. I also have a good set of Bernard Shapero's fine catalogues on the Ottoman world, which I find very inspirational. There is another important Bernard in London - Quaritch - where Nicholas McBurney worked, a young bookseller who now has a business in early printing and manuscripts of the Islamic world.
A bookseller needs to master his subject from an intellectual point of view, but he must also have a thorough knowledge of the book as a physical object in terms of papermaking, bookbinding and printing techniques. In the field of Ottoman Turkish books, this requires some understanding of the art of marbling, calligraphy and illumination.  Actually I rarely deal in Ottoman calligraphy, as it's an enormous subject in its own right and requires immense knowledge and experience. However an ability to read Ottoman Turkish is very important, as it wasn't until 1928 that the Latin alphabet replaced Arabic for writing the Turkish language. If you can't read the Arabic script, you effectively cut yourself off from centuries of Ottoman literary heritage.
As a child of the internet, I spent a lot of time online researching the best bookselling platforms for selling my books. In fact I date the foundation of my business, Khalkedon Rare Books, to 2012 when I first began listing my stock on Biblio, ABE and MareMagnum. The firm is named after the ancient city of Chalcedon, which was located across the Bosphorus in present-day Kadıköy.  In 2015 the bookshop became a member of the Independent Online Booksellers Association. IOBA was founded in 1999 to ensure the preservation of traditional bookselling values in the face of the rapid development of online bookselling. Today there are five of us working at Khalkedon, and we specialise in early printed books and manuscripts relating to every aspect of the Turkic and Ottoman world from linguistics to travel literature in any language. 
I have no experience of bookselling before the internet, and can't imagine sending out a printed catalogue, although I know they are still an effective way of doing business, and I myself have benefitted from them.  I do most of my business online, although I have good connections with booksellers in Bursa, Ankara, Samsun and Izmir. Auctions are a very important source for me, and I'm sometimes offered books in large quantities when, for example, a private collector has passed away.
Sahaflar Çarşisi, the secondhand book market in Istanbul, is one of the oldest markets in the city. Its location in Beyazit near the Covered Bazaar has been a centre of the book trade since Byzantine times.  The importance of Sahaflar Çarşisi as a source of rare and interesting books and manuscripts during the Ottoman Empire and the early Republican era cannot be overestimated. Many bibliographical treasures have been found there, including the rediscovery by the bibliophile Ali Emîrî Efendi (1854-1924) of the three-volume Divan-i Lügâti't-Türk, the oldest and most important source for Turkish language and culture, which had been presumed lost for many centuries. Throughout its history, the market was not only a place to look for books; it was a social centre, where booksellers and customers came together in friendship and to exchange knowledge and information on their subjects.The bookshop of Raif Yelkenci (1894-1974) was a celebrated meeting place for writers and artists, and made a great contribution to Turkish cultural life. The great scholar of Turkish Sufism, Abdülbaki Gölpınarlı, was a regular visitor to Yelkenci's shop.
By the late 1960s, Raif Yelkenci was considered the senior bookseller in the market, and he would hold court in his shop with his distinguished collectors, and only sell a book if you could not find it elsewhere. Shortly before Yelkenci died, the young Orhan Pamuk began his habit of going once a week to Sahaflar Çarşisi. Perhaps the best example of the importance of Sahaflar Çarşisi in the history of the Turkish book trade is Seyfettin Özege's five-volume catalogue of Turkish books printed in Arabic script, Eski Harflerle Basılmış Türkçe Eserler Kataloğu. Özege found many of his collection of over 30,000 Ottoman Turkish books in the little shops of Sahaflar Çarşisi. His bibliography was published in Istanbul in the 1970s, and has become the standard reference source for Ottoman books. Özege's collection is now in Atatürk University in Erzurum.
The market in Istanbul today mainly sells new books, but in the courtyard there is a permanent reminder of its glorious past in the form of a modern statue of İbrahim Müteferrika. A Hungarian convert to Islam, Müteferrika set up the first Turkish-language press, and between 1729 and 1742 he printed seventeen historical, linguistic and scientific works in Istanbul. His first book, Kitâb-i lügat-i Vankulu, the dictionary of Vankulu, includes Müteferrika's treatise on the utility of the printing press. Although his pioneering activities coincided with the Ottoman Tulip Era, marked by the foundation of libraries, the patronage of poets and a flourishing court culture, the printing press was not without its influential opponents. The clergy feared the unwanted religious and political consequences that might arise from the mass-production of texts, while the 90,000 or so copyists, believed to be active in the Ottoman Empire at the time, simply feared for their livelihood.
The roots of the Turkish Association of Antiquarian Booksellers (TAAB) can be traced back to the traditional guilds of the Ottoman administrative system, which in turn date back to Byzantine times. During the course of the Turkish reform movement and the foundation of the Republic in 1923, the guild system steadily declined in importance, and it was not until the mid 1980s that an attempt was made to form a national association of antiquarian booksellers along modern lines. It was rather short-lived, and the present TAAB was founded in Ankara in 2006, and moved to Istanbul, the book capital of Turkey, in 2015.  As an association, we are very active in organising auctions, book fairs and publishing catalogues.
I'm very interested in the history of the antiquarian booktrade at home and abroad, and like to collect ephemeral material, especially booksellers' labels. I share this interest with Emin Nedret İşli, the President of TAAB. Obviously we only remove labels from books in poor condition that need to be rebound. There are plenty of bookbinders in Istanbul who are able to repair Ottoman period bindings, but it's a very expensive process, and it's important to share the same vision of the desired outcome – to aim for conservation rather than over-restoration. In 2018 I had the privilege of attending a few classes taught by İslam Seçen, the master of Ottoman bookbinding who died in 2019. Seçen spent twenty-seven years working on the manuscripts in the Süleymaniye Library in Istanbul, and also worked at the Gulbenkian Museum in Lisbon on the conservation of Islamic manuscripts damaged in a disastrous flood in 1969. There is so much that one could say about the thriving Turkish arts of the book, including marbling and illumination and cut-paper compositions. Students can study traditional arts at university, and in Istanbul a municipal institution called İsmek offers courses in every aspect of the arts of the book.
I believe that Turkey has a great book culture, which the members of TAAB would like to promote worldwide, and for this reason the association has applied for membership of the International League of Antiquarian Booksellers.  I was invited to give a presentation on behalf of the Turkish association to the ILAB Committee during their meeting in Copenhagen in 2017. ILAB requires its members to be expert at what they do and to abide by a code of ethics.  I made the point that we are very keen to learn from the high standards of our international colleagues. We are aware that the Turkish antiquarian book trade needs to be more tightly organised, and to produce a separately-published code of ethics, and we are working hard to bring business practices into line with international trade. Meanwhile I'm very privileged to have Eric Waschke of the Wayfarer's Bookshop in Canada as my ILAB Mentor.
In Turkey bookselling is regarded as a highly desirable occupation, and attracts people of all ages. There is a significant number of women in the trade, and many of them are extremely good at what they do. Asuman Bektaş of Nigar Sahaf, a bookshop near me in Kadıköy, is very influential in the field of Ottoman Turkish studies, feminism and the literature of anarchism. There are also many part-time booksellers; today's customer is very likely to become tomorrow's bookseller. Actually it could be said that there are too many booksellers in Turkey,  although of course not everyone can make a success of it.
In my work I discover something new every day, and that is what I love about the rare book business. Recently I acquired a very interesting and rare account of meteorology prepared for the use of mariners in Ottoman seas.  Aristide Coumbary's Lois des tempêtes was published in bilingual French and Ottoman Turkish in Istanbul in 1875. Coumbary was the director of the observatory in Istanbul, which was built with the support of the French government in 1868 for the purpose of transmitting the weather forecast by telegraph to points as far afield as Varna and Beirut. The observatory was in operation until the end of the First World War, and Coumbary's publication, with its maps showing the movement of storms, is a great rarity.
If I had to choose my favourite book, it would be the Nuremberg Chronicle. I have never handled the complete work, but I have sold three copies of the double-page city view of Constantinople as it looked in 1493 – just forty years after Mehmed II's capture of the city. It's one of the earliest views of Turkish Istanbul, and much in demand by collectors. Perhaps we're all engaged in a kind of time-travelling. I've done quite a lot of research on the effect of digitisation on the antiquarian market, and I've come to the conclusion that printed books and manuscripts will never die. There will always be collectors, who want to possess and touch the physical object as the only way truly to appreciate it.
Interviewed for The Book Collector Summer 2021