Zhenya Dzhavgova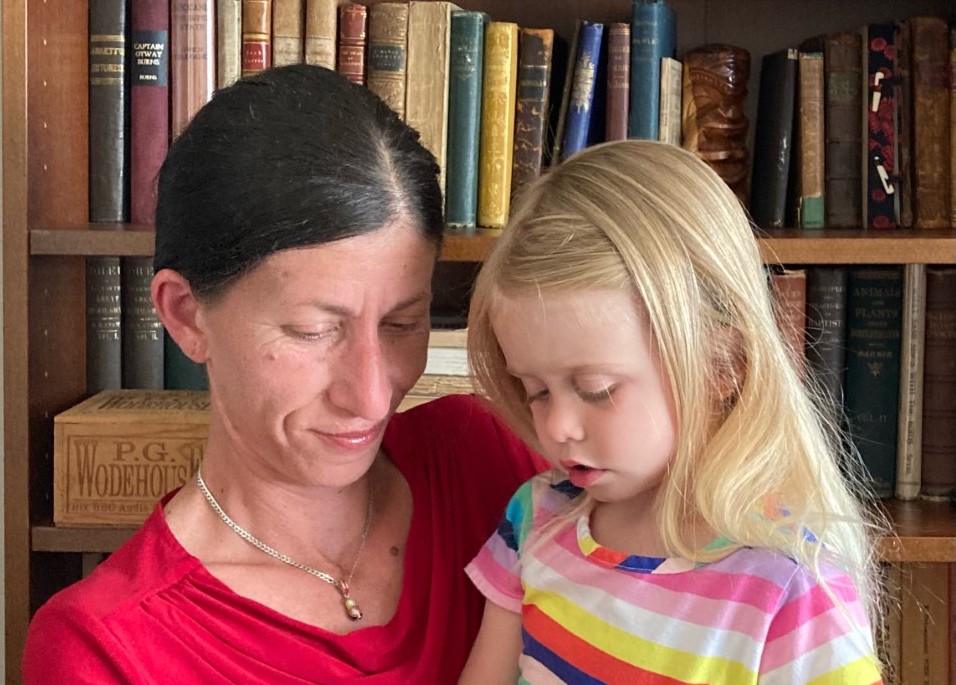 The other day my four-year old daughter came home from school, and said that she had told her teacher that I was an antiquarian bookseller. I don't think that she pronounced the word correctly and, when the teacher looked puzzled, she explained, 'Mama saves books'. Now I know that I'm raising my kid properly. Most people don't know that the world of antiquarian bookselling exists. When I explain what I do, it's not easy when people say, 'it's cool to sell books and stuff, but when are you going to find a real job?' I'm ready to throttle them when they ask what's my most expensive book, and then gasp, 'somebody would pay that much for a book?' My response is to give them a free pass to the next fair, where they can see books for millions of dollars.
When I was a kid, Pippi Longstocking was my favourite book. Pippi was free-spirited and rebellious, and I'm sure that she had a special attraction for children like myself growing up in Eastern Europe before the fall of Communism. I was born in Kazanlak in the geographical centre of Bulgaria in 1979. My mother is an economist and my father is a mechanical engineer, both retired now, and I have a younger brother and sister. We had a happy childhood, and our parents only insisted on one thing – we could do whatever we wanted as long as we had a good education.
At the age of thirteen, I was sent away with my best friend to an English-language school. As there was no dormitory accommodation, our parents arranged for us to stay with a woman, who was supposed to keep an eye on us and generally be more than a landlady. Actually she had no idea most of the time where we were or what we were doing. I loved my school so much that I managed to balance dumb-teenager stuff with my homework. After graduating with honours, I went to the Technical University of Sofia to study computer science. While I was a student, I had a job in an electronics company. When it was discovered that I spoke English, I was given a pile of user manuals to translate. It was very hard work for which I wasn't paid extra, and I was getting stressed out.
There were not many opportunities for young people, and life in Bulgaria could be very hard. Although I love my family and friends and the beauty of the country, I decided to emigrate to the US with a work visa in 2003. On my way to the airport to get on a plane to San Francisco, I saw some graffiti which summed up my reason for leaving, 'I love my land, but I do not much like the country'. My first two years in the US were very difficult. I was on an unsatisfactory contract, and the work was not what I had expected. I didn't go back to Bulgaria because I couldn't make peace with the thought of giving up.
Gradually things became easier and I got a job teaching maths to high school students and working as a nanny.  The City College of San Francisco had some excellent computer classes. They were not expensive and, as I love studying, I decided to take some classes and became fascinated with new subjects like network security. In the summer of 2010, I graduated from City College with an Associate's Degree. It coincided with my high school students going off to college, and my job as a nanny came to an end when the kids started school. I decided to look for an internship in Silicon Valley while I figured out exactly what I wanted to do.
Since I came to the US, I have been fascinated by the concept of estate sales, which don't exist in Bulgaria. When someone passes away, the relatives hire a company to organise a sale of the contents of the property to earn income for the estate. The property is open to the public usually over a weekend, and everything is individually priced from furniture to books. I would go with perhaps $10 to spend and buy books for myself. I was absolutely astonished to discover how easy it is to purchase literary items and build a collection. In 2010, the year when I was suddenly free, I bought a book signed by a minor Californian author. Although I don't remember the title, I liked the fact that it was a signed copy. When I got home, I wanted to find out more about the author, and I went online and found that there were less attractive copies for sale for much more than I had paid for mine. I showed the book to my husband, and we both thought that I could try to sell a few books while I decided what to do next. When I stumbled upon some very interesting and uncommon books and ephemera in another estate sale, the time had clearly come to open ZH Books.
I began to do some research on the book trade, and came across a reference to the Colorado Antiquarian Book Seminar (CABS).  It sounded like fun – a kind of booksellers' boot camp – and so I applied for and won the full scholarship offered by the Antiquarian Booksellers Association of America (ABAA). It was awarded in the name of Ed Glaser, an iconic figure in the bookselling world who died in 2017. The following year I went to Colorado, and on the first day I met Rob Rulon-Miller and Dan de Simone, who were Faculty members. When they heard my accent, Rob asked me how many languages I spoke and if I had a speciality. I replied that I could understand all the Slavic languages. Rob and Dan looked at each other in amazement, and said that I should specialise in Eastern European literature, for which there was a demand for the books and a shortage of specialists in the trade. By coincidence Rob had just bought a library containing many books in Russian. He proposed a deal whereby I catalogued all the Russian books, and we split the money when he sold them.
From the start I've been impressed by the willingness of renowned dealers to help and guide the new generation of booksellers. While I was at CABS, I met Lorne Bair, who specialises in American Radical History and Social Movements. Our fields somewhat overlap because of his interest in Communism, and he also helped me to find my special niche in the bookselling world. Shortly after the seminar in Colorado, I heard that Lorne would be sharing a booth at the California fair with Jim Arsenault, who specialises in Americana. I offered to work for free for Lorne just to have the experience. He insisted on paying me, and they both made a point of introducing me to colleagues and librarians, and teaching me good book-trade manners.
Vic Zoschak of Tavistock Books in the San Francisco Bay Area is the local bookseller who consistently helped and supported me through the years. He would invite me as his guest to events of the North California Chapter of the ABAA. I shall never forget my first ABAA meeting; it was a lunch at a landmark San Francisco restaurant, where I felt privileged to sit across the table from Ed Glaser, whose scholarship changed the course of my career. I tried to listen to several different conversations going on around me – deals made and in the making, and lots of jokes and good humour. When the time came for me to join the ABAA in 2016, Lorne Bair, my mentor since that first fair, acted as my proposer.
When I started ZH Books in 2010, it was my dream to have a shop. I'm a very sociable person and I'm sure that I would have enjoyed it, but actually I've become very comfortable in my office in the back yard of our house in Fremont, California. When storage space became a problem, I found a fancy schmancy, temperature-controlled space that is perfect, but my husband still fears that one day he will come home from work to find me dead under a mountain of boxes. My daughter was born in the year that I became a member of the ABAA. It was one of the happiest years of my life, but it was hard to keep the business going and look after a toddler. I would get up at three in the morning and spend a few hours at the computer before she got up. Just as my daughter started pre-school and I had more time to concentrate on ZH Books, the pandemic slammed everything down.
I had just exhibited at the Pasadena fair in February 2020, and had a grandiose plan to celebrate ten years in the trade with a special catalogue. It was going to cost a lot of money to print and post, and meanwhile the world was in a terrible mess. I spoke with Lorne and a few other colleagues, and they advised me to circulate an e-catalogue, which I did in Spring 2020. I was very disappointed not to send it out as a printed catalogue, with my distinctive cover design of black and white with a splash of red, a clean avant-garde look that I have kept since my first catalogue. I'm told by librarians that the continuity of design is a good thing, as it helps them to spot mine in a pile of dealers' catalogues.
My tenth anniversary catalogue includes a lot of Bulgarian avant-garde material, which has been overshadowed by the more famous Russian movement. I'm happy that people are starting to discover some of the Bulgarian artists and poets who went to study in Russia almost as a rite of passage. The first Bulgarian edition of the poems of Edgar Allan Poe was published in Sofia in 1920, with woodcuts by Sirak Skitnik, one of the most famous Impressionist artists and authors of the Bulgarian inter-war period. Skitnik's tutors included Bakst, Chagall and Kandinsky.  My catalogue also included examples of the work of the 'September' literary group of the 1920s. The four members – Asen Raztsvetnikov, Angel Karaliichev, Nikola Furnadzhiev and Georgi Tsanev – were later persecuted and convicted by the Conmunist Party for spreading  social bourgeois mentality. Raztsvetnikov's Zhertvenni kladi (Sacrificial Pyres), Sofia, 1924, was banned, still in printing, and most copies were destroyed, but the cover art is an exceptional example of the work of Aleksandur Zhendov, who worked under various pseudonyms and was one of the fathers of Bulgarian caricature. His membership of the Communist Party was revoked when his art was deemed to be incompatible with the official State Policy in the arts. Zhendov also did the cover art for Angel Karaliichev's Ruzh (Rye), Sofia, 1925, one of the most recognized examples of Bulgarian avant-garde design.
The catalogue also includes posters and pamphlets and other ephemeral items. It was Lorne Bair who first pointed out to me that pieces of paper can be very interesting and rare. Although I will always love books, I have certainly been bitten by the ephemera bug. I enjoy the challenge of researching ephemera, for which there is often no reference material or sale record. When it comes to pricing, I have to rely on years of experience of handling similar items. One of the highlights of the catalogue is an archive of Bulgarian theatre, music and film posters, published at the height of the Cold War, showcasing the performing arts scene under the guardianship of Liudmila Zhivkova. The daughter of Bulgaria's Communist leader Todor Zhivkov, Liudmila is remembered for her goal to promote the country's culture on the international stage, as well as to bring foreign culture to Bulgaria.
Thirty years after the dissolution of the USSR, more than half of the former Eastern Bloc countries do not have a national association of antiquarian booksellers. I would like to see my Bulgarian colleagues form their own association one day. The antiquarian bookshops in Sofia are mainly located around Slaveykov, a square in the centre of the city, which is famous for its book market.  Sofia City Library is also in the square, which is named after the Bulgarian writers Petko and Pencho Slaveykov, father and son.
I've never scouted for books in the big regional cities of Bulgaria, but I know that there are some interesting developments that didn't exist when I was living there. If you visit a library, it's not unusual to find a book stall where they sell their duplicates. In my home town of Kazanlak, I bought some books from the tiny library that I visited when I was a kid. Incidentally Ivan Vazov's Under the Yoke, one of my favourite Bulgarian novels, is based in my part of the country. A shortened version of the story became the first Bulgarian novel to be translated into English in 1894, with a preface by Edmund Gosse. The story is set in the valley of roses, at the time of the April Uprising of 1876 against the Turks. As for my childhood favourite Peppi Dlinn'iychulok, the first edition of Pippi in Russian was published in 1968 and is now very rare. OnceI had a defective copy, which I sold for quite a lot of money, and now I wonder if I will ever see the first Russian Pippi again.
When I go to fairs, colleagues sometimes tell me if they have spotted a book in a Slavic language in another dealer's booth. On one occasion, there was an eighteenth-century account in Russian of a journey to America. I didn't know the book – it's not really my period – but there's a lot of interest in Russian-Americana, and so I decided to buy it. It turned out to be the first Russian edition of Abbildung Nordamerikanischer Lander und Eingebohrener Wilden, published in Erfurt in 1757 by an anonymous author. The Russian translation, Opisanie zemel Severnoi Ameriki, i tamoshnikh prirodnykh zhitelei, was published in St Petersburg in 1765 and is one of the earliest – if not the earliest – systematic accounts of North America and its natives in Russian literature. It also contains the first appearance of the name of George Washington in a Russian book. I sold it to an East Coast library, where the librarian was so excited that she called me at six in the morning as she had forgotten the time difference. I shared the money that I made from the book with the colleague who had told me about it at the fair.
During the pandemic, I did quite a few virtual fairs and I think there is a future for them, particularly as technology advances, but I would be broken-hearted if the in-person fairs disappeared. I can't wait to go travelling again. I've never been to London – even though I've been promised fish and chips in a traditional pub with the Maggs contingent. Ben, Fuchsia and all the young kids there are such a great bunch of booksellers.
Recently I joined the ABAA Mentorship Program, and I've been chosen as the mentor for a young American woman who specialises in material relating to New York. It's a voluntary position, and I see it as an opportunity to pass on the good will that I received from the CABS faculty members and from Lorne Bair, Vic Zoshak and the North California Chapter of the ABAA. I'm so grateful for the priceless help and advice that I received from the older generation, and now it's my turn to help younger dealers. The book trade isn't dying, it's evolving, and they are the ones who will take it to the next place.
Interviewed for The Book Collector Winter 2021