Bennett & Kerr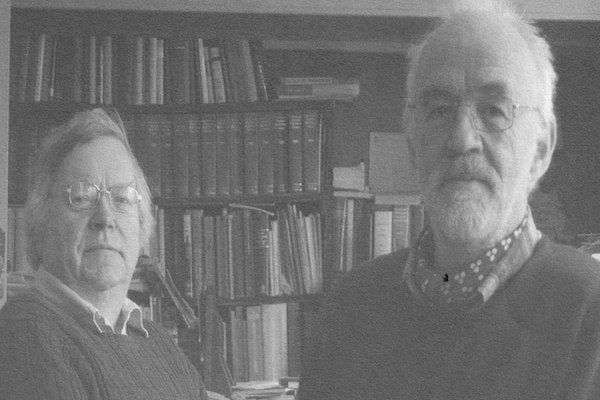 Andrew and I have known each other since we were at nursery school. My father was Jack Arthur Walter Bennett, who had been a tutorial colleague of C.S.Lewis at Magdalen College before Lewis moved to Cambridge in 1954, when he was offered the newly established chair in English Medieval and Renaissance Literature. After his death in 1963, my father was offered the chair, and we moved from Oxford to Cambridge, where he became a fellow of Magdalene College. With the publication in 1966 of Early Middle English Verse and Prose, he became known to generations of students as 'Jaw' Bennett. 
My father was born in New Zealand, the son of a shoemaker from Leicester who had emigrated in 1907. He grew up in a house without books, except for the Bible and a volume of homeopathic remedies. However he received an excellent education, and won a scholarship to Auckland University and, in 1933, a postgraduate scholarship to Merton College, where his Oxford career began.
My childhood home was full of books and, when my father became editor of the journal Medium Aevum, books kept pouring into the house. When I was thirteen years old, we moved to a big house in Adams Road, the most elegant part of Cambridge. The house had belonged to Paul Hirsch and his family, who came over from Germany in 1936, bringing not only their Mozart manuscripts and huge library, but also their plumbing. The washbasins in the house had kalt and warm on the taps. The house had been magnificently fitted out with a library in a large double room on the ground floor, and there was also a study shelved from floor to ceiling.
In due course I was sent to boarding school in Yorkshire, and it was at Ampleforth that Andrew and I were together again. I can't remember deciding to study Latin and Greek at Oxford, but they had been well taught at my prep school and it seemed the line of least resistance. I went to Magdalen, where one of the tutors was my godfather. If it sounds a little nepotistic, he was on the point of retiring and I was interviewed by his successor, Oliver Taplin, an energetic and engaging tutor. I spent a lot of time in Thornton's Bookshop. I wouldn't claim that I was a precocious collector, but I was very interested in Eric Gill, having been introduced to his work by Walter Shewring, my Classics master at Ampleforth. A conscientious objector, Shewring had spent the War as a farm hand at Gill's house, Piggotts, near High Wycombe. He knew Gill very well, and treated him seriously as a thinker as well as a craftsman, and published an edition of Gill's correspondence. I used to visit Blackwell's Bookshop and enjoyed looking at beautiful examples of private press books. However my father, who was an accumulator of books rather than a collector of fine editions - no doubt partly due to his frugal upbringing - was always shocked if I spent too much money on a book, and we both joined keenly in the Saturday morning scrum of bargain-hunters at David's bookstall on Cambridge market.
Halfway through my Classics degree, I decided to add Italian, and became interested in the Middle Ages through reading Dante in the original language. I went on to do a History of Art MA at the Courtauld from 1977 to 1979; it was the best part of my education. I met a diverse bunch of medievalists, and became very interested in medieval manuscript painting.  In the days of grants for such things, I was able to start working towards a PhD on the transition from Romanesque to Gothic painting in the late twelfth century. I remember reading Christopher de Hamel's doctoral thesis Glossed Books of the Bible and the Origins of the Paris Book Trade on microfilm before it was published in book form in 1984. Although I didn't get very far with my thesis, I don't regret the time I spent working on the subject, which later became very useful for the career that I finally chose.
By this stage, my wife Deborah and I already had the first of our four children. When my mother became very ill, we moved to the house in Cambridge and spent a year looking after her until she died in March 1980. Our second child was born and then my father died suddenly in January 1981 en route to New Zealand. When my parents had bought the house, it was leasehold and wasn't worth very much as the lease was coming to an end. Later on there was a change in the law, and they were able to buy it for a reasonable price from St John's College, who owned the property. On their deaths, we were left with a freehold house of enormous value, on which inheritance tax had to be paid. Fortunately it didn't have to be paid in one go, and we had a year's grace in which to decide what to do. We started disposing of some of my father's books, including a huge collection devoted to the history of Oxford and Cambridge, which we sold, through bookseller Andrew Stewart, to the university of Göttingen.
When my father's literary executor sat me down and suggested that I become a bookseller myself, at first I backed away in horror. He was Canadian and had been a pupil of my father. Although he became an academic, he had also done a bit of book dealing in the 1950s and 60s. The seed was sown, and shortly afterwards Andrew returned from working for Nico Israel in Amsterdam, and was considering various bookselling ideas of his own. Andrew had the trade experience and I had the books; I think it was my wife who first made this connection.
In the meantime we had sold the house in Cambridge, paid the tax and had enough money left to buy the house in Steventon, the village in Oxfordshire where we still live. At first the house was so full of huge boxes of books that we lived with Deborah's mother in the neighbouring village. Andrew was living at his parents' house near Woodstock. We bought two typewriters and set about producing our first catalogue in 1982.
We didn't know at the time that Jonathan Stephenson of The Rocket Press also lived in Steventon, where his father was the vicar. We were introduced to Jonathan by John Randle, from whom I bought a copy of The Whittington Press poster of the text of Eric Gill's letter in which he explains why Caslon Old Face is the best available font. The poster was printed in August 1982 to show the range of Caslon types in use at The Whittington Press. When I ordered a copy via Bookdealer, John delivered it in person and alerted Jonathan Stephenson who, although only a teenager at the time, was already an accomplished printer. Jonathan designed the covers for most of our early catalogues; Catalogue 18, issued in February 1988, included an announcement for the reprint of John F.X.Harriott's essay, Farewell to True Bookshops, published in 1984 in a limited edition of 250 copies, designed and printed by Jonathan at The Rocket Press for Robin Waterfield, who had by then said farewell to his own large Oxford bookshop but became a friend and sold us books from time to time.
In the first few years, Andrew and I went to a lot of small bookfairs in local village halls and pubs (as well as the PBFA fairs), made mistakes and wasted a lot of time, but it was all good experience. It gradually emerged that we should focus on medieval studies, and our stock of books on more general subjects mostly fell away. Through my father's connections, we were offered some good collections early on that might not have come our way. Professor Norman Davis, editor of the Paston Letters and Papers and a contemporary of my father from New Zealand, gave his library to the English Faculty at Oxford, but left instructions for the residue to be sold to Bennett & Kerr. It enabled us to produce a catalogue of over 1,000 items in December 1990, including some very interesting philological material. More recently we have handled the libraries of Janet Backhouse, Keeper of Illuminated Manuscripts at the British Library, R.I.Page, Parker Librarian at Corpus Christi and runologist, and Malcolm Parkes, palaeographer.
When Andrew and I are called out to deal with the books of the deceased, it's rather like being an undertaker. You need to be sympathetic, and to remember that the books have been collected lovingly over the years, and to give reassurance that they will go to other people who will also treasure them. It's an important process, and I enjoy this human aspect of the business.
Towards the end of his life, Rossell Hope Robbins started buying from us, on one occasion ordering half the items in a catalogue.   He was building a medieval research collection, which he left to the University of Rochester in upstate New York on his death in 1990. We sold him a complete set of the 253 volumes of the Rerum Britannicarum Medii Aevi Scriptores, usually referred to as the Rolls Series. The set had belonged to Dudley Public Library in the West Midlands. We also bought for stock a half-set, of which the library was also disposing. It was our first big library purchase, and many of the volumes had to be stored in a garage that we had just built. My children used to joke that we kept the Rolls in the garage. Nowadays the series is available from Cambridge Books Online. The University has become one of the major publishers of academic e-books. As dealers, we have to be constantly aware of the possibility not only of an electronic edition, but also of a digital reprint taking the steam out of the demand for books in our stock.
Customers occasionally ask to receive electronic versions of our catalogues. Although they are not beautiful objects, I believe that it's appropriate to continue producing catalogues as we deal in the printed word. My sons are involved in the music business, and have a recording studio in a barn near us. They tell me that vinyl records are fashionable again, because people appreciate the quality of them. The same is true of a printed book, whether it's the illustrations or the binding or just the aura of it as an object. I can't think of anything more important for a bookseller than a feeling for books.
***  
Edmund would probably agree that I have always been more interested in the antiquarian side of our business. I remember being introduced to Alan Thomas, who invited me to dinner in his nice house in Chelsea, full of fantastic books. He looked so splendid with his long beard, and seemed to have such an agreeable life. I really hoped one day to turn into Alan Thomas.
My father, Lord John Kerr, a younger brother of the Marquess of Lothian, worked in the rare book trade for 50 years or so. He began his career at Lloyd's of London, but hated the work and found a job at E.P.Goldschmidt, where Jacques Vellekoop employed him as a cataloguer. With three small children and another on the way, my father wanted to stop working in London and so, when Sanders of Oxford came onto the market in 1960, he decided to buy it and moved the family to the house in north Oxfordshire where he and my mother still live.  In 1965 he was head-hunted to run Sotheby's Book Department so that Anthony Hobson, who had previously been in charge, could devote himself to the sale of the Phillipps collection. Sanders was sold to Christopher Lennox-Boyd on behalf of Kyril Bonfiglioli, art dealer and author of the Mortdecai detective novels, of which a film has just been made starring Johnny Depp as Charlie Mortdecai. At Sotheby's my father got to know all the older generation of booksellers, such as Charles Traylen, Frank Hammond and the other familiar figures who always sat at the table in the saleroom. On one occasion, he was taking a sale of a collection of fishing books, and announced that several of the flies had been replaced in one of the items, to which Frank Hammond responded, 'What with - zips?'
My own experience of the book trade began at Thornton's in Oxford where I spent a year between leaving Ampleforth and reading Classics at the University of Exeter. Old Mr Thornton was still in charge of the shop, and was mostly to be found in a little counting house at the back of the ground floor. Older members of staff were allowed to call him 'Mr Jack'. The shop was a series of little rooms on several rickety floors, including a 'staff canteen', which consisted of a kettle. The Oriental Department on the top floor was run or, rather, guarded by Mr Wise who was often reluctant to open it. I got into serious trouble for letting in a visiting American customer in Mr Wise's absence. The pay was miniscule, but the books were wonderful, and there were many distinguished customers, of whom A.L.Rowse was the most annoying, being very conscious of his own eminence.
When I was at Exeter, I did haunt a few bookshops, in particular Exeter Rare Books in the days of Mr Parry, whose son now runs the business. Although I mainly bought books to read, I also collected the Sitwells, nowadays a very unfashionable subject. Bookselling seemed an obvious thing to do when I finished at Exeter, but I also wanted to live and work abroad for a bit. My father suggested that we contact a few foreign booksellers to see if anyone would give me a job. He made a list on which Nico Israel's name was at the top, followed by Hans Kraus in New York and Carlo Alberto Chiesa in Milan. Nico agreed to take me on, and in 1977 I moved to Amsterdam.
Nico Israel would deal in anything that tickled his fancy. He taught me how to approach a book, and to have respect for it. He had a terrific instinct, and came from a distinguished family of booksellers originally from The Hague. Nico's brother Max ran the family firm of B.M.Israël. During the War, Nico got out of Amsterdam just in time before the Germans moved in. The story goes that the first Allied tank back into Amsterdam had Nico onboard. He started his business again and became one of the leading antiquarian booksellers in the world. In 1970 he bought the business of A.Asher & Co., combining their stock of natural history with his own speciality of atlases and medieval manuscripts in his premises on the Keizersgracht.
The great American dealers were regular visitors. I was left to entertain Hans Kraus on one occasion. He wasn't particularly friendly to me as Nico's junior cataloguer. I remember saying - rather creepily - how much I had enjoyed his autobiography, A Rare Book Saga, which had just been published, to which he replied, 'It's the only book you need to read to become a bookseller'.
Originally I had anticipated spending a couple of years in Amsterdam, but I was there for five years. When Nico became unwell with a heart condition, he was advised to reduce his business activities. As he had two full-time cataloguers, one of whom was a Dutchman with a family in Amsterdam, it made sense for me to be the one to leave. I returned to England in 1982 at the height of the Falklands War. It was interesting to follow Dutch public opinion on the conflict, which seemed to be that we wouldn't fight and, if we did, we wouldn't win.
Back in London, I talked to Quaritch and Maggs, but they had no openings at that stage. Meanwhile my father had just left Sotheby's, and we did toy with the idea of Kerr & Son or Kerr & Father. In many ways, it would have been fascinating, as we would probably only have dealt in antiquarian books of the Printing and the Mind of Man type. It might have happened, but the idea for Bloomsbury Book Auctions came up at almost the same time, and my father joined his former Sotheby's colleagues, Frank Herrmann and David Stagg, in setting up the new business in 1983.
My own connection with the auction firm dates from the earliest days when it was still in Bedford Square. I was asked to help with the cataloguing of Wynne Jeudwine's library, of which the fifteenth- and sixteenth-century books were sold in September 1984. Jeudwine had been a dealer in Old Master drawings and prints, and had put together a collection to illustrate the theme of art and style in printed books. I have retained to this day a connection with Bloomsbury, working for them one day a week, which I enjoy very much. Through all their vicissitudes, it's still fun to work there and it's nice to see the bright lights of London.
I also attended Bloomsbury Book Auctions as a customer, and bought one lot in their first sale, wearing my Bennett & Kerr hat, having gone into business with my old school friend at almost the same time. For the first ten years of the firm's existence, we worked from Edmund and Deborah's house in Steventon. At the beginning, their family was almost living in one room, with boxes of books everywhere. In 1992 we moved the business to a rather chilly warehouse belonging to the local farmer. There will come a time for both of us when we no longer want to handle boxes of books in large quantities. We always talk about reducing the amount and concentrating on higher-value items. Our recent Catalogue 189, Middle Ages & Renascence, contains a first edition of Beowulf, but we're actually quite good at the dispersal of libraries, processing them reasonably quickly and efficiently. And here we still are thirty years on.
Interviewed for The Book Collector Summer 2015