Camille Wolff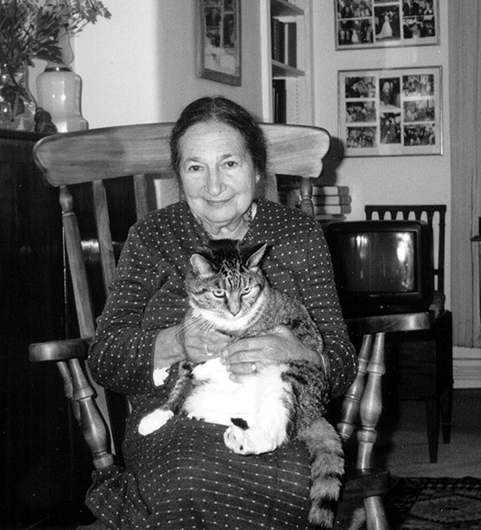 I've been rather busy with Jack the Ripper recently. He's very fashionable at the moment and I'm working on a book, which I hope to publish later this year, called Who was Jack the Ripper? A Collection of Present Day Theories. It's a question which seems to fascinate so many people and the book will contain over 50 contributions from leading Ripperologists.
 Actually I recoil from serial killers – domestic murderers like Adelaide Bartlett and Madeleine Smith are more to my taste. It's the family drama I enjoy. Perhaps that's an awful word to use, but a lot of people share my interest. Just look at the newspapers – nothing but crime and the Royal Family. There are two things that I don't want to emerge from all this research on Jack the Ripper. I'm Jewish and I don't want them to find that he was Jewish – admittedly, it all took place in the East End of London where there were a lot of Jews. And I don't want them to find that he was American. The Americans have enough serial killers of their own and the English should be allowed to keep their first notable example.
I try to forget my first venture into publishing in 1985 – a book by Richard and Molly Whittington-Egan on Conan Doyle's Story of Mr George Edalji. It was about a horse-ripping case and everything should have been all right. But I did my part in a hurry without thinking it through step by step. In the end I gave away most of the copies. Not so long ago there was another case of horse-ripping and I could have sold plenty of copies. Now people are advertising for it in the Bookdealer.
I could not imagine a world without crime and I don't think it's a particularly strange subject to be interested in. My customers are mostly men and obviously many of them belong to the legal profession. I also have people interested in psychology or involved in things like the Howard League for Penal Reform. The Sherlock Holmes collectors are nuts. Several societies exist dedicated to preserving his memory. The Baker Street Irregulars, for example, go every year to the Reichenbach Falls and re-enact everything. They dress up and don't let women in.
A lot of my customers just enjoy true crime – one has to differentiate between that and detective fiction. I used to deal in both, but now I concentrate on true crime. A great number of dealers make a living out of detective fiction but there are not so many in my speciality. If I don't have a book, I always recommend Patterson Smith in New Jersey. He's very knowledgeable and has a fantastic stock.
I originally trained as a doctor, scraped through my exams and became a medical officer at Marks & Spencer. They are mad on hygiene and my work was mainly checking the kitchens. I also examined the women who joined the company. Looking back, I would sooner have become a bookseller at the age of twenty, but in those days the idea never crossed my mind. Compared to medicine, the worst thing you can do in bookselling is drop a book or lose money.
When I retired at 60, I didn't know what to do. A very dear friend of mine, Edna Levene, suggested that we should open a bookshop together. This was in the early 1970s. She knew a lot about books – I didn't, although I had always read a lot of detective fiction and collected books on Chelsea where I was living at the time. We put in a bid for the shop now occupied by Chelsea Rare Books but, fortunately, something went wrong with the contract. I say 'fortunately' because I'm not a good enough businesswoman to run a shop. For me the main thing about bookselling is that you can do it at home.
My house in Lawrence Street was called Grey House, and we decided to take that as the name for our business – Wolff & Levene didn't sound particularly marvellous. The logo of the moonlit house was designed by a friend of my grand- daughter. It was based on our little Queen Anne house, although he added an extra floor. In the original design, there was also torchlight on the front door, which was all part of the atmosphere.
At first people took us rather as a joke, including my late husband. I remember putting an advertisement in the Bookdealer to say that we were starting and Bernard Shapero came round on the first day. We did a lot of wandering around looking for books, with the help of the Bookdealer and The Clique – reading one and selling to the other. One day the Bodleian phoned to order a book and from that moment we were OK.
The PBFA had just started doing fairs and we tried to get in. Edna was very ill at the time, but I knew she would have loved to join. Anyway they were horrible and said 'We're a very friendly group and like to stay that way'. I don't know what they meant by that. No explanation for blackballing us was ever given. Perhaps they just didn't want any more women or dealers based in London. In the end it was actually Reg Read who got us in. I was in his shop one day and happened to ask if he was going to a certain fair. Reg replied 'They're competition. I'm PBFA'. So I told him what had happened. He picked up the phone, got through to the powers that be and Grey House Books was in. Although I haven't exhibited for a number of years, I still keep up my subscription. It probably gives me a bit of respectability.
Tragically Edna died two years after we started and before Grey House Books was accepted by the PBFA. After her death, my son-in-law suggested that I should specialise in detective fiction – I'd been ashamed to tell Edna of my interest in this subject. Joe Gaute became one of my earliest customers as I already had some true crime books. One day he asked if I would like to appear in a book he was writing. It turned out to be The Murderers' Who's Who in which I was listed as one of seven international specialists in true crime. I only discovered I was in the book when a man came to the door holding a copy. He was thrilled to look at my books but didn't have much money: I found out he was a roof mender – I had a broken roof and he became one of my first customers.
In those days I had a lot of fun driving round the country with Dorrit Dekk, an artist friend. Our taste in books was very different as she was mainly interested in ephemera. We did fairs together but, after a few years, Dorrit left to continue with her art. Also she had just got married and wanted more time for her husband.
I did the PBFA fairs at the Russell Hotel for some years, first of all with Dorrit and later with Fem Poel. By the evening of the first day I was usually asleep. I must have been a great disgrace to Fem, especially on the occasion when I tried to slink out early. Unfortunately I tripped up with all my books in front of the fair manager. Fem was helping to smuggle me out. Nobody said anything – it was all rather embarrassing.
Nowadays I don't even go to bookfairs, never mind exhibit. I simply sit here in my house in Portobello Road and people come to me. Eric Morten likes to tell the story of how he came down one day to deliver some Notable British Trials. I was still living in Chelsea at the time. While he was unloading the car, he saw a pleasant-looking man and asked if he would help carry the books to my house. In they came and I gave them tea and biscuits. It turned out that the nice young man was a Rothschild. I must say he seemed quite hungry.
I love meeting people – it's my idea of being a shopkeeper. Of course I like to sell books, but they might just as well be pictures. I'm not saying I don't like books, but they are secondary to the pleasure of meeting people. But there's a new kind of person in the trade. Often they appear to be only interested in money. Obviously one is in business to make money and it's a very hard life if you have to live off bookselling alone. I'm retired and have my pension. Bookselling is what you might call my cottage industry.
I've got one book that I do love and that's my Visitors Book, in which everybody who comes here writes their name and occupation. One of my favourites is a retired American lawyer who described himself as 'formerly racket-buster'. I've got a grave-digger, a milkman and you'll be my first interrogator. Actually I've been in many articles before, including a Scandinavian magazine, The Toronto Times, The Independent and American Express handouts.
A couple of years ago, Driff wrote about me in The Oldie, making me out to be absolutely ludicrous. Everybody says Driff does things he shouldn't, but he's been a good friend to me, often advertising me in his writing. Without Driff, I would never have met my great friend Shirley, Alan Thomas' wife. She read his article in The Oldie and decided that she must meet me.
I'm 82 now and quite tough for my age. One thing I find difficult is packing parcels and I try not to have big books any more. If you advertise enough and get people's catalogues, there's no reason why you can't do it all from home. But of course people want to go out and move about as I did when I was younger. Now I sit here and the books come to me. Various dealers send me their customers, for example Wildy, the law booksellers in Lincoln's Inn Archway, which is to my mind the most delightful shop in England.
Once a month I try to get a catalogue out. My books are kept all over the house – true crime, detective fiction, gangs and drugs. You'll find the Mafia in the loo. I also pride myself on being possibly the first book dealer to have a photocopier, but I have no answerphone, computer or fax. A year or two ago, somebody rang from America and said 'Have you got fax?' to which I replied 'Is that detective fiction or true crime?'
Interviewed for The Bookdealer in October 1994