John Chancellor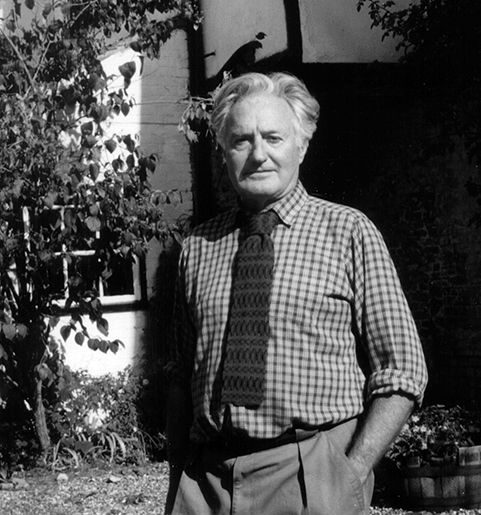 My career as a bookseller is a cautionary tale. Customers like their dealers to stay in the same place, whereas I've been totally elusive. The other day I was in the Bodleian and they said 'Do you really exist? We ordered a book from your catalogue last year and nothing happened.' Actually I never received their order – which is worrying because I like to be efficient despite my vagabond lifestyle. The fact is that I have dealt my business one vicious blow after another.
My original formula was a perfect one. I was living on Kew Green in a delightful Queen Anne house, which had been the official residence of the Governor of the Bank of England during the lunacy of George III. A colleague of mine from my publishing days suggested that I was wonderfully placed to start a business specialising in gardening books. He had done something similar in Greenwich, selling antiquarian books on ships and the sea.
I had always been mildly interested in gardening and so I started to read a few books, mainly because I wanted to do something a bit more imaginative with my own garden. Three writers helped to cultivate my interest – Gertrude Jekyll, Russell Page and Mrs Earle who wrote Pot-Pourri from a Surrey Garden and Gar- dening for the Ignorant, which I particularly enjoyed.
For some reason I had a bit of money at the time and started buying books on gardening. This was in the early 1970s. Although my life had always been wrapped up with some aspect of books – printing, distribution or publishing – I had never been particularly aware of the world of rare books.
When I was at Eton during the War, I bought masses of 'leather' for my grandfather from Ma Brown's bookshop in the High Street. She was an imperious old woman with a daughter called Mrs Withers – I believe the shop is still there. But I wasn't a collector myself and never really took an interest in rare books till I was in my forties. I don't know why this came so late – my great great uncle was Henry Yates Thompson, a most distinguished collector.
I started my business in 1973 and called it Kew Books. I remember going to see Howard Swann at Wheldon & Wesley simply to introduce myself. He replied 'We don't approve of your coming into our world'. It was said politely but firmly and I thought it quite natural. I also remember sharing a taxi with Bill Fletcher and expressing misgivings about my narrow speciality. He gave me some good advice which I ignored, 'Gardening is an immense subject. Concentrate on getting first- class books and you can't possibly go wrong'. In the early days, I went out of my way to strike up friendships with rich and grand booksellers. You might say I was hoping something might rub off on me. At first things went rather well – I suppose they thought I was no threat to them in business and that I might possibly introduce them to some good customers, which I did from time to time.
 Unfortunately I was fairly easy-going and a bit impulsive in the people with
whom I chose to associate. I often gravitate to the wrong people, usually because I think they can teach me something – often overlooking the fact that they may not be particularly desirable from a moral point of view.
My first catalogue came out in the summer of 1973. It was oblong in shape, a format I had appropriated from Paul Grinke's catalogues, with an introduction by Wilfrid Blunt who taught me drawing at Eton. I also enclosed a newsletter, rambling on about what I was doing in my own garden. The link between my books and my garden was very important – it was an intimate and organic con- nection and one which struck me as rather interesting.
The catalogue made a sensation, partly I imagine because it had all the charm of a novice. I knew how to write blurbs from my publishing experience, and perhaps I brought a bit of fresh air into the musty world of antiquarian books. Of course I hadn't the faintest idea to whom to send it. So I approached Jocelyn Baines, an old friend from publishing, who had become managing director of Quaritch. For old times' sake, he gave me the mailing list of their natural history department and I sold books to various collectors and institutions, including Dumbarton Oaks Garden Library and Missouri Botanical Garden.
I also sold Queen Victoria's Herbal to the Queen. The sale was all very hush- hush and was done with the assistance of Lord Perth. I can still remember my catalogue blurb, describing the plants collected by Queen Victoria in Saxe-Coburg 'in partial mitigation of her grief ' at the loss of her husband. I regret to this day having given the Queen a discount.
Anyway it was all a great success and I remember thinking that bookselling was rather like falling off a log. Then my catalogues became steadily less successful, partly due to my difficult temperament. There I was in my house at Kew and, instead of developing the business, I started writing books. Between 1973 and 1978 I wrote popular biographies of Charles Darwin, Wagner, King Edward I and Audubon – none of them of any real interest. Actually I never thought of myself as a writer. I just had so many friends in publishing and I never refused when someone asked me to write a book.
In 1974 I met a young German dealer who lived in Southern Germany and we rapidly became friends. This country was in a disgusting state at the time – Heath had lost the election and I could hardly bear to be here with the frightful Wilson government. I shall never forget the sight of huge pantechnicons arriving every week from places like the Ruhr and pillaging the antique shops in Chelsea – emptying the country and carting things off to the new rich in Germany.
 I first met this young man at a Christie's auction. He and his wife were dealing in everything you can think of. We had a drink and the upshot was that we started a business together in Germany. The contract was that I would buy and catalogue
natural history books, which they would then sell to their rich doctors and lawyers. My German was already good as I had taken it for part of my tripos at Cambridge. I also spent a year selling insurance in Düsseldorf when I was a young man.
Within a short time, they were millionaires and I wasn't. It's difficult to see exactly what went wrong – it certainly didn't help that I was writing books, trying to run my business in Kew, and travelling all the time. So I decided to take a castle on the Swiss-Austrian border to be more on the spot. It was a most unusual castle with every window looking out on a different country, and it was there that I wrote my life of Wagner. While all this was going on, I found an assistant to help at Kew. He was a tall, lugubrious American – a kind of intellectual hippy – who lived in Kew and spent hours every day looking at my books. As he never bought anything, I suggested it might be better if he came to work for me. His name was Rick Watson – a first-class person – and he stayed a few years and wrote some catalogues for me.
Then I decided to get rid of him for various reasons. Although I would not talk about Rick in a critical way, he can be a bit maddening to have in one's house. In any case, he had always wanted to work at Quaritch. So I contacted them and said 'Rick's a wonderful person – I just don't want him chain-smoking in my house. He would be much better in your office'. Quaritch took him and he made millions of pounds for them.
Meanwhile my irritation with the German peaked and I decided to end the association. I moved my stock to the Swiss canton of Thurgau and opened a shop in a pretty house called the Villa Primula. Then I made another mistake and took on a rather gloomy young man. Although he was a good cataloguer, he only had his own interests at heart and, what with one thing and another, I had to sack him. My next assistant was an aristocratic German girl whose father had been involved in one of the plots against Hitler. She was quite delightful, slightly cracked and absolutely hopeless for the Antiquariat Primula.
We have now reached 1977. By this stage I decided that I really must pull myself together before I had no money left at all. So I shipped all my books back to England again. Meanwhile I had already sold my home in Kew and moved into an aunt's house in Campden Hill Square. As I needed somewhere to dump my books, I bought a shop on a hideous corner of the South Circular road in Kew.
Mary Bland came to work for me and nothing went seriously wrong – she is now quite a well-known horticultural bookseller in Wales. In due course I gave her the shop for nothing, and I continued to do catalogues on gardening and botany from Campden Hill Square. Mary ran the shop for two or three years before selling it to Daniel Lloyd.
At about this time I started going to America rather a lot, visiting people on the Quaritch mailing list. Looking back, I behaved like a monster – expecting rich Americans not only to buy my books but also to have me to stay. I could not have been more demanding. In due course I decided to have a base in New York and took a room in the apartment of Hans Dorfer, an octogenarian German bookseller. Gradually I got into the swing of doing fairs and came to know the American book trade quite well.
 In 1982 I moved to New York permanently. You could interpret all this going abroad as an attempt to escape from the wreckage of my life, emotional and otherwise. Actually I always wanted to give my business an international cachet, which may be a legacy from my previous work experience. Did I mention that I once ran Hachette, the French bookshop in London? Anyway 1982 is a watershed date.
David Batterham's son helped me pack my books and we shipped them to New York in boxes scrounged from Oddbins. David is my only real friend in the book trade. He's lovable and writes the most improvised catalogues. He's also one of those booksellers who sell far more than you realise. In New York, I moved my books into Peter Kraus' old rooms at 667 Madison Avenue, a famous building for antiquarian booksellers. Trebizond, James Cummins and Black Sun Books were my neighbours. There was also a woman in her 80s called Cohen – the doyenne of American bookselling – who came to England and got run over by a bus.
By and large my life in New York was a struggle. I had no money and my books were not classy enough. Then one day I discovered Hans Dorfer dead in his bed and I had to find somewhere else to live. I moved into a very expensive apartment off Park Avenue. Although I could not really afford it, I needed somewhere large to store my stock as we had all been given notice to quit 667 Madison Avenue. Somehow I jogged along and found a few rich customers, including Mrs Gutfreund whose husband ran Salomon Brothers. Someone had suggested that she should take up a new interest and she settled for flower books. I sold her quite a number of expensive items over the years.
My time in New York came to an end when the building in which I was living went co-operative and my apartment was put on the market for $1,000,000. I packed up my books again and put them into store in a small town north of New York on the Hudson river. Meanwhile my assistant had met a Venezuelan tyre salesman and moved with him to Puerto Rico, where they invited me to stay.
This was in 1985 and I was still licking my wounds after leaving New York. It seemed pleasant to have a beachcomber existence for a few months and I took a flat by the ocean. After a while, I started buying books and maps about Puerto Rico. By the end of the year, I held my first exhibition, sold everything and became something of a Puerto Rican specialist overnight.
In the following year my brother, Alexander, became the Washington correspondent of The Independent and invited me to join him there. So I moved all my books and furniture out of storage in New York and spent a year in Washington selling natural history books again. Then my brother returned to England to start The Independent weekend magazine, and I went back to Puerto Rico where I had left my stock of West Indian books and maps.
San Juan, the capital of Puerto Rico, is rather like a Los Angeles suburb – you couldn't love it. Santo Domingo, on the other hand, is more primitive and more charming. I have a number of friends there and, in 1988, I decided to make it my base. For the last six years, I have had an office in the Society of Bibliophiles in the Calle Las Damas, the oldest street in the New World. Santo Domingo was the first place where Columbus established a town. My street is named after the ladies-in-waiting to the wife of Diego, Columbus' son.
 I live in one room in a small residential hotel just outside the colonial part of the town and bicycle to the Society of Bibliophiles every day. In the last few years I have produced about fifteen catalogues of Latin American interest. In general I like to concentrate on a particular country and spend what money I have buying relevant items for a catalogue and exhibition. I've also just done my final catalogue on gardening, botany and natural history. This is my swan song and I shall now be concentrating on Latin America.
Living in a part of the world where the people are semi-literate doesn't help one as a bookseller. In a place like Santo Domingo, all the money is in the hands of one per cent of the people and they prefer to spend it on jewellery for their mistresses. But every now and then I have a windfall. Recently I sold most of my maps of Santo Domingo to the president of the country's leading brewery. In general the more books I sell, the more money I lose. If I go to Venezuela where I have a number of customers, there's the expense of flights, hotel rooms, cars and freight. From the point of view of business, it was of course a hideous mistake to leave my house in Kew.
I also miss the company of my friends and family – four children and six grandchildren. But I try to come home every two or three months. If I were more cultured, I wouldn't find Santo Domingo very satisfying. They don't have first-class concerts, theatres or exhibitions. You might say I should come back to England – I dare say I could eke out a living selling books from my house near Cambridge. But I do have a certain reputation in the West Indies as being almost a distinguished bookseller.
Interviewed for The Bookdealer in September 1994