Charles Traylen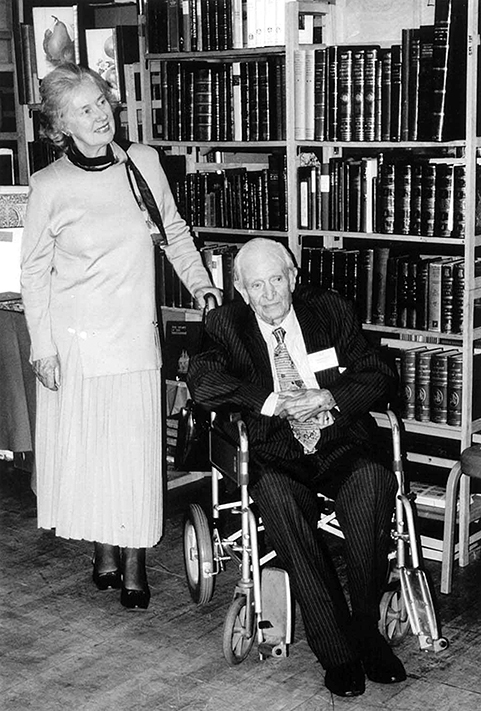 I'll tell you some of my pet hates – telephone bids, Hay-on-Wye and front room traders. Come to think of it, you can answer this: How do you trade from a PO box? I've been in the business for over 70 years and fancy I know a thing or two about it. Nowadays there are far too many amateurs around, and bookshops have deteriorated everywhere. In fact I can only think of about twenty good bookshops left in this country. You only have to look at the advertisers in the Bookdealer. I counted them not long ago – 450 advertisers, including 80 with shops, but only twenty were what I would call well established.
Experience is the great thing in bookselling. I left school at fourteen and, after a short time repairing bicycles, my mother found me a job at Galloway & Porter in Cambridge, which was my home town. The boss was hoping I would marry his daughter, but I had my eye on the typist, a red-hot communist. There was a terrible scene one day when she was typing like fury at eleven o'clock on November 11. The boss came in and said, 'Don't you realise there's a two-minute silence?' All she said was, 'I couldn't care a sod about that!' So he picked up her typewriter and threw it out of the window.
I started my apprenticeship in 1920 on 7s.6d. a week. By 1938 I had got it up to £4.10s a week. One day Mr Porter came back from town and told me about a couple of situations vacant – one at Foyle's and one at Thorp's in Guildford. I went to Foyle's first and, during the interview, I put them a test question. In Cambridge, you pick up a knowledge of the Classics, so I asked them if I could see their Classics department. They sent me to the Music department, so I turned them down and went to Guildford instead.
Thorp's offered me the job of manager on £5 a week, and I went down to Guildford on a boiling hot August bank holiday. I soon discovered that old man Thorp was on the cautious side, and this began to cramp my style. I particularly remember one occasion when Mrs Cook of the travel family offered me a magnificent copy of the limited subscribers' edition of Gould's Humming Birds. I bought the set for £150 and old man Thorp immediately started bleating, 'But it's never made more than £70!' But Thorp's had a very good customer for anything special, so I just picked up the phone and sold it to him for £250.
You could say that I started the fashion for beautifully illustrated books. Roy Harley Lewis says I dictated trends and buying patterns. I certainly had a strong feeling, during the 1930s, that Goulds and other fine plate books were set to rise dramatically. In fact I put an advert in The Times, offering to pay £30 and £100 respectively for the Birds of Great Britain and the Humming Birds. Old man Thorp got very worried and the rest of the trade objected to the 'unfair competition'.
In his book on the antiquarian trade, Lewis also mentions my philosophy of selling the 'junk' first and keeping the good books till the price is right. A terrific number of the smaller booksellers buy a lot of books, pick out the good ones and sell them straight away, and then say to themselves, 'I've got all the rest for noth-ing'. I work the other way round. Another thing I always do – buy the best copy available. You should never have to apologise for the condition of a book.
While I was at Thorp's, I did a lot of cataloguing. On one occasion we had just sent out a new list when the phone rang – it was a Lady Leigh, wanting to buy the whole lot. 'My husband is going to the Dorchester tomorrow. Please go there and his secretary will give you a cheque'. The total value of the books came to £2,800, which was a lot of money in those days, and old man Thorp was already rubbing his hands. Anyway, I went up to the hotel and met the secretary who said, 'Her Ladyship was taken to a mental home yesterday'. I got £25 for my expenses! Then the War came. As I had more or less decided to start my own business, I told Thorp I wouldn't be coming back. After the War, I went round Guildford looking for premises and found something – right opposite Thorp's, which was unfortunate, but I took it for twenty-one years. Fourteen years later the landlord kicked me out. I was at my wits' end, with a stock of books and nowhere to go. Then I came across Castle House in Quarry Street, which had been an antiques shop frequented by Queen Mary. It was on the market for a figure around £18,000, so I went to my bank manager and told him I could put down £500 and would settle up in five years. It was all over in ten minutes. He lent me the money; I paid it back in three years and today the property's worth something like three- quarters of a million.
In the early days I had my brother-in-law packing for me. One day I had gone home for lunch when he rang to say 'Shop's on fire!' I rushed out of the house and my first wife called after me, 'Won't you have your pudding first?' It cost £5,000 to repair the damage, but we didn't lose a book. And a funny thing happened to a magnolia in the garden, which had never flowered before. Since the fire, it has flowered every year. You should have a look at it before you go. I'll get Speedy Gonzales, our gardener, to clear a path through the weeds.
Business was very good in those days, what with shop sales and catalogues which I enjoy writing. I still catalogue nearly every book we handle. Now and then someone tries to sell me a computer, but I don't want one. They can be funny things. The other day, I was feeling a bit dicky so I went into a pub for a large brandy and a half measure of port – and the bloke behind the bar said, 'We can't serve you a half measure. The computer won' t recognise it'!
When I was at Thorp's and later on my own, I used to go to several auctions a week, racing all over the country with a group of buddies – Bernard Simpson from Joseph's, Frank Doel of 84, Charing Cross Road, Johnnie Watson from Quaritch, Charlie Harris from Francis Edwards, and my great friend, Frank Hammond. I drove the car, and they all crammed in with all the books. We thought nothing of doing a morning sale in East Anglia and then tearing over to Hereford in the afternoon.
We always viewed the books together and told each other about any discrepancies. When it came to bidding, we had a little arrangement. The rules say that if you're buying as a group, you must give the auctioneer the names of all those involved. But I refused to do this ever since the time when John Fleming was in our group. We knew perfectly well that if the auctioneer knew Fleming was in, the price would just go up and up. I must say I miss the old days, sitting around the table at Hodgson's and then on to The Sussex for a pint. Nowadays if I go to a sale, I'm lucky if I recognise more than five dealers there.
I haven't been to Sotheby's or Christie's since the buyer's premium went up to 15%. When Sotheby's first increased it from 10%, I made my views very clear: this iniquitous premium should be cancelled, not increased. Since the buyer's premium was introduced in 1975, it has cost me something like £200,000. And I certainly don't want the auctioneers to turn round and say I'm paying for expertise.
Apart from one or two cases, expertise doesn't exist. But I still go to Bloomsbury Book Auctions, though they always have so many foreign books, and Christie's South Ken, where the staff are very helpful. I had to return something recently and they wrote a very apologetic letter. As for the country auctioneers, they're mostly hard up for good books. Not long ago I had a catalogue from Stride's in Chichester – over 700 lots and only ten books of interest to me.
I still buy quite a lot of books privately and visit shops all over the country, though, as I said before, they have mostly deteriorated. Years ago, I sat next to Leon Morelli at breakfast one day. We got talking about this and that and he asked my opinion of the London trade. I told him I liked Francis Edwards, but it had gone down a lot. 'Oh', he said, 'that's a pity. I've just bought it'.
I suppose this is a good moment to talk about bookfairs. The sooner the ABA move out of the Park Lane Hotel the better. It's not suitable for a fair. A lot of book buyers are old and crotchety – come to think of it, so are some booksellers -and those stairs aren't easy. And then there's the cost, which is getting out of hand. The last time I stayed there with my wife, Caroline, we got a bill for £500 for three nights and no meals. I think we need some new ideas for the fair. Apparently, Mr Shapero has suggested there should be a two-tier fair, divided into upper and lower class booksellers. Anyway, I enjoy meeting people at the London fair. Last year we picked up a new customer who has since spent over £20,000. The Harringtons brought him along about ten minutes before we were due to close, and we sold him an exceptional copy of Orlovsky's Russian Costumes. I believe he's an American banker and rather easy to spot as he walks around with a copy of R.V. Tooley's English Books with Coloured Plates under his arm. A few years ago in Tokyo, we were also very lucky. Nothing much seemed to be going on at the time, but we have since got to know about ten very good private Japanese customers. Many dealers were complaining at the fair that they couldn't reach the private collectors. I suppose it helps that I've been doing business with Japan for over thirty years.
In all my years, I've never done any ABA committee work. As a matter of fact, I was blackballed on my first attempt to join the Association – never found out why, but it might have had something to do with opening opposite Thorp's. Anyway, the whole thing's much too time-consuming. I know an American colleague who served two years as President of the ABAA and his wife left him – couldn't stand him working all the time.
 I must say I've never been to the June PBFA fairs. In my opinion, the PBFA isn't a true representation of the antiquarian book trade. And I can't understand why a firm like Maggs belongs to the PBFA. Having said that, I've done some nice trading with many of their members, although you get some funny ones. I rang someone in Cambridge once and couldn't hear a word he said because children were making such a noise in the background.
As for the future, I'll go on bookselling till I drop. Healthwise, I'm lucky – perhaps because I was fanatical in my youth about athletics, football and cricket, which I still enjoy. As for girls, I thought they were freaks and didn't bother much about them for a long time and I didn't start drinking till I was twenty-five. I've made up a bit since.... My first wife died a few years ago and I have two children. I recently married my second wife, Caroline, who'd been a friend of the family for many years. I'm a very lucky man – Caroline's a wonderful lady and a most accomplished horse woman. Her father was the London director of the firm that printed my edition of Orme's Field Sports.
In 1953 I bought 1,000 copies of a Redouté reprint from Mr De Nobele in Paris. I sold them all in three months and this prompted me to do my own reprint of Ehret's Flowers, with a descriptive text by Wilfrid Blunt. It was a great success and in 1955 I reprinted the Orme, which subsequently sold over 40,000 copies and is now out of print. Then followed several other titles, including all five of Ackermann's Public Schools, with forewords specially written by the Headmasters. I still have copies of Havell's Views of the Thames and Curtis' Camellias. Looking back on it, I could have turned to publishing, but the antiquarian trade is my forte.
As for the future, Caroline's also my business partner and, if I snuff it first – as I might very well do – the business will go on in her hands, together with the very good staff we have here. In the meantime, I still enjoy racing all over the country, if you get my meaning – which reminds me, I must go and see what my horses have been doing.

Interviewed for The Bookdealer in June 1993
Charles Traylen died on 2nd November 2002