Nial and Margaret Devitt
[Fair Play]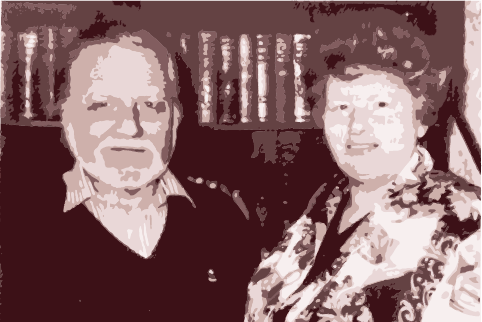 'I first met Margaret when we were teaching at Stratford Grammar School in Bow. We got married in 1964 and, after a bit of moving around, we both found jobs in teacher training. This was in the late 1960s. The birth rate was falling and the Government decided to axe a lot of jobs in our field. I was made redundant, and almost immediately felt a tremendous sense of liberation. Teaching can be very boring. I'll never forget 4B on a wet Friday afternoon in West Ham. However on a brighter note one of my pupils was Jeff Towns, now such an excellent international bookseller.
Before I left teaching, I already had quite a lot of experience of the trade. I began collecting books at Oxford in the days when you could buy the high spots of 18th century English literature at Blackwell's for two guineas — or thirty bob if you found a tear! I remember scorning rows of dusty calf. In those days the problem was finding enough money to buy the latest Doris Lessing or Ezra Pound. But I managed to accumulate several shelves of good modern firsts, most of which I later sold to the Covent Garden Book Shop for the fantastic sum of £400. This was in the late 60s, and I used the money to pay for a course in psychology and sociology at the University of Leicester.
In my last lecturing job, I had the pleasure of looking after a very good collection of children's books which belonged to the college. I very much enjoyed the subject, and it was marvellous spending other people's money! I remember going to places like George's in Bristol, which was probably the best provincial shop in the country at the time. So when the chop finally came, I was ready and keen to move into full-time bookselling.
Margaret was still lecturing, and we badly needed her salary. So I decided to take on a friend as my business partner. Although we liked each other, it didn't work. A couple of years later, I set up Nial Devitt Books. This was in the mid 70s, and the business started very well. Books fell into my hands like manna from heaven. Beginner's luck!
But then came the recession of 1979. It was quite dramatic and sent a shock wave through the whole of the second-hand book trade. Sales from my advertisements in Bookdealer dropped by about 75%. It all seemed to happen without any grey area of warning beforehand. I couldn't think what to do for the best. In the end I took a three-year lease on a shop in Nottingham, on the mistaken assumption that I would be selling lots of books to lots of new customers. The shop was right opposite the main auction house, but we didn't seem to get any spin-off from that.
Then I fell seriously ill, and Margaret took over the day-to-day running of the shop. She did a wonderful job, and I just don't know how she put up with all the hassle. Sometimes it felt like running a branch of the social services. Pensioners came in for a chat, sinister-looking men tried to chat her up, and the rest of the public seemed to treat the place as somewhere warm to sit down.
I suppose I was very green when we opened the shop. Perhaps it's something to do with our background in education, but we honestly hoped to evangelize —introducing people to books, literature, Evelyn Waugh first editions and so on. But it wasn't like that at all. One day Margaret made a mistake and put a rare Heath Robinson in the window at the wrong price. It was marked £2 and sat there for over a week before anyone came in. I'm sure this is when I finally gave up on the shop.
Nowadays we run our business by appointment only. I tend to buy and catalogue the books, and Margaret does absolutely everything else. If there's anything unfair about the division of labour, I'm the guilty one. We mainly specialise in English literature these days, although we like to buy interesting ephemera as it sells so well in our catalogues. At the moment I'm doing about five catalogues a year. They're essential to our business and seem to have withstood the present recession. On average, we expect to do 40% of our catalogue business with the trade, 40% with private customers and 20% with institutions — the London Library, the Bodleian, Cambridge University, the British Library and one or two in the States. Probably the most efficient institution we deal with is the National Library of Scotland (which pleases Margaret's Highland pride), whilst the least is an Irish library (which wounds mine).
I've built up a good reference library, although I can't quite run to NUC. Cataloguing is a real pleasure, and I like to write something more than the bare details. Most cataloguers don't seem to understand the difference between a list and a catalogue. A list is something that you might send to Bookdealer, where you have to exercise strict economy over the number of lines. But a catalogue has more of an edge of hard sell to it — you're trying to make something sound attractive by calling attention to points of interest. Margaret thinks I tend to put in too much sex, naked girls and the odd remark about librarians. She crosses them all out anyway...
Many of the best cataloguers are American. Ian Jackson in California writes the best catalogues in the English-speaking world. They're modest, badly produced, but, in my view, the most learned, witty, tantalising and seductive catalogues you could wish for. Eric Korn thinks Jackson is so good that he parodies himself. He once made a set of biographies of nineteenth century clergymen seem as thrilling as the Book of Kells. I'm also a great admirer of Stuart Bennett, whom I regard as the Henry James of cataloguing. In this country, I would pick Brian Mills in Newcastle, who sells books on the decorative arts with such style and humour. His shop has the stamp of his own originality. I would say the same of Derek Gibbons' Haunted Bookshop in Cambridge. He's got a stock that reflects his own flair and imagination. Just the same is true of the Old Hall Bookshop at Brackley. Similarly, I can think of Mike Goldmark — if he spent more time on his bookshop and less on his gallery.
The most distinguished bookseller to come to the front during my lifetime is undoubtedly the late Colin Frost. His discovery of the Malthus letters in the Isle of Wight must surely rank as the biggest bookselling coup of the last thirty years. He started as a runner, and taught himself everything. He could pick an eighteenth century book out of a tea chest of odds and ends, point to some annotations and say "that's Johnson's hand" — but only after he'd bought it!
I'm unfortunately entirely self-taught, and would have welcomed some kind of apprenticeship — perhaps with a man like Geoffrey Wakeman who knew so much about every aspect of printing. I shall never forget going to visit Giovanni Mardersteig in Verona. Margaret and our daughter, Clare, came too and it was an extraordinary experience to see his immaculate workshop. He was preparing an edition of Gogol's short story The Overcoat, with parallel Russian and English text, which required the most complicated hand setting. I remember we were very disappointed to hear that Annigoni was doing the illustrations. Mardersteig showed us some proofs and they turned out to be quite beautiful with an intensity of feeling which exactly matched the text. They were nothing like the chocolate-box style of some of his portrait painting.
There's no doubt you learn quickest from someone else. And there's so much to learn. It worries me that anyone can call himself or herself a bookseller without any experience of selling a book. In the old days, the PBFA adopted the guiding principle: We will include pretty well anybody, and when they misbehave, we'll chuck 'em out — which didn't always happen. But I think the admission system has tightened up over the last five years. We all need colleagues with the honesty and integrity to pay their bills promptly. If they've got sweet breath and a sense of humour, that's fine, but I'm more concerned about trust.
We've been involved with the PBFA since the early days. It's been a wonderful show case in London which we wouldn't otherwise have had. They've got the basic formula right — you've only got to look at the number of imitators to realise that. But any institution that's been going for twenty years needs the odd shake-up. At the moment the length of the Hotel Russell fair is a topic of heated discussion. We've exhibit-ed every month for many years, and are strongly in favour of reducing the fair to one day. A lot of people tend to forget that the PBFA is the provincial not the London booksellers' association. It's all very well for people to go home to their own beds in Finchley or wherever and swan in the next morning. Meanwhile, exhibitors from, let's say Leamington, have to add a night in an hotel, petrol, parking and all the other subsistence overheads to the cost of their stand.
On these terms, it can't cost less than £200 to do a fair at the Russell. This is just about all right if you manage to take £2000. It's possible to be philosophical —if not exactly happy — about overheads of 10%. But the published figures for fairs at the Hotel Russell suggest that many exhibitors are spending more like 25% of their take on expenses — the big exception being the June fair. Speaking as one who exhibits every month out of a sense of primitive loyalty to the PBFA, I do feel a certain resentment about dealers who only exhibit at the June fair. The rest of us put up with some awful months. According to bookfair folklore, things improve in the Spring and peak in June. July and August are dreadful, but it gets better again in September when the new auction season begins. November and December have a bad reputation from a folklore point of view. So that only leaves you with six hopeful months.
I can't help thinking the buzz has gone out of the fair. The recession has had its effect, but I'm really talking about the delicate matter of pricing. You can still find some very exciting books, but you almost know the price before you pull them off the shelf. There's a predictability in pricing, which poses a very real threat to future growth and success. If prices become flattened out, private buyers are discouraged from coming to a book fair. They lose the sense that they may be going to find a bargain — the same book variously priced on different stands. Nowadays there are few sur-prises for any of us. Gone are the days when you could pick up a book and a whole archive of the author's unregarded letters would scatter all over the floor.
If I've got a criticism of the PBFA, I suppose I'd say it's become a bit dozy. I know secondhand booksellers are a conservative lot — take the ABA, for example — but we really need to energize the trade in some way. I don't think we've got the publicity right. But that's something for Margaret to talk about. She's the PBFA representative for the Midlands and an expert at organising fairs. This year she'll be running three —one in Leamington and two in Stratford— and I can assure you every one for miles around will know about them!'
'I think Nial means that I go out at three in the morning hammering sign boards along all the approach roads. I can't stand fly-posting, so I've got my own more solid arrangements which require a hammer to get them into place. I consult the council first, but there's always the risk the police will come along and insist I remove them; Once I was walking along the side of the road in pitch darkness, with my hammer and boards, when I was lit up in the headlights of a police car. My heart sank, but he only wanted to ask the time!
My attitude to running book fairs is to get people through the door, which involves a lot of hard work on all sides. It's important to have a pleasant venue. In Leamington we're lucky to have the Pump Room, and the town crier comes out in full fig. And of course we use the Royal Shakespeare Theatre at Stratford. I also like to tie up the fairs with a charity, and we often raise quite a nice sum, usually for the local hospice. My mother's in charge of refreshments at the Leamington fair, and I've a sneaking suspicion that some visitors only come for her chocolate cake.
Stratford is a very good venue for a fair. The tourists are particularly pleasant to deal with. I suppose they wouldn't come to Stratford unless they had something of a literary bent, so they are already half-switched on to the idea of a leather-bound book. One year an American Woman arrived in a taxi. She was touring the area, staying at the Lygon Arms and so on, and just happened to notice one of my sign boards. She'd never been to a book fair before and spent a couple of hours and over a thousand pounds buying presents for her family — mainly books on local topography and the theatre.
I usually spend all day at the desk during a fair. It's important to have a word or two with visitors and get some idea of why they've come and what they're looking for. It also helps me to advise exhibitors and to get the publicity right. I must say I enjoy meeting the public. I suppose this is something I miss about no longer having the shop. When we were in Nottingham, we had one or two customers who were real characters. I particularly remember Brucie, who was a retired miner, ex-Army boxing champion, and quarter aborigine. He invited us to his home, and I must admit I was anticipating a rather dull evening of boxing memorabilia and medals. But we found him living in a modest council house packed with works of art of the finest quality.
The shop also attracted unwelcome visitors, including members of the fascist youth of Nottingham, which is really too dignified a title for a bunch of tattooed yobbos. They used to come in for copies of Mein Kampf. So we decide to increase the price dramatically. The next time we had a copy, Nial put the price up from £2 to something like £20. One of the yobbos came in and was disappointed to find that he couldn't afford it.
I suppose it's the teacher in me, but I decided to strike a bargain with him: I would reduce the price, if he would sit down in the shop, read the first chapter and tell me what it was all about. So he sat down, started reading, scratched his head, had a cup of coffee, had another cup of coffee, scratched his head… Two hours later, he said "When does it get to the bit about the Jews?" I discovered that he hadn't understood a word and that none of his mates had ever read their copies. The book was simply an accessory, like the chains and tattoos.
Although we no longer have a shop, we meet plenty of people every month at the Hotel Russell. It can be very useful sitting under a sign board saying "Leamington Spa". We have been offered some interesting local topography by members of the public. Someone who'd seen our stand contacted us about a first edition of the best early guide to Leamington by Bissett. It turned out to be the author's own copy with unpublished poems and annotations in his own hand for the second edition. It's probably one of the nicest items in our collection of local topography.
Usually we both decide on which books to take to the London fairs. A good Russell "hopeful" would be a nineteenth century book in original cloth on Malta or dragonflies with handcoloured plates, priced below the level of the specialists in that field. I agree with Nial that it's good for dealers to have their blank spots or areas of ignorance — and personally I've plenty of blank spots. We've all had experience of buying, let's say, a wonderful book on Leamington from a cricket specialist.
Looking to the future I'm sure there'll always be a place for the specialist dealer but I'm less optimistic about the prospects for the general secondhand bookseller. We're all very concerned about the disappearance of interesting old books over the last twenty years. In time there just won't be a sufficient supply to make a living on. Our daughter's a barrister and I dare say we wouldn't have encouraged her to enter the trade.
But we've been very happy in bookselling — whatever Nial may have told you about wanting to run a bordello in Istanbul. I believe our partnership has worked because we complement each other. To give you some practical examples, Nial writes wonderful catalogue notes, but I can dash off a five-page letter in the time it takes him to think of saying "Dear Sir". Nial doesn't drive, I do — imagine being a provincial bookseller without a car. We're also fortunate to have my mother helping with the day-to-day running of the home. And then there's the vital question of space. Nial thinks the secret of living and working together is based on separate studies. He works on the ground floor in the bookroom and I work upstairs. Basically, we just get on with our work with absolute confidence in each other.
Interviewed for The Bookdealer in April 1993