Eric Moore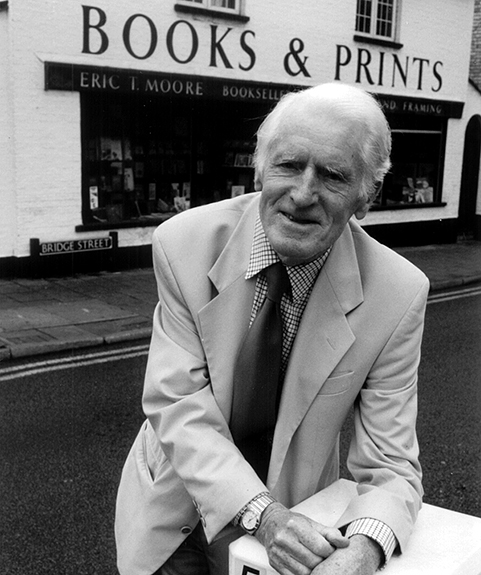 In 1928 I won a scholarship to Hornsey College of Art and subsequently had a precarious existence in two London art studios. When the War broke out, I registered as a conscientious objector and served in the ambulance service. Peter Eaton was in the Bomb Disposal squad at the time – he was also a conscientious objector, although our reasons were slightly different, Peter's being mainly political and mine a personal interpretation of Christianity. I did not see much of Peter during the War and it was actually Leslie Gutteridge, a colleague in the ambulance service, who introduced me to the book trade. Leslie ran the large secondhand department of the Epworth Press and spent his spare time glued to the pages of The Clique. As I have been fond of books from an early age, he suggested I do something in the book world during my off-duty time. I put an advertisement in The Bookseller offering to deliver books for publishers.
The advertisement produced two or three replies, including an invitation to work on very flexible hours for Stoneham's bookshops in the City. This involved collecting books from publishers for Stoneham's chain of ten or twelve shops. At the time Stoneham's, Hatchards, The Times Bookshop and a chain of bookshops in Greater London called the Burnside Group were all owned by Clarence Hatrey.
Many people thought Hatrey was going to be a big name in the book world, but I had my doubts, which eventually proved to be right. Hatrey had been a big financier in the 1920s and '30s and was involved in a Robert Maxwell-style crash in which a lot of people went bankrupt. He was imprisoned for fraud and, on his release, promptly purchased several bookshops and The World's Press News. He bought Hatchards very cheaply and gave the job of manager to an old prison mate, a man named Tabor who knew very little about books.
The previous owner of Hatchards, Mr Shepherd, had found it difficult to adapt to the changed conditions during the War, when many of Hatchards' aristocratic clientele moved out of London. I remember going in a taxi to collect books from their town houses. The best went into auction and the others, including a lot of good stuff, were sold in the rare book department at Hatchards.
When the War ended Hatrey offered me a full-time position which I accepted, helping out in his various bookshops. I would ideally have liked to return to the art world, but it had gone very much into its shell after the War. Also, I had just got married and wanted to do something a little more secure. While I was working at Stoneham's head office in Tudor Street, I met Fred Blades, an old Mudie's man with a vast experience of secondhand and antiquarian books. In due course we were both moved from Stoneham's to Hatchards in Piccadilly where Mr Millward was in charge of the rare book department on the first floor. Mr Millward had been one of the auctioneers at Hodgson's in Chancery Lane, where I was later to come across Fred Snelling, my old school friend and fellow student at Hornsey.
I also spent some time with Fred Blades at Hatchards' stock room in Brompton Road where we priced the books. Fred had an amazing ability to hit a book at the right price and I learnt a lot simply by watching him. Later on we moved to Cannon Street where Hatchards opened a large secondhand shop. Fred was in charge and I was his assistant. He was a terrific worker and rather put me through it. I preferred to work at a slower tempo and spend time with the customers, whereas Fred had the Mudie's attitude and did not believe in talking to customers – unless there was money at the end of it.
While we were at Cannon Street, two men came in and bought large quantities of books every few weeks. After six months they opened a bookshop nearby called Jon Ash. This was in 1946 and the firm's name was derived from a combination of the owners' names – Hugh Jones and Cyril Nash. They had originally hit upon this device when they wrote a play together in the 1930s, which was set in a secondhand bookshop. The firm is now owned by Laurence Worms and is called Ash Rare Books, largely I believe because he got tired of being called John.
 Jones and Nash's shop gave me the ambition to open my own shop. Fred and I had already had an unsuccessful attempt to set up together in Kensington Church Street, but the premises were too small to accommodate enough stock to support us. I almost made the jump when a very small shop became available in St Mary Axe. The rent was £4 a week but, as I was still saving to buy a house, I could not take a gamble. Looking back, I would like to have opened a shop in the City, specialising in art books, but was stopped by lack of capital. At the time I had two uncles at Lloyds who could easily have raised a loan for me, but my Nonconformist upbringing put all ideas of borrowing money out of my head.
As I have mentioned, I had my doubts about Hatrey's long-term commitment to the book trade and decided to look around for other opportunities. In the end I believe he went into more financially rewarding businesses, although I rather lost track of him. In 1947 I answered an advertisement in The Bookseller. Countryside Libraries Ltd wanted a man to develop a secondhand department at The Book House, their headquarters in Hitchin. As I had experience of selling antiquarian, secondhand and new books in London, I easily got the job.
The firm had fifteen bookshops from St Albans to Leicester and was owned by Basil Donne-Smith who was a Quaker, which fitted in well with my own beliefs. When I first started work in Hitchin, I lodged in a small hotel during the week and returned to my wife in London at the weekend. By strange coincidence, the hotel was directly opposite the building, which was eventually to become my own bookshop.
My office in The Book House was a small room at the top of the building, and my first job was to create more space for stock, which I did by shelving both sides of the wide staircase. I also persuaded Donne-Smith to acquire rooms in the disused outbuildings at the back of the shop, which I used for developing my catalogue trade in philosophy, theology, psychology and history. During the 1950s I produced regular catalogues, often containing up to 2,500 items and nicely printed by Frank Juckes of Birmingham who did a lot of work for the trade in those days.
Not long after joining Countryside Libraries, we struck gold when we had our pick of the library of Sir John Lubbock, first Baron Avebury (1834-1913), author of a number of scientific and ethical works and a famous list of The Hundred Best Books. It was a once in a lifetime opportunity, though I don't think I appreciated it at the time. As I had only recently left Hatchards, I was accustomed to having the run of interesting collections.
One room was completely full of Lord Avebury's own writings and, although they were not very much in demand, his copies were very attractively bound and inscribed. We were joined on this occasion by a bookseller by the name of Evans who lived at Codicote and was working part-time for Pickering & Chatto. His father had owned a tailor's shop in the Burlington Arcade where Oscar Wilde had his shirts made. When Evans was a young man, he worked there and could remember Oscar's chest measurements. When his father died, he sold the shop and invested a large part of the proceeds in private press books, which he was obliged to sell at a considerable loss in the Great Depression.
During the 1950s there were a great number of country house sales where I met many of the older generation of booksellers including Bowyer of Howes, Tom Crowe, Bill Fletcher, Charles Traylen and my old friend Tony Doncaster, of the Castle Bookshop in Colchester, who died in 1995. On some of these occasions, Charles Traylen would organise an impromptu game of cricket during the lunch hour with a makeshift bat and ball. Percy Muir and Laurie Deval also put us in touch with some good collections. Percy lived just over the Hertfordshire border in Takeley. Although I was not a close friend, I admired him as a very honest bookseller.
Eventually Basil Donne-Smith decided to sell Countryside Libraries and retire. Foyle's came to Hitchin to look at The Book House with a view to buying it as a going concern. Fortunately for me, nothing came of it. Although Donne-Smith sold all the leases of his shops, he allowed me to stay on for two years at The Book House and prepare a large catalogue before starting my own business. This was an enormous help and gave me time to hunt around for premises.
In 1963 I opened my own shop on the present site in Bridge Street, which had been the Post Boy Inn dating back to 1830. I was originally going to buy it for £2,750 when, half way through the negotiations, the County Council announced massive road building plans. In the event these did not go ahead and I bought the premises from Hertfordshire County Council – though not for the original asking price.
The shop was made up of two cottages, which I converted into fourteen rooms to house my stock of 30,000 volumes and a number of antiquarian maps and prints. After the shop was well established, I developed a sideline in local history publishing with my friend Iain Bain who recently retired from the Tate Gallery where he was publications manager. Iain is a great authority on Thomas Bewick and a tremendous ambassador for bookshops, supporting and encouraging good bookselling.
Together we produced Reginald Hine's The History of Hitchin, which was described as the best history of the parish ever written, and Hitchin Worthies, also by Hine who tragically committed suicide. I also published, in association with the North Hertfordshire Museums, Old Hitchin. Portrait of an English Market Town from the Cameras of T. B. Latchmore and Others, which won the Huber Award for Offset Litho Printing in 1976, mainly due to Iain Bain's expertise. In many ways I would have enjoyed a career in publishing, but it did not really come my way. I had already changed in mid-stream from art to bookselling and I could not change again.
I'm 83 now and don't do so much work in the shop these days. My hearing is not good enough to deal with customers, which is a great disappointment as I have always liked shop work. My wife comes in on Saturdays and helps to interpret some of the customers' queries that arise. It seems to me that books are a trade in which a man and his wife can share the work, with only a very indeterminate line between business and pleasure.
I have also been very fortunate with my assistants over the years. It has always been my policy to get to know them first as friends before offering them a job in the shop. At the moment I have six part-time assistants, of whom several have previously been customers. Their expertise and loyalty are very much appreciated. Phyllis White was with me for twenty-five years and did a wonderful job building up the business. At the moment I rely considerably on Katie who has a very flexible role in the shop and has taken much of the bookbuying off my hands. I have also had one or two rather curious assistants. There was an unfrocked Anglican priest who became a fanatical Roman Catholic and caused havoc in the theology department by lowering the prices of my Anglican books, while the Catholic theology shot up in value.
Looking to the future, I would like the shop to continue after I retire, but it's not easy to sell a business as a going concern in these difficult times. A few people have already shown an interest but that is as far as it has gone at the moment. Meanwhile I have had a good innings – there can't be many octogenarians working in a bookshop. Although I have always looked on bookselling as a second best compared with my early ambition to become a successful artist, I have found the trade an amazingly varied pursuit, which has satisfied my artistic and literary interests. In fact I would say that bookselling is the most humane, sociable, ill-organised, yet absorbing form of commerce to be found anywhere.
Interviewed for The Bookdealer in October 1995