Jennifer Jaeger
[The Valley of the Kingpins]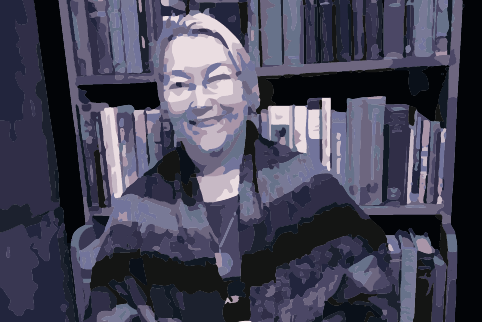 When I was a student in Melbourne during the late 1970s, there was not much work around. For a few years I did anything that came along, including bits and pieces for film and television and working as an editor. My father is an automotive engineer and I worked with him for a while. I had grown up with cars and already knew quite a lot about them. When someone gave me a couple of old Rovers, I ended up wrecking them for spare parts and the next thing I knew I was looking for a business partner. I got someone down from Sydney and we opened a shop in Oakleigh supplying classic car parts.
Oakleigh is a pleasant suburb about sixteen minutes by train from Melbourne. It was founded as a borough in 1896 and is, by Australian standards, very old and has its own character. One day I was in a bookshop I had never visited before and overheard the lady owner whingeing to a customer that she wanted to sell the shop. She had been running it for twenty-five years and now her back had gone and her knees were going and all the rest of it. She was asking A$1,500 for the business which I happened to have on me as I had just sold a car.
As the Rover business was still very small at the time, I thought it might be possible to run books and cars out of the same shop and the one could subsidise the other — at least that was the idea in 1989 when I bought the shop and its stock of 48,000 books including a very large amount of Mills & Boon. For a time the books and cars shared the same premises. It was a beautiful shop and the locals loved it — Rovers on one side, books on the other and a stock room at the back. The book side was really scary to start with. For the first three weeks I did not sell a single book. I may even have driven a few customers away in my sheer desperation to make a sale. All of a sudden it started ticking over. The Rover customers would come in and, while they were waiting for their cars to be ready, would inevitably buy a book. In my experience old car people tend to be bookish and rather well educated. I suppose it appeals to people with a sense of history. If you take the example of Rover owners, they are usually upper middle class, mostly professional types who are not short of a penny, but still like a bargain.
The combination of books and cars worked well and in 1991 we were finalists in the Australian Small Business Awards. However my partner had been against books from the start and wanted the space to expand into Fords,Chevs,Cadillacs — you name it. I was not interested in only dealing in cars and I certainly was not interested in dealing in any old car. On August 23 1992 I split with my business partner and had a caveat slapped on me that I could not trade in the Rover business for three years. I decided to invest all my time in books and have achieved a 40% growth each year since1993.
The business is called Ankh Antiquarian Books and I work from home in Oakleigh, specialising in Egyptology. (Ankh means life in Egyptian.) When I moved out of the Rover shop, I sold most of the book side but kept some antiquarian stock and a section of Egyptian history and literature to be the basis of my new business. I decided to keep these books because of my own interest in Egyptology and because I had already developed a good clientele for the subject.
When you work from home, it is very important to get your stationery right. The presentation of a mail order business is essential because it is your customers' first impression of you. Go for a nice logo and spend money on design. Don't give up and don't get in debt too much — always have a spare couple of grand in case something comes up that you just have to buy. It is also important to set reasonable goals for the business. I wanted to get to the stage where I could supply books on Egyptology that had not been previously available in Australia. Before I got into bookselling, I had been ordering Egyptology books for myself from the USA and Europe. Most of my friends were also interested in the same subject and wanted me to buy copies for them. It struck me that there was an obvious gap in the market for importing academic Egyptology titles, and something along those lines was in my mind when I first walked into that bookshop in Oakleigh. I should add that not one of the 48,000 titles was of Egyptian interest.
When I started in 1993, I had about 500 books in my stock and a mailing list of 300 (mainly Australian) customers. Nowadays the mailing list has grown to 850 but is still mainly Australian. As things have developed, my business is about 20% antiquarian and the rest is new. Anything pre-1850 is hard to find in Australia. To give you an example of the way people think here, a girl rang me up recently with some early seventeenth century books for sale. She had found me in Yellow Pages and was desperate for someone to come and look at them. Apparently she had already contacted a number of dealers and no one believed that she could possibly have books of that age.
I also sell books on Greece and Rome but Egyptology is my main subject. It's very popular in Australia — if you want a glib explanation for this, I would say that Australians like beer and barbecues and so did the ancient Egyptians. Egyptology collectors tend to be lawyers, doctors, professional people, rather like my Rover customers. Popular fiction can have a surprising impact on interest in the subject. Recently Wilbur Smith's River God produced twenty new customers who had enjoyed the novel and wanted to take a more serious interest in Egyptian history.
My own interest dates from childhood. When I was at school, I was a frustrated Egyptologist. I can remember my Classical Civilisation teacher saying at the beginning of each class, 'Now we're not going to talk about Egypt today, Jennifer'. Things are getting better now and in New South Wales they teach Ancient History as part of the school curriculum. It's interesting to think that William Matthew Flinders Petrie, one of the great English Egyptologists, was the grand-son of the man who mapped the Australian coast.
Basically I'm self-taught as an Egyptologist. Although I have done hieroglyphic courses at the Institute of Archaeology in Melbourne, my BA degree is in media, literature and philosophy. I have been to Egypt once and hope to go back in 1997. Unfortunately all the places I would like to visit are in Middle Egypt and that's the trouble spot at the moment.
In the next five years I shall also be selling computer programs on various aspects of Egyptology. Everyone in the new book business will end up selling a few CD-ROMs, if only because the younger generation simply does not read books the way we do. In my field, Saqqara Technology do a fantastic program called InScribe which can produce hieroglyphic documents on a PC. I'm also going to put my Newsletter on the Internet some time soon. It comes out twice a year and contains a section called 'Jen's Top 10' where I list some of the best books on Egypt currently in print.
I also attend and often sell my books at academic conferences. This summer I came to England to attend the Seventh International Congress of Egyptologists at Cambridge University. These events provide an opportunity to hand out information on Australian publications which I am keen to promote. Paul Keating may call this country the 'arse-end' of the world, but there's a lot of good work going on in Australia. We have some great Egyptological institutions, and the Australian Centre for Egyptology at Macquarie University produces a number of excellent and good value publications. Ankh Antiquarian Books is also the agent in Australia, New Zealand and the Pacific for the publications of the Egypt Exploration Society.
In my work I travel around quite a bit, doing a lot of Sydney-Melbourne-Brisbane trips. Have you heard of the Marshall Islands — up from New Guinea and off to the right? I have been corresponding with them, hoping to sell books to their library. Although most students go to university in the States, the region has a very good primary and secondary education system. It's all a bit stressful now with this Mururoa business which we are totally against in this part of the world. People in my local pub are willing to demonstrate against the French Government and to get them off their seats is pretty hard.
The issue seems to have raised stronger feelings in Australia than all the talk about a republic. Personally I'm a monarchist and don't care a stuff about Diana, Charles or who's sleeping with whom — it's the institution that matters. As a friend said to me when I was complaining about our vicar, 'Jen, it's not the vicar we go to see, it's God'.
In the long run I would like to have a shop again and perhaps hire one or two of my friends, who are currently doing degrees in Egyptology and may never find a job, to run it while I travel around sourcing books. Secondhand books are generally very cheap in Australia and you find bookshops all over the place. Every town with a population over 10,000 will have at least one big new bookshop and/or a remainder shop. You may also find a secondhand bookshop, either selling Mills & Boon for the farmers' wives — if you saw the farmers you would know why — or selling something more serious.
These shops are run by locals, often farmers and their wives who sell books to supplement their income. There are some very well read people out in the bush for a number of historical reasons. My great great grandfather came out to Australia in 1835 to farm the land around Melbourne. A lot of English people came to this area where the soil is black and rather like England, com-pared to the rest of Australia which has red soil. Many of them became very wealthy — what with the Gold Rush, the Land Boom and so on — and spent their wealth importing material things they missed from Europe.
If you go into some of these old colonial homes, you can find magnificent English antiques, Venetian chandeliers, and lots of books. In the remote areas, the farmers had to educate their children at home and it was quite normal to have books around and to read them. Nowadays you can drive out into the middle of nowhere and still find a fantastic bookshop. Many of these are listed in Sheppard's Book Dealers in Australia & New Zealand which is kept up to date and is very helpful.
There's an excellent secondhand bookshop in Swan Hill, about 150 miles north of Melbourne. Gosford in New South Wales has nine secondhand bookshops. My boyfriend and I sailed there recently and loaded the yacht with 80 books. We could have taken more but there wasn't room on the yacht. If you are thinking of coming here, get out to the country towns. That's where you see the real Australia. Don't forget to head into the public bars — the locals will stir you, but it will be done in good humour.
Since August 1995, I have been allowed to trade in Rover parts again which I shall be doing in a small way. Although Ankh is my great love, the thing about books is that you are talking academic stuff all the time. Every now and then it's nice to talk about tyres and rims and rubbers — I mean for the windscreen. I still have three Rovers and twenty tons of spare parts. When I was in England recently, I spent some time in the Midlands sourcing Rover supplies. There's a very good company in Coventry called Ray Weekley where they treat customers like friends, which is the way I like to do business.
Interviewed for the Bookdealer in October 1995