Gabriel Beaumont
[Window of Opportunity]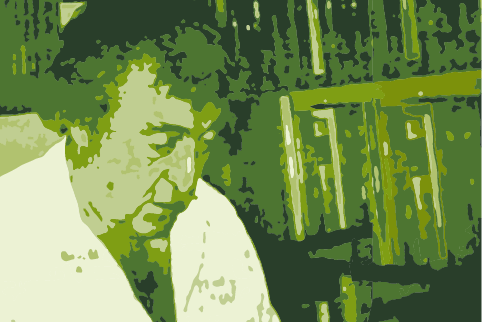 By the time I was fifteen I had collected about 1,500 books mostly on travel and exploration. Livingstone and Stanley were ten-a-penny and it was easy to pick them up in junk shops in those days. We lived in South London and my father was a window cleaner. He used to buy an antiquarian book for me at least once a week.
In 1956 I was one of the last to be called up for military service. They had not done their homework properly and I was 'invalided' out after only a week when they discovered I was a Communist. I attempted to do many things before becoming a bookseller - drifting from job to job, looking for something a bit more interesting each time. What I did not realise was that I needed to work for myself and in due course I ended up window cleaning. The money was good - in fact double what I had been earning in my previous job at the Woolwich Equitable Building Society, and enough to rent a four-bedroom house in Bromley and have money to buy books.
In 1968 I started my attempt to buy and sell books while carrying on with window cleaning part-time. At first I concentrated on charity shops in South London. Later on I began to travel further afield to places like Canterbury, Tunbridge Wells and Hastings. As I do not drive, I used to buy a weekly rail rover ticket and set off early in the morning, returning at night with five or six carrier bags full of books. Within a couple of years I was able to stop window cleaning altogether and devote my time to bookselling.
I began working for Louis Leff in 1971 in the Bookshop Blackheath, where I had been a regular customer. Louis let me run my own mail order business from his shop, which was very helpful to me. In the mid-70s I started doing bookfairs with a partner, as Inca Books. Unfortunately he was not very suited to the business and we broke it up in 1979, when I went into partnership with Joanna Herald. It was at this point that the business became Check Books. At first we struggled along doing catalogues from home. Joanna drives and we travelled all over the place buying books. Things started to look promising and in 1983 we took over the Old Bake House in Blackheath. Although we disliked being tied to a shop, it increased our turnover by a factor of six. We realised that we would have to carry on with a shop and started to look for a better location in Blackheath.
When we moved into the shop in Tranquil Passage, business improved again and this time we began to think about coming up to town. In 1986 we moved into a basement premises in Museum Street, while keeping on the Blackheath shop. The turnover in the basement was significantly better and convinced us to find a groundfloor shop in Museum Street and we moved here in 1987.
At about that time Joanna got married and not long after I did too. Joanna's husband, Peter Ellis, a dealer in modern first editions, became a partner. When the shop across the road became vacant in 1991, we determined to take it on - originally with the idea of letting part of it. So we put the word around and Peter Jolliffe came up with the idea of creating a partnership. The four of us went into partnership and called the business Ulysses, specialising in modern literature and travel, divided between the two shops.
By that stage I had moved almost entirely into travel books, largely due to some very good private buys in our Blackheath shops. But after a while I began to feel uncomfortable in the partnership. I believed that the two shops should have separate accounting, so that one knew exactly how much money was available to spend on stock in each shop. In the end we opened a separate account, but it did not really work and I found the whole arrangement very stressful. By the beginning of 1996 I wanted to split the partnership. As things worked out, I stayed on in this shop with the travel stock. We are still on very good terms and I feel it is a much better working arrangement.
Beaumont Travel Books consists of my wife who looks after the accounts, Javier Molina and myself. We have extra help in the shop on Saturdays and Javier and I cope with everything else. It's quite a slog. In the past we had more staff, but the rent is very high - and has just gone up again - and I have to keep an eye on the overheads. As things are at the moment, sales to customers in the shop account for no more than twenty per cent of our turnover and I need to supplement it with seven catalogues a year.
Even today a lot of people do not regard secondhand books as a trading item, and walk in off the street expecting my books to be a pound each. If they see three shillings on the dust-jacket of a book published in 1930, they expect it to be ten pence today. My response is always the same, 'You can have it for three shillings if I can have your house for £300'.
My main thrust now is on the Internet and, by continued diligence, we are gradually increasing sales. Javier was very keen to computerise the business and taught himself how to create a web page which he now maintains for us. 
I am very impressed by the standard of describing books on the net - particularly by dealers in the States. Quite often books arrive in better condition than described. This is an important factor for my business as I detest books in poor condition, and will not compro-mise unless something is extremely rare. You may find a cheaper copy of a title that I have in stock, but books in my idea of good condition do not come cheaply as a rule.
I like my books to be meaty; I dislike anything that smells of the dilettante. With few exceptions, I am not very interested in contemporary travel writing and attach little importance to books by people who pedal cross somewhere on a bicycle. Most of my customers buy books because they need reliable information on a particular region from a scientific, military or historical angle. Whenever there is an upheaval in the world, it tends to have a significant effect on sales of relevant books.
I do not believe that the Internet spells the end of bookshops or indeed books - people will always want to see and handle them. It's noticeable how many people contact us via e-mail to request a printed copy of the catalogue. In general the book trade has been short-sighted about the Internet. Years ago I thought there should be a central data-base of booksellers' stock rather like the interlibrary loan system. When I discussed it with colleagues, most were against the idea because they did not want people to know how much they charged for their books. It was all very dog-in-the-manger, without consideration for the purpose of the business. Perhaps this is my socialist thinking, but surely the function of the bookseller is to find books where they are not wanted and place them in the hands of people who need them. I could be a bookseller in an entirely socialist state - just taking a wage - and still enjoy it.
My first wife thought I would hate turning books into a commodity. Although I love books, I have no sense of possession. Running a business allows me to buy whatever I like and then to part with it to the right person. It's a pleasure that never seems to fail.
Interviewed for the Bookdealer in September 1998
Gabriel Beaumont died on 16th July 2015