Kenneth Smith
[Merchant Adventurer]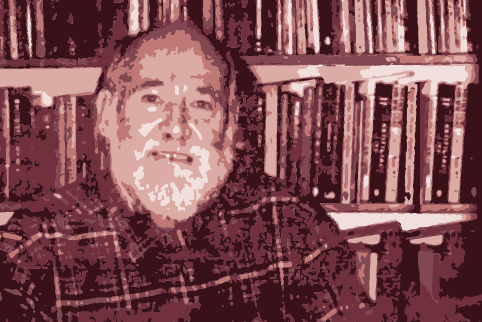 I have done almost everything possible in forty-two years in the book trade - new and secondhand books, wholesaling, remainders, library supply, publishing and door-to-door selling. At one stage I had five remainder and secondhand shops on the go - a kind of ramshackle empire-building that appeals to me. To some readers it may seem as if I cannot sit still for five minutes, but I see life and business as an adventure.
My career in books began in 1956 with W.H. Smith in Bournemouth as a trainee manager. After a year doing the news-papers, I took over the paperback department, and within a short time increased sales by 60%, principally by studying what actually happened in the shop. I am not somebody who goes on theory or received wisdom. For example, revolving stands may be a clever use of space, but they do not sell books. You can put a popular subject on revolving stands and watch sales slump. Move the same books on to the shelves - face forward - and watch sales take off. I cannot tell you why this happens, but it is important to notice it, also to push winning titles hard.
By the age of 18, due to the absence of the book buyer on other duties, I was effectively running the book department of one of W.H. Smith's largest branches. For this responsibility, and the large increase in paperback sales, I received the extra remuneration of 6/- per week - a 10% increase on the basic salary!
In 1960 I decided to seek my fortune in London, and took over management of The London Bible Warehouse, a mail-order operation owned by the evangelical publishers Marshall Morgan & Scott. A friend who had spent four years working at Horace G. Commin in Bournemouth followed me to London, working for the mail-order side of Spon, the technical publisher. Both of us came to the conclusion that we could do better on our own, but the question was how to start a business with no money.
We both knew the Bournemouth area well, and decided to apply for a kiosk on the beach. Permission was granted and we set up a six-by-eight-foot stand at Sandbanks, selling paperbacks and children's books aimed at the holidaymakers. This was in the early 1960s and we just caught the end of the golden period of the English seaside before families started flocking abroad for their holidays.
After two years we were able to double the size of the kiosk, adding postcards to the range of books, and in 1965 acquired the general beach rights at Alum Chine on the main Bournemouth promenade. Although I had little interest in selling suntan cream, I must confess that we made a large amount of money. In today's terms, our stand at Alum Chine took a quarter of a million pounds in a season. In 1967 we opened a bookshop on the sea front at Swanage, which I believe is still trading as a bookshop.
I was able to take the winter months off to catch up on my reading and generally to pursue other activities. One Christmas I decided to become an agent for the Kleen-Eze Brush Company. I was assigned north Bournemouth, an area largely inhabited by retired people on fixed incomes or council tenants - in other words, an area likely either to break your spirit or enable you to show your mettle as a salesman. It was one of the most useful experiences of my life and taught me a lot about salesmanship. For example, if it is a grey day, and you are feeling grey, don't bother to go out - always remember that you are selling yourself.
When I got established, I started to carry some cheap children's books on my rounds, and found them rather easy to sell from door to door. Council estates usually have a lot of children and, although they might see the odd Ladybird book in the local newsagent, they were unlikely ever to go into a bookshop. I grew up in a working class area where a book meant a magazine, and I know from experience that a lot of people, who have the potential to appreciate books, feel at a loss in a bookshop. As far as I know nobody is selling books on the doorstep nowadays. I believe it could still work quite well, but if you have the necessary energy, you can probably find something more profitable to do. If nothing else, it taught me not to be afraid of the future. As long as I can afford an old car, I know I can make a living selling books from door to door.
By 1968 the time had come to sell up the beach business and again move to London, where I spent the first eighteen months having a good time and getting through the equivalent in today's money of £50,000. It's easily done ... When the money ran out, I had a go at selling books at agricultural shows. The main problem was the weather. A fellow exhibitor at the Bridgwater Show recom-mended me for a stand at London's Ideal Home Exhibition at Olympia, where I exhibited books for several years, in con-junction with some big provincial shows.
It was very hard work. During the 1970s we were totally at the mercy of industrial action. One forgets how appalling things were in this country, with one major section of the workforce going on strike after another. The Ideal Home Exhibition opens in March, by which time it was probably the turn of the train drivers or the electricians to go on strike. One year the Daily Mail had to buy a generator in order to keep the exhibition open. The dim temporary lighting was OK for buying a chair, but it was not brilliant for looking at books.
By the mid-70s the whole process had become a little bit too nail-biting and I was quite glad to get out of the exhibition scene. I decided to try my hand at selling secondhand books and, as I had no cash at the time, I took a market stall in Swiss Cottage for 50p a day. The mar-ket was under threat of redevelopment but, fortunately, the Hampstead Labour Party was on our side and we were able to hold out against Camden Council.
I bought some of my secondhand stock by knocking on doors in Hampstead Garden Suburb, advertising in local newspapers and talking my way into local jumble sales before they opened to the public. In the event I had the stall for less than a year before moving in with Oxfam in Haverstock Hill. Money was again a problem: I had just paid off an overdraft and my new bank manager would not give any further help as he refused to believe that people bought secondhand books unless they were hard-up.
Oxfam had been given two shops in Haverstock Hill while the area was being redeveloped. It was more space than they needed and they agreed to sublet one of the premises to me. It had been an Indian restaurant and the subdued lighting was not ideal for a bookshop. But one way and another, I got it fixed up with help from friends and the surprise donation of a large quantity of bookshelves. In my experience, if you are a reasonably friendly person and you are willing to put yourself on the line, you will get a lot of support from the world.
When Oxfam was asked to leave, I moved to a shop in Harrow where I stayed until the end of 1979 when I was again overtaken by redevelopment. At about this time Ben Hutchison, who may be known to readers as the publisher of Book Collecting and Library Monthly, was preparing to move to Australia and wanted to clear his stock of 30,000 books. As I had nowhere to store them, I offered to clear them on condition that I could stay on in the flat above Ben's shop in Brighton.
We came to an agreement and I spent a very pleasant few months sorting out the books.
In 1982 the opportunity arose to take a shop near Fitzjohn's Avenue, Swiss Cottage, at which point I called my business Fitzjohns Books. Within a couple of years I was also getting a foot in the temporary shop trade with a view to selling remainders. My first temporary shop came up in 1984 in James Street near Selfridges. I got it set up fast - and to a decent standard, which is unusual for temporary shops. (I love to take an empty space and turn it into a thriving bookshop. Ideally I would happily spend my time setting up bookshops for other people.) Things were looking promising and then there was the Harrods bomb. Trade in the West End went absolutely flat and I ended up just about ahead financially. My next temporary shop was in Westbourne Grove, which enabled me to become firmly established on the temporary shop circuit in London.
By the late 1980s my main business activities were transferred to the West Country, with shops at Ilfracombe and Torquay, and usually a temporary let at Barnstaple for the summer and Christmas trade. Although the recession had started, I could not understand why the shops began to do badly. Then I discovered by chance that the remainder trade was being badly hit by competition from direct selling into factories, offices, etc. 'The Book People' started in 1988 with an annual turnover of £22,000, which grew to £22 million by 1994, and were themselves copied by other com-panies such as Books UK Ltd.
Nowadays I have pulled out of the temporary shop business, and am only selling books to the trade from a warehouse in South Hampstead. It was a hard decision to give up my shop near Fitzjohn's Avenue where I had very loyal, hard-working staff. You have to be so careful these days about tenancy agreements and the lunacies of government and local councils. Hampstead and Highgate are supposedly the most literate areas in London, and yet three bookshops have gone out of business because of traffic and parking restrictions.
If something does not work, try another way - you have to experiment with books. As someone who dislikes machines, and remains firmly noncomputerised, I shall not be selling books on the Internet. I would, though, consider reserving stock for other dealers to list on their web site.
Interviewed for the Bookdealer in January 1999