George Ramsden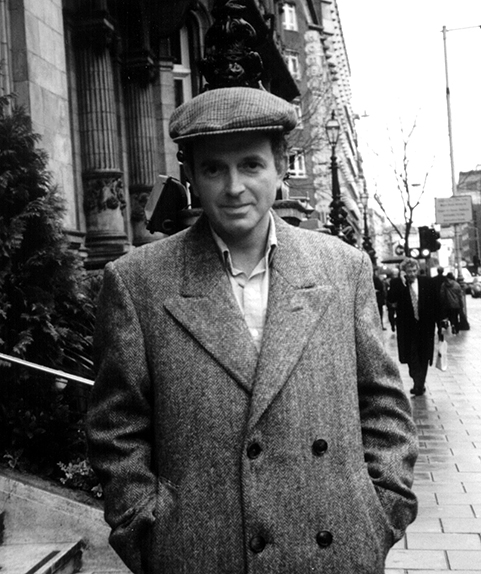 I regard bookselling in my case as a long procrastination; teetering on the brink of actually writing. As a child I took a long time to come to books. I preferred carpentry and what are called country pursuits. But I always felt I could write, even though my only literary efforts were thank-you letters. There is a marvellous man at Eton called Michael Meredith who briefly taught me English and was quite an influence. Orwell was one of the first authors I liked because of his direct expression. When I went to Magdalene College, Cambridge, I lived for a whole year above the Pepys Library; it never occurred to me to go in. But I was a full-time trombonist in those days.
There are other booksellers with a modicum of literary talent that has brought them into the trade. Normally it remains dormant – they don't write books, just terse little catalogue entries. I express myself much better on paper and have probably given you an appalling task.
After Cambridge, my father took me to the Inner Temple and told me to get on with it. I enrolled and went to law lectures, which I hugely enjoyed. The language of the law is very interesting, so exact. But I didn't go to any tutorials and left after a year. For a while I worked for the Carr-Gomm Society, a charity in Bermondsey looking after lonely people. I was always poking around secondhand bookshops and a friend told me that there was a Christmas job at Heywood Hill.
So I started in the book trade in October 1977 on the day that Bruce Chatwin's In Patagonia came out. I remember this because I disliked the dust-jacket. Heywood Hill was a very lively place to work. The experience introduced me to a lot of new authors, and broadened my interests, which are still very narrow. The shop has a tradition, decided preferences and areas of indifference, i.e. its own taste. But I was not at ease with the carriage trade or good with it.
Eventually they started sending me out to buy secondhand books, and John Saumarez Smith was very encouraging and appreciative. Edith Wharton, for one, was very highly rated at Heywood Hill, and John was overjoyed when I came back from a trip to Ely with six of her books. When I joined I knew that ultimately I would like to have my own bookshop. In 1981 I opened a shop in Camberwell Grove and called it Stone Trough Books. My family had a brewery called Stone Trough in Halifax. It's an extremely dull name, but I thought I could rise above it. There were very few book shops in South London, and a lot of good customers. It was an ideal location for quiet bookselling and collecting. I stayed there for nine years. My wife and I decided that we didn't want to bring up children in London, and a like-minded friend found a house for us in Yorkshire. It's an old limestone rectory, previously occupied by two literary bods, Henry John Todd, editor of Milton, Spenser and Johnson, and Isaac Taylor, Canon of York and author of the popular Victorian book Words and Places. We bought the house in 1990 just at the time when I was doing a biographical catalogue – my first – on A.J.A. Symons, who thought that no man was complete without a place in the country.
I like having a shop in York. It gets me out of the house for a few days a week. It's warm and there's an extremely good pub a hundred yards up the road. It takes a long time to get to know your customers in York; they drift in and out like flotsam and jetsam, and never ask advice. I could be selling ice cream. The customers who know what they're doing tend to go to Ken Spelman.
If they have time, they come down Fossgate, but I'm only one of several book shops they might visit. If they are Japanese, they go and see Jack Duncan, who knows how to look after them. I upset one of the main Tokyo dealers when he tried to return a book after having attempted to repair it. One should kowtow, but I just told him that it wasn't on. I share the shop with Philip Martin Music Books. They specialise in sheet music, a unique and really useful service. There's certainly nothing like it in the north of England.
At some stage I will probably have to learn about the Internet. Although I find it good for reference, I much prefer to look for books in a bookshop. Almost anybody's stock is an education. It amazes me how people come into a shop, hardly stop, and walk out again – even people in the trade. If a stock is any good at all, it's worth investigating, slowly. Some booksellers are persuasive recommenders – it's a huge gift. I find it very difficult to sell books verbally. Things tend to go better if I walk away from the customer.
But I can sell books in catalogues, and take great trouble producing them – far more than one should take. I used to chop and change things endlessly, but less so as I become more confident about my writing. I enjoy reading Nial Devitt's catalogues, which show that he really knows his books. I also admire the catalogues of Christopher Millard (d.1927), George Sims (d. 4.11.99), Peter Scupham of Mermaid Books, Tony Sillem and Any Amount of Books (for their delightfully light touch). I recently issued my twelfth catalogue, Edith Wharton's Library, with a foreword by Hermione Lee. I was considerably helped by George Mackie, formerly the designer for Edinburgh University Press, who has a brilliant eye and chose the type-face and the paper. It was printed and bound by Smith Settle at Otley.
Fifteen years ago James Fergusson came into my shop in Camberwell with heart-stopping information – Maggs had bought Edith Wharton's library. I spoke to my father about the possibility of buying it from them. Before he passed the decision on to my brother, he told me that he could buy fifteen horses for the same money. I wrote out a big cheque, rather full of the joy of spring, having only skimmed Maggs's catalogue of the library. When I unpacked the books and began to read more about Edith, I realised that there were many gaps, which I have been filling for the last fifteen years. W.S. ('Lefty') Lewis reconstructed Horace Walpole's library and wrote an account of his adventures in Collector's Progress, a book that inspired me.
As a bookseller, I have always been excited by libraries, and Edith Wharton's library is a thrilling thing to possess. An author's library can add so much to one's understanding and appreciation of their writing, their interests being reflected in the books on their shelves. Libraries are tremendously undervalued. The sum I'm asking for Edith's library would be achieved in two bids for a middle-ranking Impressionist painting.
The whole tendency of the book trade is to break up libraries. I'm frustrated by dealers who are only interested in picking out the plums, the big books with auction records. This approach misses the significance of an author's library, where 'humble' items have their own importance taken in context.
This is especially true of Edith Wharton whose libraries and books were at the heart of her homes in America and France. As Hermione Lee says in the catalogue, Edith's library provides a key to her intellectual journeys and connects at every point with her writing. Her library is her education, inspiration and workshop. Why are we booksellers if we are not excited by libraries? I have spent a very long time reconstructing Edith's library. As a boy I used to go on fishing holidays and hardly ever caught anything. In retrospect, it was a good training.
My own library is nothing to write home about, but it does reflect odd little fields of interest, for example calligraphy and I have a weakness for association copies. Collecting can be such a private passion. I remember showing someone Siegfried Sassoon's cricket pads – she obviously thought I was some kind of pervert. I also have a lot of books to do with Rupert Hart-Davis, who started me off on my publishing interest. We did a little book together of his tributes to writers called Praise from the Past. Although Rupert didn't have George Mackie's visual sophistication, he was an incredibly good proof reader – even in his late 80s. He regarded mistakes in the text as almost morally wrong.
I have since published two other books, Pushkin's The Bronze Horseman, translated by a friend who died recently, and an edition of A.C. Benson's note- books and the eccentric sayings of Mrs Warre-Cornish. I set out the books on my computer and take the result to Smith Settle, and we have tremendous struggles together with faxes going to and fro. It's very trying for them, but Terry Nicholson, the typesetter, is patient and skilful and doesn't get rattled. The fiddling about reminds me of my carpentry long ago. Publishing is a craft and I hope to do more of it.
Interviewed for the Bookdealer in February 2000
George Ramsden died on 7th April 2019