Sam Jonkers
[When Bromlea met Jonkers]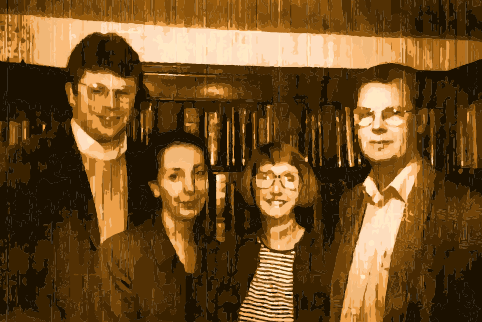 Buy the best, and you can't go wrong. My mother taught me not to be frightened to take risks. She had started Bromlea Books in 1990 while still working full-time as a librarian. Things developed and, like so many other booksellers, she began doing local fairs at weekends. Eventually the time came to give up her job and to become a full-time bookseller, with my father helping when he could.
The business was six years old when I joined Bromlea Books. I had been working in the travel industry, spending my summers in Spain and the winter in Italy. In 1996 I came back to England, having reached a crossroads in my career, and agreed to help my mother for a couple of months. Essentially I never left.
Although I had resisted the idea of going into the business, as soon as I got involved I loved it. The excitement of holding a first edition - particularly modern first editions - was something that struck me. It was the realisation that one was handling a piece of literary history - here was a book in its first appearance exactly as the author and publisher had wanted it to appear. It brings you a step closer to the author and his work. I was also struck by the beauty of the books as objects - perhaps given as gifts and cherished over the years in their original condition.
Bromlea Books specialised in children's and illustrated books, with quite a large general stock and a small amount of modern first editions. When I joined, the shop was in Bolton at the 'Last Drop' Village, a large hotel and conference centre. It was a wonderful location for developing the business and lots of our private customers come from that base. As an extra person coming in full-time, I started to do bookfairs, driving hundreds of miles around the country. For the first couple of years, I was doing on average two fairs a week. I had always been on the move in the travel industry and this was a good introduction to coming back to England. I was exploring my own country which I had not known very well before.
I had a mixed welcome in the trade. Some people were not quite sure about me, a young woman coming from a non-book background. Booksellers don't like change; perhaps it is part of a love of the past. Anyway, there was a certain element of concern about the new ideas that I might have. It was noticeable that I had a different approach to bookfairs, and only wanted to display our best stock. I was young and enthusiastic and wanted to show off what we were doing. Also, it's a better investment and more enjoyable to buy the finest copy that you can afford. I want to be able to say, 'Isn't this a fabulous copy?', while recognising that it might not be the cheapest on the market.
When I first came into the trade, Nigel Williams struck me as someone innovative in the British book market. Bernard Shapero also springs to mind, and Simon Finch who is an interesting dealer with a different approach. And then there are some American dealers who just get everything right. Customer service is incredibly important in the travel industry and my experience has influenced my bookselling.
The Americans are ahead of us in this respect - perhaps for the simple reason that their customers are more likely to say, 'Get it right or I'll sue'. The travel industry taught me to deal with customers. It was geared to selling and the importance of getting things right first time. I'm interested in doing this in our book business and making it as professional as possible.
Dealers who want to inspire confidence will join trade organisations. In this country you can apply to join the PBFA after two years' trading. When you have been bookselling for five years full-time, you can present your stock and reference library to the ABA and apply for membership. This is the nearest we get to a professional qualification and I do believe that it lends credence to your business.
I met my husband, Christiaan Jonkers, at a book fair. Jonkers Books was based in Oxford and specialised in modern first editions and literature, with a small emphasis on children's books. He had worked along the same lines, in that he only wanted to sell the best copies. Originally the plan was that my parents would keep on the Bolton shop, and I would cover southern bookfairs and auctions. As both businesses were going in a similar direction and there was quite an overlap of stock, it seemed sensible to join forces.
Just over a year ago we merged the two companies and formed Bromlea and Jonkers. My parents sold their shop and we all moved into a shop in Henley-on-Thames, concentrating on modern first editions, children's fiction, illustrated books and Thames topography.
Christiaan is half-Dutch but has always lived in this country. When he was at school, he started collecting cricket books and found that he could sell them to the fathers of his friends. He started dealing in a year out prior to university and continued at Oxford, while doing a maths degree - almost on the side. From a commercial point of view, Christiaan discovered that there was a better market for modern first editions than cricket for paying his way through university.
We talk about books all the time and have learnt a lot from each other. It's an unusual situation, working with my husband and my parents. But it seems to work because we all have our own responsibilities. I catalogue the children's books and Christiaan deals with the modern first editions. It might seem an easy area - the books are quite accessible, but the difficulty is knowing what makes one copy worth £50 and another £250. There is a tendency to think that you don't need to collate modern books. But how often do you order a book only to find an ink stain on one page? In the field of children's books, nostalgia is the key factor in collecting.People tend to buy the books that they read as children. The merit of the writing is the most important ingredient in a successful children's book. J.K.Rowling's latest Harry Potter book has virtually no illustrations, but children love it.
Her first two books are supposed to have been produced in very small print-runs, so they will be difficult to find in twenty years' time when nostalgia kicks in for today's children. J.K.Rowling is already an incredible phenomenon, with the first Harry Potter book selling for the same price as a first edition of Jane Austen. Enid Blyton was very popular in my childhood and is due for revival. Although she was not necessarily a good writer, she knew how to capture children's imagination and to make them love reading. This is after all the main purpose and importance of children's books.
Most of the dealers in this field are women, drawn to the books for obvious reasons. I would like to see more women in the book trade in general. It would add a certain variety and women do have a slightly different approach to bookselling. Perhaps they are put off because it takes a certain amount of aggression or, at least, assertiveness. It still upsets me at bookfairs when the men rush round buying books during the set-up, and only want to do a deal with my husband. It's the same, if not worse, in the States where customers always wait for the man.
In the last couple of years the number of bookfairs has increased, and things have got to the point where you can travel hundreds of miles and see the same people with the same books. This degree of overkill, combined with the rise of the Internet, must certainly mean a reduction of fairs in the future. The Internet is changing bookselling so quickly and has already had an effect on fairs. Dealers are not exhibiting so many low-value books, as these sell easily on the net, without the bother of carrying them around. Similarly, it's easier for the customers to buy them online, so they are not coming to the fairs.
Once you get above a certain value, however, books don't sell so well on the Internet, because you come back to the need for trust in the person from whom you are buying. In September the ABA will launch a commercial website and the Internet may become a better medium for selling expensive books. It would be nice to see the ABA and the PBFA working together on a joint task force for promoting the trade online. In my view the Internet is likely to generate part of our sales and most of our publicity. It's the perfect tool for innovation in advertising and we should learn to exploit its PR opportunities.
The development of the Internet certainly does not mean the end of bookshops. It's no more than a new medium for mail-order business which has always existed. We list quite a lot of our books on ABE, but the shop in Henley is still very busy. Niggling in the back of our minds is the question of location. Henley is a wonderful place to live, and the local people are able to spend more money on books than they were in Lancashire. But we ask ourselves, 'Are there any very successful booksellers in this country not based in London?' Of course there are, but London has the highest concentration. Another thought for the future of the business might be to open bookshops up and down the country selling the same type of stock. It would be a wonderful project and something that has not been done in the antiquarian trade. But before we move onto the next step, I would like to get what we are doing now right.
Interviewed for The Bookdealer in April 2000