Greg Coombes
[To the Lighthouse]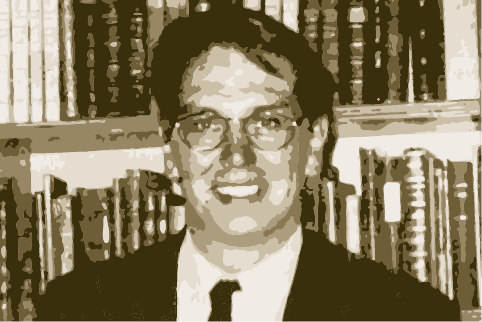 When I think of my career things have tended to happen around me. My mother worked for the Ceramic Book Company in Gwent, a small firm run from the home of the proprietor, W.D. John. As there was nowhere else for me to go during school holidays, I came with her and tried to make myself useful folding catalogues and stuffing envelopes. By the time I came down from university, Mr John was quite elderly. As he had no children, there was a vague plan for me to take over the business which I considered for a while. Richard Booth was one of our regular customers, and it so happened that he was looking for someone to run an art book department in Hay-on-Wye. I responded to an advertisement he had placed in the Western Mail and began working for him in 1977.
It was a particularly conventional way to get a job with Richard, who was more in the habit of recruiting staff in railway trains or motorway service stations. He looked for people with enthusiasm and, for a young man with no great responsibilities, it was a fantastic experience to be in Hay at a time when Richard was bookselling on an operatic scale. There were a lot of like-minded young people working for him and we were all given a pretty free rein. Within months I was travelling with him on buying trips in the States and it was a marvellous apprenticeship.
There were however certain draw-backs. Richard's financial position was never absolutely secure, and it was always a bit of a run-around to make ends meet. In the summer of 1982 he hit a particularly tough financial crisis. There were various aggravating factors including his purchase of the entire stock of a new book distributor in the States. The books arrived in Hay in eleven forty-foot containers which were too big to get up the drive of Richard's warehouse in the grounds of his country house. So they were taken to the main car park in Hay to be offloaded into smaller vehicles. Every available, able-bodied man in Hay was employed in this process.
In the event the purchase tied up all Richard's capital, but the sales were not commensurate. He had also invested heavily in property in the early 80s, and was in serious financial difficulties by the summer of 1982 when the Hay Cinema Bookshop was sold to Leon Morelli's Pharos group.
During my time with Richard, John Rees had been a constant visitor to the Cinema Bookshop. A law book specialist, he had formed a company with Leon Morelli called Pharos Rare Books as part of Pharos' plans to diversify its activities in addition to the profitable mail distribution business. Originally they wanted to take over the whole of Richard's operation in Hay which included four extremely large premises. But a deal could not be struck for the whole shooting match. In the end Pharos settled for the Hay Cinema Bookshop where I was employed with Paul Haynes, and we came with the deal as part of the fixtures and fittings.
Before the Pharos takeover, I had been thinking seriously about training for another career. There was no carrot out in front with Richard who said quite frankly that I would never be rich working for him. Meanwhile I had got married, bought a house, and become the father of twins. The Pharos takeover meant a significant change in my responsibility and I was paid accordingly. As I sit here now as Managing Director of Hay Cinema Bookshop, I can say that the change came at exactly the right moment for me.
From Pharos' point of view, the Cinema Bookshop was a very shrewd purchase — not necessarily because they caught Richard at a weak moment, but more for the timing. It was done in June at the start of the summer season, which meant that the newly formed company could hit the ground running. From the word go, we were able to generate our own cash flow. This impressed Pharos and encouraged Leon Morelli to concentrate on bookselling.
The next bookshop in the sequence of acquisition was Francis Edwards in Marylebone High Street. The family connection had died out in the 1970s and there had been a management buy-out by Clive Farahar, Alan Mitchell and others. This venture in turn became the victim of under-capitalisation and went into receivership in late 1982. Pharos bought the firm and continued to run it in London as a stand-alone bookshop with Clive Farahar in charge.
The period from 1982 to 1985 was a time of rapid growth for the Pharos group. In fairly quick succession, Joseph's old premises at 48a Charing Cross Road was acquired from Reg Read and Simon Judd who had also fallen upon hard times. This was followed by Jean Pain's shop in Cambridge, Commins in Bournemouth, and a shop was also taken in Brighton almost next door to Colin Page and Holleyman & Treacher.
A pattern was emerging whereby Pharos bought ailing bookshops in strategic locations, usually keeping on one or more of the principals. Interestingly it paralleled on a smaller scale the developments in the new book trade in the mid 80s with Waterstone's and Dillon's fighting for prime sites and opening bookshops apace. Eventually Pharos' acquisitions became one company with Leon Morelli as Chief Executive.
At its height, Pharos had three sites in Hay in addition to the Cinema Bookshop — Paul Minet's World of Books, the Old Fire Station which had been Richard's original shop and is now Boz Books, and the Clock Tower Bookshop. After Richard had ceased to expand in the town, there was an odd period in Hay with few fresh booksellers coming in. At one point the number of bookshops was down to a dozen and there was a real danger that the town might cease to be a phenomenon. Pharos' decision to build on its original investment was partly inspired by Leon Morelli's desire to keep the whole bandwagon going in Hay.
The policy of expansion did not work for various reasons. It was not a case of failure of any individual shop — they all made a profit, but their contribution to central overheads was so small that most sites became marginal with the exception of the Cinema Bookshop and Charing Cross Road. The crunch came in 1989 when a number of rents were reviewed and a few leases fell in, including Francis Edwards' site where most of the business was done by telephone or catalogue and could therefore be done from any location.
This realisation was one of the factors in the decision to scale down to the core sites of Charing Cross Road and the Cinema Bookshop, which was inciden-tally the only freehold premises in the group. Francis Edwards' business was duly incorporated into the Cinema Bookshop where it has its own suite of rooms. The military department now occupies a shop in Great Newport Street next to Quinto, our site in Charing Cross Road.
Apart from the property aspect, there was another fundamental factor in the failure of the original policy. No matter how many shops you have, everything turns upon the knowledge of two or three book dealers at the centre of the operation, who are responsible for supplying the stock and doing special deals that put the icing on the cake. Quite apart from the difficulty of finding enough of the top-flight books to make a material difference to a shop's turnover, most of our staff did not have the relevant experience to handle them. In many cases it was their first job and, although they were very good at managing the shop and talking knowledgeably to customers, they were not dealers capable of making money on top of shop sales.
After the decision was taken to concentrate on the Cinema Bookshop and Charing Cross Road, Leon Morelli remained as Chairman and today we are still wholly owned by the Pharos group. On a day-to-day basis, the business is managed by Paul Haynes, Deborah Clark and myself. Deborah is in charge of the mail order section, which was originally developed to even out the effects of seasonal trade in Hay. We have been incredibly fortunate with our staff, several of whom have been with us for ten to fifteen years. The continuity is valuable in many ways, particularly as collectors can become rather set in their ways and like to deal with the same person.
Booksellers are judged, by their peers at least, solely on the strength of their stock. You can criticise a bookseller's wife, his wardrobe or his personal hygiene. But if you criticise his stock, he will never speak to you again. Books get tired in three months at a busy site, and it was Leon Morelli's idea to change the entire stock in our Charing Cross Road shop four times a year. As a bookseller, I was originally appalled by the idea, and it took a few months to convince me that it was physically possible, let alone financially viable.
However Morelli had quite rightly identified the 'what's new?' syndrome. When dealers and collectors come into a bookshop with 20,000 volumes which they have not looked at properly, they still want to know 'what's new?' since they were in yesterday. In order to satisfy this demand, we close Quinto four times a year for four days and change the entire stock. On Monday the books are boxed up; on Tuesday a lorry takes them to the Cinema Bookshop where a certain amount of quality control comes in and the better books go on to the shelves in the Cinema. The lorry returns to London with 20,000 new acquisitions which arrive on Wednesday afternoon. Then it's all hands on deck to get the books on to the shelves in time for the Friday opening.
We explore every possible avenue to find stock and attend — or at least view — almost every auction in the UK, buying as much as we can privately. We also stock a fair chunk of remainders as there are some unmissable books around. However we have fought shy of selling them in a wholesaling sense and choose very carefully subjects that are difficult to acquire secondhand and for which there is a great demand — for example, books on the technique of painting, decent travel, esoteric subjects, literary biography and anything well illustrated on gardening.
In my twenty years of bookselling, the number of bookshops has declined dramatically — perhaps down by as much as a third in the provinces. And yet the number of booksellers has increased significantly. The enormous rise in specialist booksellers has tended to push up the prices, and it is very difficult for the surviving secondhand bookshops to keep a good general stock. For example, if you buy a book on canals, it will almost certainly be snapped up by a dealer with a spare bedroom full of books on canals for his next list on that subject.
As Paul Minet remarked some years ago, the decline in the number of bookshops means there are fewer places for budding collectors to cut their teeth. Book fairs are all very well, but they are a bit intimidating for any but the hardened collector or dealer. In my experience visitors, who are not familiar with buying secondhand or antiquarian books, tend to treat fairs as exhibitions - they walk around admiring but not buying.
They are certainly not the best place to start collecting low-value items, as dealers tend to put their best foot forward at fairs and bring their most expensive stock. In a bookshop customers can spend a couple of hours browsing in a congenial atmosphere and perhaps buy something for £5. They might dip into it, read it from cover to cover, or simply keep it as an attractive object. Meanwhile they have caught the bug and, as circumstances permit, they may eventually become Percy Muir's ideal customer — the person who buys a £300 book every month, over the telephone, rarely if ever visiting the shop, allowing the proprietor to get on with what he likes doing best, buying and pricing books.
Interviewed for the Bookdealer in June 1996