Ian Smith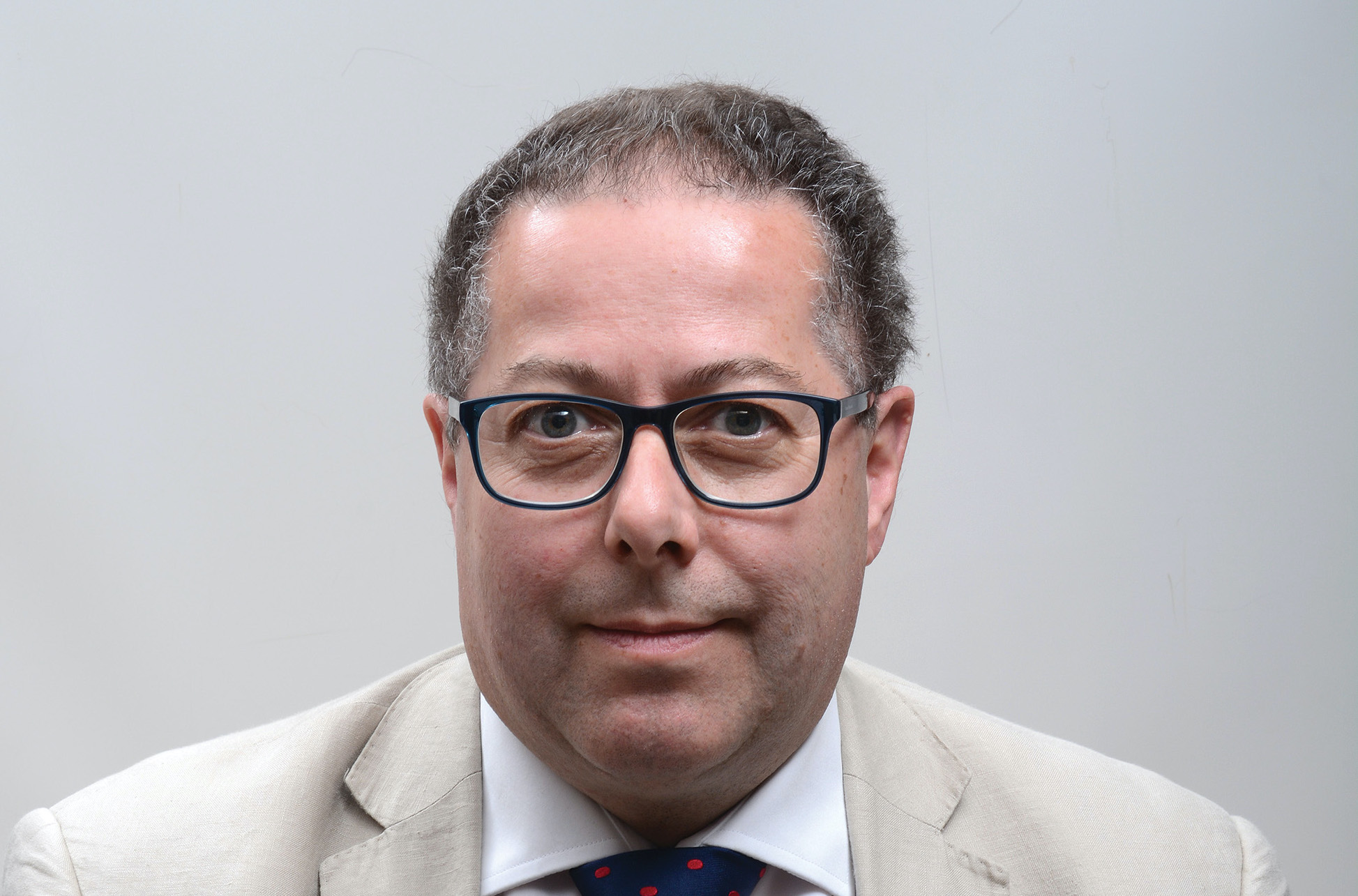 It was a complete fluke that I had the opportunity to join Bernard Quaritch. I had been reading French and German at the University of Exeter, where I shared a house in my final year with Matthew Hatchwell, the son of Richard Hatchwell.  Matthew's father was keen for him to become a bookseller, and eventually take over his business.  After graduating, Matthew went to Swann Galleries in New York, and I spent a year in France as a foreign language assistant at the University of Rennes. It paid me a ridiculous amount of money for twelve hours' work a week. I returned to this country in 1981, and came to London to live with my sister. She worked for a large insurance company, and was encouraging me to look for a job in the City. The idea didn't appeal to me, and I decided to go back to a restaurant in Covent Garden, where I had worked as a waiter before going to France.
The restaurant was run by two entrepreneurial Greek brothers, and was very successful, apart from the occasion when it chose to stay open on the day of Prince Charles and Diana's wedding. We could hear the crowds along the procession route in The Strand, but nobody came to Covent Garden all day. George Lawson was one of our regulars, as the restaurant was very convenient for Bertram Rota's lovely shop in Long Acre. George would often dine with Wayne Sleep, who was appearing in Cats at the New London Theatre in Drury Lane in the early '80s.
I was the youngest of four children and grew up in Kent, where I went to Cranbrook School. It was founded in 1518, and received its royal charter from Queen Elizabeth I in 1574. While I was there, the school library moved into a new building and, during the process, an auction of unwanted books was held. I helped to tie up bundles of books, and attended the auction in 1976, where everything was selling for pennies. It wasn't a trade event; most of the bidders were parents and supporters of the school. When a copy of A Midsummer-Night's Dream with illustrations by Arthur Rackham came up, it was contested between the Physics master and the Drama teacher. The bidding went on and on until it reached £50. I assume it was a copy of the first edition, and I remember being very startled by the price.
At university, I was buying books but purely as academic texts. I certainly wasn't thinking about a career in bookselling. My father was an electrical engineer, and had served in the Royal Engineers.  He was very interested in mathematics, and wanted me to take the subject at A-Level, but I enjoyed literature and opted for modern languages – also doing an AO-Level in human biology to please him on the scientific front.
Perhaps it's because of my father that I find anything to do with figures reasonably easy at a modest level. When the Greek brothers opened a travel agency, I moved from being a waiter to being the wages clerk and VAT keeper. It was during this period that I met Matthew Hatchwell at a London reunion for Exeter alumni. He had returned from New York, and was working for the English Department at Quaritch, where he thought there might be a possible opening for me. I went along and got the job, according to Rick Watson, on the strength of my handshake.
I joined Quaritch on 17 January 1984 when the firm was in the thick of handling the Robert de Belder botanical collection. Four years earlier Quaritch had bought the library of the New York Horticultural Society for the Belgian collector and diamond dealer. When there was a crash in the diamond market, Quaritch had the opportunity to buy de Belder's library, and got very close to selling it en bloc to a collector.  The deal failed, and the best books were sold at Sotheby's in May 1987. The sale was an enormous success and, amongst other things, enabled Lord Parmoor to buy the freehold of the premises in Golden Square, of which Quaritch already occupied a part. On a personal note, I earned a bonus that year which provided the deposit to buy my first property.
When I joined the firm, Rick Watson, Rebecca Hardie and Pamela Neville were frantically cataloguing the library, which consisted of some 4000 titles in 9000 volumes. The books were stored on the Isle of Dogs in a warehouse, from which fifty boxes at a time would be removed and brought to Quaritch for cataloguing.  My job was to pick up a transit van every Monday morning, drive to Quaritch to collect the previous week's cataloguing, having already packed the books, checked them in and out, taken the required photocopies for catalogue illustrations and so on, and re-packed them. I would go off to the Isle of Dogs with Becky Hardie, and we would hand them in and collect another fifty boxes, go for a greasy-spoon breakfast, and then back to Quaritch.
The job came to an end after six months, but it gave me a foot in the door. When Karen Thomson decided to move from Quaritch to Blackwell's, I was allowed to stay and given a host of different things to do. At one stage Wendy Cruise and Matthew Hatchwell were sent abroad to develop their language skills, and I divided my time  covering for them in the Continental Department, with Nicholas Poole-Wilson and Richard Linenthal, and in the English  Department, with Arthur Freeman and John Manners. It was an amazing experience to be working with such experts.
When Wendy and Matthew returned, I ran the auction desk, looking after commission bids. I would collate the books myself, rather than simply take them to the appropriate departments for collation and despatch to the purchasers. It helped me to become familiar with a variety of different subjects. On my journey to work, I would read the catalogues from the different departments, and try to absorb as much as I could. Although Quaritch had come early to computers, some people continued to use typewriters. Felicity Brown wrote her Central Asia catalogues in long hand with a Sharpie, and I typed up her descriptions.
In my early days I remember proudly telling Lord Parmoor that I had found a book in the basement of Quaritch and sold it for £30 less 10%, upon which he gave me a lecture on how much it cost to find a book, collate a book, catalogue it, sell and invoice it, and then chase the payment. In short, I had probably made a loss. To this day I still can't resist the little books as well as the big ones.
In due course I was moved to the human sciences department, which Lord Parmoor had established in 1979. The fields of philosophy and sociology were personal interests of Lord Parmoor. He had read philosophy, politics and economics at Oxford, and went into antiquarian bookselling after a successful career in banking. Milo Parmoor would always visit the Stuttgart Antiquarian Book Fair, and come back with books by Kant, Hegel and Fichte. He was also aware of the growing interest in PPE coming from Japan in the late 1970s, although Quaritch had been dealing in these subject areas with Maruzen since the 1890s.
To set up the department, George Hart was despatched to visit David Edmunds of John Drury, and returned with a couple of hundred books. George didn't particularly want to run the department, and Oliver Black became more involved in the daily business. Oliver was a nephew of Max Black, the philosopher, and was working on his PhD whilst at Quaritch. He concentrated on philosophy, and I looked after economics, which gave me my own little niche.  I wasn't particularly knowledgeable about the subject, but I was ambitious to succeed in the trade. I enjoyed being able to use my languages and being surrounded by like-minded people.
I don't write particularly well, and cataloguing was always a labour, and still is for me. I remember one catalogue of mine was pulled when Rick Watson discovered a mistake in a description.  We suppressed the catalogue, and had the page reprinted. If anyone has a copy of Quaritch Bulletin 36, it's a rarity. In 1968, Nicholas Poole-Wilson, who had recently joined the firm, and Toby Rodgers wrote a catalogue entitled How To Gain Riches. It was Quaritch Catalogue 888, and included a wonderful collection of unbound economic pamphlets. The owner had sold his library to Quaritch, and then found the pamphlets in boxes in the stable block.
In my early years at Quaritch, we would read the obituary columns in the newspapers. When an academic had passed on, we might write to the family and enquire if they were minded to sell his or her books. If so, we would hire a van, and six of us would spend a day getting filthy, bringing the books back to Quaritch. The library would be catalogued and we would ask an academic to write a scholarly preface – much in the same way as Chris Kohler, who had been selling collections very successfully for many years.
There was a great market in Japan for the libraries of Western academics. The private universities in Japan were competing amongst themselves for the best academics, of whom many in the field of economics had done post-graduate work in Europe or the States.  The universities needed interesting research material in order to attract them, and buying the libraries of Western scholars was a convenient way to do so. We had a stroke of luck in the mid-1980s when we were invited to look at the late Felix Somary's library of economic books in Zurich.  Felix had been an assistant of Carl Menger, the founder of the Austrian school of economics, whose library went to Hitotsubashi University in Tokyo. A large part of Felix's collection had come from the wonderful Saxe-Teschen library in Vienna, where the books were cleverly bound quite modestly in half calf, but the spines glowed with elaborate gilt tooling.
We hired Simon Evnine to catalogue the books, which were sold en bloc to a Japanese private university. Simon was a friend of Oliver Black's, and also a student of philosophy.  He was doing his MPhil at University College London at the time, and later moved to the States to pursue his academic career. Simon was a great enthusiast for the book, and was very helpful to Quaritch for many years. He used to talk of wanting to eat books for the knowledge that they contained.
Quaritch's handling of the Herbert Somerton Foxwell correspondence is an interesting story. Foxwell had been one of the great Cambridge economists. He was also a dedicated book collector, interested in the physical aspect of his books and in their provenance. He built up at least three collections on industrial, commercial, monetary and financial history and the development of economic science generally. Forced to sell them during his lifetime, Foxwell's books are now in the Goldsmiths' Library at the University of London and the Kress Library of Business and Economics at Harvard University. In his obituary of Foxwell, John Maynard Keynes described him as one of the largest-scale book collectors in the world.
Herbert Somerton Foxwell died in 1936 and his unmarried daughter, Audrey, continued to live in the family home at 1 Harvey Road, Cambridge. Although enquiries where made as to the whereabouts of Foxwell's papers and correspondence, Audrey always responded saying that there were no manuscript or letters at all.  In 1973 the economist Richard D. Freeman heard that Audrey Foxwell had died, and made contact with Foxwell's second daughter, Mrs Peggy Mettam. She gave him permission to visit the house where, in addition to several rare books, he found more than 170 boxes of letters and documents, stored all over the house, including in a bathroom and in waste paper baskets, the amount of dust suggesting that they had not been touched since Foxwell's death. Freeman introduced Mrs Mettam to Phillips Son & Neale, and the remaining books and some furniture were sold by the auction house in 1974.
As a token of gratitude for Freeman's assistance, Mrs Mettam gave him all the Foxwell papers.  In 1974 Freeman donated 86 boxes of Foxwell's correspondence with book dealers and university libraries, relating to the collection of books already in the Goldsmiths' library, to the Senate House Library where the Goldsmiths' collection is housed. Quaritch had the opportunity to handle the remaining group of papers through Felix Pryor of Bonhams – Bonhams having absorbed Phillips Son & Neale, to whom Richard Freeman offered the archive.
Quaritch sold the archive to Kwansei Gakuin University in Japan after a bit of a struggle with the Royal Economic Society and the University of London, where there was great concern that such a treasure was leaving the country. However the export licence was granted, and in 2015 Kwansei Gakuin University Library finished digitising the Foxwell papers, and made them available online. Arguably the outcome of the sale has been very good for international scholarship.
By the time that Lord Parmoor sold Quaritch to John Koh, I had been with the firm for over twenty years. As a result of the new management style, the more experienced staff gradually began to leave and many of them set up independently. I wasn't particularly happy at Quaritch, but nor was I thinking of leaving the firm. As I'm not the most disciplined person, I've never been tempted to work on my own. I need the stimulation of having colleagues around me. When Pom Harrington asked if I might be interested in working for him, it took me a long time to decide. I knew that his firm had a number of good clients for economics, and that he was interested in expanding the area. A few years before I moved to Harrington's, Pom and I had both inspected an economics library in Sussex , which had belonged to someone who had been at Cambridge and taken an interest in the works of Keynes and his followers.
Two of the collector's grandchildren came into Quaritch one day and showed me a copy of Alfred Marshall's Principles of Economics, a first edition of John Maynard Keynes's The General Theory of Employment in a dust-jacket, and Samuel Bailey's famous attack on David Ricardo in A Critical Dissertation on the Nature, Measures and Causes of Value. They also showed these books to other dealers in the West End and to the auction houses, and I wasn't the only person who went down to look at the library.  By that stage Quaritch had moved to smaller premises in South Audley Street, and we didn't have the space to take on the whole library.  It turned out that Pom Harrington had seen the library before me and found some wonderful material. He had cleverly teamed up with Nigel Burwood to clear the house, and customers kept telling me that they were finding incredible things in Any Amount of Books, Nigel's shop in Charing Cross Road.
When I finally agreed to join Harrington's in 2013, Pom wanted me to start on the first of April. Luckily it was a bank holiday, and I started on the second day of the month.  Harrington's concept of retailing is different from Quaritch's, particularly in the range of stock. Quaritch are keen to fill institutional gaps and they tend to work with clients who have specific interests. If you want to buy a book for £100 for a friend's birthday next week, Harrington's will have a much greater choice. It tries to cater for a larger market both in subject matter and in the size of your wallet. The shops in Fulham Road and Dover Street in Mayfair are clean and tidy – with the exception of my office – and have a welcoming atmosphere.
University book-collecting prizes play a major role in encouraging the younger generation. They also demonstrate that you can build a meaningful collection without a large wallet, either for research purposes or simply for the pleasure of it. Heather O'Donnell and Rebecca Romney of Honey & Wax, booksellers in Brooklyn, recently established an  annual prize of $1000 for an outstanding book collection conceived and built by a woman aged 30 or younger living in the United States. Whenever we advertise for a vacancy at Harrington's, we receive a lot of applications from women. There seems to be no shortage of people of either sex wanting to join the book trade, which is encouraging and remarkable in some respects.  The internet has certainly given great access to books and manuscripts through the various online projects, but ultimately there are still plenty of institutions and private collectors who are keen to acquire the real thing. We all have to play our part to make book collecting an interesting and enjoyable experience.
Interviewed for The Book Collector Spring 2018