John Bonham of J.and S.L.Bonham
[From Seafaring to Book Fairs]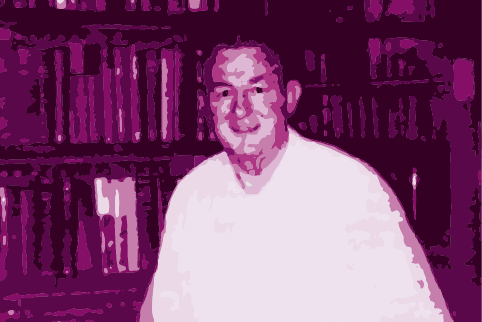 When I was at school the only thing I wanted to do was to go to sea. I couldn't become a navigator when I failed my eyesight test, so I went to sea as a purser with P&O. I met my wife, Sue, who was an assistant purser, and we got married in 1972. I was an avid collector of travel books, and one of the great joys of my job was that it took me to places that most collectors never visited. When Geoffrey Ingleton's collection of books on Australasia began to come up for sale, I happened to be in Sydney. The sales were conducted by Angus & Robertson, and filled five thick catalogues with 14,303 items. It was a wonderful opportunity to buy into one of the great collections of books on Australia. The last sale was held in 1977. Ingleton's was certainly one of the finest collections in private hands. Today Rodney Davidson's collection is probably pre-eminent in the field.

By 1976 we had one child and another on the way. My book collecting had to stop as there was a more immediate need to spend money on things like washing machines. Having been at sea all the time, I welcomed the opportunity to transfer to a division where I could be at home for much of the year. I found that my book collection contained a large number of duplicates, and friends in the trade suggested that I should put them into a catalogue. They sold very well and, about a year later, we did another catalogue, selling books that I no longer wanted in my collection. We were slowly starting to get into the book trade and, in 1979, we joined the PBFA.

From the start, Sue and I were a husband and wife team. Like any partnership, it works well as long as you are considerate towards each other. Sue tends to look after the administration and technological side of the business – I'm an incompetent with computers – and I do the cataloguing, and the buying and selling. When you make the transition from being an 'end user', as Roy Davids once described me, to a dealer, you must no longer covet your books. It's important to remember that everything is for sale. While the children were growing up, we ceased having a private library. But I have started collecting again, now that there's no reason why I shouldn't have the occasional small indulgence.

Sue is a New Zealander and we would go almost every year to see her family, and combine it with a journey to Australia. During these trips we would be looking to buy books and for years it worked very well. It was possible to go to odd bookshops in remote corners of New Zealand and find things that we had never seen before. Since the coming of the Internet, it's much less rewarding to forage for books in faraway places.

Australia has always had a number of top quality booksellers. Indeed Hordern House in Sydney is one of the best dealers in the world. In the late '70s and early '80s, Australiana was very much in the ascendancy. Almost any book with Australia in the title would sell. It was a time in Australia itself when there was a great interest in speculation in general, and the stock market in particular – even the milkman would have a hot tip for you. People invested a lot of money, share values went up hugely and collapsed just as quickly. In the book market a handful of people had been buying into Australiana, thinking there would be a great future for it. Prices went up, and then collapsed when a number of key collectors stopped buying. One collector called Bremner put all his books into Sotheby's. Although they fetched reasonable money, it marked the beginning of the end. Another collector, John Altmann, to whom we had sold a lot of good material, stopped collecting books in order to concentrate on clocks.

After the bubble burst we still had a large holding in Australiana, and it has taken a long time to reduce it. Fortunately we had also been developing our collection of books on Africa and Asia, a comparatively steady market in which the high spots are East Africa, Thailand, Malaysia and China. Given the amount of money being made in India, one would expect that market to come up. But interest still seems to be confined to colour-plate books. We have never found much interest in Japan for travel books – perhaps because they don't figure very largely in Printing and the Mind of Man, which has been so influential on book collecting in Japan. You will of course find in it such names as Mungo Park, Livingstone, Baker, Nansen and Cook. I have the utmost respect for Captain Cook as the greatest navigator of all time.

In the literature of travel, there are so many stories of tremendous bravery and tragic disappointment. One thinks of Mungo Park who gave his heart and soul to Nigeria and drowned in tragic circumstances; or of Burke and Wills' attempt to cross the Australian continent and failing to meet their rescue party by a matter of hours; or of Shackleton and Bligh's open boat journeys – phenomenal achievements and examples of the greatest seamanship. If I had to choose, my hero would be Richard Burton, by far the greatest Victorian explorer.

I certainly don't have the same regard for Stanley, partly for family reasons. My wife is a descendant of Jameson, the naturalist and traveller who contributed £1,000 to the Emin Pasha Relief Fund and died of fever on the expedition led by Stanley in 1887-89. When Jameson became the innocent victim of outrageous rumour regarding the behaviour of officers in the rear column, Stanley's role in their disparagement was, in my opinion, monstrous. H.R.Fox-Bourne published a very interesting account of the rear column in which he spelt out that Stanley's behaviour had been less than perfect, The Other Side of the Emin Pasha Relief Expedition, 1891. I suspect that the book was suppressed in this country – it's a little easier to find copies in the States, but it's a rare book.

Travel books are very subject to fashion. At the moment the polar regions are in the ascendancy. Martin Orskey suggested that we might publish a centenary edition of the South Polar Times, the magazine produced by members of the British National Antarctic Expeditions of 1901-04 and 1910-13. Martin ran the Holland Press for many years, and I regard him as one of our finest booksellers. Marcus Niner is also involved in the publishing project. We have tried to replicate as closely as possible Smith,Elder's original edition in three volumes, with different coloured papers and photographs laid down, published between 1907 and 1914. A fourth volume exists in the Scott Polar Institute, and is being reprinted in the States. Smith,Elder had decided that, although it was done in the same vein as the first three volumes, it was too inconsequential for them to publish. For a set of the original edition, in good condition, you would have to pay between £15,000 and £20,000 today. We are selling the centenary edition, limited to 350 copies for £600.

In May 2001 I became Chairman of the PBFA. Although Sue and I don't have the distinction of being founder members, we were certainly one of the earlier members. It's an exceptional organisation, thriving on the voluntary contribution of so much hard work by the members. I became involved with the committee when I was at an AGM and volunteered to be assistant Treasurer. Over the years one job led to another; I became Treasurer and eventually took over from Jean Hedger as Chairman.

One of the contentious issues that I have had to face was the question of the two-day fair at the Russell Hotel. A lot of members were happy with the two-day arrangement, but it was hitting hard on the Association's finances. As an ex-Treasurer, I looked at the issue from the financial angle – the two-day fair was no longer viable and something had to be done. For a while we ran the two-day fair with one-day spaces for those who wanted them. There were soon more requests for one-day spaces than we could handle under existing arrangements.

It's worth remembering that there have been PBFA members in favour of a one-day fair at the Russell for many years. After negotiating a very advantageous rate with the hotel for a one-day fair on a Sunday, this proposition was eventually accepted by the majority of the membership.

The expenses of running fairs are increasing all the time, and so is the competition. We try to put on a fair at the Russell that has a certain style and quality. But we have to recognise that independent fairs are flourishing all over the country. The monthly fair at the Royal National Hotel was taking a lot of our members away from the Russell. It's a reasonably priced one-day fair with easy access – unlike the dreaded steps at the Russell. But let's not forget that there was another reason – people were taking stands at the Royal National so that they could get into the fair before it opened and buy very well from other exhibitors. We are now wooing people back to the Russell, exhibitor numbers are up in the 90s again, and the fair is commercially viable.

On a national basis, one is always trying to assess which fairs can be run most economically and work best for dealers. I had an interesting discussion recently with Janette Ray, who is very involved in the running of the York book fair. Janette believes that one should try to publicise fairs in partnership with other organisations, for example schools, charities and libraries, so that everyone can benefit from the venture. The PBFA was asked to put on a fair in Cumbria to raise funds for those affected by the foot-and-mouth disaster. We received local and government financial assistance, the stand rents were donated to the cause and it worked to everyone's advantage. One of the PBFA's most successful fairs is the Fine Press Fair in Oxford, run by Michael Taylor together with the Fine Press Association. They produce a beautiful catalogue, as one might expect, the exhibitors do very well, and both associations benefit.

Although the amount of money taken at a fair is of course important, I'm just as interested in the number of private people coming through the door. We need to attract people who may not be committed book collectors but will become so in time, because of the fairs that we put on regularly and to a certain standard. Since the demise of so many provincial bookshops, book fairs have to a large extent taken their place.

Of course we now have to contend with the Internet. From the exhibitors' point of view, it can be exhausting to do fairs regularly – and difficult to find fresh stock all the time. The Internet can certainly be an easier way to buy and sell books. But the great thing about fairs is that you can actually handle the books. I also believe that any serious collector likes to know who his supplier is and to develop a personal rapport. Few important book collectors have the time to sit in front of a screen every day, and prefer to rely on the traditional methods of finding material.

Now that the Russell fair is back in the black, I want to address another contentious issue and that is associate membership. When members join the PBFA, they don't have full rights for two years. It would make more sense to have a probationary period of, say, three months. The present arrangement is divisive and excludes a group of people that have a great deal to offer the Association. New members are often very keen to help with all the jobs for which we rely on volunteers. One of the benefits of having members who may be part-time booksellers is that they have experience of many walks of life. They are often extremely well educated and can help to promote the sale of books on the practical and financial side. Why make these people wait two years before they can play an active role in the Association?
There is a certain hypocrisy on the part of some full-time booksellers who take a dim view of part-timers. A lot of them have done very well out of these very people, and made a lot of money from newcomers to the trade. You have to be a full-time bookseller to join the ABA, of which we are also members. As Chairman of the PBFA, I liaise with Adrian Harrington on matters of mutual interest. The two organisations complement each other and both play a part to make the book business work as a whole. Constitutionally I don't think it would be possible for the ABA and the PBFA to join, but there is plenty of scope for co-operation on such matters as publicity and security.

There was resistance from the ABA to the idea of having a joint website. But in time the PBFA will run its own website, and we have a separate organisation within the Association which is in charge of the project. If the ABA site had been launched successfully, the same software company would have worked for the PBFA. We had negotiated a reasonable deal, but unfortunately the ABA site failed its test.

I see the main task ahead in terms of publicity – getting the idea of the PBFA into the public domain. I don't believe that effective publicity requires throwing money at newspapers. But it does mean getting onto the streets and handing out leaflets. A lot of members are rather nervous about offering their services, thinking perhaps that we are looking for special skills. But there is so much mundane work that is vital to the running of a successful book fair.
I expect I shall face plenty of challenges in the coming year. But having been at sea for so long, one becomes quite philosophical. As they say, worse things happen at sea.
Interviewed for The Bookdealer in May 2002