John Loska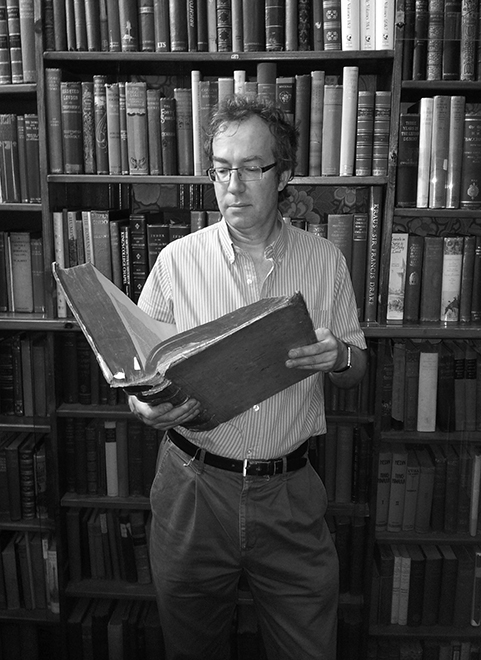 My father was a Pole who escaped to this country during the Second World War. He was blinded and lost an arm in 1945 while serving with the Eighth Army. On my mother's side I'm descended from Sir Charles Waterton, a great eccentric and pioneer in many fields, best known to booksellers as the author of Wanderings in South America. My interest in books began as a child when I started to read my mother's books, and discovered Sir Walter Scott whom I enjoy to this day. My interest in literature awakened, I began to explore and greatly enjoy authors from the seventeenth to the nineteenth centuries.
I started collecting books while I was reading Mathematics at the University of Sussex. I'm Brighton born and bred and it suited me to go to my local university and live at home with all my creature comforts – I should add that Sussex did have at the time one of the best maths departments in the country. This was in the 1970s and the age of comparatively generous student grants, which enabled me to start buying books, spending twenty quid here and there. That was a week's money to live on, but it was also enough to buy a rather good book – for example, a first edition of Dickens in original cloth. You could buy eighteenth-century books for a pound, when maths text books were costing ten or fifteen pounds.
By the time I got my degree in 1980, I had become very interested in books and book collecting. I decided to take a year off, having saved enough money to do so, and stayed at home reading for twelve hours a day. As you read one book, so it leads you to another. It was fantastic, just reading entirely for my own pleasure. Some might regard my taste as a bit dry – seventeenth-century poets, eighteenth- century novelists. But the mainstream authors – Fielding, Smollett, Sterne – are all worth reading.
By the end of the year my parents were getting on my back, and quite rightly so. It happened that Colin Page, from whom I had been buying books, was looking for someone to put his stock on to a computer he had just installed. Colin believed that computers were the way forward for the trade and had bought one as early as 1979 and taught himself to program it. He wanted to produce tailor-made lists to match customers' interests and, in due course, was able to advertise this service in the pages of the Bookdealer. The machine cost several thousand pounds and was constantly crashing. It used seven-inch floppy discs which could only store 300 entries. Although I had a maths degree, I had never encountered a computer at university. It was intended to be a six-week project, but inevitably the job took longer. Meanwhile we were getting on very well, and Colin offered me a permanent position which I accepted and loved from my first day.

In 1900 Colin Page's grandfather had founded the first garage in Brighton. Colin began his working life as a mechanic, but neither he nor his brother Brian enjoyed life in the family firm. In 1969 they set up together in a shop in Lewes dealing in secondhand books and oriental antiques, later moving to the present shop in Brighton opposite Holleyman & Treacher. George Holleyman had dominated bookselling in Brighton since the war. When Colin opened in the same street, George treated him very well, telling him the various points about books and paying him fair money. At the time John Kite was still working for Holleyman's. He was a lovely old boy, the spitting image of John Betjeman in appearance and manner. When the firm went out of business, Colin Page inherited many of their customers, some of whom had wonderful collections.
There were also a number of back street bookshops, notably Ben Hutchinson's. Ben is perhaps best known for selling an enormous collection of Tauchnitz editions to Chris Johnson, who sold it to the University of Texas, where it was consulted by the great American husband-and-wife team, William B. Todd and Ann Bowden in the preparation of their monumental bibliography of Tauchnitz International Editions in English. It's curious to think that it all started in a shop behind Brighton railway station.
Colin Page had a great eye for antiquarian books and, by the time I joined him, the shop had an interesting and varied stock of books at all levels, although it was not nearly as large as it is now. Colin taught me the mechanics of the book trade. A bookseller needs to have skills relating to buying and selling. A market trader would probably make a better bookseller than an academic. I was learning from him all the time, going on house calls and to auctions. I remember seeing my first Arthur Rackham book and being surprised that there was a market for it – let alone a very good market. For me books were about words, not pictures.
Colin taught me to treat people fairly, whether buying from or selling to them. I like to think that we pay more and charge less for our books than many other dealers. It pays off in the long run as books gravitate to us, at least from private sources. I became a partner in the business in the late 1980s and, when Colin retired in 1999, I bought him out fully. Just as I was about to make the biggest transaction of my life, I was diagnosed with cancer. I had an operation and I've been fine ever since. I'm delighted that I went through with the deal, but it caused me an enormous amount of stress at the time.
Today my wife and I are equal partners in the shop, although Jill doesn't work in the business. She did, however, have the interesting experience of working briefly for Peter Eaton in the early 1970s, and remembers some of the amazing books he was able to buy from totters or rag-and-bone men. Our two sons are in their twenties and neither will be following us into the trade. They are both carving their careers in the theatre and we take great pleasure in watching them perform.
My twin brother, Stephen, joined the business in 1983 and is on the road quite a bit, doing a lot of the auctions and house calls. Michael Hearne and two part-time assistants look after the shop, and I do a bit of everything. As in most small businesses, there's no strict division of labour, but I like to do most of the pricing. Every book is individual, and the price depends to a certain extent on how I feel about a copy at a particular moment.
I like the social contact of having a shop. It would drive me mad to work in a room on my own. I don't have the skill to write flowing phrases about books, and have the greatest admiration for people who can catalogue a book well, acquire in-depth knowledge of their subject and carve a niche for themselves. I have never cultivated the institutional market, although I occasionally sell something to the British Library – for example, John Betjeman's collection of thirty-two Ordnance Survey maps with his annotations and doodles, which I picked up very cheaply in a Cambridge auction. A local journalist saw them in my shop and asked if he could write an article for The Times, where it was spotted by someone at the BL.
Mine is a more old-fashioned niche; it's a jack of all trades style of general bookselling. We are very unusual nowadays and, as more secondhand bookshops close, it puts us in a stronger position. I must be almost the only bookseller in the south of England who still rents his premises in the centre of an expensive town. My rates went up 40 per cent last year. It's all right as long as we keep doing the turnover to match it, but you have to keep your eye on the ball. If I ever feel short of money, it's because I'm buying lots of books. It's not the overheads that knock you for six.
The trade buys 80 per cent of my books. We meet a lot of Continental and American dealers at book fairs, and I'm always impressed by the high quality of the books they buy. Some years ago I was diagnosed with a propensity for blood clotting, and told to avoid long flights. As a result I have never been to America, which I naively regard as the golden land of book collectors. Bookselling is probably just as tough there as it is here, but there's no question where the more valuable books end up.
Mr Howlett, the king of runners, used to buy a lot of books from us and then sell them to the West End dealers. Then there was 'Bicycle' Tony who died recently. In Brighton one meets a lot of characters. 'Peg Leg' Mick and 'Fast' Eddie are both suppliers. There was an extraordinary incident in the early 1980s when the entire stock of a Brighton bookseller turned up at a Sunday market. Runners were coming into our shop with colour-plate books, signed copies of Rackham and other wonderful books. It turned out that he had kept his stock in various storage depots in Brighton and, when he failed to pay the rent, the books had been sold in lieu of payment. Nowadays there are very few runners left, and those who are still active tend to buy from charity shops, boot sales and markets in which Brighton abounds.
I get my biggest buzz from bookselling when I buy collections. It's a wonderful feeling when you leave a house with a carload of good books, perhaps having spent more money than you can afford. The transitory ownership can be great fun. I bought Raymond Smith's private library in January this year. Booksellers always have interesting books in their homes, and Raymond was no exception. Our friendship dated from when I walked into his shop in Eastbourne wearing the same tweed jacket. He found that very amusing. Actually I must have been something of a fuddy duddy to be wearing the same jacket as a man forty years my senior. When Raymond retired in the early 1990s, I introduced him to Alan Gibbard who bought his shop in Eastbourne. Raymond had indicated that he would like me to buy his private library, which I did against two independent valuations. He had been collecting for over 60 years, and I came away from his home in Eastbourne with twelve carloads of good quality books.
I'm one of the very few booksellers who doesn't put his books on the internet. I believe this makes my shop more interesting for customers. At book fairs I have occasionally put up a sign saying 'internet free'. It began as a joke, but has become a selling point. It seems to work; my two annual fairs, Chelsea and Olympia, are always very fruitful. Everyone likes the idea of fresh books that haven't been touted on the internet. I like to put a book on the shelf and let someone discover it. It's all about the thrill of the chase.
Bookselling has become tougher in the last seven or eight years and the internet has contributed to this. The 'four-quidders' are much harder to sell – that is, the secondhand hardback book that is not intrinsically collectable, but which may nevertheless make a significant contribution to its subject. There are tens of millions of them on the internet, and we certainly don't sell as many in the shop as we used to. Labour and storage are both expensive, and there may come a time when it's no longer economical to stock cheap books. But it would be a very sad day for bookselling. I believe that people should buy all classes of books in their subject. The 'four-quidder' can be just as valid in its way as a book that costs £400.
Internet bookselling requires a very different style; it's all about cataloguing, packing and posting, which can make the price more expensive than a bookshop. I disagreed with Paul Minet on this subject in the Daily Telegraph recently. Paul stated that people will find a book in a shop, and then buy a cheaper copy on the internet. Paul is a bookseller for whom I have the greatest respect, but actually I believe that it works the other way round – ordinary books are nearly always cheaper in shops. The general public use the internet as a crude valuation tool. But the price is only half the equation. I buy up to 70 per cent of my stock privately and it can be very difficult to convince the vendor that just because they have seen a copy of their book priced at x on the internet, I can only charge y for it in my shop. I consider the hammer price at auction to be a fairer gauge of the value of a book.
It's not just the public who use ABE as a pricing tool. Many of the newcomers to the trade don't seem to spend money on reference books; they get their information from the wonderful descriptions by the best booksellers freely available on ABE. This is having an effect on the market for Bibliography. I recently bought Chris Kohler's reference library, accumulated over forty years of selling literary and author-based collections. The books weren't as commercially valuable as they would have been before the internet. Pure 'information' books have become much harder to sell. But there's no question that you can still score if you have the right reference book, and access to that tiny nugget of information that can result in a wonderful profit.
Highlight collecting is more prevalent than author collecting today – perhaps due to the influence of Printing and the Mind of Man. Although it is a wonderful catalogue, it turned the greatest books in western civilisation into a self-contained subject. But there is far more to books than that – I like to go after the obscure little pamphlet that fits into the subject and boosts the collection.
Very few members of the trade like the concept of buying books for investment. It's an artificial form of collecting, keeping books too expensive for more genuine collectors. You should buy a book because you like it and, over the years as you become familiar with the field, you will probably also buy quite astutely. There are many undervalued areas of book collecting. Apart from the obvious high spots, seventeenth-century English Literature is still ludicrously cheap. I also think that English Topography is undervalued, if you consider that some of the great county histories in multiple volumes are available for a few hundred pounds.
Book collecting is very much a male activity. Most of my collectors are men in their 50s and 60s. There are various factors why young people are not collecting books. If you can't afford somewhere to live, you're unlikely to be collecting anything much. Also the younger generation turns to the internet for its primary source of information, where we would have consulted a book. I notice this with my two sons. There are great cultural changes at work.
There will always be a living to be made out of buying and selling books. We all do our bookselling in a slightly different way. It's this ability to perceive books differently that enables us to buy and sell from each other. Booksellers are very individual and that is the glory of the trade.
Interviewed for The Bookdealer in May 2007