Larry Ilott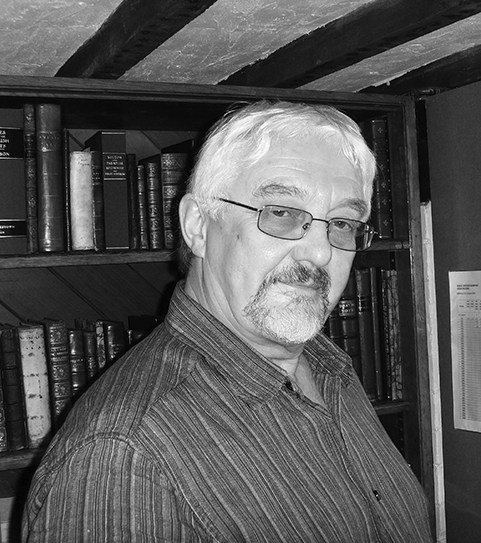 I was born in South London at the tail end of the war. My mother was a singer and my father was what would today be called a graphic designer. There was a lot of interest in the arts in my childhood home, but not specifically in books. I had polio when I was five years old. I can only describe it as character forming; something you give in to or you fight. It made me a very determined person. I went to school at Alleyn's in Dulwich, where the Head of English was an exceptionally good teacher. The school had a historic connection with the Jacobean theatre, and endowed me with a lasting interest in language and literature.
I wasn't necessarily the ideal pupil – in fact, something of a sixties drop-out. But I was already buying books, mainly from Dillon's in Malet Street, and reading hugely. My health was still indifferent and I couldn't quite see how a conventional university education would benefit me in terms of a career. I might end up teaching English to another bunch of layabouts like myself, and didn't find the prospect very attractive. The Head of English wrote in my final report that he had no idea if I would pass my A-Level as I hadn't done any written work during the entire course. He was kind enough to add that he would buy my beer for the evening if I passed, which in due course he did.
After school I drifted into working in public libraries, first of all in what became the London Borough of Southwark. It turned into a career and I spent thirty years as a librarian, not that I was particularly cut out to be a local government officer. I did my training in what was then the North Western Polytechnic in Camden Town, where I was fortunate to be taught by some excellent lecturers, including John Morris who became Curator of Rare Books at the National Library of Scotland, and Stan Brett who became a leading light in the PBFA. The academic training formalised my interest in books and book collecting which had existed from an early age. I found the study of historical bibliography absolutely fascinating, in particular the transmission of text and the development of bookbinding styles.
In due course I was given the job of running the cataloguing department in Lewisham, where I spent ten years. Lewisham still had its own bindery, and it was part of my job to order materials and liaise with the foreman. He also did a bit of private work and rebound some of the books in my own collection. He would ask my advice about binding styles and gradually became a good restorer. Meanwhile I spent a lot of time watching him work on the bench, and picked up the ability to do a certain amount myself. When we went to Hewit's to buy leather, John would introduce me as the oldest apprentice in the trade.
Although one didn't realise it, the 1960s and 1970s were the golden age of public libraries in London – in terms of funding, public awareness and general good will towards the service. This situation came about with the creation of the London boroughs in 1965, when a huge amount of funding was made available to cope with such a major upheaval in local government structure.
Contrary to popular belief, librarians are quite good at managing change, and made the most of the extra funding at their disposal. Things had never been better and very rapidly got worse. By the late seventies, much of local government funding began to depend on central government. Where the finance lies, there the power lies. As a Borough Librarian put it to me, 'There're a lot of votes in dustbins, but not a lot of votes in books'.
In 1985 I became Collections Manager for the library service in Kent, with its stock of around three and a half million books. It gave me the opportunity to handle a great many early books, which was of great benefit to me in my later bookselling career. There was a formal working relationship between the County Council and the Dean and Chapter of Canterbury Cathedral and on one memorable occasion, I was asked to collaborate with their librarian on a valuation for the ecclesiastical insurers. I shall always remember her opening remark, 'We don't have any Caxtons, but we've eighty or ninety incunabula. Shall we start with those?'
By 1990 there had been a massive restructuring in the library service, which involved taking out a whole tier of management. I was offered the one job I said I would never do; they wanted me to asset-strip the collections. I was the only person on the staff who knew more or less what there was, and had some idea of its monetary value and contacts with the book trade. I was forty-five at the time and had already made up my mind that I wanted to become a bookseller. I needed to hang on for five more years for the good of my pension. I declined to take the job, which I considered the professional equivalent of putting King Herod in charge of the crèche. After being a spare part for a few months, it was agreed that I should do anything I could to generate income for the department – short of selling books.
I turned to the idea of increasing the libraries' revenue from greetings cards, and spent the next five years learning skills, which ultimately helped me to run my own business. The libraries were carrying all the overheads of production and storage, and weren't particularly good at identifying and concentrating on the saleable images. In effect, I set myself up as a wholesaler, sourcing good material from commercial companies and marketing it through the libraries. Kent had 127 branch libraries, which I treated as 127 retail outlets. I tried very deliberately not to compete with local tradesmen to avoid any political fall-out. The cards were displayed near the issue desk, which was good for impulse buying, while people were queuing with their books.
Within eighteen months, I was turning over something like £180,000 a year, and was able to generate more income by selling myself as a consultant to other local authorities who wanted to do the same thing. At any time an external auditor could have come in and shut down the whole commercial operation. We were relying on certain paragraphs in the Local Government Finance regulations never having been tested in the courts. Politically it was expedient for everyone to turn a blind eye as the local authorities needed the money.
A few weeks after my 50th birthday in 1995, I walked into my director's office and suggested that it would be easier to balance the budget if he made me redundant. An offer was put on the table. I accepted it and left local government service at the end of the financial year. My bookselling business was up and running on the following Monday. I was very lucky to have been in the right place at the right time, and to have been able to make a five-year plan.
Thirty or forty years ago one might have advised newcomers to the secondhand book trade to work for a big firm like Blackwell's, Maggs or Sotheran's by way of serving an apprenticeship. Today there are fewer and fewer of these houses available to newcomers. What I lacked when I first started was a knowledge of the trade itself, although I had already been doing local book fairs, and subscribing to the Bookdealer. The obvious lesson that all booksellers learn is to buy at the right price and sell at the right price – and to be prepared to be flexible on both. Like everybody else in trade, I bought my experience.
Within six months of opening the business, I decided to move my stock into an antiques centre in Westerham, where I spent a couple of years. In due course I set myself up on the internet, and managed to slide under the little bit of lease left on the antiques centre and start working from home. I sold my landlord all the stock that I wanted to leave behind, and my wife and I crowded everything else into Cobnar, our home in Wateringbury.
I spent the next five years saying to myself, 'Sell ten books and buy one', as a means of disposing of the shop stock, and trading up in quality. If you can afford to do that without borrowing money, it's the soundest way to conduct business. I now have something like 1,300 books of which around half would be termed antiquarian.
I joined the PBFA in 1997 and had my arm twisted into becoming South East Regional Chairman about five years later. It had reached the stage in the evolution of every organisation when the founding fathers have moved on, and a fresh start is needed. It requires drive, vision and the will to change to make the PBFA fit for purpose for another ten to fifteen years, and at the moment this is not much in evidence. At one Committee meeting, I suggested that the income stream could be greatly improved by using the PBFA website (not books@pbfa) to host online book auctions, initially just for members. This was before eBay was a force in the land. In fact, there were very few online auctions at all. By taking a smaller commission than the mainstream auction houses, the PBFA might find a ready market for its online auctions. However nothing came of it. Perhaps it was too radical, or the time just wasn't right.
To combat the dominance of the internet, it is more essential than ever to build up one-to-one relationships with collectors. This is one of the advantages of book fairs. Although fairs in general seem to be declining as a way of trading, they do provide the opportunity for personal contact. Yorkshire is a good place to meet top quality private collectors – perhaps it's something to do with the concentration of four major universities within a relatively small radius. I always exhibit at the PBFA fairs in York and Harrogate, and enjoy my chats with collectors and academics from whom I always learn something. Whereas greetings cards are just a commodity, books are life-style. I probably learn something from every book I buy – even if it's only never to pay that much again.
There's a specialised form of bibliographical madness which is an interest in English provincial printing. When I became Collections Manager for Kent, I found in my in-tray a letter from Richard Goulden who was working for the ESTC project at the British Library. It was an invitation to our staff to catalogue locally printed material for the ESTC. I took this letter round the cataloguing department, but there was no interest. So I pursued it myself and it led to a long and fruitful connection with the British Library, which I have continued in my bookselling career. I was able to contribute around 180 unique records to ESTC when I discovered two eighteenth-century printers' day books, belonging to one of the first Maidstone printers, dismembered and housed in various files in Maidstone Museum. Ultimately Richard and I obtained a conservation grant for the material, which was described on the application form as being of national importance.
The British Library has big gaps in its collection of English provincial printing, and I quickly saw a little niche there for a bookseller – not that I was the first to do so by any means. Every one of us has to find their own own market. If you have acquired some specialist knowledge from a previous professional background, it will give you a head start as far as familiarity with the literature and target customers are concerned. I always e-mail a draft of my catalogue to the British Library, who have been very helpful to me. In general, I target libraries shamelessly, partly because I still have some good contacts, and also because I've controlled library budgets and know that if you don't spend it, you lose it. You might say that I regard it as my bounden duty to help out my former colleagues.

My catalogues have never been very regular but, for a bookseller with my sort of stock and institutional customers, this good old-fashioned approach still has a lot of mileage in it. Acquisitions librarians and academics like to have a piece of paper in their hand – something they can read on the train, or scribble notes on when they're online. It's difficult to browse a website in the same way. Catalogues and the internet complement rather than replace each other. A sensible bookseller makes full use of both.

It's going to be increasingly difficult for booksellers to combat the availability of complete texts on the internet. Although the publication of new novels electronically doesn't seem to have caught on yet, the principle threatens to short-circuit the whole world of publishing and the book trade as we know it. My personal route ahead, apart from concentrating on my established business of selling topography, antiquarian books and provincial printing to libraries and a few private customers, is to think more in terms of the book as art object, and to be able to talk knowledgeably to customers about binding, printing and paper- making. At a book fair recently a member of the public asked me how to become an antiquarian bookseller. He was in his thirties, a doctor at King's College Hospital in South London with a serious interest in dealing specifically in sixteenth-century Italian books. Now there's someone who thinks there's a future in bookselling.
According to my accountant, booksellers do everything the wrong way round. They carry big stocks with slow turn-over, and still achieve quite large profit margins. We justify those margins by putting in added value. I spend a long time looking for the right material, and then I research it, put my own money up front, and spend time describing it before finally offering it to perhaps the one person in the whole wide world who actually wants it. The combination of risk, time and knowledge represents the added value, and that, I am told, is the textbook answer.
Interviewed for The Bookdealer in July 2007