John Martin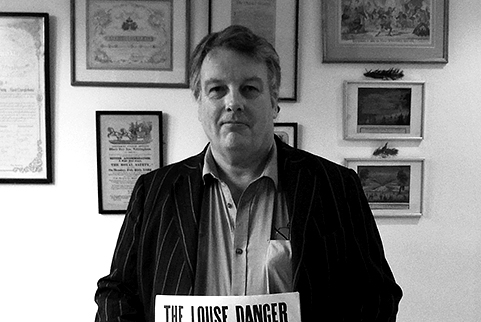 My wife Cathy chose the name of Mayfly for our business in ephemera, books, manuscripts, documents and autographs. The insect, whose short life shines brightly, fits well with the definition of ephemera as the minor transient documents of everyday life. There is of course a huge difference between a piece of ephemera and a piece of waste paper. In 1993 the Centre for Ephemera Studies was inaugurated at the University of Reading in the Department of Typography and Graphic Communication. It was the first of its kind in the world. Whether the study of handwritten and printed ephemera is a scholarly subject in its own right is a matter of debate. Some people argue that it's no more than an adjunct to more formal records, while others appreciate ephemeral documents as evocative reminders of the past with their own contribution to make to the study of history.
My grandfather was a freelance writer and a regular contributor of stories under the name of Radcliffe Martin to The Boy's Own Paper. After the First World War he became a copywriter and ultimately a director of Crawford's, the leading advertising agency of the day. My father was also in advertising and his uncle, John Percival Martin, was a Methodist minister who retired to Exmoor and, rather late in life, wrote the Uncle the Elephant series of children's books illustrated by Quentin Blake. He began telling the stories to entertain his children who later encouraged him to write them down. They were finally published in book form when he was 84.
My childhood was spent in Hitchin where, from about the age of eight, I frequented Eric Moore's bookshop. I liked to buy books on military history, and also collected memorabilia relating to Britain's so-called small wars of the nineteenth century. In those days Eric employed an assistant who wore a plastic overall and gave the impression that books were a bit insanitary. When the time came I could have asked Eric for a job, but I chose to read Law at university and was articled to a firm in Lincoln's Inn. I spent twenty-five years running a succession of small solicitors' practices, during which time the legal profession changed considerably. It became intensely regulated, leaving the lawyer with very little scope for imagination or creativity, at least, at the level in which I was engaged. I'm sure it's beneficial to have a variety of work experience but, with hindsight, I wish that I had read History.
In 1979 Cathy and I began dabbling in bookselling to supplement our modest incomes. There are very few ideal models for running a bookselling business, in which there is usually an inherent degree of chaos involved. We began by producing a few catalogues during the 1980s mainly containing stock that we had bought from Maurice Rickards's ephemera bazaars. Rickards had founded The Ephemera Society in 1975 in his home in Fitzroy Square, and was in many ways quite an inspirational person through his writing and lectures. The first ephemera bazaar was held in the following year, and became a regular event, spurring many more dealers to enter the field.
Maurice Rickards was one of the first people to become interested in the idea of image banks. He recognised that there was a market, particularly amongst writers and teachers, for specific images. When I started, you had to trawl the bookshops of Cecil Court looking for illustrated ephemera, or Andrew Block's shop in Bloomsbury, the remnants of whose stock we bought in 1986. Nowadays the idea has come full circle with the huge digital picture libraries on the internet. The Look and Learn History Picture Library (www.lookandlearn.com) provides downloadable images at £2 an item, and includes the Peter Jackson collection of ephemera. Peter Jackson was a founder member of The Ephemera Society. His widow Valerie Jackson-Harris is chairman of the society and custodian of her late husband's collection.
After twenty-five years as a lawyer and my wife as a teacher, during which time we had brought up two children, the time had come to give up our day jobs. The best way for me to describe the difference between bookselling and the law is that I like 95 per cent of the people I meet in bookselling whereas I disliked 95 per cent of them in the law. Our business is run on a shoe-string. My wife looks after sales and does the book-keeping, and we employ a cataloguer. The skill of cataloguing is the ability to draw out the highlights. I'm not particularly good at it but over the years I've become pretty good at finding interesting material. We were very lucky to be left an enormous collection of ephemera by John Bramwell Taylor, who died in 2003. John had been an advertising copywriter before the Second World War when he joined the Royal East Kent Regiment and served in North Africa. On his return he suffered from post-traumatic stress disorder and spent the rest of his working life as a porter at the Travellers Club. He lived a solitary life in Spartan conditions in a rather appalling garret in Notting Hill, and spent his free time trailing around the markets in London looking for interesting items of printed ephemera. He had a deep knowledge of printing history, and was well known to the dealers and collectors in the field. Although John collected in all areas, the material that I sold to the National Fairground Archive at the University of Sheffield, including handbills and flyers for Victorian freak shows, is amongst the most important.
The thrill of the chase is undoubtedly what I enjoy best. Despite the huge amount of information available online, it's still possible to find things that have slipped through the net, so to speak. In fact the sheer volume of information makes it increasingly difficult to assimilate everything. Most booksellers don't have the staff or the time to sift through it all and, in the case of keyword searches, a simple misspelling will return the wrong result. In dealing with ephemera, you very often have to buy a large quantity of rubbish in order to acquire one item of interest. I've always been fascinated by examples of printing in unusual circumstances. A few years ago I had to buy eight boxes of rubbish in a provincial auction because one of them contained an example of a playbill for the Royal Arctic Theatre, devised by Captain Parry as a winter entertainment for his crew during his second voyage in search of the North-West passage in 1821-23. When the boxes of unwanted stuff get out of hand, I take them to the Great Southern Postcard and Paper Fairs at Tolworth Recreation Centre and price everything at £1.
This business can be so dominated by a single collector whose death, divorce or financial difficulties, for example, can cause an entire market to crumble. Steve Forbes's decision to sell his collection of letters and books related to Winston Churchill – the most comprehensive in private hands – robbed that market of its single biggest collector when it was sold by Christie's in 2010. The financial problems of one of the major collectors of English literature and poetry had a direct result on that market taking a tumble, which was perhaps inevitable after the recent death of Chris Johnson whose knowledge and expertise contributed so much to the renaissance of interest in collecting eighteenth-century poetry.
Subjects come and go and you need to be a bit flexible. Michael Portillo's BBC series on great British railway journeys, inspired by George Bradshaw who produced the first railway timetable in 1839, has resulted in a renewed interest in collecting Bradshaw's publications. We're not afraid of going off-piste, as I call it, and buying material outside our normal field. We bought a microphone that had been used by Churchill in one of his wartime broadcasts and sold it successfully. Provenance is of course the key when dealing with artefacts of this kind.
You would be foolish to purchase private papers without checking that the family is aware that they are on the market. When papers come into an estate, there is often a great temptation simply to dump them, unless they are very obviously of some significance. However, it is not uncommon for members of the family to come forward when they see the value ascribed by the market to what they previously regarded as waste paper.
The ABA security committee was successful recently in helping to convict the person responsible for a large number of autograph forgeries on eBay. Typically they would be cheap editions of a book with just a signature. I would always be wary of buying a signed copy without at least an inscription or a letter to support it. As for printed forgeries, there is very little original ephemera to be found relating to Jack the Ripper. A genuine example of the public notice produced by the police and pushed through letter boxes warning people about the murders in the East End is very difficult to find. The Titanic is also a subject that attracts forgery. Everything has been forged from life jackets to menus. Ian Fleming is also popular with the forgers. A colleague and I had a lucky find recently in a provincial auction where, amongst a quantity of rubbish, there was a letter written to a minor Antarctic explorer by Ian Fleming when he was working in naval intelligence during the war. It is the only known letter to survive from him at that period in his career.
In the past booksellers never quite knew what to do with ephemera apart from put it in a drawer. Since we started in the business there has been an increased awareness of the subject, partly encouraged by the huge rise in interest in family history, although it's made some people think that grandpa's ration book must be of value. We're at a stage where nostalgia plays a big part in the market. This – combined with the fact that a lot of people have very little concept of time – explains why a cornflakes packet from the 1950s can command more interest than a document of great antiquity. In the course of last week we bought a Spanish deed from 1547, a collection of letters written by a prisoner of war in a Japanese camp, and by someone who was killed in the Boer War. It's the variety of ephemera that appeals to me, and the opportunity to indulge my enjoyment in the widest sense of what has gone before.
Interviewed for The Book Collector Spring 2013