Michael Graves-Johnston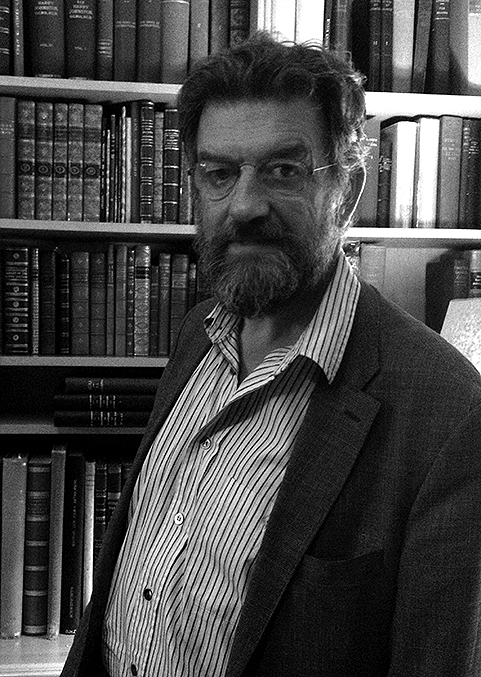 People know me as Oscar – which I picked up at school in Ireland where Michael is such a common name. It was the least derogatory name that I was given and it has stuck. My mother was from Limerick and my father from Armagh, where I grew up in a large house full of books. There was no television, and radio in Ireland was very limited and so one relied on the printed word for almost everything. By the time I left prep school, I had read the works of English and Irish authors, Russian, French and even Chinese. There wasn't much else to do as a child. In the late 1960s I went to Trinity College Dublin to read Philosophy and Psychology. While I was a student I helped a friend who was selling books to customers in America. It was only a temporary job and at that stage I had no interest in books beyond reading them.
When I left university in 1970, very few of my contemporaries expected to find a job. There was a recession in Britain and a war in Ireland, which had a very depressing effect upon the whole economy. I started to rebuild old cars as something to do to make money. Cars tend to rust away very quickly in Ireland because of the damp climate. Within a short time I realised how difficult it was to run a business as one after another of my suppliers in Belfast became smoking holes in the ground. On one occasion I narrowly avoided being killed when I was driving one minute behind a car that was blown up. When you're in your early twenties, you tend to think no more than a few months ahead and I wasn't particularly worried about my long-term prospects. The car-repair business eventually became impossible to run and I went to London, where my father had arranged for me to meet someone who was setting up a television channel. Nobody offered me anything and I went back to Ireland and found a job in Dublin in the fashion business, manufacturing clothing. My role was managerial and I found it quite fun for a short time.
The clothing business petered out and I came back to London in 1974 and spent a year or so driving a delivery van. My then girlfriend and I had some friends who were working in West Africa and in 1976 we went to visit them and had a very interesting time travelling around. On our second day we were arrested in the People's Republic of Benin because we didn't have the right papers. We managed to talk our way out of trouble but not without experiencing something of the extraordinary place. The republic had only recently been established and was in the grip of a Marxist regime. The only other Europeans in Benin were East Germans whose papers were in perfect order. The Chief of Police was not only very drunk but psychotic and convinced that we were intent on overthrowing his country.
One has to admire the endurance of the early explorers, who had no choice but to walk across the southern part of West Africa, unless they were carried. We travelled around in cars and lorries. Horses aren't found in the southern part along the coast because they are killed by the tsetse fly. We were in Upper Volta, or Burkina Faso as it is now called, when my girlfriend got malaria. She was turned away from the American hospital as she wasn't American. The local hospital was like something out of Monty Python, and she was eventually treated by an African woman who took some leaves off a tree in her compound, boiled them, rubbed them on my friend and broke the fever.
When I came back from my second trip to Africa in 1978 I decided that I wanted to deal in books. John Hewitt, an art-dealer friend, advised me that there was no money in books on philosophy and psychology and I should sell books on Africa. I advertised in the Bookdealer and went around London collecting material for my first catalogue of African art, archaeology and ethnography. John gave me some names for the mailing list and I found the relevant museums and libraries in The World of Learning and the other reference works that the trade relied on before the internet made information so accessible. Between 1970 and 1997 the British Museum's Department of Ethnography was known as the Museum of Mankind. William 'Bill' Fagg, the Keeper of the Department, had overseen the transfer of the collections from Bloomsbury to Burlington Gardens and was the author of several landmark studies on African sculpture. He regarded the term 'primitive' as pejorative in the context of his subject, and was responsible for the change of name to ethnographic or tribal art.
By the 1970s tribal art had become a recognised genre in collecting with all the major auction houses holding regular sales. There was a dealer called Michael Wimbledon who had a shop off High Street, Kensington, specialising in books on the subject. When the lease ran out he moved to private premises in Forest Hill. I briefly thought about opening a shop, but decided against it after wasting six months arguing with estate agents over premises in Pimlico. The experience taught me that the time would have been better spent buying and selling books from home. I enjoy the freedom of not having the overheads that go with a shop or employing staff. It enables me to be flexible and to alter the way I buy and sell as circumstances demand. I've never been busier than I am at the moment or perhaps I'm just not as young as I was. Whatever the reason for it, the recession hasn't noticeably upset my business. I'm still learning how to sell books and consider myself to be better at buying them. Over the years I've built up very good clients and so I must be doing something right.
Historically the market for books on Africa was dominated by South African collectors of books on big game hunting, the great Victorian explorers and the Boer War – a market that rather petered out during the Apartheid years. The climate in South Africa is much more suitable for books than, for example, in West Africa where they don't survive unless kept in a sealed and air-conditioned environment. I can always tell if a book has been in West Africa – even if it's been well looked after. There are a few indigenous book collectors in Nigeria but almost everything is against them from the climate to the government. I spent a week showing two Nigerian librarians around London recently. They came from Kano in the north of the country and were very interested in learning about all aspects of librarianship. They are typical of the people in Nigeria who are trying to do good things but find it very difficult because of the level of corruption. It's not easy for them to communicate with us because people treat an e-mail from Nigeria with great suspicion.
Around the time of the Australian bicentenary in 1988, marking the first permanent European settlement, there was a tremendous demand for books on Australia. In many cases the prices haven't been matched since. In the 1980s books on Tibet came to the fore when Hollywood began to take an interest in Buddhism. A few years earlier they had been of no commercial value whatsoever in my experience. Now the attention is on China, but people tell me at the Hong Kong book fair that interest is limited at the moment to photograph albums and illustrated material. But if you take the example of the Japanese market, it started off quite slowly and gradually became more interested in foreign-language books on Japan and then foreign-language books per se. The Chinese are a learned culture with a great respect for books and will probably follow the same pattern.
Today antiquarian bookselling is about selling anything that is out of the ordinary or, in the case of a photograph album, unique. I try to sell books that are unusual in some way. Condition is also very important. First editions still have a great following but, in many cases, I slightly wonder what their purpose is. A friend told me that a gentleman always has three copies of a book – one to read, one to keep and one to lend. If you buy a first edition for a huge amount of money, you probably won't do any of those things. I have around 12,000 books in total of which 4000 are on the internet, which accounts for 10 per cent of my sales. It's a wonderful medium for buying but hopeless for selling antiquarian books. In internet bookselling, you make a sale but you don't make a customer.
The internet has made antiquarian books more valuable and secondhand books much less so.Years ago I used to sell the autobiography of Harry Hamilton Johnston, The Story of My Life, 1923, for £75. I bought one a couple of years ago and looked it up on ABE where there were around 200 copies ranging between $300 and £1. Harry Johnston was a very interesting man, a successful colonial administrator, a novelist and a painter who moved in influential circles and his autobiography is fascinating for many reasons apart from its African importance. But it is now worthless to me. If there are more than, say, three copies of a secondhand book on ABE, it will be difficult to sell; if there are more than thirty, you've had it.
In the mid-1980s I wrote a computer program to catalogue my books. It enabled me to replace the laborious business of typing up index cards to produce catalogues which I increased from two to six a year. I still produce a hard copy of my catalogue as a lot of people prefer to read a piece of paper than a computer screen and we are after all dealing with the printed word. I don't use new media such as Facebook. Encryption technologies on the internet are based on codes which are being broken all the time. It's better not to have too much information out there.
I was asked by Paul Minet to go on to the ABA's internet Committee as it was then called. They were having difficulties with their website which we managed to sort out and it now works very well. You can't just build a website and leave it; you have to keep fiddling with it and working on things. On the ABA Council people are constantly coming up with ideas to make things better for the members. Paul Mills, a dealer in South Africa who is a member of the ABA, runs AntiquarianAuctions. com which holds internet-based auctions every five weeks. Booksellers upload stock under their own name and deal directly with the buyer after the sale. There is a commission charge of 8 per cent on successful sales and no buyer's premium. Paul has offered to provide the software for the ABA to run something similar. I believe that it would be good for our members who are currently losing 30-40 per cent in charges when they buy and sell at auction. The annual ABA subscription is £400 and we need to ensure that it's worth everyone's while economically to be a member.
A lot of booksellers are worried by the development of e-book readers such as Kindle, but it would be far worse if people stopped reading. Printed books are only one way of disseminating knowledge and they will certainly stop being published at their present rate, which is good for our trade as antiquarian books will become more valuable. It is human nature to collect. People like to own something that is in some way different. The world population is increasing; there are fewer and fewer old books; the future of our trade has never been rosier.
Interviewed for The Book Collector Winter 2012 
Afterword
I was President of the ABA from 2015 to 2017, and am now on the ILAB committee as Security chair. Business carries on as before. 
Afterword added in 2018