John Price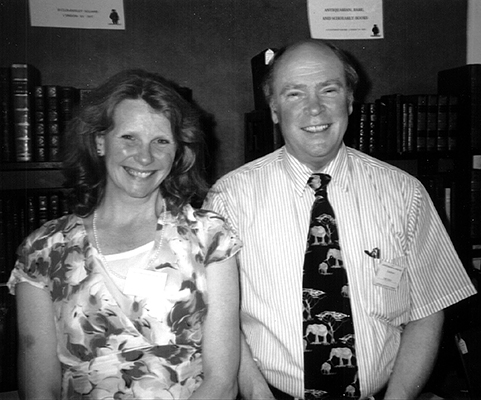 Book collecting is not a hobby that you find; it finds you. I didn't know I was a collector until I bought my first antiquarian book. At the time I was teaching English at the University of California, Riverside, where I came across my first rare bookdealer's catalogue. This was in the early 1960s and I can honestly say that it had never occurred to me that the wonderful leather-bound volumes I had been using in libraries could still be bought. That's how naive a boy from Texas can be.
I bought my first antiquarian books – two David Hume items – from a Peter Murray Hill catalogue. I had done my Ph.D thesis under Ernest Mossner, Hume's biographer, and decided to collect books by or about Hume. When the books arrived from England, I just gloated with pleasure and immediately went over to the library to look up the names of other antiquarian booksellers. Catalogues began to arrive from Thomas Thorp, Maggs, Quaritch and E. M. Lawson amongst others. It never occurred to me that there might also be antiquarian booksellers in America. My first book from Peter Murray Hill was a first edition of Hume's Political Discourses, which cost me six guineas. I went on adding to my collection for about fifteen years and finally sold it in 1976 to Chuo University in Japan.
Nowadays I could not possibly hope to replicate that collection for less than half a million pounds. To take the example of the Political Discourses, a copy with the front cover detached sold at auction last year for £1,800 – add buyer's premium and dealer's mark-up and you are looking at £3,500 today.
From the University of California I moved to Edinburgh in 1965 and took a job teaching English Literature at the university. It seemed an appropriate place for a Hume collector to be. As often happens with book collecting, I began to trade in order to improve my own collection. During this period I had the idea of starting a book business with my mother who lives in Texas. She was looking for something to do, and together we decided to sell books by post from my home town of Lamesa. This solved any tax problems with the British authorities because the business was being done from the United States as an American organisation. Also, as my mother was putting up the money, it seemed only reasonable to base the business on her side of the pond.
Lamesa is a very small place in the middle of nowhere with absolutely no tradition of bookselling. I bought the stock here, prepared the lists and sent all the information to my mother. She had the lists printed and mailed out from Lamesa. We had a couple of years when the business made a loss, but in general we did make money and Lamesa Booksellers kept us amused and entertained.
While I was still selling books out of Texas, I also started up a business in Edinburgh with an American colleague at the university. Richard Dana had also been trading in books while he was a student, and one evening we cooked up a scheme over several bottles of wine. Dick's wife suggested we should call the business R. and J. Balding, on the basis that Dick was losing his hair and mine had quite clearly gone.
We became business partners and the firm of R. and J. Balding started up in 1972. I was still working full-time at Edinburgh University, and the day-to-day running of the firm was entirely in Dick's hands. For a couple of years I was involved in Balding's and Lamesa Booksellers simultaneously, but the charm of the business was beginning to wear off for my mother and Lamesa gradually faded into the background.
Dick was instrumental in getting R. and J. Balding into the ABA, with the help of Ian and Senga Grant, with whom Dick was very friendly. Ian was President at the time and I'm sure that helped our application. In 1981 the business went bust and I can give some reasons why this happened: the base rate was 15% in the late '70s; the pound was strong against the dollar – US$2.46 to the pound was hardly an inducement for Americans to buy from us; meanwhile, business rates in Edinburgh tripled. We had recently moved into a shop in Great King Street and done it up lavishly, which probably contributed to our going bust.
I have no idea if Dick is still in the trade; he returned to Minnesota somewhat abruptly after the receiver was appointed. Spike Hughes was also a partner in the business but had withdrawn before we went bust and is now a successful bookseller in Peeblesshire. Similarly Alan Grant was also associated with Balding's and now runs Grant & Shaw in Edinburgh.
While I was enjoying my university work, I thought of full-time bookselling as something for my retirement. In the event I took early retirement at 51 and restarted trading in London under my own name in 1988. However for personal reasons I did not get going in earnest until 1992. I had originally planned to concentrate on the collection market in my field of the history of ideas and the Scottish Enlightenment. And I did manage to sell one small collection, but had four or five others on the go just as this market all but disappeared. I still have – and believe in – a collection of books by or about Edward Gibbon, which I started building up in time for the bicentenary of his death in 1994, thinking this would be the perfect time to sell it. Guess what? It wasn't.
When I started trading again, I also thought it would be a good idea to specialise in the books I liked. Now I have learnt that any book you can sell is a nice book to have in stock, whether it be eighteenth-century philosophy or a modern first. Marjorie McNaughtan gave me a most valuable piece of advice when she said 'a book is worth what you can sell it for'. When I started out, I swallowed hook, line and sinker the view that books were different from other commodities. Of course they can be marketed in different ways from, say, potatoes, and they appeal to different people. But they have no metaphysical status that entitles them to reverent consideration. They last longer than potatoes, but they are still a commodity to be traded like any other.
Last summer I began doing book fairs at the Royal National Hotel, where I have met two or three good customers. When Balding's got going, we did a couple of ABA fairs in London, which I found boring beyond belief – obviously I have mellowed in the last twenty years because I now very much enjoy doing fairs.
Nowadays most of my customers are British, German or Japanese, and a good third of them are academics. This means, in some cases, that I do not have to be too fussy about condition. In fact some of my customers actively prefer books that are falling to bits because they can buy them cheaply. Today books in fine condition command a premium. If you are an academic using these books for your work, a book that costs £50 is just as good as another copy in a splendiferous binding for £500.
All my cataloguing is done on the computer. My stock is not yet on the Internet but that's something I'm aiming for. North Americans like the new technology and are geared up for it. In my experience there's no rhyme or reason for what customers order from a catalogue. At the moment I have about thirty books in stock that I consider to be very important. The bibliographical differences between them and the few other known copies are significant – they may even be on a fashionable subject such as animal issues – and yet I still cannot sell them.
I have also had the experience of putting an item in a list three or four times, and finally receiving several orders for it from customers who must have seen it three or four times before. I suppose the attention wanders and the eye becomes tired, which is one of the reasons why short frequent lists are probably more effective than a long compendium. The place to find bargains is at the back of a long catalogue.
At any one time certain subjects are fashionable. In the '30s this was the case with Bernard Shaw and now you can hardly give his books away. In a hundred years time I cannot believe that people will be paying today's high prices for Ian Fleming. Books by women authors have been in fashion for some time and interest seems to have become even stronger. Books on education are also doing well. Marjorie McNaughtan probably helped them along when she put her collection into Bloomsbury Book Auctions in 1985.
Meanwhile poetry is almost completely overlooked. I can think of one notable trader who has a magnificent collection of poetry books and cannot sell them. Twenty years ago eighteenth-century poetry was very saleable. Academics tell me that it's starting to come back into fashion. More and more articles are appearing in journals. Instead of having, say, five articles a year on Alexander Pope, there are now 50 or more. And when this happens, academic interest in Pope picks up and this in turn leads to libraries and individuals becoming more interested in adding to their collections.
I hate saying things like this but, in general, I have found booksellers more approachable and friendly than academics. If I do have one axe to grind, it is that some booksellers – usually at the top of the trade – pretend to a knowledge they simply do not have. In my own area of books, I have been told many incorrect things as matters of fact by dealers depending on outdated bibliographical information. But ignorance is something out of which we can all make a profit. People have certainly gained from my own ignorance when it comes to bindings, for example. Equally there are quite a few exceptionally good booksellers whom I admire enormously and some are very good friends.
The nice thing about my present situation is that I have kept my hand in academia. I was an Honorary Fellow of Edinburgh University for six years after my retirement and I now hold a similar post at the University of London – and can almost remember what it's called. This may sound incredibly pretentious but I think of myself as a scholar first and a bookseller by accident, but I get an equal amount of fun from both.
Interviewed for the Bookdealer in August 1995