Julia Elton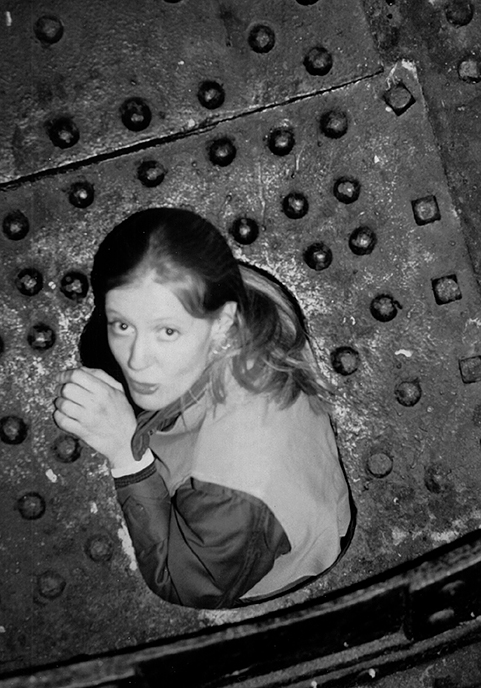 I don't suppose many people can pinpoint the exact day when their old life came to an end and a new one began. This happened to me in October 1974 when Ben Weinreb burst into my life. At the time I had come down from university and was sitting at home doing very little – a bit of bridge and the odd dressmaking class.
My father was Sir Arthur Elton, the documentary film maker and collector of books, pictures and ephemera relating to the history of transport. He died about twenty years ago, leaving his collection to the nation in lieu of death duties.
After various vicissitudes, Ben Weinreb came down to our house at Clevedon to assess the collection and to decide how it should be handled and passed over to the Treasury.
Ben immediately took command of the situation and me. I remember falling back in horror when he suggested I should catalogue the collection. Neither he nor his staff had time for the job and he couldn't form an opinion of the vast material without a proper catalogue. Of course I'd never done anything like this before. But Ben and his wife, Joan, were both insistent and very encouraging. 'Just do it', said Ben – and I did.
My father began collecting when he was a boy. He was a keen train spotter, but discovered there was more to the subject when Dendy Marshall's Centenary History of the Liverpool and Manchester Railway appeared in 1930. Influenced by this work, his collecting widened to include not only the source books, but also prints, drawings and the whole iconography of railway history.
Looking back on my catalogue of his collection, I'm appalled by some of the mistakes. But I did learn many of the landmark names in the history of engineering. I also acquired a new confidence, and a growing interest in the subject. When the work was finished, I went up to London and rang Ben from a telephone box. 'Oh yes', he said, 'Now you want a job, don't you?' Actually I wasn't ready to make any commitment at that stage, but my coins ran out and I didn't have the nerve to ring him back. So that was it – I joined B. Weinreb Architectural Books on the following Monday.
From my first day, I absolutely loved the office. Of course, I was very much at the bottom of the heap, doing the petty cash and buying the lunch. But it was terrific fun working with Hugh Pagan, Joe Greenbury and Priscilla Wrightson in Ben's wonderfully idiosyncratic business. After a while I became Ben's secretary and spent five years working directly for him and, at the same time, cataloguing engineering books, which eventually became my full-time responsibility.
Ben was one of the first dealers to spot the potential of the subject and, over the years, he accumulated quite a collection. When he turned me loose on my father's books, he probably viewed the exercise as a useful training for a future employee. Anyone who worked for Ben tended to become cast in his own distinctive mould. Hugh and Joe, now of Hugh Pagan Limited, very much inherited the mantle of architecture. And Priscilla is working on a bibliography of drawing and painting books – again, very Ben. I think we all learnt from Ben's insistence on good presentation and the art of telling an interesting story about a book. I still tend to write rather long catalogue notes, but the history of engineering does take some explaining.
In 1985 I left Ben after ten years, and started my own business. There were various factors involved: Weinreb Architectural Books wasn't going to provide me with a job for ever; I had just inherited a small legacy and I was already living with Frank Newby, a structural engineer who shares my passion for the subject. In short, everything seemed to come together. In April 1987, I did my first catalogue as Elton Engineering Books. It was called Bridges-Breakwaters-Exhibitions-Foundations- Railways-Roads-Theory, and won the rather short-lived Davies Prize for the best first catalogue. More recently, I'm rather proud of my sixth catalogue on Timber & Masonry, Iron & Steel, Cement & Concrete. These are some of my favourite subjects, and reinforced concrete sold particularly well!
It's still relatively easy to find books on civil engineering and building technology. I tend to buy from auction houses and other booksellers although, a few years ago, I had the opportunity to buy a wonderful library. At the moment, I seem to have an enormous amount of stock and must get down to cataloguing again. In the last year or so, it's all been rather interrupted by other projects.
My father was a long-standing member of the Newcomen Society, which is the prime learned society for the history of engineering and technology. I myself have been a council member for several years and am currently involved in a fair amount of committee work. Ben originally encouraged me to become immersed in the subject at all levels. I joined various societies, went to lectures and made notes about technical terms. Of course I'm very lucky to have Frank as a permanent source of explanation. It's helpful to know someone who can tell me about modulus of elasticity! Many of our friends are also distinguished engineers, and they've all been unfailingly generous with their knowledge.
I'm also Secretary of the Institution of Structural Engineers History Group, and organise a number of their expeditions. Eighteen months ago, we went on the most exciting trip to St Petersburg. Instead of looking at paintings, we spent all our time crawling around in roof spaces. The roof of the Hermitage burnt down in the early nineteenth century and was replaced by very advanced iron structures. It was tremendously exciting to see these socking great bits of ironwork, with which I was already so familiar from engravings and plans.
I spent most of last year working on the Thames Tunnel exhibition at the Institution of Civil Engineers. It was called The Triumphant Bore. A Celebration of Marc Brunel's Thames Tunnel. I contributed to the catalogue and prepared the bibliography. John May of J. & J. May Ltd., the major dealer in commemoratives, thought up the title and also wrote an article for the catalogue. My mother originally suggested the title Shield and Shaft, but we were advised against it by an American friend who thought it sounded too much like contraception.
 The construction of the Thames Tunnel from Wapping to Rotherhithe marks an important stage in the history of civil engineering, and makes a moving and exciting story. In the exhibition, we tried to marry up the engineering side with the social response, which is very much the philosophy behind my own bookselling – though I shall probably be had up in Pseuds Corner for saying so.
In March I'm looking forward to inspecting the work in progress on the Jubilee Line extension. I can't wait to stand there in my hard hat and watch the tunnelling machine at work. In this respect, I've rather lost interest in the Channel Tunnel. Of course it's a tremendous project, but the construction's over. I like to see something being built. No doubt people will soon be rushing through the Tunnel without so much as a thought for the men who died, the danger and the dirt.
I'm fascinated by the human side of engineering. After all, it really does underpin society – we couldn't function without adequate drainage, sewage, water supply and all the other great achievements of the Victorian engineers. It always amazes me that engineers don't go on more about this themselves. Anyway, over the years, my interest in the subject has become something of a crusade. I'm determined to put the history of engineering on the map. In some ways, it still remains the poor relation of other scientific subjects.

Of course some people think I'm slightly wacky – a woman sunk hook, line and sinker in the middle of engineering. I can only say it stimulates my imagination in a very positive way. Also, it's important for me to be engaged in a field where I can make a contribution. I've always wanted to be the 'best', and there was never any chance of that before Ben came along. At school, I played the oboe and went on to music college and then read music and Icelandic at Leeds University – my mother's Icelandic. But there was no hope of my ever becoming the 'best' oboist.
And then Ben introduced me to a subject in which I was able to find myself. I can honestly say that I feel perfectly fulfilled in my various activities to promote the history of engineering. It's such a wonderful subject – fighting nature on the front-line. Architectural history is more about style, which doesn't turn me on. I want to know how you convert a drawing into something that will stand up and stay up.
Interviewed for the Bookdealer in January 1994