Paul Orssich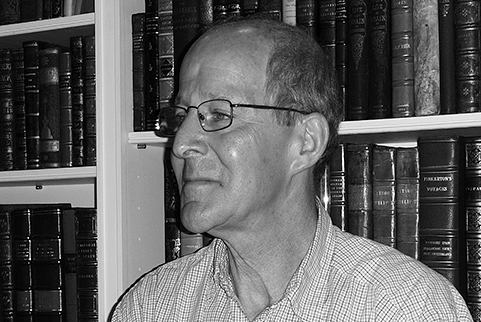 My father was brought up in Vienna and came to England just before the war. He trained horses for dressage and polo, including the Duke of Edinburgh's polo ponies, and was a founder member of the Windsor Horse Show. He was also a close friend of the late Joseph Allen of The Horseman's Bookshop, whom you interviewed some years ago. I enjoyed a privileged childhood and, after university in France, I went into the world of advertising and fashion photography. It was an immensely lucrative occupation, and I would be very pleased to earn, as a bookseller today, the rate I was earning as a photographer in the late 1960s. I was working on big corporate jobs for the likes of BOAC, Coca Cola, Courtaulds, Dunlop and Volvo. In time it began to strike me as a most parasitic occupation with no real meaning in life, and at about the same time I fell in love with the island of Menorca. I invested some of the money I had earned from photography first of all in a catering business and then, quite by accident, in fruit farming.
I bought the fruit orchards with no thought of farming but simply because they were in a beautiful location where I wanted to build a house. I then decided to take an active part in fruit farming, and came to an arrangement with the original owner to stay on for a season and show me the ropes. He spoke nothing except the Menorcan dialect of Spanish, which I had to learn pretty rapidly. The local farmers no doubt viewed me as a soft Englishman who had entered their rather harsh world – until they shook hands with me. 'Ah', they said, 'so you are a man who works'. The skin on my hands is very dry and I only have to pick up an agricultural tool for my hands to become calloused. But I did work hard in the orchards, digging irrigation channels by hand. It was what I wanted to do at the time, and I had the money to be able to do it.
Then I found myself getting divorced and having to sell everything. I was making frequent trips from Menorca to London, and an antique dealer in Menorca asked me to look out for old maps for him. On my next trip to London I went straight to the Map House and spent £300 on maps of Menorca. I took them back to the dealer, who didn't even look at them, gave me a cheque for £300 plus the cost of my flight, with instructions to do the same again. It became a regular exercise, and enabled me to cover my travelling costs.
On one occasion I returned to Menorca, my maps rolled up under my arm, when I bumped into another dealer who asked to see them and immediately gave me a cheque for £600. I returned to the Map House to place my usual order for £300 worth of maps of Menorca only to be told that I had exhausted their stock. The time had clearly come to look around and to expand my growing map business to include Mallorca, the Balearics, Valencia, Catalonia and gradually other parts of Spain. I speak almost perfect Spanish, and am fluent in the local dialect in which all business is conducted in the whole of Catalonia. This was an important factor in my being accepted in Balearic and Catalan business circles, and eventually becoming a buying agent for the Institut Cartogràfic de Catalunya.
There was a strong enthusiasm for old maps of Menorca, which is the best served of the Balearic Islands, cartographically speaking. Because of its strategic importance as a harbour where a large fleet could over-winter in perfect safety, Menorca received a lot of cartographic attention, not least from the British who occupied the island three times during the eighteenth century. For every map of Ibiza, there are ten of Mallorca, and for every ten of Mallorca, there are a hundred of Menorca.
When I came back to England in 1984 I continued to develop my map business, which had now expanded to include books, and published my first printed book catalogue. I'm entirely self-taught and modelled my catalogues on those of established dealers whom I admired. Early on in my map dealing I realised the importance of a good reference library – but only after making a costly mistake with a rather dull looking sea chart of Mexico, El Seno Mexicano. It turned out to be the first scientific mapping of the coast of Texas and of the greatest rarity. I had offered it all around the trade and eventually managed to sell it for £75; it later changed hands for £22,000. It was Clive Burden who alerted me to my mistake, and since that moment I have amassed a reference library of some 2,400 titles.
Fortunately from the very first day that I bought a map of Menorca, I retained a photocopy of it. I have now a research file with images of every single map of the Balearic Islands which has passed through my hands, including a lot of material which I haven't personally handled but seen in other collections, wherever possible recording prices, who bought it, where it went and other information privy to me. As a long-standing exhibitor at the monthly Bonnington Map Fair, I saw a large amount of material, and this has enabled me to compile a carto-bibliography of maps of the Balearic Islands which is almost complete.
I had the immense good fortune early on in my business to meet Juan Gili of the Dolphin Book Company just before he retired. A giant in his field, Juan was the most important Hispanic dealer outside Spain, a Catalan, immensely erudite and fiercely anti-Franco. When Franco forbade the speaking of Catalan in Spain, Gili published from England a Catalan grammar. I remember my visit to him at his home outside Oxford, and feeling humbled in his presence. I went with a friend of mine who was a private collector and always paid in cash. He chose a few books and I saw Gili's eyes light up as the pouch of cash was brought out. Then I put down the books I had chosen and very gently and graciously he suggested that I might not do very well with them as he had paid too much for them, and then guided me towards some pamphlets in a cupboard. I bought them and in due course sold them very well. I never knew if this was Gili's way of thanking me for bringing him a good client, or of helping a novice to avoid a commercial blunder; either way I was immensely grateful.
By 1989 I had a shop in Munster Road, Fulham, where there was then a concentration of dealers. Simon Finch, Christer von der Burg of Han-Shan Tang, Nicholas McConnell and Nicholas Bernstein were all in the area, which made for quite a bit of synergy. Collectors would come to Fulham, although it was not a good location for selling books on Hispanic Studies, but I sold enough prints through the shop window to pay the rent. It worked very well until the rents went up, and everyone started to leave the area. I closed my shop and bought my present house in Stockwell where I have worked ever since.
 If I had my life again, I'd do everything the same. Fruit farming was a wonderful experience and a true adventure; there was something about going back to nature, which I needed to get out of my system. But I've also loved the bookselling life, it's another kind of adventure, an intellectual one and the learning curve has never ceased.
It's a mistake to think of Spain as a single entity. In spite of the fact that General Franco did everything possible to make it one, Spain remains a federal union of provinces. This breeds tremendous regional chauvinism and accounts for the fact that Spanish collectors tend to focus on a specific province rather than a specific genre. In other words they will happily buy a book or a map, a painting or a print, as long as it relates to their region. I have found this willingness to collect both books and maps to be uncommon in other areas, but one can always play the regional card in Spain.
The nature of Spanish books is that they are rare. Spain has been subject to a succession of civil and natural upheavals, added to which books were produced in very short print runs until the 1930s. This is partly a reflection on the regional nature of the market. However, there are a very large number of English accounts of travels in Spain. When I catalogue a general book on the subject, I will always mention if there is, for example, a section on Catalonia or any other specific region. This will serve as the hook to draw in the regional collector who would very probably not be interested in a more general work on Spain.
The Spanish are very interested in foreigners' impressions of their country. In the eighteenth and nineteenth century these tended to be written by English and English and French travellers, and to be very uncomplimentary about the state of the roads, the hotels and the food – unless you took your own, or shot it on the way, it was likely to be appalling. Spain in the nineteenth century was not part of the standard Grand Tour, and it was considered quite adventurous to go there. However it was immensely popularised by the writings of Richard Ford and George Borrow, who wrote wonderful accounts dating from the 1840s and 1850s. They viewed Spain from totally different perspectives – Ford was an English gentleman with letters of introduction to the Spanish nobility; Borrow went to Spain to spread the New Testament in English, mixing with the underprivileged and working classes. I read Gatherings from Spain, the abridged version of Richard Ford's Handbook for Travellers in Spain while sitting on the balustrade of the terrace at my farm house in Menorca. I laughed so much, I nearly fell off – so little had changed since Ford was writing about Spain in 1845.
Once I felt that I had the Hispanic peninsula under my belt, I began to deal peripherally in books on the Pyrenees, Morocco, Gibraltar, Portugal, the Azores and the Canary Islands. I have always bought books on Latin America, mainly exploration – though these tend to be extremely pricey – and books on military history. The book market in Spain is largely dominated by three very important dealers, all based in Madrid, but the 'Godfather' of them is Luís Bardón, a third generation bookseller with an immense knowledge of Spanish books. He bought some very expensive books from me the other day and explained that he was capitalising his grandchildren's stock. Just as he was still selling books that his grandfather had bought for him, so Luís was buying for his grandchildren.
Travel books on Spain served as my Trojan horse into the world of Cervantes and the golden age of Spanish literature. As Shakespeare is to the English language, so Cervantes is to Spanish. Don Quixote is considered to be the first novel ever published in any language. It appeared in two parts, in 1605 and in 1615, and we are therefore in the middle of celebrations for the four hundredth anniversary of the first part, which took place in 2005 and was marked by any number of events and publications, and of the second part, in 2015. There is only one copy known in private hands of the first edition of both parts of Don Quixote, which was bought at Swann Galleries in New York about fifteen years ago for $1.6 million.
I caught the market just right in 2004, when I brought out a monothematic catalogue of editions of Don Quixote. A great number of Hispanic libraries were putting together exhibitions for the four hundredth anniversary, and my catalogue was almost a sell-out, in spite of being mainly composed of books that had failed to sell in previous catalogues. From an aesthetic point of view, the most desirable edition of Don Quixote is Don Joaquín Ibarra's of 1780, beautifully type-set and illustrated, and printed on lovely paper, the first of the editions sponsored by the Real Academia Española. Most of the seventeenth-century editions were printed on poor quality paper and are not particularly attractive. The market for Cervantes doesn't particularly depend on the language – the London editions of J. and R.Tonson in 1738, and John Bowle in 1781, which is incidentally one of the first critical editions, are both much sought after.
At a time when English literature was flourishing in the nineteenth century, Spanish literature was rather weak and didn't really recover until the so-called 'Generación del 1927', as the Spanish refer to the plethora of poets and writers who emerged at the same time as Federico García Lorca. As regards Latin America, the market really takes off with Gabriel García Marquez and his contemporaries in 'El Boom' years of the 1960s and 1970s, the Hispanic equivalent of the modern first editions market, with high spots achieving the same enormous prices. But as the price goes up, so the market will shrink. I have seen this happen with old maps, where the market has shrunk dramatically as most collectors can no longer aspire to own the high spots. It's no fun being a collector if you can't afford to add to your collection.
However secondhand books have never been cheaper. If you want to build a collection of twentieth-century books, the internet is undoubtedly a wonderful tool. I'm putting together for my own fun a collection on the development of the tourist industry in Spain from 1950 to 1965. In my opinion mass tourism has single-handedly changed the face of Spain and massively contributed to its economic prosperity. I've accumulated around 4,000 items, many of which are of negligible financial value but serve to document the subject. What I would really like to find is an airline ticket for one of the first charter flights to Spain in 1950.
The coming of the internet has changed the market beyond belief. The days when one could drive around the country and buy books for £5 and sell them for £20 have long gone. The rule of thumb in those days was to add a fiver to the cost price and double it. There are currently 228 copies on the internet, priced as low as £2, of a book which I used to sell for £40. It's no longer possible to go to a book fair and buy something outside your field just following your nose, or even your head. You're sure to find several copies online at a fraction of the price you've just paid.
Nowadays one hears people say proudly, 'there's no copy on the internet', implying that it's very rare, but failing to take into account the number of dealers who don't put their stock online. The other day someone bought a copy against me at auction of Henry Swinburne's Travels through Spain in the Years 1775 and 1776. In conversation after the sale it emerged that he thought it was a very rare book as there was no copy on the internet. Actually I have eight copies in stock, and I know a dealer in Madrid has seven, so that's fifteen I can think of without really trying. Auction prices can distort the true market value, as specialist dealers will try to ensure that books in their traditional patch don't sell too cheaply, or a newcomer loses his head.
If I put my Spanish books on the internet, after twenty-seven years in the Hispanic market, any savvy book buyer knows I haven't been able to sell them through my catalogues. Therefore the price is negotiable. You could say that anyone who puts a book on the internet hasn't got a client for it; they may even be 'fishing' for one. I have known people to put books on the internet which they don't possess, just to measure the level of interest. Which comes first – the client or the book? One of the internet databases tried to stop this practice by grading their sellers – a low star rating may indicate that you haven't fulfilled all the orders you have received. When my catalogues have been out for, say, three months, I put the unsold items on the internet, the results are poor but I do capture the odd client in that way.
I believe that ultimately the control of the secondhand book market will be dominated by a small number of very big dealers, with huge inventories and warehouses. If one can amass a sufficiently large stock and persuade one's customers to patronise your own website, then one avoids price comparisons and the high commission charges of some of the internet databases. The critical mass for the book trade seems to be around 30,000 titles, and a number of Spanish dealers that I know, who have that figure online, report good returns.
I have always placed an immense amount of trust in my clients, which is totally contrary to the methods of the new generation of internet booksellers. I do most of my business on a 'nod and a handshake.' There's very little written down. I've often sent a £1000 book to someone I don't know, and never had a bad debt. I have to remember that my clients can usually walk into the shop of one of my Spanish colleagues and hold the book in their hand, but I'm in London so I take great pains in cataloguing, noting any defects in minute detail, but it's not the same as walking into a shop. Sometimes I wonder what I'm doing in London trying to deal in Spanish books. Obviously it would make more sense to be in Madrid or Barcelona, but London's where I like to be.                 
Interviewed for The Bookdealer in November 2007
Afterword
More than 10 years on from my interview in 2007, I got my predictions about the effect of the internet wrong! At the time I thought that the market for second hand books would be dominated by a few dealers with massive stocks, but the pressure of the internet has pushed prices generally downwards. Some time ago I tried to move a large quantity of academic books by conspicuously pricing them 30 per cent below the lowest price on the net, believing that I would acquire a reputation for good value…. but 6 months later I found that my prices had been undercut by others, leaving my stock looking rather dear. I had offered only 2,500 titles, so a price revision would be laborious but possible. But not so, for a dealer with an online stock of  60,000 titles, it would take years to readjust the values! 
I see the internet as a large lake full of fish, sooner or later all the big fish get caught and the minnows get bigger and more prized. Maybe some of my minnows will become prized catches… but in the meantime I am getting older. 
I miss the old days of travelling around the country bookshops or abroad, never knowing what one might find. Today I travel little, it's all on the internet. But after 35 years in the book trade, I can put my hand on my heart and say that I have never had a dull day. As I edge towards retirement, I can look back at years of fun, of intellectual stimulation, of meeting delightful people, of the excitement of commercial risk, and the continuous joy of learning.
Afterword added in March 2018