Richard Hatchwell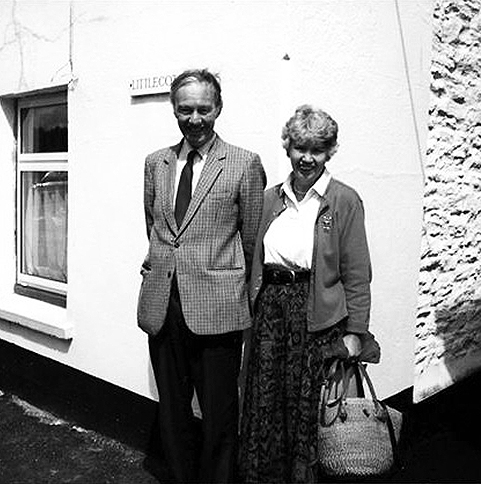 When I was thirteen I went to Dean Close in Cheltenham as a classical scholar. After spending a Christmas book token on a copy of Percy Muir's Book-Collecting as a Hobby, my interest was firmly established. But it was my House Master who set the seal on my future as a bookseller. The school was not far from Thirlestaine Hall, the former home of Sir Thomas Phillipps, and he advised me to get on my bicycle and go and have a look at the books. The caretaker let me in by the side door and allowed me to see one room – it was piled high with books, though most were already packed in boxes. I had no idea at the time that I was looking at the Phillipps collection. When I did make the connection some time later, it gave me a sort of proprietary interest in it, as I realised that I must have seen the great library a couple of years before the Robinson brothers bought it in 1946. Looking back it seems inevitable that I should become a bookseller. 
I was born in the Swan Hotel in Alton in 1927. My mother came from a brewing and hotel-keeping family and she and my father managed The Swan in Alton where I was born in 1927. However, my father wanted to run his own business and, in 1931, he bought The Old Bell in Malmesbury where I grew up before going to school in Cheltenham. I didn't take Higher Certificate, but joined the Navy in 1944. After three years' service, I came out with not much idea of what I wanted to do, except that it had to be something with books. I answered an advertisement in the TLS for an assistant librarian in Reigate. Within a very short time, I decided it wasn't for me and began to cast around for alternative employment. 
Reigate had an excellent new bookshop, the Ancient House, owned and run by Tom Langdon. Tom had also been in the Navy, and before the War he had been in charge of the rare book department at Foyles in Charing Cross Road. We became friends and spent many evenings together, usually hilariously, in one of the local pubs or hotels. Tom knew I was fed up with my job at the library and advised me to go into the rare book trade. He wrote introductions for me to Maggs, Quaritch, and Thomas Thorp who took me on in their small shop in Berkeley Street. 
While I was working out my three months' notice at the library, I met another bookseller, John Ruston, who was running a bookshop in Redhill at the time. John became a life-long friend and was to play a great role in my future bookselling. After moving to Manchester for a while, he settled in Bournemouth where he bought Alan Thomas's shop, who had taken it over from Horace G. Commin. It was John who put me in the atmosphere of rare bookselling. 
When I joined Thorp's, the firm was about to move from Berkeley Street to larger premises in Albemarle Street, entailing much humping of boxes. A pair of young shoulders would obviously be useful – the other staff at Thorp's were Walter Harris the manager, and Ernest the packer, both in their sixties. Walter, whom I always called 'Mr Harris', was a bookseller of the old school and had been with Thorp's under Tom's father when the bushiness was in Bond Street. He was a specialist in nineteenth-century literature and could recite all the points of Dickens in original parts without looking at a reference book. A later addition was Margaret Montgomery who looked after the accounts after the move to Albemarle Street. She left in due course and opened a bookshop in Canterbury specialising in children's books. Tom Thorp himself was a curious character, short sighted to a degree, and consequently a rather shy man, but always kind and polite. His younger brother Hugh ran the bookshop in Guildford. 
After only a few weeks, I was asked to compile a catalogue of eighteenth century books. Although a lot of the books had already been catalogued, quite a number hadn't. Guided by descriptions in previous catalogues, I began to teach myself and quickly discovered that I was in my element – handling the books, reading them, finding out what they were about. On one occasion, I came across what purported to be an early edition of Boccaccio. The paper didn't feel right and I was generally puzzled by it, until Walter pointed out that it was an eighteenth century facsimile. I was delighted to have had my suspicion confirmed. I was sitting at my desk one morning when the door opened and a fairly rough-looking tramp entered wearing an overcoat that reached to the ground. We had a box in the shop containing half- crowns for such visitations, but as I got up to give the man one, Walter walked across and shook hands with him, 'Good morning Mr Foyle'. That was my only contact with Willie Foyle. 
This London life continued for about two years, until I became tired of living there. The opportunity came up for me to move to the Guildford shop in 1950. The former manager, Charles Traylen, had left some time before and set up shop in premises opposite Thorp's. The current manager was a rather fussy elderly man who probably resented my appearance, knowing that I was destined eventually to replace him, which I did on his retirement. The shop in Guildford was a veritable warren of books on several floors, not all of which were entirely safe. In fact several storeys were eventually put out of bounds to customers. 
Hugh Thorp would arrive almost every morning with a carload of books of all kinds, the product of his previous day's buying. It was my job to sort them out, mark them off, and put them ready for cataloguing or immediate sale before the next carload arrived. It was an experience beyond price for a budding bookseller. In due course I began to attend sales, which in those days would take place on the actual premises, rather than in sale rooms. I had encountered the ring in London, when I was sent to bid at sales for the firm, and been obliged to take part in the settlement afterwards. This usually took place in Joseph's shop in Charing Cross Road, or in an upstairs room at Marks' shop further up the road. These occasions, though conducted in a most gentlemanly manner, often led to a degree of skulduggery that I found very difficult to take. 
Charles Traylen and Frank Hammond ran the ring at country sales. I've known auctioneers get up at the end of a sale and say, 'Gentlemen, I've put a room at your disposal'. They knew perfectly well what was going on. The catalogues would often be prepared by the local bookseller who might not know much about old books, which would be bundled up in large mixed lots, and catalogued without estimates. Sometimes there might be rings within rings, when the little country booksellers were told to go away after the first settlement, the big boys staying on for the next round of the knock-out. Senior members of the trade were among the most assiduous in their participation in the ring. I told myself I would have nothing to do with the ring if I ever had my own business. 
When my father died in August 1952, I gave in my notice to Hugh and went back to Malmesbury to live with my mother who was not in good health. She was living in accommodation in an antique shop which my father had bought during the War. The shop was at 52 Gloucester Street, right opposite The Old Bell. So there I was, aged twenty-five, with a shop-full of antiques that I knew little or nothing about. My mother agreed that, as she sold the antiques, I could replace them with books. I put what books of my own I had into the shop, and very slowly the word got around. Then just before Christmas my mother died. I had £200 in hand and the free use and eventual ownership of the premises in Gloucester Street. Prices of books may have been low by current standards, but £200 didn't last long. 
One day I went to Lloyds Bank in Malmesbury to see the manager, a genial character called Marks, known in the town as Harpo. I was putting my problem to him when he cut me short, 'Mr Hatchwell. I have known your father, your mother and yourself for some ten or fifteen years. I shall honour whatever cheque you choose to write'. Some weeks later I was in the bank and Harpo came across to the counter and whispered in a very conspiratorial manner,'people buy these books do they?' I assured him that they did and left. What a difference between Harpo and modern banking practice. 
It was a lovely shop with a wonderful view at the back and a big basement where I stored most of my old books. I knew the local people wouldn't come into the shop if they saw a lot of old calf through the window. I kept nineteenth-century and later books in the shop, and there was a sixpenny shelf in the porch. But business was very slow to start with. The country was still recovering from the War, and books were not high on most people's list of priorities. A friend told me that the local people put a shop like mine on a par with Malmesbury Abbey: they might look around the porch, but they were frightened to go in. 
However, it was a great asset for my business to be right opposite The Old Bell, and I did receive a lot of visits from well-known collectors and librarians and others who were staying there. Among them was Major J. R .Abbey who was amazed to find a shop full of eighteenth-century books in the country.After a brief look round the stock, he turned to me and said, 'This isn't your stock, is it?' I assured him that it was and offered to put him on my mailing list. 'Thank you. No', he replied, 'I get far too many catalogues already'. Siegfried Sassoon was another visitor, and often bought a book. I liked him; he was someone you could talk to. 
John Betjeman would also come in after a good lunch at the The Old Bell. He was a tremendous collector, and very knowledgeable about local topography, and of course Swindon and its railway history. Bertrand Russell had been having lunch at The Old Bell when he saw a CND poster in my window. He came in to ask if local opinion was favourable; I had to tell him that on the whole it was not. Peter Wilson, the chairman of Sotheby's, called in one day and offered to take off my hands any library that I could not cope with. I declined, gracefully I hope, but rather wondered that Sotheby's should be touting for business from a small country bookseller. 
Most auctions in the area were held by Bruton Knowles of Gloucester, where Arthur Negus was in charge of the Fine Art department. Arthur asked me to take over the cataloguing and valuation of books. This I did and, in the course of my long association with the firm, I valued well over a hundred libraries for them and catalogued many sales. Arthur and I became great friends and, shortly before he died, he entrusted me with the sale of two boxes of books. Among them was a lovely copy of the first edition of the Annalia Dubrensia, 1636, which Bent Juel- Jensen bought, and later contributed an introduction to the facsimile edition published in 1973. There was also a manuscript volume of farriery accounts, 1620- 1621, for the Prince of Wales before he became King Charles I, which is now in the Royal Library Windsor. 
There were also monthly sales at Ovens of Cirencester, always uncatalogued and, on one occasion, containing a copy of Thornton's The Temple of Flora. I used to attend these sales with G. V. M. Heap, an admired colleague and fierce opponent of the ring, who had been a classics don at Cambridge until he retired and opened a bookshop in Cirencester. Eventually he left Cirencester, claiming there were more bogus people living in and around the town than anywhere else to his knowledge. He opened a shop in Wells where he remained for a number of years before finally retiring from bookselling.

I was fortunate to be in at the tail-end of the dispersal of so many good libraries belonging to the rural clergy. Many of these had sufficient means to indulge their extra-clerical interests which were many and varied, with astronomy, botany, ornithology and gardening books in abundance. The disappearance of this type of rural clergy is to be regretted. Many of them may not have been perfect parish priests, but they were learned men, frequently antiquaries, and they made a great contribution to the life and history of the parish in other ways. 
Being of an antiquarian turn of mind, I joined the Wiltshire Archaeological and Natural History Society (WANHS) soon after opening the shop. Over the years I have issued thirty or so catalogues on Wiltshire topography. It helped me to become very well known in Wiltshire, and certainly brought in a lot of libraries and customers. Topography isn't so fashionable these days but, in my experience, provincial booksellers could benefit from making more of it. I started collecting drawings and paintings of Malmesbury and Wiltshire when I spotted John Britton's watercolour of Malmesbury Market Cross in a sale at Christie's. 
The collection steadily grew to almost unmanageable proportions and about ten years ago I sold most of it to the museum in Devizes, now the Wiltshire Heritage Museum, retaining only the Malmesbury and Stonehenge items. My catalogues of Wiltshire material helped to establish relations with the museum, where I eventually became the first Honorary Keeper of Prints and Drawings. This resulted in the publication in 2005 of Art in Wiltshire, my catalogue of the WANHS's superb collection of paintings, drawings, maps and prints. 
My most important visitor to the shop however was Geoffrey Grigson who lived a few miles away and eventually became my brother-in-law. Jane Grigson was working at Thames & Hudson with her sister, Mary, and the two of us became the object of Geoffrey's match-making. Eva Neurath, wife of Walter who founded Thames & Hudson, had originally been married to an antiquarian bookseller, and said to Mary, 'Never marry one'. I'm glad to say that Mary ignored her advice and we were married in November 1956. Mary entered wholeheartedly into the life of antiquarian bookselling, first as secretary and then as collaborator in many other aspects of the business. In due course we decided that the shop in Gloucester Street would not be suitable for the family of four that we were planning. 
While we were still living in Gloucester Street, the opportunity arose to buy the Old Rectory at Little Somerford. It was a wonderful house and ideal for our purposes. There were lots of rooms which I could fill with books, and the ceilings were high enough to accommodate the tall bookcases from our shop. We moved in at Easter 1960, and Mary's instinctive hospitality came into its own. She was a wonderful hostess and we got to know private and trade customers so much better over coffee, tea, a light lunch, or during a night's stay. David Low would turn up occasionally on a buying tour and we would return the visit some time after, with a good lunch to be had on both occasions. I first met David when I was working in London, and he had a shop at 17 Cecil Court. But I only got to know him well when he moved out to Emmington, a hamlet near Oxford. David wrote in his memoirs that 'bookshop' didn't quite fit my circumstances at the Old Rectory 'with its atmosphere of some lost Victorian Sunday. Maybe it is related to the lunch with the well-behaved children whom one has seen as babies, and to whom now, as great uncle bookseller, one brings boiled sweets?' (With All Faults, 1973). 
I've always liked library furniture and tried to acquire interesting pieces to furnish our house. There's a marvellous library table in Autun, originally from a monastery and described as a 'table à pupitres mobiles', illustrated in André Masson's Le Décor des Bibliothèques du Moyen Age à la Révolution, 1972. I had it copied by Ian Heseltine, who also made for me a copy of a fifteenth-century Chinese scroll cabinet – a most ingenious design based on a series of interchangeable boxes. We replaced the Chinese characters on the doors of the original cabinet with early printers' devices, and I use it to store my personal books. 
When the children began to leave home, Mary found she had the time to take up paper conservation. I had been giving her simple repairs to do, and she clearly had a flair for it. She found a tutor in London, and in due course became very expert indeed. I set up a laboratory for her in one room and from then on she never lacked work, either from me, from private owners, or from the trade – as far away as California. 
Mary had spent part of her university career in Strasbourg, and we shared a great love of France. In 1962 we bought a small property about sixty miles south of Tours in very 'untouristy' but beautiful country. We used to go there for six weeks every summer, August being a rather dead month for bookselling, especially when we no longer had the shop. I got into the habit of making a tour of French provincial bookshops, and was a regular visitor at the Librairie Durance and the Librairie Bellanger in Nantes, which I had first visited on a walking holiday before I was married. At that time I don't think there was an available guide to French provincial bookshops, so I had to guess at the most suitable route for my purposes. I travelled via Rennes, Tours, Poitiers and Nantes and found that, except for one or two shops that David Low had visited, I was the first English bookseller in those parts. 
In due course we had the opportunity of buying a bookshop in Tours, at the Cathedral end of the Rue de la Scellerie. It was very tempting, but I could foresee problems running two businesses in different countries. I was finally put off the idea by the sight of endless shelves of nineteenth- and twentieth-century books in wrappers, which form the major part of the stock in most French shops. 
Perhaps my luckiest find in France was in a bookshop in St Estienne where my eye was caught by a very battered copy of Recueil des Plus Beaux Vers de Messieurs de Malherbe, Racan, Maynard, &c, Paris, 1638. I was about to put it back on the shelf when I noticed some writing in a rather faint hand on the verso of the title- page, 'This book was given me by Mr. Izaac Walton. August 22th 1668. Charles Cotton'. Needless to say it was added to my pile of purchases – a book illustrating the association of the two authors of The Complete Angler had to be of considerable interest. On closer inspection, it turned out to contain other notes in Cotton's hand. I showed the book to Peter Croft, who believed it to be the only known example of Cotton's hand, as he states in the introduction to his Autograph Poetry in the English Language, 1973. That information may of course be out of date by now. When I catalogued the book, I was very surprised not to sell it to an English library or collector. But it went to a safe home in the Osborn Collection at the Beinecke Library. 
As a bookseller, I would like to be remembered for my catalogues. How long do personal memories last – perhaps one generation, but not much more? During the last fifty or so years, I have issued about 180 catalogues or lists on a number of very disparate subjects from Stonehenge to Printing in Venice, and The Papacy to Books with Anglo-Saxon type. The list of my catalogues might suggest a somewhat dilettante approach to bookselling. If Geoffrey Grigson wanted to make a damning comment on someone, he would call them a dilettante. I can only say that it has all been so interesting. In his book, The Robinson Legend, Martin Hamlyn relates how his colleague Eric Bligh described the nature of antiquarian bookselling in terms of adventure. He was of course right, as Martin goes on to say, 'selling old books offers us adventures in the world of ideas, controversy, poetry, imagination and the whole gamut of human emotions; with the possibility (extremely faint) of riches'. I would add that it requires a good memory, an inquiring mind and luck. I chose Adventure as the title of a booklet I prepared, in which I describe my bookselling life with Mary, who died in 1995. I have since married again and now live with my wife, also called Mary, just outside Malmesbury. 
Three of our four children started their working lives in books. I think they saw what a nice life we had. My son Matthew worked for Swann Galleries in New York, before spending four or five years in the English Department at Bernard Quaritch. My daughter Lucy worked first for Stanley Crowe and then for Roy Davids at Sotheby's, and Emily worked for Hatchards before becoming a travel journalist. I asked all my children some years ago if they wanted to carry on my business, but they were all too happy and busy with their current occupations.
Five or six years ago we turned the business into a company in which my children became shareholders, and I was the director. When my health began to decline, I decided to close the company, and the remaining 2,500 or so books now belong to my children who are free to do as they please with them. I imagine the future of antiquarian (i.e. before 1850) bookselling belongs to firms like Maggs, Quaritch and one or two other, perhaps very specialist, dealers. I wouldn't encourage any of my eleven grandchildren to come into the trade. It's such a different world since my day. I'm told that when my name cropped up in conversation with a rather grand bookseller, I was referred to rather dismissively as 'that country bookseller'. Actually I've never wanted to be anything else. 
Interviewed for The Bookdealer in December 2007
Richard Hatchwell died on 30th July 2009