Rob Shepherd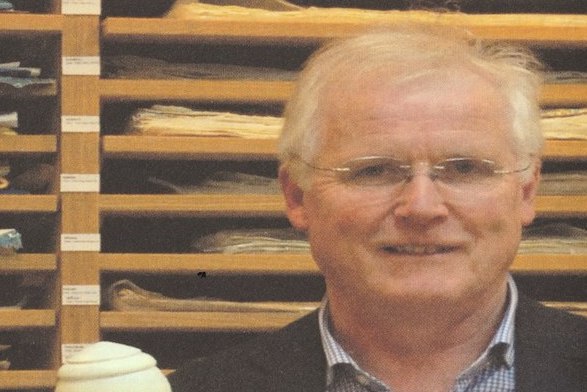 When I was a student, I wanted to become a painter. I studied Fine Art at West Surrey College of Art and Design in Farnham, where I bought my first old book in a local junk shop. I was primarily attracted to books as objects; I found them beautiful and extraordinarily good value. After leaving art school in 1973, I got a job driving a van for J.E.Hanger, the prosthetic limb manufacturers in Roehampton. I went all over the country delivering arms and legs to their customers, including a farmer in Norfolk who would use his spare leg to prop up the tractor when he changed a tyre. The limbs were beautifully made, involving a lot of fine leatherwork. I was fascinated by the craftsmanship, and would have liked a job in Hanger's workshop. In the event I continued to drive the van, and joined a bookbinding evening class at Camberwell College of Art.
Initially the idea was simply to learn how to repair my motley collection of cloth and leather-bound books, but I was very quickly smitten by bookbinding.  I wasn't a practical person or someone who had spent their childhood making things, but suddenly I found myself spending every spare moment fiddling about repairing books. Within a few weeks of starting at Camberwell, I walked into Sims Reed in Piccadilly Arcade, and told Max Reed that I was a bookbinder. He filled up a cardboard box with books, which I repaired during my evening classes at Camberwell and on my kitchen table. I must have done something right because Max continued to give me work, and shortly afterwards I visited Chelsea Rare Books. Leo and Philippa Bernard were very encouraging and we became great friends. They introduced me to Robin de Beaumont whom I would meet at book sales at Christie's South Kensington and he would give me his purchases to repair. In those days Robin was buying a lot of colour-plate books in gutta percha bindings, and I became quite good at restoration work.  I always think the art of restoration is partly what you don't do.
Without planning it, I found that I could make a living as a bookbinder. Before doing so I had a brief interlude, which I try to forget, teaching Art in a girls' school in Battersea. It was in the days when the Inner London Education Authority was desperate for teachers. I drove up to the interview in my van full of artificial limbs, parked on a double yellow line, and burst into the interviewer's office announcing that I couldn't stay long.  A fortnight later I received a letter asking me to start as soon as possible. On my first day I was locked in a store room with one of the girls who started shouting 'rape!'. I survived in teaching for a year.
By 1976 I was a full-time bookbinder with my own little studio, working exclusively for the London antiquarian trade. Thomas Heneage was my neighbour in Clapham. He had just started his book business, and was giving me repair work. At the time, his wife, Shaunagh had her own mail-order firm specialising in modern art reference books. In 1988, Thomas and I founded Shepherds Bookbinders Ltd, and Shaunagh became one of our shareholders. Although my business had been expanding and I employed a couple of people on a part-time basis, it was quite a big leap to take on premises in Rochester Row and engage more bookbinders. It was an excellent location for the bindery as it was in easy reach of the auction houses, and convenient for private customers. We started to deal directly with collectors who came into the shop, as they still do today. Most of our work was concerned with restoration. Janet Atkinson, the paper conservator, joined us from the College of Arms, and we did a lot of work for the archives of livery companies.
I quickly realised that it was only by selling bookbinding materials and decorative papers that we could afford to hold a decent stock and give our customers a good range of choice. For many years Malcolm Lamb of Harmatan Ltd, the tannery in Northamptonshire, gave us bookbinding leather on consignment, and I was able to fill the shop with their beautiful vegetable-dyed goatskins. In 2003 we had the opportunity to buy Falkiner Fine Papers. Decorative papers are a passion of mine, and at the moment I'm designing some for Shepherds.
After several years in Rochester Row, a change in share holding prompted me to approach David Cooper, a successful City solicitor and fanatical collector of fine bindings. I went to see David in his smart office with my well-prepared speech about what a marvellous company Shepherds was and why he should consider investing in it. He looked at me and said, 'O.K. Next?' He has a habit of going like a rapier to the heart of things. As Shepherds' Chairman, David initiated negotiations with Asprey, the jewellery and luxury goods retailer in Bond Street, that resulted in Shepherds' purchase of two of the oldest and most prestigious bookbinders in the country -  Zaehnsdorf and Sangorski & Sutcliffe.
Asprey had bought Sangorski & Sutcliffe in 1978 from Stanley Bray, George Sutcliffe's nephew, and acquired Zaehnsdorf ten years later. By the time that the firm went on an asset-selling spree, the binderies were known simply as SSZ Ltd., and were both under one roof in Bermondsey, the traditional leather district on the edge of the London docks. I had already made a failed attempt to persuade Naim Attallah, Asprey's then managing director, to sell the bookbinding business  -  although I did manage to poach one of their best finishers, Derek Reid, who is still with Shepherds. When David Cooper became Chairman, I knew that we could put together not just the money but also the legal expertise for a successful bid. And so we approached Asprey again with a much more heavyweight team. The negotiations went on for two and a half years. Asprey's would bring three legal advisers to all our meetings, and I remember one occasion when the Financial Director crashed his hand down on the table and said, 'I don't know how much your legal bills are, but I know how much these three are costing me and it's more than we're selling you the company for.' Asprey's legal bill was in fact more than the figure of half a million pounds which we paid for Zaehnsdorf and Sangorski & Sutcliffe.
On the day of signing the deal, I went to Bermondsey accompanied by a lawyer, who was present to make sure that I didn't say the wrong thing to the staff. Employees are protected under the Transfer of Undertakings (Protection of Employment) regulations when there is a change of business ownership. Unfortunately it's a general rule of life that employees hate change. The forty or so staff were assembled, and I stood up to make my carefully prepared speech about the 'good news' of the takeover. When I saw their completely glum faces, I panicked and started to ad lib until the lawyer tugged my sleeve and said 'that's enough, Robert'.
Acting in the dual capacity of booksellers and bookbinders, we signed a contract with Asprey to supply bound volumes for their London and New York stores. Overnight I had become a bookseller. I found myself on a plane to New York to visit Trump Tower, where Asprey had a fabulous showroom. They weren't selling to book collectors; their customers were the New York equivalent of the London carriage trade - and God bless them!  The market for luxury gifts was keeping fine binding alive. The majority of books supplied to Asprey were classic titles. It didn't take much intellectual effort or expertise to buy Tintin, Out of Africa or Churchill's The World Crisis, of which we always have a copy in production. Books illustrated by Arthur Rackham and Edmund Dulac were also very popular, and we rebound them in a wide range of decorative styles. To take a first edition of a book which has already been compromised by a later and perhaps not very good binding is one thing, but I wasn't comfortable taking a good copy of a book and putting it in a flashy leather binding. I'm the last person to suggest that a first edition in a dust jacket should be tampered with.  A book box, which can be a very decorative object, is a good solution; it protects the book and is also a way of celebrating it.
In due course there was a change of personnel in Asprey's New York book department, and we started working with Darren Winston very successfully for a couple of years. Darren was a bookseller in New York, who now has a shop in Connecticut. He was brilliant at finding just the right books for us to bind, and our trade with Asprey soon accounted for half of Shepherds' business. And then the terrorist attacks of 9/11 happened, stopping business with New York in its tracks. This was followed by the collapse of Lehman Brothers in 2008.
The economy eventually recovered but the taste in upmarket gifts had fundamentally changed, with a younger generation of financiers and dot.com millionaires preferring modern first editions in dust jackets and contemporary art for the walls of their minimalist apartments. The book trade has certainly changed since the days when Bumpus in Oxford Street and Hatchards in Piccadilly maintained whole departments devoted to fine bindings. Imperial Fine Books in New York is one of the few exceptions nowadays.
Following George Sutcliffe's example during the economic depression after the Wall Street Crash, Shepherds found a fresh source of income by acquiring suitable books through the antiquarian book trade, which we rebound and sold in our own catalogues. This approach sustained the business until recently when the focus of the bindery changed, and we are busy once again with wealthy private collectors, who commission us to bind books in beautiful bindings. Customers are coming to us from countries like Singapore; they are interested in the craft of fine binding and come to it with an open mind.
In 2015, Shepherds and Oak Knoll Press published The Cinderella of the Arts, a short history of Sangorski & Sutcliffe, as a successor to Lost on the Titanic, my previous book which celebrated the bindery's centenary in 2001. Drawing upon the company's archives, it tells the story of the Great Omar, a jewelled binding of the Rubáiyát of Omar Khayyám that went down with the Titanic. In The Cinderella of the Arts, I expanded the text and added fresh images to chart the history of Sangorski & Sutcliffe to the present day. It's the story, in part, of the significant role one trade bindery has played in preserving a noble craft.
When I was a student at Camberwell, I showed my tutor a binding by Robert Rivière & Son that I had picked up cheaply, expecting him to be excited by it. When he dismissed it as 'a mere trade binding', I thought to myself 'give me more trade'. Later on I realised that he was referring to the great division in bookbinding between the adherents of the Arts and Crafts movement - largely individualists - and the big commercial binderies where the sub-division of labour is essential in a craft that requires so many different skills. He believed that the work of Designer Bookbinders represented the future of the craft and that I should follow that path.
Howard Nixon, in his introduction to Edgar Mansfield's Modern Design in Bookbinding, 1966, describes Mansfield as 'an artist first and a craftsman second'. A decade later, the V&A Museum held a joint exhibition of the work of Mansfield and William Matthews, which consolidated bookbinding's new found status. By the 1970s and '80s, diploma courses in bookbinding were being replaced by degree courses in 'Book Arts'. Nowadays it's quite possible to hold such a degree without having bound a book. Of course I admire the bookbindings of Mansfield and Matthews, but my heroes are the unnamed men and women of the trade binderies who spent their working lives perfecting one of the many different skills in the complex process of hand bookbinding. There is a photograph of Sangorski & Sutcliffe staff in 1947 in The Cinderella of the Arts, showing eight women and twenty-four men, including Bernard Middleton's father. They were all fine craftspeople, and yet the names of less than a handful would be familiar to us today.
Training is the most serious issue facing the future of this ancient craft. The ending of bindery apprenticeships in the 1970s, and the disappearance of college courses has left a vacuum in the teaching of young bookbinders. After the takeover of Sangorski & Sutcliffe, Shepherds initiated its own training scheme and developed a series of courses covering bookbinding, restoration and associated crafts which we now run at our Gillingham Street store in Victoria. We have a second workshop in Wiltshire where most of our Japanese paper-covered boxes and notebooks are made. It also houses the Wiltshire Barn Project, which trains wounded ex-servicemen from the Army recovery centre at nearby Tedworth House. Our aim is to teach genuine craft skills that will give people the opportunity for a rewarding change of career.  
In 2013 Shepherds became a registered centre for City & Guilds qualifications, and last year we became involved in The Queen's Bindery Apprenticeship, which is the only such scheme currently available in the UK. When Roderick Lane, Head Book Conservator at Windsor, was coming up for retirement, the Royal Librarian, Oliver Urquhart Irvine, recognised the need for an apprenticeship scheme to maintain the high standards of craftsmanship associated with the bindery since it was founded by George III in 1770. He contacted The Worshipful Company of Stationers & Newspaper Makers, of which I'm a liveryman, and put the idea to the Clerk, William Alden, who advised him to contact me. One thing led to another and, with the support of eight founding partners, including the Antiquarian Booksellers' Association, and three skills and industry partners, of which Shepherds is one, The Queen's Bindery Apprenticeship was launched in the autumn of 2016. 
I'm chairing the training committee, working on curriculum development with my colleague Alison Strachan, the Binding Director at Shepherds. It's a unique training initiative to ensure that the increasingly rare skills of the hand bookbinding trade are preserved in the UK.  An Apprentice Bookbinder will undertake a training of two years, and a Journeyman Bookbinder will do a further three years, reaching the highest level of proficiency in all aspects of forwarding in fine binding. City & Guilds qualifications will be awarded upon completion of the five-year apprenticeship.
The first apprentices are being trained in the Royal Bindery and external workshops, and further recruitments will be made this summer and in 2018. The scheme is an important step for acquiring government recognition for bookbinding apprenticeships in accordance with the strict requirements of the Department of Enterprise, Trade and Investment.  Apprenticeship schemes have to be tightly regulated to prevent unscrupulous employers from exploiting them to hire cheap labour.  In order for a scheme to qualify for official status, at least ten employers must undertake to support it. I can see a time when there will be a dozen or so apprentices dotted around the country, acquiring vital bench experience as they did in the old trade binderies. Ultimately my aim is to bring them together at our barn in Wiltshire and make it a centre of excellence in bookbinding.
Last year I exhibited at the Boston Book Fair, selling books for the first time from my personal collection on the history of bookbinding and decorative papers. I enjoyed it and intend to do a little more quiet dealing in those areas. Although I do a certain amount of design work for fine bindings, I haven't bound a book myself since we bought Sangorski & Sutcliffe. I have too much respect for real craftsmanship.
Interviewed for The Book Collector Summer 2017
Rob Shepherd died on 13th August 2022