Robin Waterfield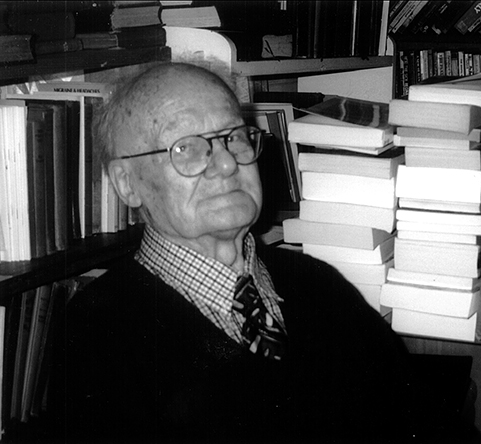 There are a hundred different ways of becoming a bookseller and on the whole I'd say don't. I became interested in books at the age of seven when I was given a copy of the Concise Oxford English Dictionary. My father was a doctor in the Sudan Medical Service and wanted me to be a doctor. I did a spell as a medical student at Bart's Hospital, but when it came to carrying a pickled arm around it was all too much for me. While I was at Bart's I discovered Paternoster Row. It was still a street of bookshops before being bombed out during the War. There was a marvellous shop run by Sidney Kiek, who sold remainders of books that no one would have wanted to read at any price. But I was raw and ignorant and seduced by the cheapness of them.
When I failed the practical part of my medical exams, I told my father that I wanted to do something with books. He paid £150 for me to become apprenticed to George Allen & Unwin, the publishers. I learnt nothing, except that I was not interested in that sort of book business. By this stage, my father was getting fed up and so I ran away from home in Down and Out in Paris and London style. I knew perfectly well – as Orwell did – that I had only to lift a telephone and my family would take me back.
Meanwhile I did any odd job I could find. I still wanted to get into the book trade and occasionally read the advertisements in the Bookseller. One day I saw a vacancy at Spottiswoode & Ballantyne, the bookshop at Eton. I wrote myself a good reference and much to my surprise got the job. My salary was thirty shillings a week, the going rate for a bookseller's assistant in the 1930s – and you could live on that quite comfortably. After about a year I was given the sack, and a wonderful reference. 'We are sorry to dispense with Mr Waterfield's services, but he will keep reading the books when he ought to be dusting them.'
I wasn't worried about losing my job as it was easy to find something else in the book trade. So I looked in the Bookseller and saw that Grafton & Co, opposite the British Museum, wanted a cataloguing assistant. I applied and got the job, and absolutely loved the work. The proprietor was a South African called Fanny Hamel, who wore a red wig. Before the First World War she had written a number of historical biographies under the name of Frank Hamel.
Somehow Fanny had entered into a liaison with Mr R.A. Peddie, who was my boss at Grafton's. Peddie was a most distinguished bibliographer, but had been dismissed from his post as librarian of St Bride's Printing Library for irregularity of attendance and drunkenness. Peddie was regarded as one of the most knowledgeable booksellers in London, and was also known for his Subject Index of Books published up to and including 1880. I spent many hours in the British Museum noting down early books on podiatry or whatever for Peddie's Index. Grafton's also published books on library science, and we used to exhibit at the Library Association's conferences. There was always a large bottle of whisky under the counter to 'encourage' librarians.
Peddie was a great expert on early railway literature, for which Grafton's had quite a reputation. C.F. Dendy Marshall was one of our best customers, and author of the History of the Southern Railway, 1936. John Fulton was another customer and we found him any number of books while he was working on his bibliography of Robert Boyle. In those days seventeenth-century books were coming through our hands all the time. Hooke's Micrographia was not uncommon and sold for £80 to £100. Most of the great American collectors came to Grafton's. Bill Jackson of Harvard was a familiar figure at 51 Great Russell Street.
In those days Great Russell Street was a row of bookshops. There was George Salby, a Dane, who dealt in rather obscure topography and archaeology. Nobody could understand how he made any money because he was very rude and didn't speak much English. Then there was Kegan Paul, Luzac and Probsthain – the three Orientalists – James Tregaskis, George Harding and Henry Stevens, Son and Stiles. Stevens was the son of the notable bibliographer and bookseller in Vermont.
Apart from the booksellers, there were people called runners – I imagine they hardly exist today. Darby was a marvellous one-eyed man who came into Grafton's every day at five o'clock with a large sack of books that were never any good. Then there was Dirty Ernie, the illegitimate son of a French music-hall actress, and a man named Pike who was a real expert on aviation books, and of course George Jeffery in Farringdon Road. George was a real wheeler-dealer – not in the least bit interested in books, but over the years had accumulated quite an idea of what might be good. But the chief runner of them all was Ben Weinreb. I can remember Ben when he didn't have a penny to bless himself. He would come into David Low's, take a book on 10% commission and run it round to Maggs or Quaritch. There was quite a trade between Cecil Court and the West End, and Ben was usually the link.
While I was at Grafton's, I often went down to Cecil Court and became friends with David Low who had a shop at number seventeen. David had been a cataloguer at Hodgson's Sale Room in the '20s When I met him, he was peddling along in a rather easy-going manner – businesslike but not ambitious. I paid £1,000 to become a partner in his business and we were together from 1939 to 1950.
Most of the London booksellers tried to keep open all through the War. As David's father was German, he was not allowed to join the Army and got a job as a librarian at one of the military bases near London. I was sent to the Allied intelligence centre at Bletchley Park, and was transferred back to London when the non-military section moved to Berkeley Street. When neither David nor I was in London, Gordon Craig's daughter Nell helped us to keep the shop open.
In those days the 'posh' booksellers in Cecil Court were on the lefthand side as you came from St Martin's Lane – the Fletchers were there and Watkins' Bookshop. Old Mr Watkins was a founder member of the Theosophical Society and a very honourable type. In Charing Cross Road I remember Jack Joseph and his brother Sam. What shall I say about them? Well, within their own definition of honesty, they were honest. But if there was an underside, there was also a great veneer of friendliness. Marks & Co were at 84, Charing Cross Road – very decent booksellers and freemasons. Helene Hanff 's book was rather naïve, as Marks was the kind of firm that would write nice letters; it was nothing to get sentimental about. Freemasons are very anxious that all and sundry should not have access to their literature and, in a quiet way, Marks became the suppliers and built their business on it.
By the 1950s most of the great country house libraries had been dispersed by auction. Second-rate sales were still going on, but it was the tail end of a long process that had been totally dominated by the ring. Peter Murray Hill had a shop in Cecil Court and was a great friend of David. We went with him to country auctions, although Peter would never go anywhere if there wasn't a ring. It was not uncommon for the auctioneer who had run the original auction to be given a tenner to hold the second sale for the ring.
Before and during the War it was still possible to find the most wonderful material in provincial bookshops. There was a pecking order in those days and a bookseller in, say, Salisbury wasn't interested in making London prices. On one occasion David and I bought a couple of tea chests from a dealer who had just cleared a solicitor's office. In the course of its long history, the firm had acted on behalf of Lady Emma Hamilton, and the tea chests contained documents signed by Nelson. The dealer was happy to take £20 for the lot, and that was not unusual.
While I was still working with David Low a certain crisis occurred in my personal life. My wife Sophie and I discovered that we were unable to have children. Somebody put me in touch with a Jungian analyst, and I went to see her and studied with her. After two years I could have become a professional lay analyst, but I didn't want to commercialise the activity of helping people. But my analyst had nevertheless set me on a new course by making me realise that people were my real interest. I'm a deeply religious person and, unless my spiritual aspirations are in some way catered for, I'm lost. Bookselling could never satisfy this side of me.
My wife and I wanted to do something together and children's work was suggested. The 1951 Children's Act had just been passed and we went on the first residential childcare training course. I thought I had finished with bookselling and never wanted to see another book.
We ran a children's home in Berkshire for five years and thoroughly enjoyed it. But during that period the authorities decided that husbands should only get board and lodging and no pay. So I started a little bookshop called The Book Room in nearby Reading to earn some pocket money. In due course the residential home had reached a stage where all our original children were moving out, and it was a question of now or never if we wanted to do something else. My wife and I both have family connections with the Church Mission Society, and we decided to join. It was extraordinary timing because the establishment of a boys' hostel in Isfahan was high on the CMS's list of priorities. I had to look up Isfahan on the map, but we decided to do the training and in 1957 we went out to Persia. And so began the happiest years of my life.
The moment my CV fell on the Bishop's desk, he seized on my past experience and decided that my wife should run the hostel while I developed bookselling in Persia. The authorities were just beginning to invest in higher education, and the Shah had received a huge grant from the United States to develop Shiraz University.
As the CMS was the only organisation importing books from Europe with any efficiency, I soon found myself running a business with a very substantial turnover. In due course we were transferred to Tehran, where we had two bookshops. But we had awful trouble because the Persian Government had not signed the Berne Convention and there was widespread pirating of school textbooks. Various people came out to look into the problem – the British Council, Stanley Unwin, Allen Lane, and representatives from Oxford University Press. They all had an interest in the book trade in Persia and, at the time, we occupied quite a pivotal position.
It would have made sense to stay on in Persia until I got my full pension entitlements. But I had heart searchings about depriving somebody of a paid job, because I was on a missionary's salary. I also felt that the job of providing literature for Persian Christians and others ought to be done by a Persian. So we found a suitable replacement and my wife and I came home in 1974. I lost five years of my pension and my wife gets no pension at all from the CMS.
We settled in Oxford, sharing a house with my brother-in-law to start with. As an old hack bookseller, I knew I could earn some sort of living. But I didn't want to start a business, so I contacted Ben Weinreb and suggested that he employ me as a cataloguer. It so happened that Ben had a barn not far from Oxford where he was storing the very extensive literary remains of Cardinal Manning and his
followers.
 Apart from thousands of volumes of theology, there was an interesting collection of social history. Cardinal Manning had spoken up for the dockers in the strike of 1889, and had played a major part in the development of the trade union movement. I had the job of cataloguing this enormous mass of material. Ben got his money back three times over by selling the social history to Bill Fletcher.
I also put together for Ben a Shakespeare collection, which he sold to Japan. In the '70s, everyone was selling collections – it was the magic word. Then Ben decided we should open a bookshop in Oxford. We found premises on four floors near the railway station, but for various reasons of his own, Ben soon decided to withdraw. He had a friend at the Garrick Club called Norman 'Nunc' Willcox, who was a successful businessman. Nunc bought Ben's shares and, as soon as he had the majority holding, things were organised so that eventually I was out. I ran the business that still bears my name for two or three years. When I left I was paid £1200 a year for five years on condition that I did not engage in bookselling in the city or county of Oxford for that period. I wanted my name removed from the business, but was told that it was part of the assets of the firm.
If I had managed to hang on to the business, I think it could have become a bit of an institution. It was quite a part of Oxford life, and our Christmas parties were famous occasions. James Fergusson was one of my first members of staff. He was a very bright, personable young man, with a rather la-di-da manner. Angus O'Neill spent a holiday working for us while he was still a schoolboy. It was obvious that he had a natural talent for bookselling, and he's made a success of it. In the end we had far too much staff – some rather eccentric – and a customer once inquired, 'Is this an occupational therapy centre or a bookshop?'
By the time I left Waterfield's I had my State pension and could just about survive, with the little money that I earned from the Amate Press. I began publishing in Tehran, when David Low offered me the manuscript of With All Faults, which became our first title in 1973. My brief apprenticeship with George Allen & Unwin gave me just enough expertise and our printers gave us three months' credit – we survived, and have developed something of a speciality in publishing lives of minor bishops.
Nowadays my wife and I live in an old people's home in Oxford. For a while I carried on my bookselling activities in a shed in the grounds. But I'm 86 now and have just disposed of my remaining stock. I expect I shall go down to Oxfam and buy the odd book, but I don't want to drop down dead and leave unfinished business.
Bookselling as I knew it has gone forever. It's become more impersonal and money-dominated. 'Is it in BAR?' – that's all you hear. For me the pleasure was running a shop and meeting the customers. I hope there will always be a nucleus of nice, intelligent people who are attracted to the idea of handling books and sharing their enthusiasm. Thank God I missed the Internet.
Interviewed for The Bookdealer in July 2000
Robin Waterfield died on 9th February 2002