William Ward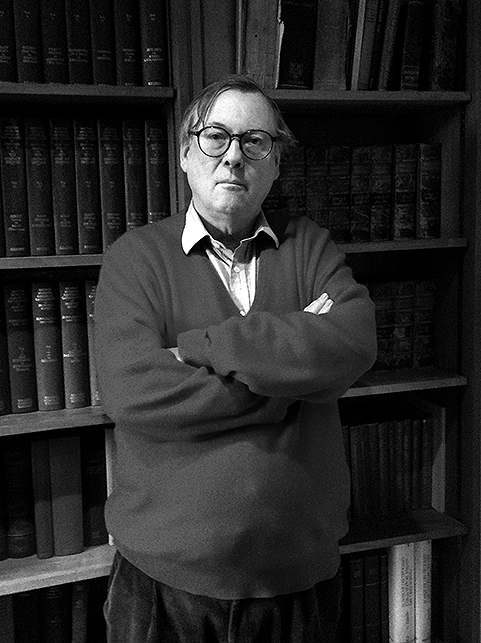 My family went to Ireland in 1570 and bought the Castle Ward estate from the Earls of Kildare in County Down, on which, in 1610, Nicholas Ward built one of the so-called 'ten pound houses'. This was a scheme dating from the time of King Henry IV whereby a subsidy was given to enable people to build a fortified house. Eventually it was replaced by a very pretty Queen Anne house, which was destroyed when my ancestors built Castle Ward. My father, Edward Ward, seventh Viscount Bangor – pronounced 'anger' with a 'b' on the front to distinguish it from a sausage or an old car – was a war correspondent and journalist. He sold Castle Ward to the government in 1950 in lieu of death duties, and the government endowed it to the National Trust. We have the right to stay there for one month each year. Unfortunately the sale included the library and a fabulous archive of over 3000 documents dating from 1604 to 1950. The Ward Papers are now in the Public Record Office of Northern Ireland, and include such wonderful material as Lady Franklin's papers relating to the search for the remains of her husband and his expedition in search of the North-West Passage.
I was educated at St Edward's, a school in Oxford, which I disliked intensely, and which my great-aunt thought resembled an enormous public lavatory. From there I went to University College London, where I read Economics for my sins. It was a crazy choice as Greek and Latin had been my subjects at school, and Classics would have been so much more useful for the sort of books that interest me. When I left university without knowing what I wanted to do, a friendly master at my old school put me in touch with Westminster Abbey library. I was paid £7 a week, which, in 1970, got me through Friday evening and a bit of Saturday. I was given some pink treasury tape and told to tie up books with detached covers, and generally left to get on with things. Although the work wasn't very demanding, it did stimulate my interest in books. After a while I helped in the Muniment Room in the gallery above the east cloister, where the medieval and early modern archives of the Abbey are kept in surroundings that are pure Richard II, with the wonderful painting of his white hart on the wall. The muniments are stored in chests made from timber felled in the twelfth century from trees that had begun to grow, according to dendrochronologists, in the early eighth century.
After a couple of years I decided that I could no longer afford to work at Westminster Abbey. Someone introduced me to Michael Heseltine who gave me a job in Sotheby's book department at Chancery Lane, where my colleagues were David Stagg, Paul Quarrie and Robert Hesketh, the second son of Christian, Lady Hesketh. Bobby was a great friend who was later to become my partner in Hesketh & Ward. The idea for our future business came to us on Bobby's twenty-first birthday in 1972 when we got frightfully drunk and ended up in a candy-striped telephone engineer's tent in Chancery Lane. My first job was to catalogue a huge collection of the Nonesuch Press. Private press books are very beautiful (but not the Nonesuch Press), but I do tend to think of them as whited sepulchres. After the catalogue was finished, I moved on with a sense of relief to working with proper books, and enjoyed myself enormously during my three years at Chancery Lane.
Meanwhile Toby Rodgers, another close friend, was head of the book department at Christie's where I went to work in 1975. Within a few months of my joining, Toby left and I suddenly found myself running the department, aged twenty-seven. I was required to report to Jo Floyd, Chairman of Christie's, every morning for the first fortnight, an experience that I found nerve-wracking but perhaps he thought he was putting a fatherly hand round my shoulders. My immediate boss, Major Bill Spowers, whose name was pronounced, in his words, 'power' with an 's' on both ends, thought that I needed some help and brought in Hans Fellner. Technically, I was senior to Hans within the organisation but, in reality, Hans had forgotten more about books and manuscripts than I would ever know. It was during my time at Christie's that I was bitten by the Italian bug. Soon after my arrival, Toby Rodgers had sent me to look at some books in Italy. In due course I started doing all the sales for Christie's in Rome. I remember taking my first sale in Italian, after a good shot of brandy. I also met my wife at Christie's, Sarah Bradford, the historian and biographer, who was working in the manuscript department. It was an office romance and we were married in 1976.
The sale of the Evelyn library in 1977-8 was an extremely busy time, during which Bill Spowers went slightly crazy for a while. We were all working flat out except for one person in the department whose idea of a weekend was Thursday to Tuesday. It got to the point where I couldn't put up with it anymore and complained to Jo Floyd who simply said that I had better leave. The circumstances were slightly more complicated than I've described but, basically, Bill Spowers had arranged things to get me out. Perhaps he felt that I was a threat to him; I was rather more ambitious in those days than I am now.
In November 1978 I returned to Sotheby's book department, which had moved to New Bond Street where my colleagues were John Collins and David Park. My first job was to catalogue the late Solomon Pottesman's collection of incunabula and sixteenth-century printed books. Potty, as he was always known, had been a familiar figure in the trade, carrying books in paper parcels, often suspended from his little finger with a piece of string. When Michael Morton-Smith, my boss at Chancery Lane, went to value Potty's books at his flat in Bloomsbury, he was offered a cup of tea, while Potty drank out of an empty milk bottle because he didn't have two cups.
Potty's ambition had been to represent, with as early a book as possible, every town in which incunabula had been printed. The result was a poor man's Broxbourne Library, as Potty had often had to settle for imperfect copies. However, he did have one wonderful book, in which material printed by the prototypographers at Westminster, London and Oxford was combined in a single volume. It was a copy of John Lathbury, Liber moralium super threnis Ieremiae, printed at Oxford by Theodoricus Rood, 31 July 1482. The vellum sewing guards, inserted in the middle of each quire, include printed fragments by William Caxton and John Lettou.
I took the last book sale held in Sotheby's Bond Street before the department moved across the road to Bloomfield Place. The last item sold at Chancery Lane had made a lot of money out of nostalgia, but there was no such feeling when I sold the final lot in Bond Street. I remember being quite rude to the people in the room for not rising to the occasion. Basically the auctioneer is only a conduit between the seller and the buyer, and the quicker and more efficiently that you can do it – and ideally with a bit of humour – the better. You could have a bit of fun in those days, especially before the introduction of the paddle bidding system. We would invent names of fictitious purchasers for lots that were bought in. During a sale of Russian Futurist books, there was a long period of about thirty lots that were all bought in, and so I started saying, 'Lenin', 'Stalin', 'Khrushchev' and so on. I remember David Temperley calling out, 'You haven't said Ustinov yet'. And so I did. We also had a lot of fun in Monaco where I did all Sotheby's book sales. I shall never forget the warehouse, which was stocked with beer in the fridge and a wind-up gramophone with a selection of records from the 1930s of Ambrose & His Orchestra.
In 1983 I fell out with Roy Davids, who was head of the book department and marketing director. Roy wanted me and H.A. 'Feisy' Feisenberger to catalogue Nicholas Tzakas's library. I didn't like Tzakas's method as a collector, which was to buy books in England, sell them at auction in Germany, buy books there and sell them in France, and so they would go round in a triangle. When I said as much during a meeting at Sotheby's, Roy objected strongly to what he saw as my disloyalty. There came a point a couple of years later when Roy was so annoyed with me that he wanted to exile me to Sotheby's book department in Paris. Meanwhile I had already mentioned to Bobby Hesketh that I had had enough of things and that I was going to set up my own business – at which point he reminded me that we had planned to do this together. And so in March 1985 I resigned in front of five senior directors of Sotheby's, which was incredibly pleasing. Hesketh & Ward was founded in our house in Fulham on April Fool's Day 1985, twelve and a half years after my drunken night with Bobby in the telephone engineer's tent.
After leaving Chancery Lane, Bobby had gone to work for Gabriel Austin at Sotheby's in New York. When he came back to England, he had a few business interests but didn't need to work for a living. Our business plan for Hesketh & Ward, inasmuch as we had one, was that I would do everything. Bobby provided the initial funds for the business, which was going to be quite high-value and small-volume. We never considered having a shop; there's not much passing trade for sixteenth-century Italian books. It seems to happen to most dealers that, in their first year, God smiles on them. In my first year I bought some fantastically nice books. My first catalogue went out in November 1985 and was devoted to fifteenth- and sixteenth-century books. Bobby came here and we sat in the kitchen sticking stamps on envelopes. The catalogue went out to Sotheby's mailing list, which included such unpromising addresses as Unit 4, Milton Keynes, before the list was whittled down. I have always tried to make my catalogues quite light-hearted, and am very interested in their design. From Catalogue 5 onward, I did all my own paste-ups, and I'm happier with the result than with the printer's designs for my first four catalogues. My second catalogue didn't appear until March 1987 after which I aimed to do two a year, which I have more or less achieved.
From 1991 to 2004 I went to Italy on buying trips twice a year with Paul Grinke, and more recently with Bogislav Winner. Turin has more bookshops than any other city in Italy. Cesare Birocco of Libreria Antiquaria Bourlot eventually became my main supplier. On my first buying trip with Paul, we started in Bologna, stupidly hiring a car, and made our way to Turin where we kept taking the wrong turn. When I told Paul that we were looking at a map of Padua, he claimed that it didn't matter as, according to him, all Italian cities had a Via Garibaldi, a Via Mazzini, a Via Cavour and so on. We travelled by train in future, sometimes going as far south as Bari to visit Mario Somma of the Bottega Apulia from whom I used to buy a lot of books. He had the annoying habit of making you look at a drawer of unpriced catalogue cards from which you selected what you wanted to see. He would go to the back of the shop and fetch them, and the pile of books would slowly reduce as he told you the prices. I bought my best ever book in a shop near Naples for €450. Described rather unpromisingly as a law book, it turned out to be the regulations for Venetian gondolas in 1570, with the penalties for failing to observe them. It was an extremely ephemeral publication and, although it stated that there would be one published every year, I have only been able to trace another example for the year 1576.
Bobby Hesketh was killed by a drink-driver in California in 1997. Although it made no difference to the business, it was a terrible loss from a personal point of view, and marked the start of a year in which I lost three other close friends in the space of a couple of months. Alvise di Robilant, a former head of Sotheby's in Florence, Toby Falk who was Sotheby's Oriental miniatures and manuscripts consultant, and Toby Rodgers all died within weeks of each other. Toby had recently established himself in Charlotte Street and issued his catalogue of '100 Rare Books on 100 Different Subjects', to which Bernard Levin had devoted an entire column in The Times. His business was doing very well at the time of his tragic death.
I have been more or less retired since 2010, largely as a result of a couple of setbacks, which killed the business for me. My main supplier, Cesare Birocco, died, and my best customer in America, the Beinecke Library – particularly in Bob Babcock's time – stopped buying early Italian books because of the problem of theft in that field. I used to buy thirty or forty books a year from Birocco and, although Libreria Antiquaria Bourlot continues, his son has different interests. I could have survived one of these setbacks, but not both. I would like to be remembered for doing amusing and interesting catalogues. At least I got to Catalogue 44 as Hesketh & Ward. That's mildly respectable.
Interviewed for The Book Collector Spring 2014